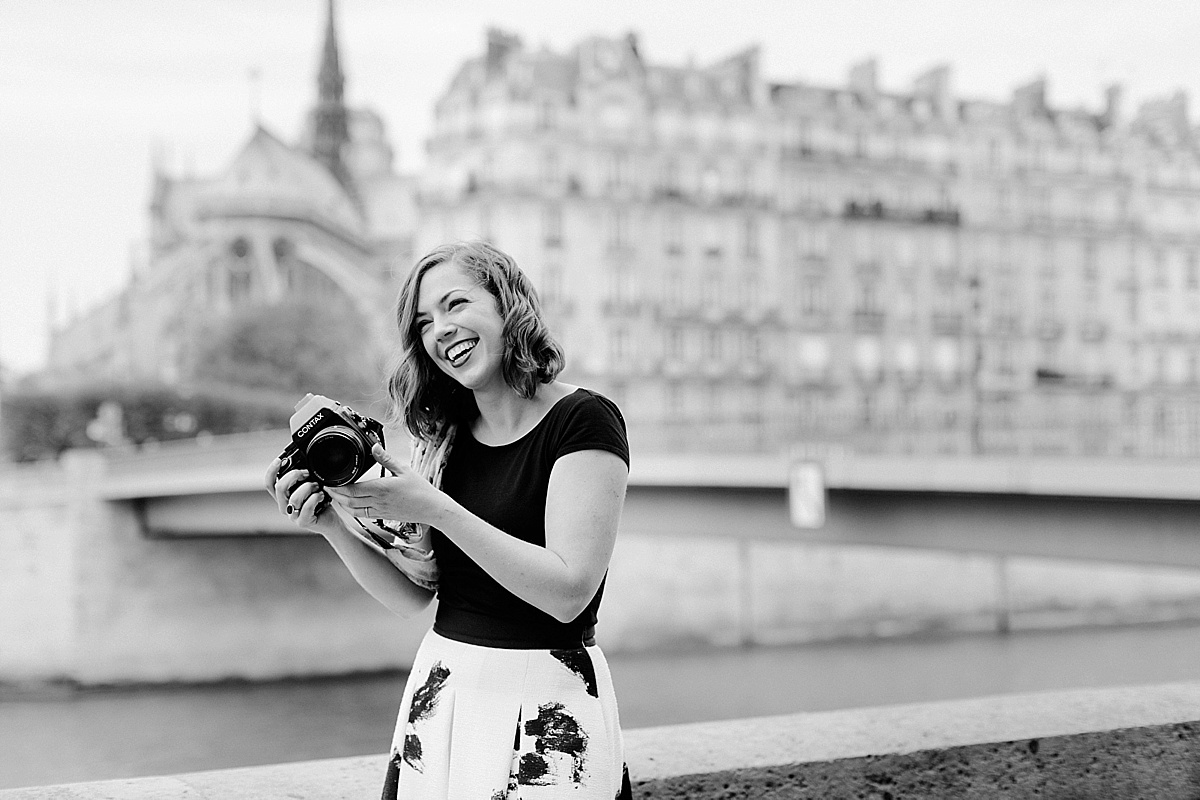 Over six years ago, HoneyBook member and photographer Abby Grace left her corporate job to pursue a full-time, international photography career. And by all accounts, she's found success, creating a life she loves. She travels and shoots in Europe several times a year and grew to the point that her husband Matt joined as her business manager in 2015. We asked for the business lessons that helped her find success. Here, she shares why she doesn't follow other photographers on social media, the two-year plan to take her business full-time, and why she shoots ballerinas in the middle of her busiest wedding season.
1. Identify and prioritize what's most important to you.
"My work has been featured in numerous national and international publications, but honestly? The biggest career highlight has been the ability to create a business that works around our lives, instead of fitting our lives around the business' needs. We decided early on that, because we're small business owners, we could and SHOULD create a business that works for us, instead of only ever regurgitating what we see everyone else doing. So we regularly work to identify our gifts and skills and press HARD into those, instead of forcing whatever's newest or shiniest on the creative scene. The question 'do I want this, or do I just think I'm supposed to want this?' is crucial to the lifeblood of Abby Grace Photography."
2. Set concrete goals to take your business full-time.
"I discovered photography in college when I was already ¾ of the way done with a degree in Communications & Public Relations. I finished my degree as planned and, after graduation, worked for a Fortune 500 company as a Media Relations representative for two years, knowing all the while that photography was where I wanted to eventually end up.
After seeking the wisdom of some friends in the industry, we had two main goals I needed to hit before leaving my 8-5: first, I needed 3-6 months of income AND expenses saved up, and second, I wanted to have 50-75% of my year's worth of weddings BOOKED before giving notice. The rationale was that, with the additional time I'd then have to devote to my business, that the remaining 25-50% of bookings would gradually follow! I was really afraid to take the leap, and my husband was ultimately the one to say, 'I think you need to quit your job.' My goal was for the business to be strong enough that I could leave after two years, and my last day in the office ended up being six days early of that two year goal! It felt SO SURREAL to walk out of the office knowing I wouldn't be coming back. I was simultaneously scared AND confident—I knew I was doing the right thing, but I was afraid it wouldn't last. But here we are, six+ years later, and now me AND my husband are employed by Abby Grace Photography!"

3. Be intentional with your time and attention.
"Honestly, my biggest challenge is myself. I sometimes get so caught up in what other people are doing that I massively doubt my own ability and talent, which makes it harder to get out and serve my clients to the best of my abilities! I try really hard to safeguard my heart and mind in that regard, which for me, means not following any other photographers on Instagram, not doing the 'bored scroll,' and in general, keeping my eyes on my own paper. When possible, I delete social media apps on the weekend to prevent me from checking in with work-related stuff to allow me to REST better in our time off, which in turn means I WORK better when I'm in the office."
4. Get re-energized by dedicating time to personal projects.
"When seeking inspiration, I love shooting personal work (photographs for me, not for a hired job). My #abbygraceballerinas series has been one of my favorites! It's been in the works since 2013, and I typically try and photograph a few ballerinas a year, especially during my busiest seasons. I danced growing up and realized a few years into weddings that, though I haven't been in the studio in years, a part of me still resonated SO strongly with the grace of ballet and the accompanying tulle and pointe shoes. My ballerina portraits breathe life into my creative heart when I'm feeling out of breath from the fast pace of wedding season."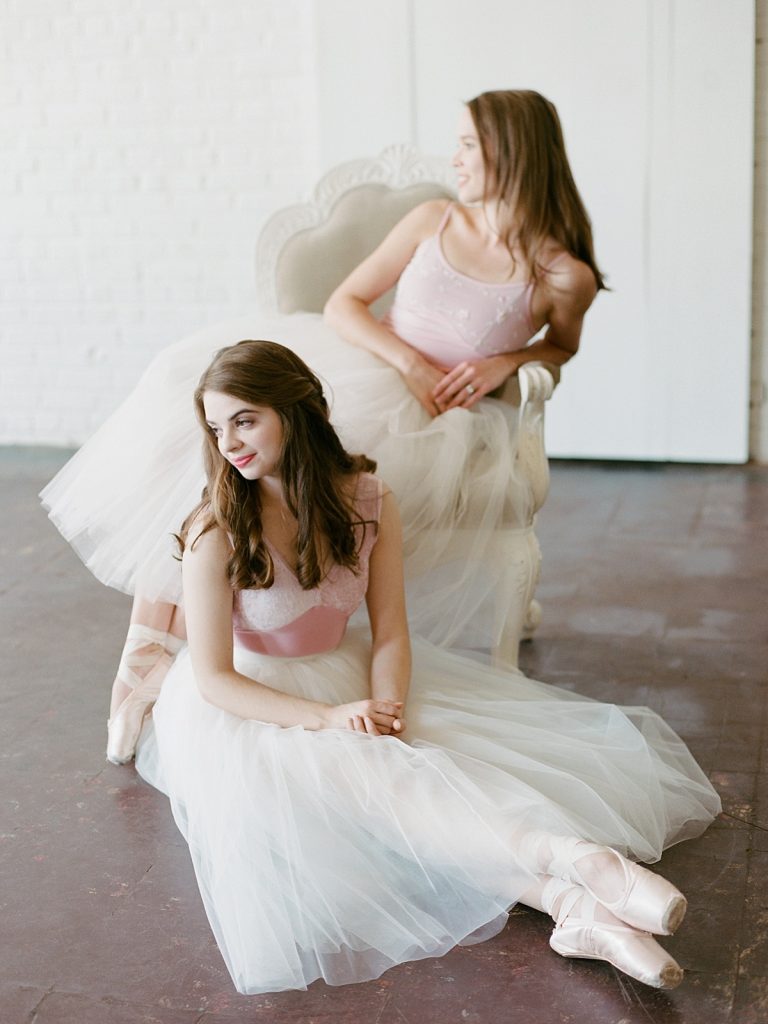 5. Use tools to better prepare for upcoming projects.
"The questionnaires in HoneyBook are SO HELPFUL—we send one to all our wedding clients 45-60 days before their event to collect allllll the little details we need to prepare well for their day. This cuts down on a ton of emails between my clients and me, and centralizes all the little details we need to prepare well for a wedding, which in turn serves my clients better, too!"
6. Be the authority (and always have a back-up plan).
"The most chaotic place I've ever shot is in DC at the Tidal Basin on a Saturday afternoon during the Cherry Blossom Festival. It is pure pandemonium—there are literally tens of thousands of people there just for the festival, and I had a bride who was dying to have portraits taken with the blossoms in the background. It took about 30 seconds after arriving at the Tidal Basin to realize there was no possible way we were going to be able to take photos down there due to the sheer volume of people present, so we hopped back in the hired transportation and drove over to another spot I'd scouted for my couple. It was a HUGE lesson learned—I realized I really needed to be candid with my couples about what I, as the professional photographer, knew would work… and what I knew wouldn't work. I learned that my couples are looking to ME to be the authority in situations like this, and by not standing firm in what I knew would be best, I actually did my couples a DISservice. I learned to trust my creative and professional gut because that authority and experience are a big part of why our clients choose me."

7. Don't forget to have fun.
"It may be cheesy, but I LOVE Lara Casey's quote, 'You know all those things you've always wanted to do? You should go do them.' I never want to get so caught up in making a living that we forget to slowly enjoy and savor this life. It's the people, places and activities loved outside of work that make my life so rich in joy, and I never want to miss time with my loved ones (time I can't get back) because I was too busy obsessing over my inbox."
Thanks, Abby!
Plus, three more posts you might like: