What's Inside
4 Ways to Determine if Mastermind Groups are Right for You and Your Business
I tried a business coach, a monthly mastermind, and a mentor: here's what I learned
How to Know if You're Ready to Step into the Role of Educator or Mentor
What You Need to Know to Launch a Successful Mastermind Group
Best Practices for Creating Engagement and Action in Your Mastermind Groups
Not all mastermind groups are created equal… and not every person needs one. Stephanie shares 4 questions you should ask to consider if a group is the right fit for you and 4 corresponding tips to enhance your experience. Download the guide.
If you're feeling stagnant in your business, now may be the time to explore opportunities to jump start your next season. But the options can be overwhelming if you don't know where to start. Kristin shares about her experience exploring everything from one-on-one business coaching, to a paid mastermind experience, to a monthly mastermind group, to a business mentor. Download the guide.
It may be your natural next step… going down the path toward being an educator or mentor. But how do you know if you're really ready to share your wisdom with others through paid experiences? Laylee, a former full time teacher turned photographer and small business educator, shares the "when" and "how" behind claiming the title of educator, plus the steps you should take to get on the path toward educating. Download the guide.
As the creator, host, and facilitator of mastermind groups, it's your job to make it the most impactful environment possible. With Kay's experience in her own group she leads, she shares 4 key items to address in order to launch and sustain your own group successfully. It's all about outcomes, your audience, benefits, and a positive environment. Learn more before you launch! Download the guide.
Once you've launched your mastermind group there is one final key element… actually getting your members to show up, engage, and do.the.work. Maggie shares her best practices for unique ways to prompt engagement, introduce incentives to succeed, and build lifelong relationships that make a deeper impact than just in business. If you're a mastermind group leader, you don't want to miss these tips! Download the guide.
Plus, even more about Mentorships and Mastermind Groups
5 Signs You Might Need a One on One Mentor
Business "Lifelines:" Finding the Help You Need
Considering Starting a Mastermind? Here are 5 Things You Should Know
How to Know If You Need a Mentor, Mastermind, or Coach
The Mastermind Question: To invest or not to invest?
4 Things to Look for in an Industry Mentor
How to Create a Virtual Summit that Profits and Builds Community
Questions About Mentorships and Mastermind Groups? Ask Kyle Goldie.
Kyle Goldie, a photographer, business coach, and our resident expert of the month answers your most pressing mentorship and mastermind group questions.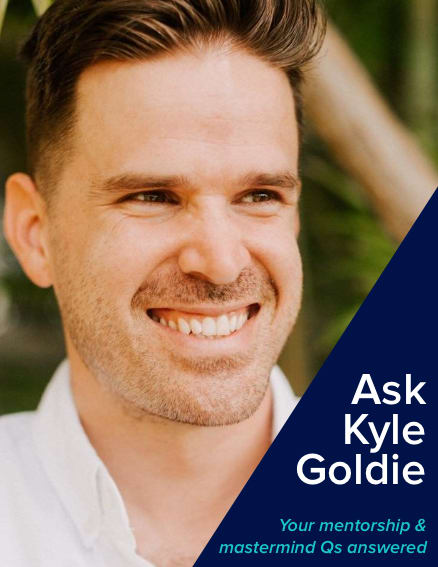 Watch Now to Get Kyle's Answers To: