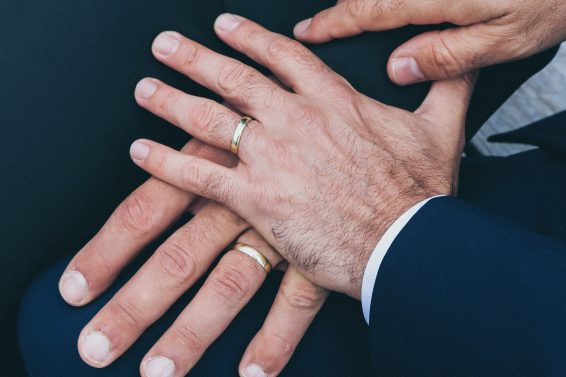 If you're still making resolutions for 2019, consider making a commitment to evolving your brand to one that is fully inclusive. In addition to being a safe haven for same-sex couples that face obstacles in the wedding industry, inclusivity also impacts your bottom line—both same-sex and opposite-sex couples are looking to see if your company is LGBTQ-friendly. Many couples look for equality-mindedness in their wedding vendors, regardless of identity or orientation.
Being equality-minded is a mindset; it is something that is genuinely built into your business and your way of thinking. It can take some practice at first, but it's important to consistently keep it at the top of your mind—and rest assured, it will become natural with time. Here are a few strategies to extending your openness to all couples in 2019:
Educate yourself
There is nothing more valuable than knowledge—the more you know about working with same-sex couples, the better you will be able to offer them a fully inclusive experience. Teach your staff to avoid making assumptions, as every couple has their own ideas and preferences. Learn about the words and/or phrases that can be offensive, and how you can best communicate your openness. It can be helpful to get feedback from someone you know and trust, so don't be afraid to ask a friend, whether it is a member of the LGBTQ community or a partner who has exemplified inclusivity in their business.
Work with like-minded partners
When you work with same-sex couples, you become a trusted resource for navigating the sometimes-insensitive corners of the wedding industry. It is up to you to help create the day of their dreams and shut out any unnecessary negativity in the process. When you are providing referrals to an LGBTQ couple, remember that the vendors you recommend will speak to your own values. Evaluate your industry peers' online presence and, if necessary, don't hesitate to ask them if they are LGBTQ-friendly. This knowledge will arm you for smarter referrals to ensure that couples feel fully comfortable and welcomed throughout the planning process.
Evaluate your social media presence
Many prospects look at social media profiles to determine whether to reach out to you. That is why your language, images, and content need to convey your openness and acceptance of all couples. Start by forgetting the word "bride"—instead, use inclusive terms like "wedding party", "wedding suite", and "to-be-weds" (as opposed to "bride and groom"). Incorporate LGBTQ-friendly photos of same-sex weddings so couples can picture themselves working with you.
Making your business feel inviting to all couples can take some work at first, but it is certainly worth the effort to ensure that your company is fully inclusive. Every single couple that walks through our doors deserves to be treated with respect and kindness, and as wedding professionals, it is up to us to create an industry where every couple feels welcomed as they plan the biggest day of their lives.