HOME FOR YOUR
CREATIVE BUSINESS
HoneyBook helps you book your ideal client faster, more frequently, and with less legwork.
From inquiry to final invoice
HoneyBook streamlines and automates your client's experience from inquiry to final invoice.
We keep your clients moving through the workflow with automated reminders and notifications. Your pipeline visualizes where you are with your clients and what you need to work on, all in one place.
The Pipeline
Voted #1 feature by our community
Make a professional impression
With HoneyBook, your clients get to view your beautiful proposals, sign & pay effortlessly without ever having to print or mail a thing. All files are stored in one place so you can access them from anywhere - on your laptop or smartphone.
Every invoice, proposal and email you send on HoneyBook is branded to your business and easy-to-use for clients.
Deliver the ultimate client experience

Book faster than ever
Over $500,000,000 transacted and counting
Over $500,000,000 transacted!
Your business, in your pocket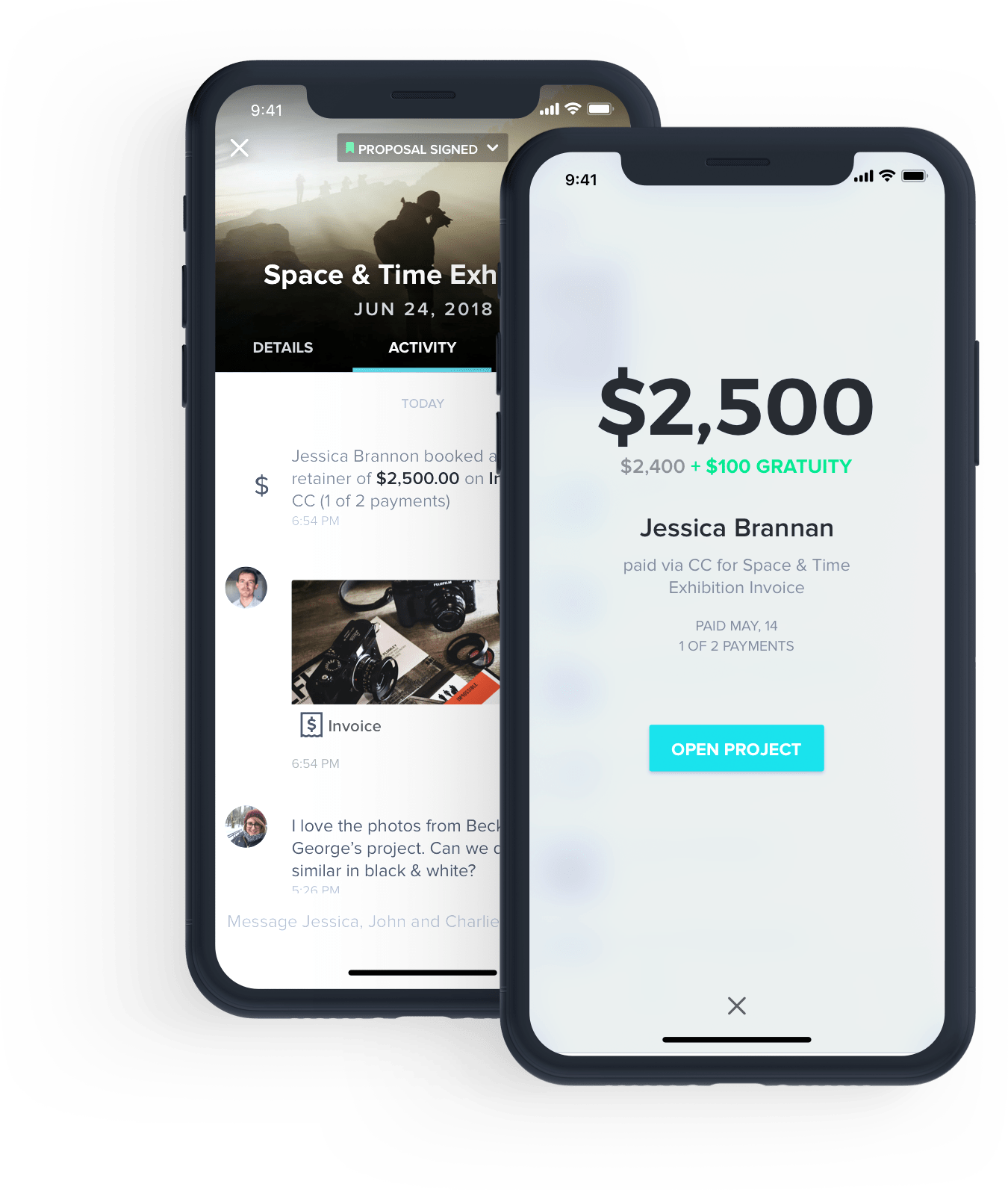 Manage your business from anywhere with the HoneyBook app. Access client details from the coffee shop. Send an invoice from the grocery store. Get paid from the dance floor. You get it, your business goes where you go.
Best app for small businesses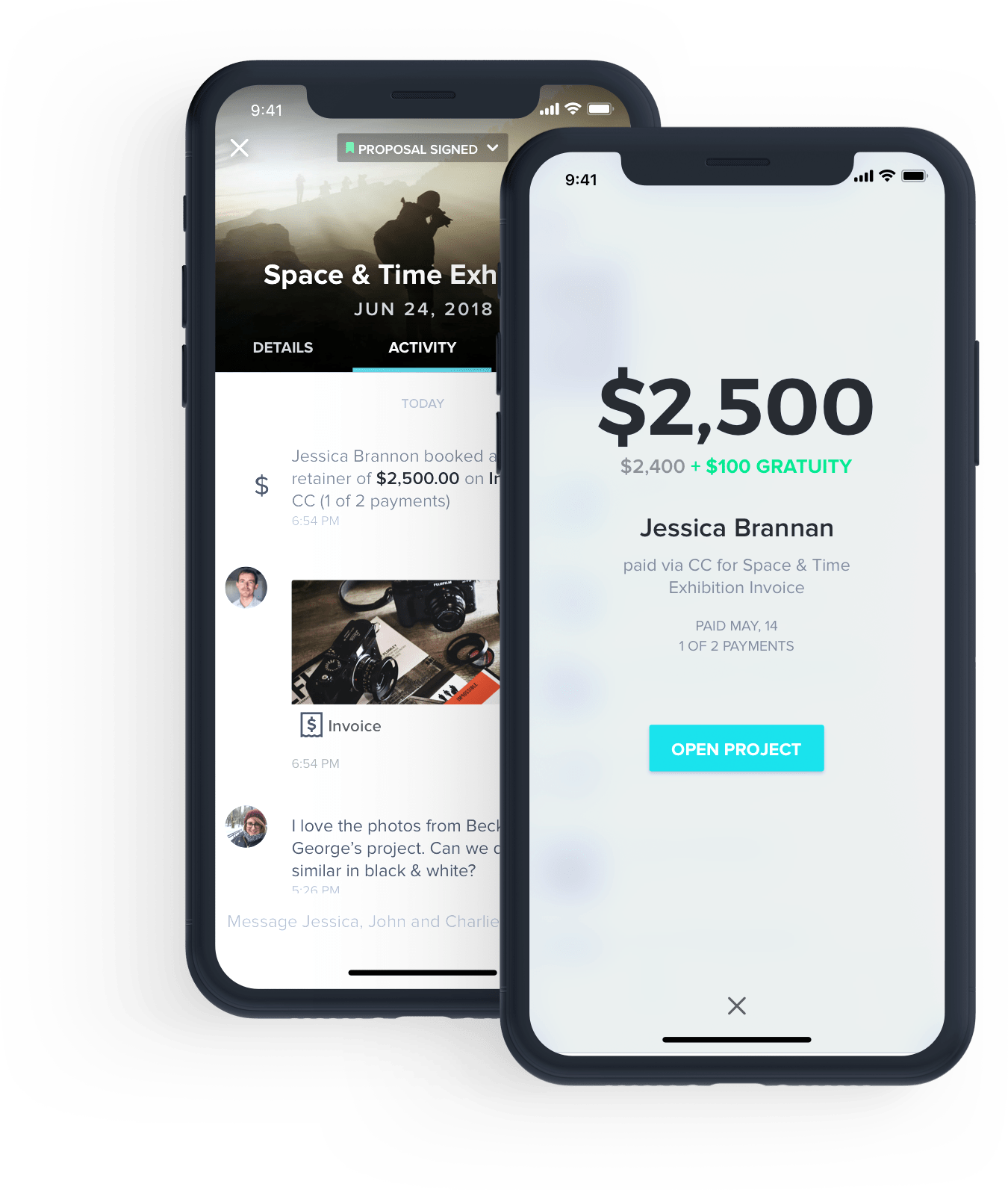 ALL-IN-ONE PLATFORM
With HoneyBook, you have all the features to run your business
seamlessly from proposal to invoice.
Templates
Create and send branded proposals, contracts, and invoices
E-Sign
Allow clients to book you with online sign and pay
Invoices
Create and send branded invoices
Contracts
Create and send branded contracts
Reports
Track your monthly income, leads, and bookings
QuickBooks online
QuickBooks
Sync payments with your QuickBooks Online
Automation
Stay on top of client tasks with automated alerts and notifications
Calendar
View your bookings, appointments, and due dates
Activity
Collaborate and manage all client messages in one place
Time tracker
Track your billable hours and get paid with one-click invoicing
Security
Fraud protection for any payment processed on HoneyBook
Concierge
Get assets and client info loaded for you with personal set-up
Mobile app
Manage your business and clients from anywhere
Team management
Team
Assign team members and share budgets, timelines, designs
Integrate with your go-to tools
Forget bouncing back-and-forth between different platforms. HoneyBook seamlessly integrates with all the tools you already use, so that you can work more efficiently than ever.
QuickBooks

Calendly

Zapier

Gmail

Google Calendar
"The first week that we moved all of our clients over, we were caught up to date with all of our payments"
Andrew Mishler & Melanie Soleil
"I actually started using HoneyBook after I had already had another CRM… and I never looked back."
Laylee Emadi
"Now I get back to clients within minutes with easy templates that I can send automatically."
Lindsay Bishop
"Get faster bookings, get better bookings, and your clients are going to love you for it."
Mark Dickinson
Simple plan, easy payments
Reserving your brainpower for the stuff that matters most with a super-simple pricing plan
The goods you get

Free account setup and training
Concierge customer support
All HoneyBook features
Your brand everywhere
Customized workflow
Payment processing: 3%
Fraud protection
Powerful mobile app
#create
magic
HoneyBook believes in a world where creative entrepreneurs are able to make a living doing what they love. A world where creatives have an easy way to manage all their jobs seamlessly, so they can spend more time on their craft, and less time on the administrative and marketing pains of running a small business.
Join thousands of creative businesses growing with HoneyBook
Before you go...
Get your free productivity guide for Creatives, by Creatives.