Budget-Friendly Travel for an Explorer's Soul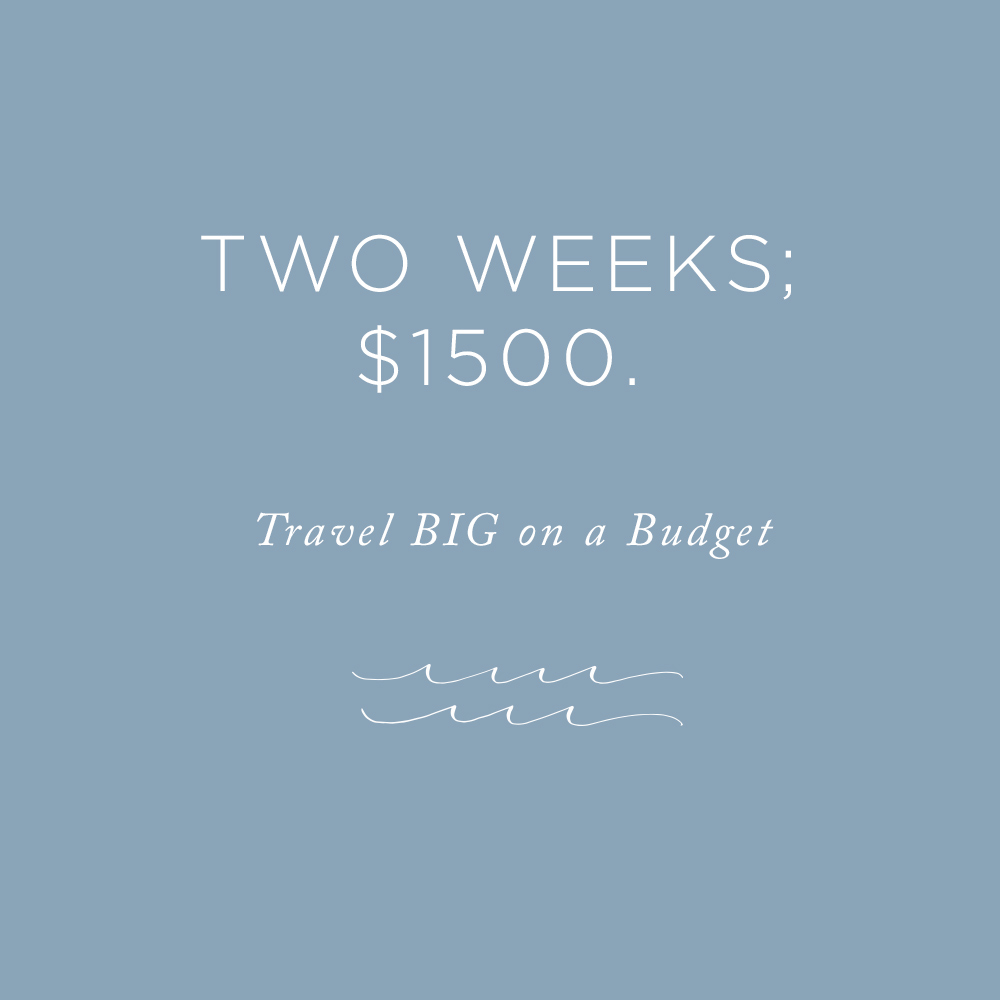 Since I was in high school, I've been finding ways to participate in budget-friendly travel. At the time they were little trips within the US–Ocean City, South Carolina, Florida. Close places that us college kids could afford. I'd always dreamed of going to Europe, but put it off because of financial reasons. It wasn't until April 2014 on a short two-week backpacking trip with my childhood best friend that I realized I could travel outside of the country for the cost that people pay to travel within the US!
Fast forward to present day, and within these 15-months I've flown on over 15 intercontinental flights (and countless other planes, trains, and automobiles) thanks to thoughtful travel budgeting and full-on addiction to travel!
People always ask: "How in the WORLD do you afford to travel so much?!" No, it's not because I have a secret inheritance and a six figure salary (neither of which is true). It's because I've made traveling a priority.
Below I've outlined 7-ways you can travel for LESS and see those places on your bucket list:
1. Plan a trip right before peak season.
Late March, April, and early May are great times to book, as most cities have a lot of spring travel deals to kick start the busy summer season. Once summer hits, plane tickets, hostels, and hotels all book up and increase their prices BIG time. Take advantage of the enjoyable spring weather and uncongested cities this way.
2. Get the cheapest one-way ticket you can find.
Pick a city and fly there because travel within Europe is crazy-inexpensive. Try the biggest airport cities first: London, Paris, Amsterdam, Milan, Frankfurt. Several other cities also have cheap flights: Oslo, Zurich, Athens, Copenhagen.
Where to find this:
Kayak Explore or Skyscanner: Not sure exactly which city you want to knock off that list first? These websites allow you to enter an original city and from there pick a season, month, or specific date, as well as a country, region, or even "everywhere" as a destination! Back in August 2014, I booked a $300 flight into Zurich, Switzerland using Kayak Explore!
3. Book travel using budget European airlines.
Airlines such as Ryanair and Easyjet combined with sites like CheapOair and OneTravel make for a super cheap itinerary. Keep in mind that the flights have limited leg room and nothing is included. Add on any checked luggage while you're booking your flight, and you'll save at least 20-30 euros!
4. Book a combination of hostels and AirBnBs.
When my best friend and I traveled around Thailand, we would book a private hotel or AirBnB for every two hostels we stayed-in. It allowed us to refresh, get some space away from all the backpackers, and helped us keep within our budget while still feeling a little fancy every now and then.
Where to get this:
If you're weary about staying in a hostel, don't worry–it's safe and FUN! What I ALWAYS do before booking is compare reviews from both HostelWorld and TripAdvisor. TripAdvisor is tougher on hostels' bathroom, bed, and sleeping conditions, so lean more towards their reviews if you can't handle bunk beds and night-owl roommates!
5. Snack on inexpensive treats.
Buy little snacks from grocery stores or cheap markets like nuts, fruit, yogurt, and a big bottle of water. These snacks will curb your appetite and you'll be less likely to spend 15 euros on a bottle of water and hot dog by the time you finally reach the Eiffel Tower (trust me on that giant water bottle thing–free water in Europe is not a thing!).
6. Take advantage of hostel activities.
Hostels were MADE for the budget traveler. Take advantage of the activities or information they provide as much as you can! Most hostels offer or have information on free bike rentals, city tours, bar crawls, museum visits, and more.
7. Lower Maintenance = Lower Budget; The more you want to do, the more you have to save.
Bungy-jumping, fine-dining, private tours, cooking classes, heck, even taking a taxi instead of the metro are all things that you'll need to save for outside of the $1500 base. If you can't reach far beyond that budget, then shorten the trip and spend more quality time in fewer cities! Remember, lower maintenance = lower budget. Skip the fancy hotels and cab rides, and get more out of your trip!
Budget-Friendly Travel Things to Avoid:
While saving money and sticking to a budget is important, there are some things that need to be considered before you justify that purchase that's just a few bucks cheaper than a much better alternative.
Flight travel time: You might find a cheap flight, but it's 36 hours of travel with a layover in Moscow. It's not worth the savings. Bump up to the next cheapest, quicker flight and avoid sleeping in airports. It's worth the $100-200 price difference, trust me.
Layover time: Give yourself plenty of time to get that last international flight home. If you're flying out of Paris, arrive in the city at least 12-24 hours before your flight home to avoid problems that arise due to delays and transportation strikes (trust me, I got stuck in Belgium once thanks to that!)
A Sample Itinerary and European City List for the Novice:
Flight into major city- ~$350
Example, quick search DC->London in April, $289 on WowAir
Flight out of major city- ~$350 with insurance
Example, Paris -> DC in April, $332 on WowAir
2-3 trains or planes: $250
10 Hostel nights: $250
4 airbnb nights: $200
Metros, buses, shuttles: $100
Total Cost: $1500
Suggested Routes:
–London, Prague, Budapest, Vienna, Munich–
–Milan, Venice, Naples (Amalfi Coast), Florence, Rome–
–Istanbul, Kayseri, Athens, Mykonos, Santorini, Athens–
–Lisbon, Porto, Barcelona, Zurich, Paris–
The biggest thing to keep in mind when setting a travel budget is that it's not just an investment in a trip, but in yourself and your business. Keep that in mind and go book that trip across the Atlantic!