We're here to share the story about how the Rising Tide Society & a Facebook post brought two friends together who lived 2,5000 miles apart.
Britt's Story:
In the early days of high school, I spent nights on my parents' computer coding websites from scratch…. these were the days of Napster and America Online. There was no such thing as Squarespace or fun DIY builder.. maybe Geocities 1-2-3?! Anywho, I graduated high school, went to college for Web Content Development, got the ol' fancy-schmancy jobs as a consultant and project manager, and yet… I still didn't feel 100% fulfilled in my business life. I designed websites "on the side" for friends and family for years. I had this "crazy" dream of one day owning my own website design studio, where I could launch websites for small business owners that "didn't know how to do all of this".
Fast forward, fifteen years later, here I am. I'm married to my best friend, with a sweet little three year old. Oh, and I launched that website design studio I dreamed of for so long. Actually, I launched it only 16 months ago, and took my business full-time 11 months ago.
Why should you care about any of this, anyway? Because I was able to launch as a result of The Rising Tide Society. I found Rising Tide in August 2016 (at the time, I think 200 members!?) when my best friend, Megan, referred me to the group. I instantly felt like I finally found this group of people that I had been looking for my entire professional life. No fancy suits. No meetings from 7AM-7PM. No 24×7 on-call life that I had lived for SO long. All those years at my corporate jobs, in school, and everywhere in-between picking up little design gigs – this was exactly what I needed.
When I posted on RTS for the first time, I was looking for a someone to help me bring my business to life. I didn't even have a name for what that designer "would be". I just knew that I wanted to create websites. I knew I had the technical skills, and thanks to my 9-5 jobs and experience, I also had the people and project management skills.
Shortly after posting, I received a message from one of the members of RTS. Instantly, I felt a connection to her and like she understood where my head, and most importantly, my heart was at during that tough time in my life. Once I learned more about the world of branding from her, I knew she was exactly what I needed.
Meanwhile, 2,500 miles away….
Kelsey's Story:
I've always been a creative person, but I NEVER imagined that this is where I'd end up. After college, I thought I wanted to climb the ladder in corporate marketing or within a big advertising agency. I snagged an internship through an ad agency in Virginia and turned it into a full-time job. Though the work culture was cool (and I learned A LOT), the lifestyle just wasn't for me. After a little over a year of working there, I followed my heart to California and got a job with a small tech startup. Time passed. I still wasn't feeling fulfilled.
That's when my local creative community changed everything. A friend from work invited me to a meetup for female creatives, where I met a ton of women who were simply living their dream by owning their own business. I met photographers, videographers, biz coaches, social media gurus, and even a perfume maker! I'll never forget this night. I was so inspired and began mentioning that I may be interested in starting my own business as well. The responses I got were something along the lines of, "Do it. You totally can."
Armed with a purse full of business cards, a heart full of confidence, and a head full of ideas, I went home feeling more inspired than I ever have.
Around this same time, I had been feeling increasingly less happy at my job and decided to just go for it. I signed up for graphic design courses via an online college, began brainstorming business ideas, and started a company called Big Bigger Marketing.
I had no idea what I was doing, but I was much happier.
Though I knew I wanted to be a designer at heart, my background was in all things marketing strategy, so I offered every service I knew how to deliver (social media strategy, content creation, flyer designs, brand consulting, and more–it was a mess). After a while, it started to get frustrating that I wasn't booking any of my dream jobs. I realized that if I knew exactly what I wanted to be doing, that's exactly what I what I needed to be offering– and ONLY that.
So, 6 short months after launching my business, I decided to go back to square one and completely rebrand. This time, I made sure that all my biz decisions rang true to who I am and what I WANT to be doing. Despite the newfound motivation, I wasn't really sure where to start when it came to clients. Who would take this newbie seriously when I had nothing to show for logo design?!
Then, a local biz owner gave me the advice to pick up a few "anchor clients." These are clients that you do work for at a discounted price (sometimes free, depending on your situation) with the transparency that you need this to build your portfolio, in return for feedback/practice/portfolio material. (I know that discounting your services or working for free is a sticky subject among biz owners, but I don't think of this as really working for free because you get so much out of it.)
While on my search for anchor clients, I had joined the RTS Facebook group. One particular day, I saw a post from Britt, who was eager to ditch her 9-5 and follow her web design dreams, but didn't know where to start. I saw an opportunity, and leapt at it.
That day (August 24, 2015– which is now our "friendiversary"), I messaged Britt on Facebook. Her enthusiastic response made me realize that there could be more to this opportunity than I initially thought, and the rest was history. 😉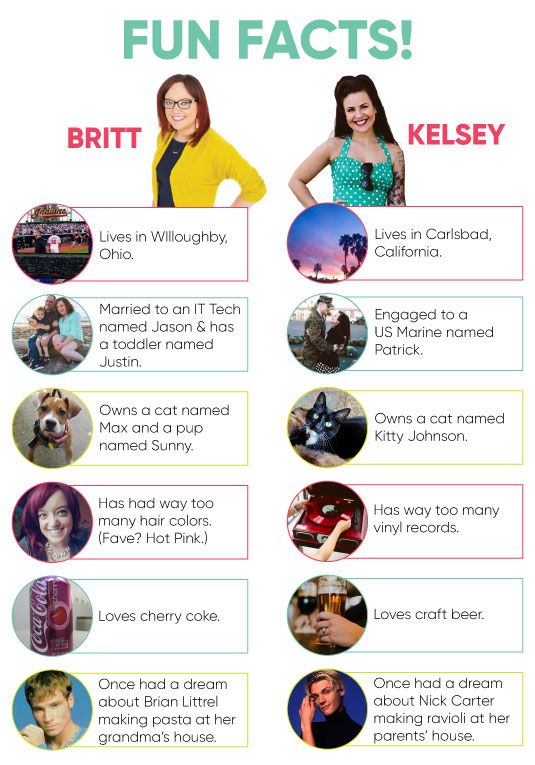 Our Story
When we connected on Rising Tide, we had no idea of the incredible adventure ahead of us. We initially swapped services, where Kelsey took care of all Britt's branding, and Britt took care of Kelsey's new website. It then became instantly clear that we both found someone who we loved working with and we wished our customers could have the same experience working with "this person" too! Once both were launched, we took a step back and realized our strengths were each other's weaknesses (Britt isn't a huge fan of logo design and Kelsey wasn't a fan of website design). After a few months of talking every single day, laughing out loud together, being each other's virtual shoulders to cry on (Britt is in Ohio, Kelsey is in California!), it was then that we knew that we had to find a way to bring our services together.
We have each helped dozens of creative business owners to launch their businesses online; from their brands, to individual logo designs, to websites, and a combination of everything. We knew just how scary it was to launch our own businesses and leaned on each other for support, which is something we strive to provide to each of our clients.
We have since become besties, bonding over our love of the Backstreet Boys and carbs. Now, over a year later, we talk to each other EVERY day and couldn't get through this biz-owner lifestyle without each other. The crazy thing is, we still have never met in person. BUT, all that is going to change on March 14. Britt will be flying to San Diego, we're going to do a photoshoot, eat In-n-Out Burger, drive to VEGAS, and see the Backstreet Boys live. Our heads might explode.
The best part? We're gonna be taking over the Rising Tide Instagram stories on the day we meet so that you can follow our journey and laugh/cry with us along the way. Join us on the RTS Instagram stories on March 14th and March 15th to follow our adventure!
So… WHY are we telling you all of this!?
It's SO important to have and keep a sense of community as a creative business owner.

Surround yourself with people who support you, understand you, and that you can lean on for questions.

We truly feel like we wouldn't be in this place in our businesses if it weren't for each other. The good days, the bad days, the work days, the life days,

everything

.

We're incredibly thankful for RTS for bringing us together. Even though the community has grown SO much, we guarantee your biz BFF is in the FB group. Find them.

Find and attend Tuesdays Together and other local meetups. Encourage others to do so, too! You never know who is going to either need your services, know someone who will, or you might even be lucky to find your Biz BFF in your same city!

Don't forget to follow us live on March 14-15 via the RTS insta!

We'll laugh really loud, cry really hard, and we might even share some Backstreet Boys with you. 😉
Connect with Kelsey Connect with Britt
Instagram | Website Instagram | Website