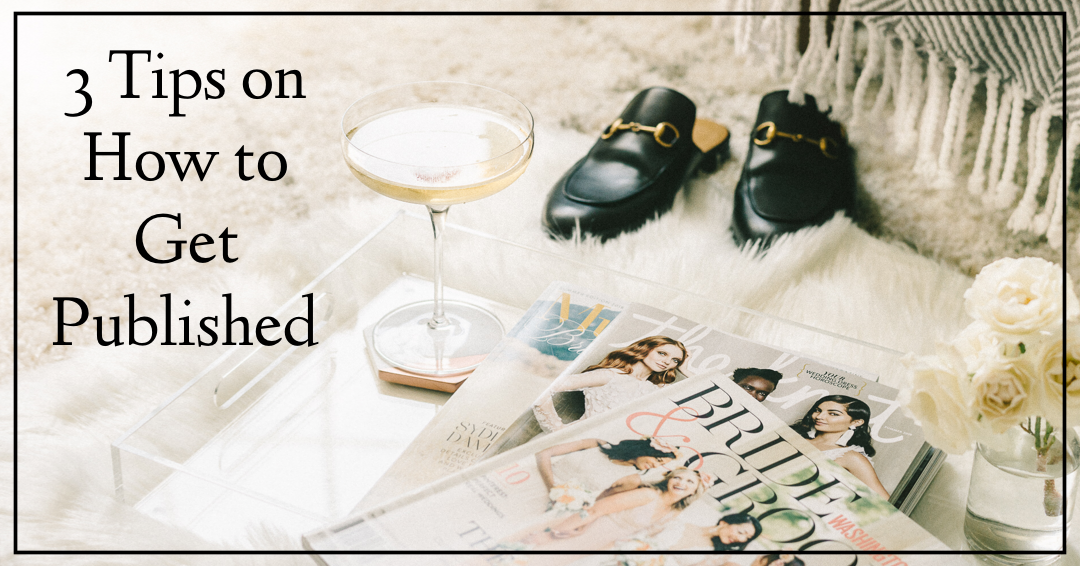 As creatives, we want our work to be seen by our ideal audience so that we can convert and book clients. According to one of marketing's cardinal rules, clients need to see our work seven times before booking. This means that our website is not enough. We also need to use social media and other vendors to create buzz. And this is where getting published comes in. Instead of paying for ads, you get national blogs and Instagram accounts with a massive following to share your work for FREE! Read on to find my 3 tips for photographers on how to get published in blogs and magazines.
#1 Curate your submission gallery well
Editors do not want to see 1001 images. You should not be submitting the entire wedding (or photo shoot), but only what editors are looking for. You need to showcase both the design and the storyline of the wedding day. Your gallery should have a clear narrative, with a beginning, middle and end. Don't just show the pretty little details and sunset portraits. Did the couple even go to their own reception? Yes, details are important but editors need to tell a story. They also need to inspire their readers, who are brides and groom planning their own weddings. If a detail has been done 101 times on Pinterest, you shouldn't be focusing on that. Instead, consider what makes the wedding that you shot stand out? Having said this, you should still have between 100 to 150 images in the final gallery that you submit.
For example, check out the gallery that I submitted for Sam + Damion's wedding, which is featured in the most current issue of the Washingtonian Magazine. You can see how I created a chronological narrative while not showing too many repetitive images.
#2 Write up should be concise and organized
Your write up is the pitch to the editor. This is your chance to tell them WHY they should pick your wedding over hundreds of others. Get to the point fast. You should introduce the couple and share what sets their wedding apart. Was it the design? A new guest experience? The color palette? Make it clear to the editor how the couple's story and/or personality came through in the design of the wedding. Maybe they got engaged in Paris so they chose to have a Parisian wedding. Finally, don't forget to share the main vendors like the planner, florist, dress designer, and venue with active links to their respective websites.
This is why Honeybook is the BEST because you already have all of this information filled out by your client in the questionnaire. I send out my questionnaire two months before the big day so that I can gather all of the important details from my clients: the inspiration for their wedding, love story, personal touches, timeline, and all associated vendors.
#3 Show both landscape and portrait orientation
Photographers, editors want to see both orientations: landscape AND portrait. Fine art photographers tend to shoot mostly vertical and while photojournalists shoot mostly horizontal. I am so guilty of this and I need to remind myself to shoot more horizontal images. You want a gallery with a good mix of both of orientations.
Editors need to have different crops available to them. They also want to show a mixture of up close and far away images. So that means you should have images where you fill the frame with your subject as well as images where you have lots of negative space around that same subject. Another quick tip is to limit your black and white images. Most publications rarely or never show black and white images.
Those are my top 3 tips for getting published! To learn more, check out my course, where you will learn:
The full list of images you need for submission

How to compose the write-up, with a downloadable template

List of blogs and magazines to submit to

The 5 steps you need if you have never been featured
Try out the first chapter for free! Sign up here.