Content marketing is one of the most reliable sources of lead generation today. That's why companies spend billions of dollars every year to produce high-quality, appealing content.
But despite spending billions, many of these companies are dissatisfied with their content marketing campaigns. For example, a recent survey found that only 4 out of 10 content marketers thought their campaigns were effective.
Let's look at a few things that content marketing managers should do to make sure that they stay in the "my campaigns are effective" category.
1. Listen
A content marketing manager can be successful only when he or she does more listening and less talking. The essence of the profession is to provide personalized content to target audiences, which can't be accomplished if you don't pay attention to what they're talking about online.
So, the plan is simple: start listening to your target audience. As the result, you will find opportunities to learn more about their needs and concerns, and the content you produce will show empathy and understanding.
One famous example of how listening to online conversations saved a company's reputation occurred in 2015. A customer who was shopping at Target tweeted this photo:
The post went viral because many people thought it was politically incorrect to separate boys' and girls' building sets. The customers were clearly upset.
But guess what? Target was monitoring social media and responded! Soon after, the company announced that toy sections will no longer be divided by gender, which helped Target avoid a major social media backlash.
2. Personalize your content
Content personalization is defined as a strategy that analyzes target audience data to produce relevant content based on their preferences and interests.
Personalized content works. According to a 2016 Demand Metric study, a whopping 80 percent of surveyed content marketers reported that personalized content was much more effective than content that hasn't been personalized.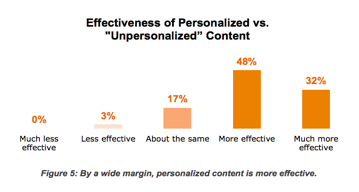 That's huge. Those content marketers who produce "unpersonalized" content are clearly missing the opportunity to better engage their target audience. Although this strategy requires tremendous effort, the benefits it provides are certainly worth it.
Think personalization, everyone.
3. Don't sell, educate
Everyone is bored of advertising because most of it sounds like just another piece of sales copy. Product-centered strategies can no longer be effective in the contemporary customer-centered marketing world.
There is a good saying: "truly successful marketers do not sell; they educate people to buy a better solution for their needs."
Because let's be honest: nobody really cares about ads. That's why it's so important not to sell but to teach with your marketing efforts.
Marketing that aims to educate people focuses on the needs of customers, which helps connect you with quality prospects in ways that product-centered marketing could never do.
4. Select the right social media platform
It's important to select the online platform that can allow the content you produced to make the biggest impact. Your final choice will depend on the nature of your business and, of course, your target audience.
For example, if you are a B2C marketer, chances are your audience prefers Facebook rather than LinkedIn. In contrast, B2B marketers' best bet is LinkedIn because it is a professional network. Once you've identified your ideal platform, your content strategy will be in a position to attract more potential leads.
5. Work with influencers
Want your content to get more exposure? Partnering with influencers can help you increase brand awareness and conversions.
A recent study from Twitter stated that almost 50 percent of consumers seek purchase advice and recommendations from social media influencers. That's a lot of potential customers!
That's why influencer marketing is so popular right now, and why you should take advantage of it. Check out how Justin Bieber (quite an influencer, we'll say!) promotes 1800 Flowers:
6. Go mobile
The future of online marketing is mobile. It has already surpassed the amount of desktop traffic, so it's pretty clear this trend will continue. That's why marketers need to pay extra attention to making the design of landing pages, websites, brochures, and ads mobile-friendly.
These guidelines will help you to get the most out of your content marketing campaigns, so put them to good use. Happy marketing!