Editor's Note:  For anyone who has been a part of the Rising Tide/HoneyBook family for any length of time, you probably already know that our love of philanthropy and giving back through business is matched only by our love of education.  So it's no surprise that our hearts have aligned with the educational charity Pencils of Promise for quite some time.  Through The RISE Summit, our annual educational webinar, we raised $50,000 to build a school through this organization!  Brooklyn-based painter, business boss, & community advocate, Megan helped to connect us to the team behind Pencils of Promise and has been a wonderful example of finding ways to use her own unique skill set for giving back to the causes that are dear to her heart!
Giving Back with your Unique Gifts
In October, I was given the amazing honor of painting a HUGE mural at the Pencils of Promise Headquarters in Manhattan, NYC.  I have been a huge fan of this awesome charity for some time now and giving back this year in my business is a priority in a BIG WAY, so this mural seemed like the perfect opportunity.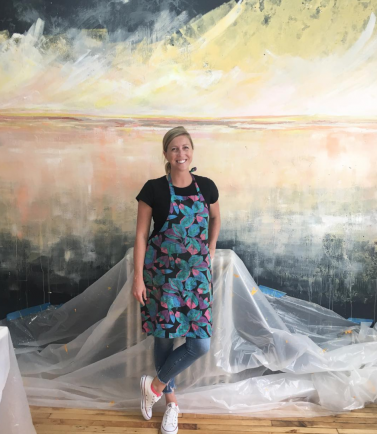 What I love most about Pencils of Promise is their dedication to not only building schools in Guatemala, Laos, and Ghana, but their Promise to sustain the program forever.  They spend a lot of time planning their schools, making site visits and working with the local communities to ensure that the planned school will benefit the community and work well over time.  I love their approach, mission, and amazing work.
When I read about their "100% SUCCESS RATE", I was hooked.  They state on their website, "We don't just build a school and move on, we monitor and evaluate every project we undertake. Thus far, every school we've opened is fully operational and educating students daily."
Here is a sneak peek at the mural's progress.  I hope that many people at this wonderful organization can enjoy this artwork for years to come!
—
To read more about their work around the world, head over to www.pencilsofpromise.org or read "The Promise of a Pencil" by founder Adam Braun.