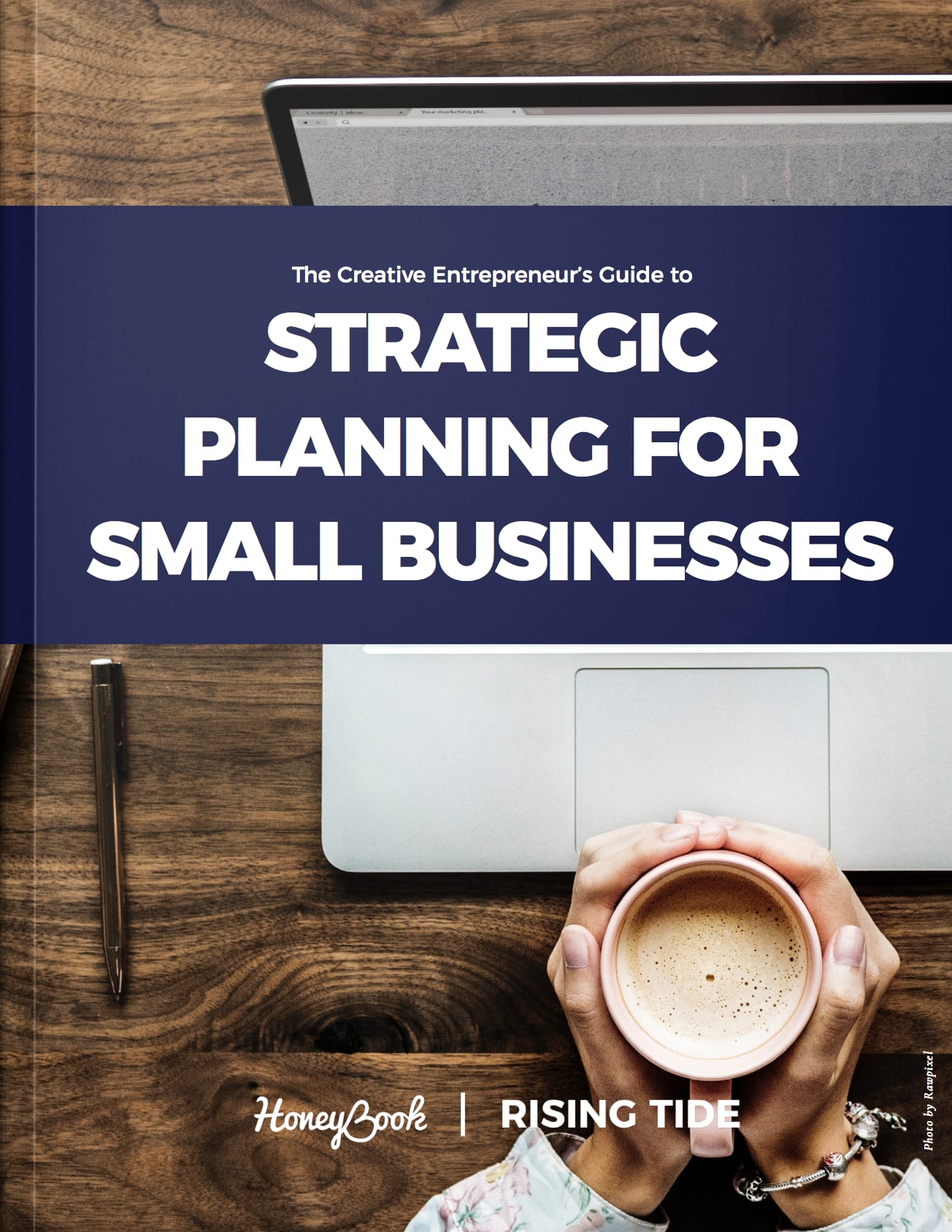 Strategic Planning for Small Businesses
It's never too late to start goal setting and evaluating your business strategy. This ultimate guide to strategic planning for small businesses helps creatives assess their mission, vision, and values, while also getting in the right mindset for business planning. This guide includes best practices on how to create a business plan, the value of a visual business plan, and even free templates to kick off your New Year business planning.
This month's guide shares: 
Proper goal setting and business planning starts with the proper mindset. Carve out some time in your calendar to dive deep into your business before setting out for your planning session. You can schedule a business planning day at your favorite coffee shop or even book yourself a hotel solo (or with other creatives) for a business planning retreat. Regardless of where or how you do it, know that getting started is the hardest part.
Your business plan should look something like a roadmap for your business goals and how you'll achieve them. First, start with evaluating where you've been before determining where you're going. What do you define as success? What has been successful in the past? How can you do more of that in the future? What tools, resources or education do you need to accomplish to move forward? With those answers in mind, establish your goal-setting cadence. You can set goals annually, monthly or even weekly—remember you can always (and should!) reevaluate and course correct as you move forward.
Start Basic, Then Get Creative:
Strategic planning for small businesses and goal setting has some best practices you should definitely follow (learn more in Niko's free business plan template included on page 11), but more than anything, your business plan can look like whatever you want it to. Include your mission, vision, values, and purpose. Include your current problem and what you can do to change it. Include goals and tactics to achieve them. Include marketing tools, resources, how you'll invest, and more. The rest, however, is up to you. Whether you create a visual business plan like Michele Perry's (get her tips and template on page 4), or something more traditional, starting with the basics as the foundation and then letting your creative brain flourish is key for a business plan you feel confident about and can actually achieve.
Disclaimer: The advice featured in this guide and on the blog was sourced from our community members for sharing general information and knowledge. For specific legal, financial, tax, mental health and professional advice, please consult an authorized professional.