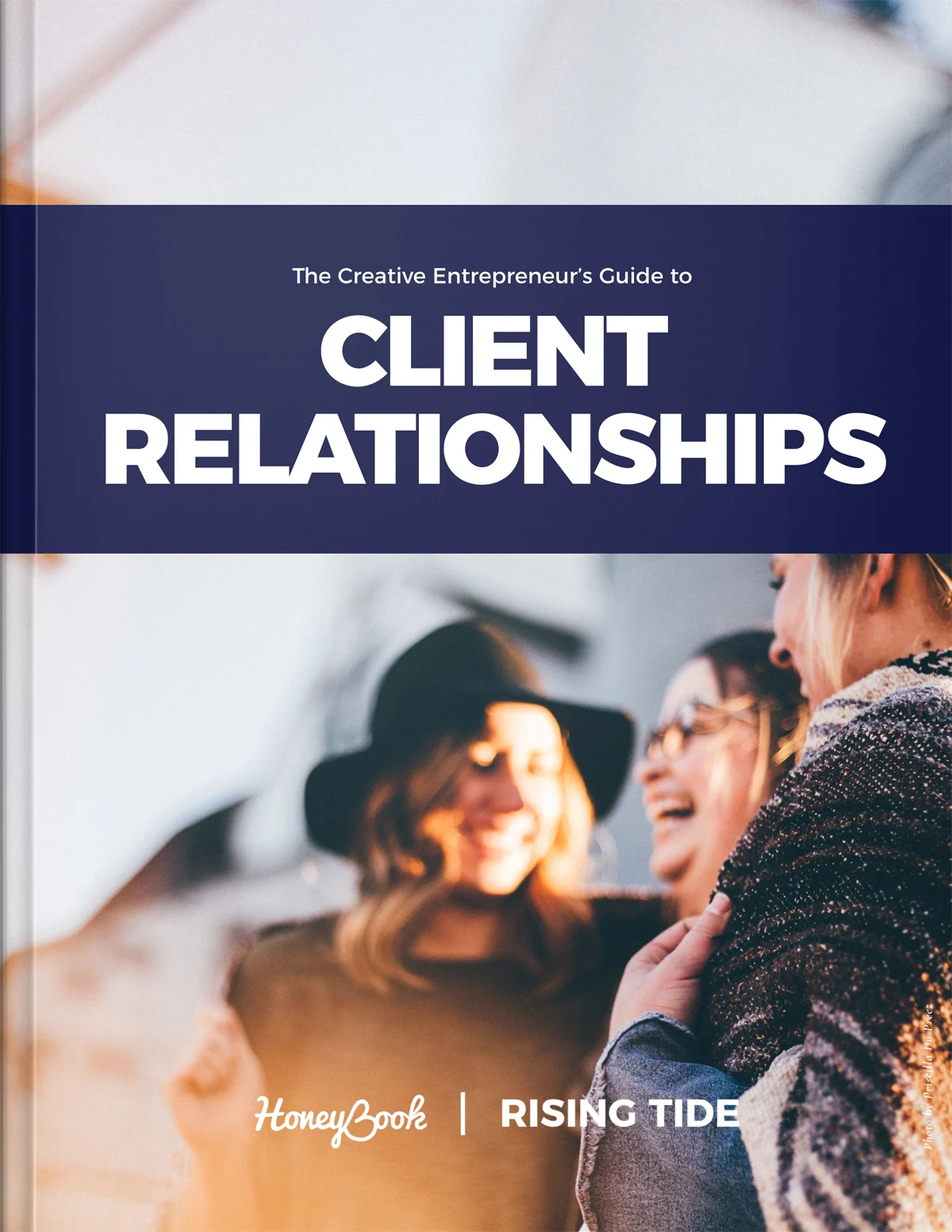 The dream: to build a business that sustains itself in sales simply because clients are shouting your name from the rooftops. How do you get there?
Client Relationships. This guide features words of wisdom from the experts on how to serve your clients beyond their expectations in a way that builds your business for the long haul (and saves your sanity along the way). We've included everything from building client relationships through workflows and quality communication to surprising and delighting them at every turn simply by intentionally asking for and listening to feedback.
This month's guide shares how to:
Work "Over-Delivery" Into Your Process and Your Pricing
The key here is to plan ahead. If you're flying by the seat of your pants in your "above and beyond" practices, you'll be left feeling strapped and stretched. Alicia Bauer suggests setting detailed, specific boundaries ahead of time so that you can communicate effectively with your clients throughout the experience (get her tips on page 2). Serving and surprising your clients and customers should be a pre-planned piece of your client experience. This means no surprises when you calculate your bottom-line. Don't forget, you didn't start this business to be in constant servitude, but instead to craft a business that will serve you (and your real life) in the long run.
Technology is Not The Enemy of "Personal Touch"
We all want our business to have that personalized feel, but as businesses grow and clients and projects multiply, it's easy to think that developing deep relationships is impossible on a large scale. Luckily, technology is helpful in a "set it and forget it" kind of way (learn more about how Keith Phillips uses technology to facilitate customer service on page 10). Using your CRM to its full potential, utilizing screen recordings that show your face, or automating a branded gift to send to each new client or customer are all great ways to overdeliver. You have permission to set it and forget it, and they'll never know the difference!
Ask, Listen, Follow Through
Every relationship requires  two-way communication, and client relationships are no different. Sometimes, as entrepreneurs, we get caught up in powering through to our next task, and we forget to take REAL TIME just to listen to our clients and customers (as Phylicia suggests on page 5) and give them exactly what they need. Consequently, this practice is often so overlooked, your clients and customers will be genuinely surprised that you care what they think, hear what they say, and follow through with your promises in a way they know they can count on. Don't underestimate the power of paying attention to clients. Who are they? What do they need? How can you deliver on that throughout your entire process together?
Disclaimer: The advice featured in this guide and on the blog was sourced from our community members for sharing general information and knowledge. For specific legal, financial, tax, mental health and professional advice, please consult an authorized professional.