by @pareandedit
We all know how busy life is. Yes we keep reading that "rest is the new hustle" but that concept seems like another loaded task to add to our already full lists. Do we crave the freedom to play, host parties, actually lie on a couch for more than five minutes? Maybe. Or maybe not. The list of reasons why we are failing to relax can seem endless – but when was the last time you questioned the relationship between where you live and your ability to chill out?
For six years I had a broken relationship with our home. Restless is how I would describe it. No one made us buy the place – I was a willing participant, excitedly unpacking while trying to ignore the extra bedrooms that might one day have little people in them. I can't tell you exactly when I fell out of love with the space – only that I now know I never loved it. The thoughts would hit me daily – the need to escape. I would job hunt for my husband – attempt to convince him that his skills would be well suited to opportunities on some island, (…) with no snow and tons of palm trees. He wasn't completely unwilling but he definitely didn't share my desperation.. Early on I fell victim to the illusion that I had to have it all in order to be happy. Eventually I tuned into what was motivating this way of thinking. It was claustrophobia. Our backyard faced another eight backyards. Our front door was on the side of the house directly facing another front door. The street was narrow. There were homes everywhere. Traffic was the pits. I couldn't breathe.
The problem was that I was in my own way. I was focusing on my dream life and it seemed so very far away. I believed the lie – that we need a bigger career, more stability, a stronger relationship before we could have that dream.
Two summers ago we were on the brink of a new transition – our twin daughters would go to school the following fall. It was time to make a move. Now, I love our new home with a mixture of fierce pride and lightness. Maybe it's the forest in our backyard, or the openness of our space – or maybe it's all of it and how that picture in my head was really just my inner self telling me that we needed a simpler, more grounded way of life.
I wish I'd had the courage to consider a change sooner.
I would love to share 5 steps to get you closer to living in your dream space: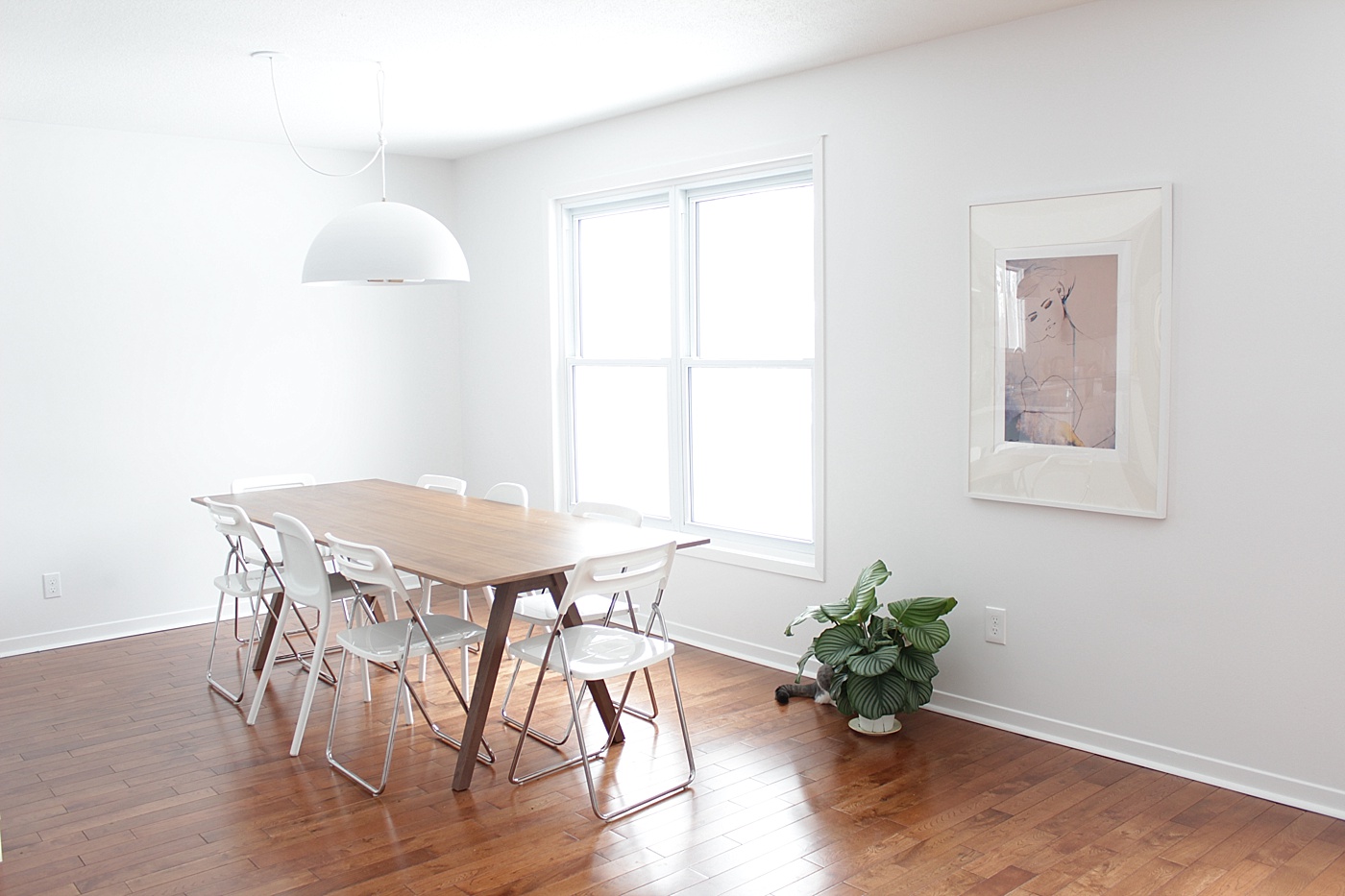 1. Allow Yourself to Dive Into the Dream
Take ten minutes and give give yourself permission to live it. Where do you see yourself? What city, or is it more of a general environment (in a studio on the top of the hill surrounded by trees)? What does the space look like and most importantly – how does it make you feel? Jot down these thoughts. Fill one piece of paper and then stop, slow down and pause the dream again.
That felt good didn't it? Allowing your mind to explore had the opposite effect to what you were expecting – tell me I'm wrong. We, as busy humans, are experts at denying ourselves.
2. Focus On Your Current Reality
When you walk through your door at the end of the day are you lifted? Our homes should invite us in, call to us during a stressful day. If you're unhappy, let's get to the root of your unhappiness at home. Did you overextend yourself financially? Are you tired of living in a fishbowl? Get out a new piece of paper and write all the reasons your heart just isn't in your space.
3. Find the Constant
Now that you've done some dreaming and some searching – is there an underlying element at play? If you moved to somewhere less expensive would you have the funds to make it your own? Would that financial change make the rest of your life easier? Maybe you feel disconnected with your neighbors – is there a pocket within your city that more like-minded individuals reside?
4. Get logical
Think small – what would have to happen for you to be able to move? Start at the basics. Financially, can you afford the legal fees to sell your home and buy something else? Should you consider renting out your place as an investment and trying out a new location first?
We always jump to the intimidating. Our minds flood with images of all of our stuff. The mountain of to-dos to even contemplate selling our home. Reign those thoughts in.
5. Scout out your town
It's time to think local unless you have a huge budget – then by all means – think global. Let's become tourists in our cities and scout out new possibilities. You have your dream details – make a game of staying true to the constants of your dream but making them more attainable. You want to live in a forest – drive outside your city center past suburbia until you hit farmland then see how you feel. Or maybe you're in suburbia and craving the hustle and bustle of city living. Whatever it is that's driving your dream – dissect it until it's workable for right now. You don't need to change your whole life (career etc). Pay attention to commute times and balance that with your underlying neighbourhood ideals.
Don't think of ignoring your dream space any longer. It deserves better than that (and so do you)!