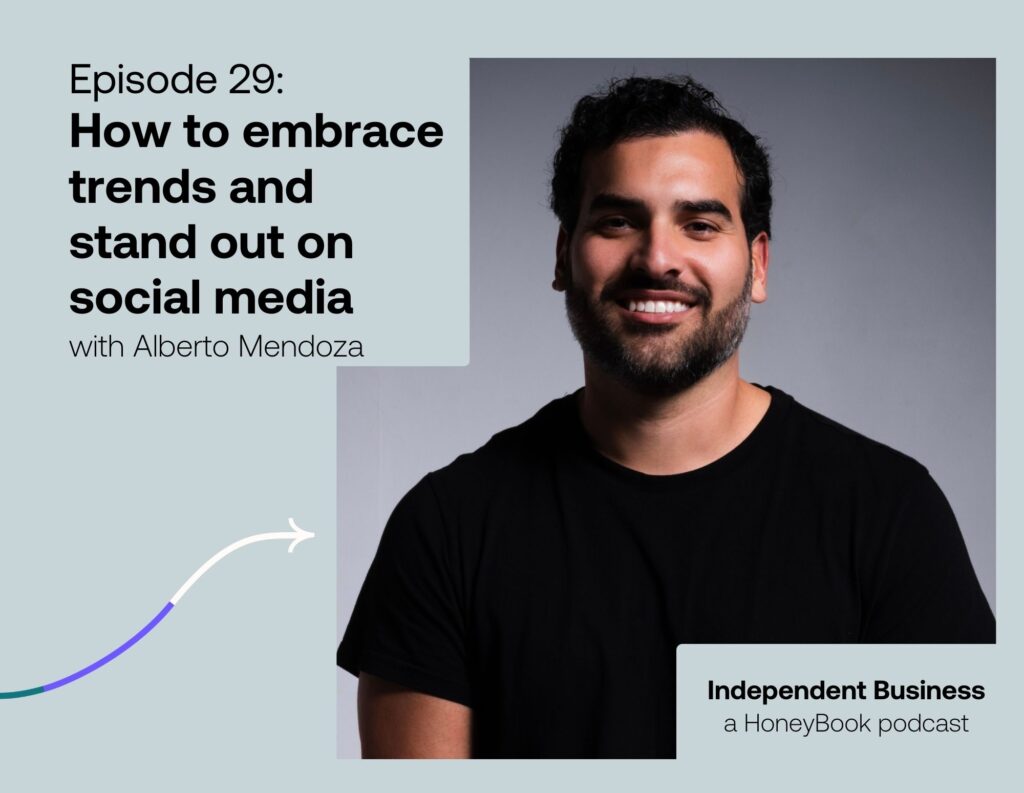 The journey to success is never linear. There are lots of ups and downs, but the key to building a sustainable business is learning how to adapt and innovate. That's why I'm so excited to have videographer and podcast host Alberto Mendoza on the show.
In the midst of the pandemic, Alberto decided to take the leap and fully invest in his business. That investment led to him hitting six figures in his first year and he is just getting started. Listen in as we Alberto shares how he's been able to embrace trends and stand out on social media!
The Independent Business podcast is powered by HoneyBook, the all-in-one platform for anyone with clients. Book clients, manage projects, get paid faster, and have business flow your way with HoneyBook. Use the code PODCAST to get 20% off your first year as a new member.
Follow the Independent Business podcast
How Alberto hit six figures in the first year of his business
Alberto was working a 9-to-5 job as a videographer in the medical field while also working for clients on the side. When the pandemic hit and the whole world went online, he capitalized on the boom for content creators and went full-time with his own videography business. In his first year, he hit six figures.
Here's what Alberto did to reach that level of success in such a short time:
He took long-form pieces of content, like long video interviews, and repurposed them into short-form content like reels
He posted his short-form content daily so that he would look "booked and busy" to potential clients, which coincidentally made them want to work with him even more
Everything he posted ended with a call-to-action
In order to create content that was unique and innovative, Alberto took himself to "YouTube University" and consumed a ton of content from other creators. From there, Alberto spent time experimenting with his style, putting out content, and seeing what worked and what didn't.
How to adapt and try new things in your business
According to a Wyzowl survey, 91% of consumers want to see more video content from brands. The businesses that adapt well to change and move with the times keep the consumer's attention.
Many businesses do not adapt to new trends on social media because they don't see the payoff overnight. Alberto likes to remind his clients that real organic growth and engagement take time. You have to make a long-term commitment to consistently try new things in order to see the ROI you want. However, this slow and organic growth is more valuable than going viral and finding overnight success.
Remember that change takes time and effort will help you stay open to trying new things and giving them a fair shot in order to decide if they're worthwhile for your business.
Maintaining work-life balance as a content creator
Alberto maintains his work-life balance by keeping healthy boundaries around social media. He focuses on creating content instead of consuming it. After he posts his content for the day, he puts his phone down. After 7 p.m. he puts his phone on Do Not Disturb so that he can spend time with his wife.
Every three to four months, Alberto takes a trip and films content that is just for his own creative fulfillment, not for work. He comes back rejuvenated and excited to pour into his business even more.
Embracing trends that align with you
Alberto experiments with new trends on Instagram, TikTok, and YouTube all the time. However, he doesn't let trends put him into a box. He "plays the game" while also maintaining his own style. When a trend doesn't fit with his brand or personality, he skips it.
For example, one way that Alberto goes against the grain is by posting Instagram reels that he shot horizontally in a 16 by 9 frame. This forces his audience to flip their phone to see it, but it feels more true to him as a filmmaker. Even though he's technically "breaking a rule" by posting reels this way, he's still embracing the trend of short-form video content.
Embracing trends in your own way is the answer to social media burnout. Instead of trying to please an algorithm, you post content that aligns with your unique brand and type of creative expression.
The biggest differentiator between the businesses that succeed and the ones that fail
Alberto believes that in order to succeed, businesses need to get on social media and post high-quality content. Answer these questions: who are you, what do you do, and why should people walk with you?
Important sections of the conversation:
[1:47] The state of AI among independent businesses
[6:00] Adapting AI and new technology into your business
[12:43] Keeping up with AI
[20:03] The biggest differentiator between the businesses that succeed and the ones that fail
Mentioned in this episode:
Connect with the guest