The top On the Rise Makers of 2018 have all found success creating and selling unique handmade goods. We asked for their advice to help other artisans do the same. Their top tip? Stop worrying about what other people think. And since that might be easier said than done, they also offered practical pointers, too. Read on to learn how you can turn your passion for creating art into handmade products people want.

1. Create for a cause.
"After meeting many individuals who are/were homeless and being compelled to help, I said yes. I started serving hot meals to the homeless weekly and giving away many needed items about seven years ago. I have also been interested in helping them find their purpose in life, whatever it takes. I then developed a skin problem that doctors couldn't find a cure for. I decided to create my own cure by making my own skincare with natural ingredients. It worked! These things together created Hope Soap, a plant-based skincare company that caters to individuals with sensitive skin and to the homeless community with the bars of soap we give them. With every item we sell, a bar of our handmade soap is given to someone in need."
Nathan Walden, Hope Soap Ohio
Owner
2. Give ordinary objects a new life.
"I work with families who have lost their person to create something meaningful out of clothing or special fabric. A recent project was making eight aprons out of a father's shirts for the family that made salsa together. I also took the tractor t-shirts of a farmer who recently passed and made pillows for newborn grandchildren in the family."
Denise Larson, Wisconsin Sewing Company LLC
Memorial Artist

3. Add a dose of wit.
"My most popular designs have all involved some element of cleverness or humor—from my first viral product (pillows that looked like big Scrabble tiles), to a line of tea towels called "Paper Towels" that looked like different types of paper (lined, graph, etc.), to my two most popular items currently: pillows that look like old-fashioned library checkout cards and baby bibs that resemble Justice Ruth Bader Ginsburg's famous collars that she wears on the bench. When I sell my handmade items in person at craft shows, my tent is often filled with lots of pointing and laughter, which I love!"
Rebecca Rodriguez, Dirtsa Studio
Founder/Maker/Sole Proprietor
4. Focus on the feels.
"I believe any success I'm experiencing comes from a conscious and intentional focus on the way people interacting with my art and business FEEL, rather than what they see or think. All design, murals, coloring books, and classes I create begin with the idea of putting energy before image. I share this idea often on my blog, newsletter and social, and #energyoverimage has become a calling card of my work online and in the Austin community."
Becca Borrelli
Illustrator

5. Be social.
"My work has to do with all things yarn and social media. You'd be surprised how many people want to look at a feed filled with cozy knitwear items. I've found work in pleasing their eyes with my creations (and even better pleasing their homes and bodies with my knitwear!). I am currently working up new patterns and styles that I'd love to incorporate in a rebrand."
Autilia Southwick, Heart Hooked
Maker/designer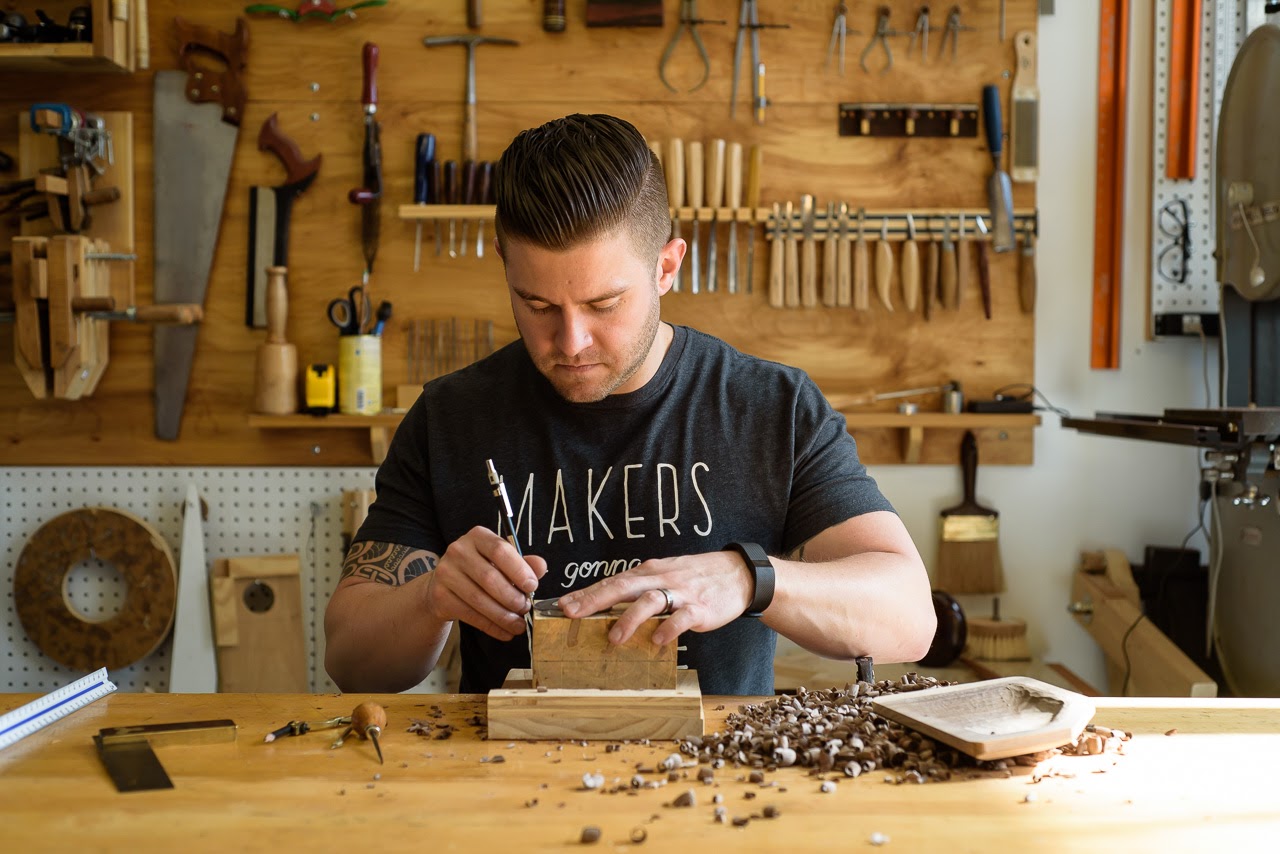 6. Embrace the imperfect.
"I believe that every piece of lumber has an inherent beauty instilled by Mother Nature, and it is my job to highlight that beauty to the best of my ability. A lifelong perfectionist, I have pushed myself to ignore my instincts and seek out "flawed" wood (cracked, knotty, warped) and to embrace the imperfections."
John Welch, John Francis Designs
Owner

7. In a creative rut? Set time limits.
"Being a mother has proven to be my greatest artistic endeavor. Balancing the love of nurturing and protecting our children all day while finding the time to satisfy the need to produce has been quite an interesting challenge. However, it has provided me with a great opportunity for artistic growth. Honestly, before my time crunch, I would spend unlimited amounts of time doling over the same painting. Now, I have 50 minutes. Maybe less, maybe more. I cannot be lazy. I love it. The passion that I have found in small pockets of time is something that I've been told inspires others to reach for their dreams, even when they are under incredible time restraints or up against all odds."
Rachel Alvarez, Rachel Alvarez Art
Artist and Small Business Owner
8. Collaborate with other artists.
"Right now, my biggest focus is on collaborating with other artists and entrepreneurs in my space. I've recently started a weekly series where I'm hosting live interviews/Q&A's on a ton of different topics—some art focused and some small business focused. I am absolutely loving connecting with other entrepreneurs and makers of handmade goods, and introducing my audience to people they may not have heard of before but who have amazing skills to teach and spread. I have actually had a number of interviews with other entrepreneurs I've met directly from the Rising Tide Society. (The live interviews so far can be found at www.thehappyevercrafter.tv)"
Becca Courtice, The Happy Ever Crafter Inc.
Owner & Calligrapher

9. Trust your own creativity.
"All you have to know is in you already, trust in who you are. Wherever you are in this moment, is exactly where you are meant to be. Just be still, open your eyes and you will see, open your heart and you will hear. All you have to do is to listen and make a clear decision."
Verena Fay, VERENA FAY /Studio
Artist, Soul Mentor

10. Get personal.
"My current body of work, White Noise, began years after my sudden deafness in 2013. I always knew I wanted to paint about it, but I wasn't ready until this year. Over these years, I have experienced a different relationship with sound. I now have a phantom sound called tinnitus: a persistent, loud and unrelenting radio static all the time. The White Noise series is a way to process through painting and bring beauty to something that doesn't feel beautiful to me. The paintings are calm, with muted colours and minimal lines to pare back the excess and focus on what can be said through simplifying movements."
Kelsie Grazier
Artist

11. Create with a bigger purpose in mind.
"Everything I do has a bigger purpose than just being appealing to the eye. From workshops, to custom orders, to simply sharing my story, I take advantage to love and serve others the best I can. One of the mottos my husband and I live by is "Live full, Die Empty." We both come from dysfunctional homes and have a deep desire to invest in the next generation. Aside from his job of being a college pastor, we are passionate about serving those who share some of the same stories as us. We love using our platform to enlighten, inspire, and educate others on the importance of community, diversity, and living a life of intention."
Josefina Herrera-Sanders, Love Offering
Creative Freelancer Artist
12. Don't just document. Recreate.
"I am a romantic. I am emotional, sensitive and cry at weddings. Therefore, my work is more about the remembered feeling of an event, rather than its documentation. My paintings recreate the sights and sensations experienced. My work is impressionist in style and full of emotion and mystery. I aim to capture mood and atmosphere, unique to each event. Light is always a major character in my paintings."
Jean Jones, First Dance
Artist
13. Draw inspiration from multiple sources.
"In terms of my artwork in watercolor and calligraphy, I'd describe it as impressionistic and elegant. I'm inspired by European painters of the mid-to-late 1800s who painted in an impressionistic style. Yet, I'm also drawn to the scientifically accurate paintings in the botanical style and the Dutch golden age of the 1500s-1600s. Both help to push my creative boundaries."
Audrey Ko, Things Unseen Designs
Creative and Owner
14. Embrace what sets you apart.
"I'm best known for my bright artwork, my sense of humor, and my vulnerability in sharing my struggles and triumphs with mental illness. I make a lot of jokes on my IG stories about the expectations vs. reality of being an artist, and those are really popular. My artwork is bright and eye-catching on the surface, but what people really respond to is my relating that artwork to mental illness, bipolar disorder specifically. Many of the artists I meet on Instagram tell me that they used to feel so alone in their struggles, but in my honesty and vulnerability they see that they are NOT alone and they feel more emboldened to move forward in their lives as warriors, not victims."
Taylor Lee, Taylor Lee Paints
Artist/Creativity Coach

15. Be yourself.
"I stand out in the maker community because I am unapologetically myself. I am a 5'11" delightfully squishy black girl from Detroit who loves to crochet. You don't find that often. I'm loud, I have an opinion about everything, I overuse emojis, and I'm fiercely protective of my friends, both online and offline. I don't tolerate the words "I can't," and I'll turn on the tough love in a snap. I want everyone I interact with to be their best selves, and I support them in that endeavor however I can. Yarn is my medium, but this is my voice. And I have A LOT to say."
Toni Lipsey, TL Yarn Crafts
Owner, Designer & Instructor
16. Say yes to culture.
"I'm inspired by traditional Mexican crafts—it's what I grew up around—so discovering a way to interpret my experiences as a Mexican woman in today's contemporary society through ceramics is what continues to drive me. When it comes to my work, I'm a perfectionist; I pay attention to the smallest details. My work is a love letter to Mexico and the undervalued handmade crafts that make up Mexican identity."
Alejandra Magana, Manjar Ceramics
Founder
17. Look to art in other forms.
"I just finished up a collection that I call the Kosmo Kollektion. I got hooked on retro sci-fi novels, so I decided to make a series based on the futurist movement of the 1960s. The colors and forms call back to those previous trends, however, being very particular in my choices, I think they fit nicely into a modern home, too, and tell their story along the way."
Mia Moss, Moss Keramik
Potter

18. Celebrate your inner child.
"Through my illustrations and paintings, I tell warm stories that let us reminisce and celebrate the child within us. Currently, I'm working on the next batch of my mini original paintings. These are mixed media acrylic paintings adorned with a metal charm on small wood disks, ranging from 1.5″-4.5″ in diameter. These one-of-a-kind pieces celebrate specific events, feelings and memories. I inspire people to look back, find their inner child and celebrate that."
Marianita Love Pabalate, Ripe Mangoes
Artist and Owner

19. Share your work.
"I'm thankful to live in a generation where social media allows me to get my work out there without having to get a million degrees first, and I can go directly to the people."
Abbie Paulhus
Illustrator

20. Pick a technique that brings you joy.
"[After a car accident,] One of my rehabilitative doctors recommended I revisit my creative side, something I'd abandoned years before, just to gently work my brain. Something to keep my hands and mind busy, but with little to no stress. I chose block-printing, something I'd never done before, because I wanted to make a block-printed scarf. One little block-printing project became another and another and another… I just never stopped. But I still haven't made my scarf!"
Aftyn Shah, Rise + Wander
Artist
Exclusively Yours from 20 On The Rise
We're committed to celebrating and supporting the individuals who are making waves and raising the tide, rocking the creative economy and freelance industry through hard work and creativity. Check out our special offers below just for you.
Book clients, manage projects & get paid – all from one place.
Try the business management software designed just for creative small businesses.
Gusto makes payroll easy.
See why 60,000+ businesses in all 50 states choose Gusto.
Get together somewhere better.
Book thousands of unique spaces directly from local hosts.
Plus, three more posts you might like: