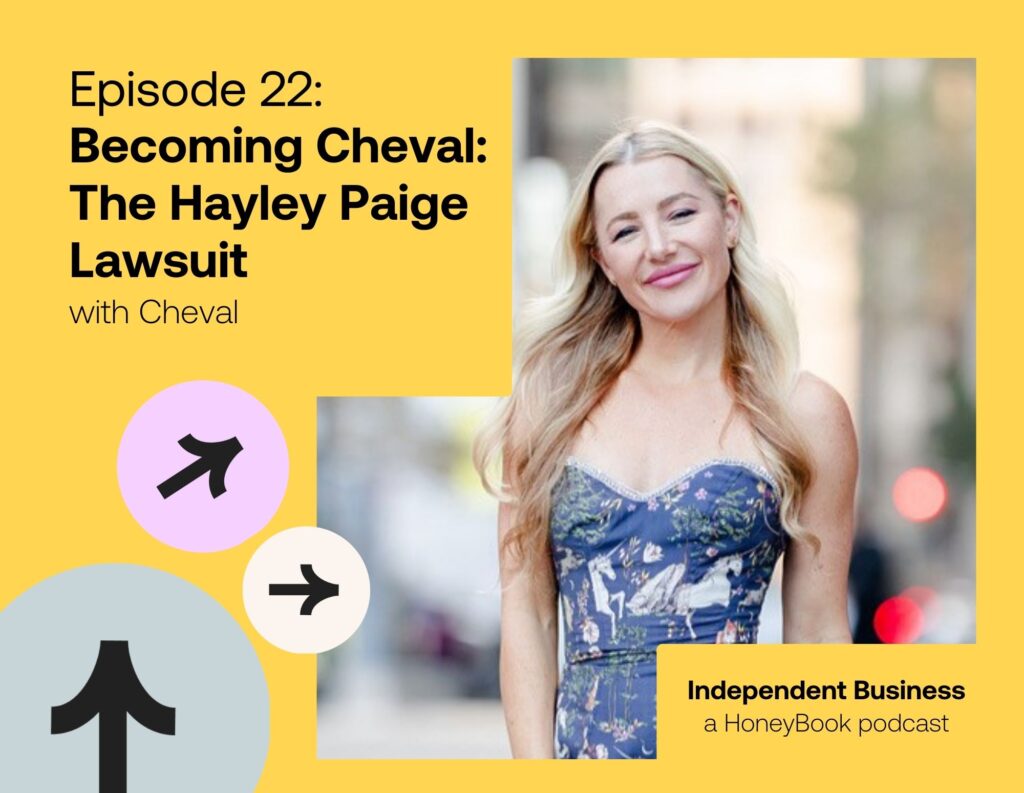 Picture this: The very opportunity you've been working for your entire career has been handed to you. You receive a contract that you sign right away. Ten years later, that very contract threatens to take away the industry that you love, the work that you've done your entire career, and even your name. This is the experience Cheval had.
In this podcast episode, we dig deep into what it's like to reinvent yourself with former bridal designer Hayley Paige, now known as Cheval. After leaving her former employer and dealing with a massive lawsuit, Cheval has had to reinvent herself in both her career and her personal life. This is her story.
The Independent Business podcast is powered by HoneyBook, the all-in-one platform for anyone with clients. Book clients, manage projects, get paid faster, and have business flow your way with HoneyBook. Use the code PODCAST to get 20% off your first year as a new member.
Follow the Independent Business podcast
Hayley Paige's lawsuit saga
Cheval can't remember a time when she didn't want to express herself in a creative way, and growing up, she had the amazing support of her family to pursue her passions. In 2011, she signed an employment contract with a major company to be the head of design of her own bridal collection.
She was so thrilled that her dreams were coming to life, and she was so focused on her craft that she didn't consider anything else. Cheval was 25 at the time, and after battling with imposter syndrome, she didn't want to lose the amazing opportunity in front of her.
Cheval did not have an attorney look over the contract for her; however, she does not believe that it would have made a difference in the outcome. The real solution would have been for her to do more research and approach her dreams with an abundant mindset instead of believing that this was the only opportunity she would receive.
Saying no to big opportunities
It's okay to say no to really big opportunities when they aren't for you. Do not believe the lie that you're a "nobody" and that this is the only chance you'll have to explore your dreams. The most important thing is to do your due diligence before signing any contract.
Once you assess an opportunity, you must believe that a better opportunity will come your way if you have to walk away.
Before you enter negotiations, it's crucial to understand your worth and your non-negotiables. There is always give and take in business dealings, but you must know what your boundaries are to ensure that you are not taken advantage of and manipulated.
Cheval's experience reinventing herself as a woman and a business owner
Cheval is no longer legally allowed to use her given name, Hayley Paige, for any kind of commerce, which includes social media. She changed her name to Cheval and reinvented herself as a woman and a business owner.
While she wouldn't say she has everything figured out, she used the opportunity to let go of patterns and behaviors that weren't working for her. Changing her name gave her the opportunity to hold on to the best parts of herself and grow into a new version of herself. She became self-aware of her mistakes and learned from them so she wouldn't make them again.
The biggest lesson Cheval learned from her experience
The biggest lesson Cheval learned is how to set healthy and firm boundaries. While she loves to make people feel good and like they belong, she has also learned that she can say no without being confrontational.
As a business owner, the lawsuit forced Cheval to reinvent her business as well. Until 2027, she is not allowed to identify as a designer in any of the categories that her former employers manufacture or sell, which means she cannot design and sell bridal gowns.
This provision challenged Cheval's entire sense of self, but she found a way to express herself creatively in a new venture. Cheval pivoted into designing high-end shoes, which has given her the opportunity to use her design skills and passion for the bridal industry in a new way.
Cheval may have lost her given name to her old employer, but they lost the human behind the brand. She is the secret sauce that made her brand amazing, and she took her magic with her into her new venture.
Turning a life-changing experience into advocacy
Along with designing shoes, Cheval also launched a nonprofit called A Girl You Might Know with the mission of helping other young women creative entrepreneurs protect themselves in business dealings.
Cheval is using her negative experience to provide the resources she wishes she had to others so that fewer creatives will be taken advantage of in the future. Part of the work the organization does is provide referrals to lawyers who use pro bono hours to help young artists.
Cheval's tips for young entrepreneurs before entering into a partnership:
Treat it like you are preparing for a test. You need to come in prepared and know what questions to ask beforehand.
Be an active listener in the process.
Understand the other side's positioning behind their statements. What are they looking to get from you?
Do not let someone rush you into signing a contract.
The biggest differentiator between the businesses that succeed and the ones that fail
Businesses that fail and learn from their mistakes succeed because they have the grit and gumption to get back up after they've fallen down.
Important sections of the conversation:
[3:27] Cheval's lawsuit sage
[9:42] Saying no to big opportunities
[15:20] Cheval's personal and business reinvention
[22:09] The human behind the brand
[25:23] Turning her experience into advocacy
[29:04] Advice for creative business owners
[35:40] The biggest differentiator between businesses that succeed and ones that fail
Mentioned in this episode:
Connect with the guest