Here's How To Throw A Holiday Party To Celebrate Your Tribe
It has been almost two years since we had our first "Girl Boss Tribe" party. The idea of creating a beautiful tablescape, a delicious meal, scrumptious desserts, and (of course) cocktails was born out of… you guessed it, burnout! Every day, we are working hard for our clients to create something beautiful for them that also reflects who they are. From designing invitations, branding boards, tablescapes to ceremony spaces, we always strive to give them something to remember forever.
And more often than not, we dedicate our time and talents while hustling hard for our clients and we never actually get to sit down and enjoy it. They say the hustle is real, right? Well, it shouldn't always have to be that way. I want to encourage each and every one of you to take a step back, celebrate your tribe, and throw a luncheon or dinner party just for yourselves. After all, you've earned it!
Here are my top four tips for executing it perfectly: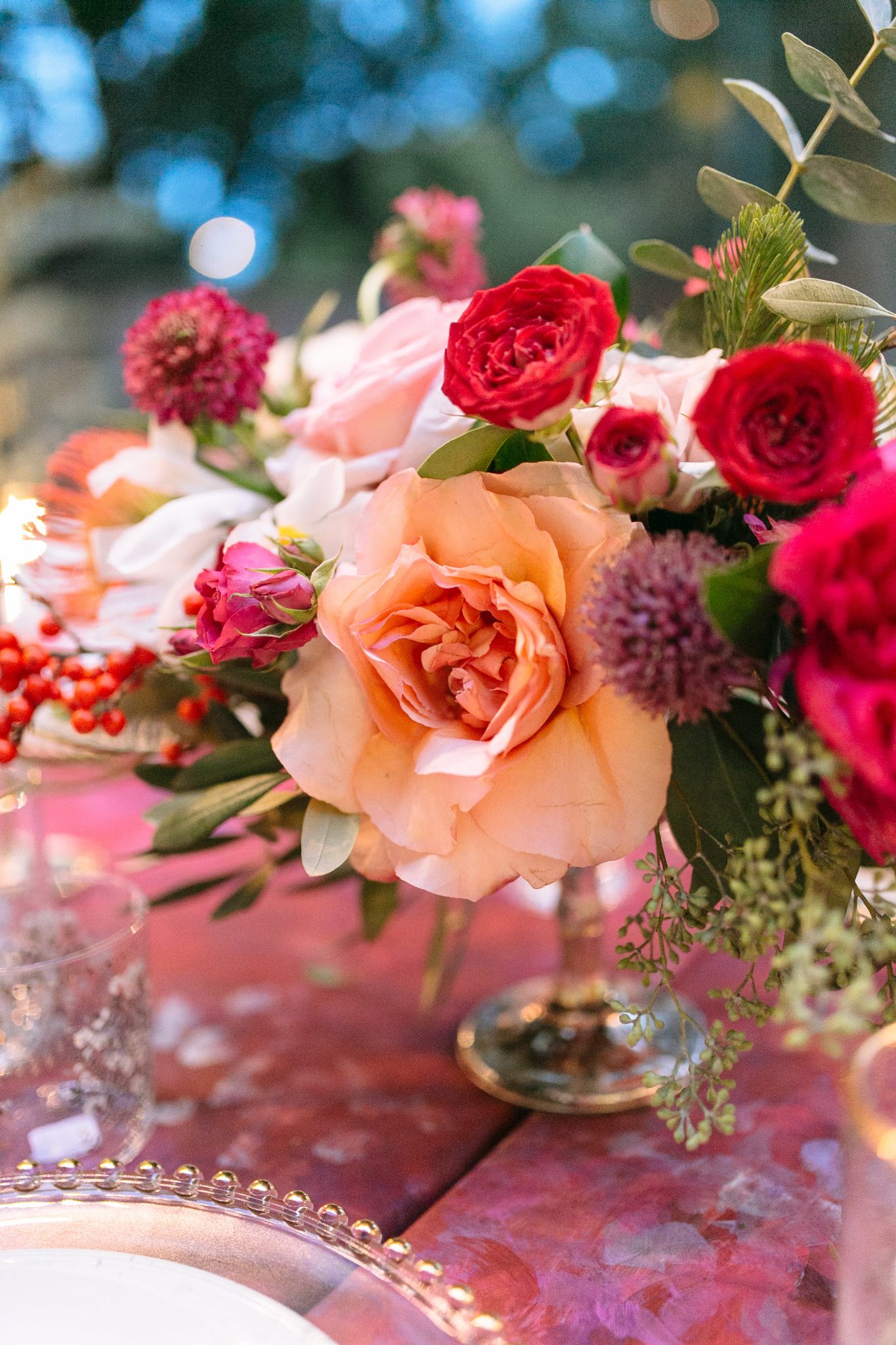 1: MAKE IT PERSONAL
When planning for our clients, we always ask questions about their favorite colors, what they want their guests to feel, what the most important pieces of the puzzle are, etc. But, it is easy to get caught up in just making "something pretty" when we are planning for ourselves. So, I encourage you to slow down and ask yourself the same questions you would ask a client.
For this year's holiday dinner, that personal touch started with a hand-painted abstract table runner. I love to paint as a creative outlet, as well as do florals, so I set the stage with a personal piece on the table and pulled in all the colors and textures from there. Suddenly, we had a palette of crimson red, burgundy, violet and hot pink, which transitioned into the rest of the table decor.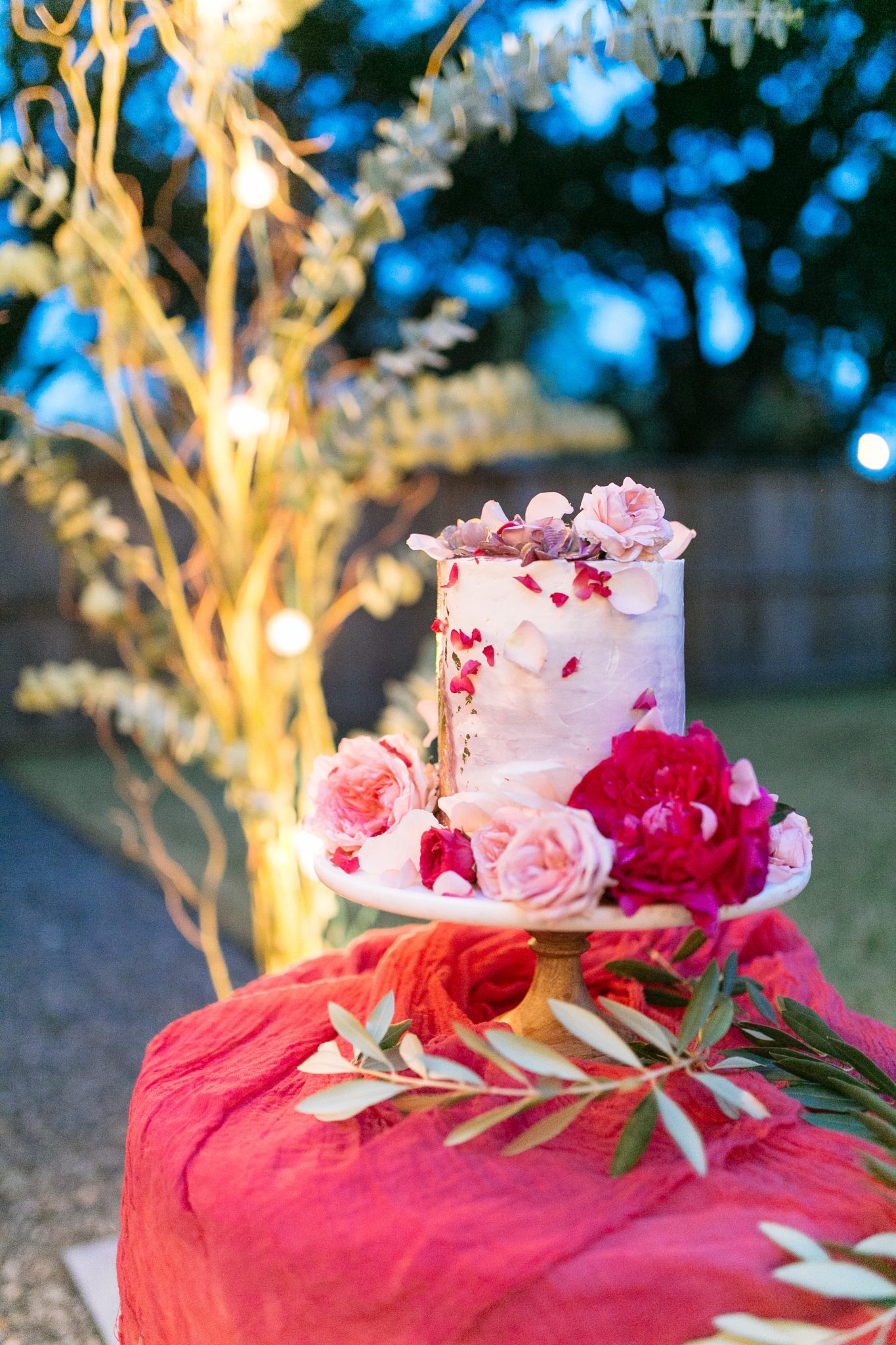 2: TEAM WORK MAKES THE DREAM WORK
Have your tribe members contribute something that inspires them. Think of it as a creative potluck! For example, Dionne of Nib and Pixel took the colors from my hand-painted runner and created the ornament place cards for each guest, which also served as party favors! Kristina of Buttercup Bakery was inspired to make this amazing holiday cake in flavors she's been wanting to try out (a rich chocolate and pistachio cake with red wine soaked cranberry filling and vanilla Swiss meringue). Sarah of Blome's Paperie brought over candle tapers and brass candlesticks. Morgan of The Foodie Chef put together this insanely delicious meal that didn't require much maintenance with heating. I finished it off with florals and styling details. And Becki of Smith House Photography captured all the fun and prettiness. It can always be a team effort no matter who's planning or hosting.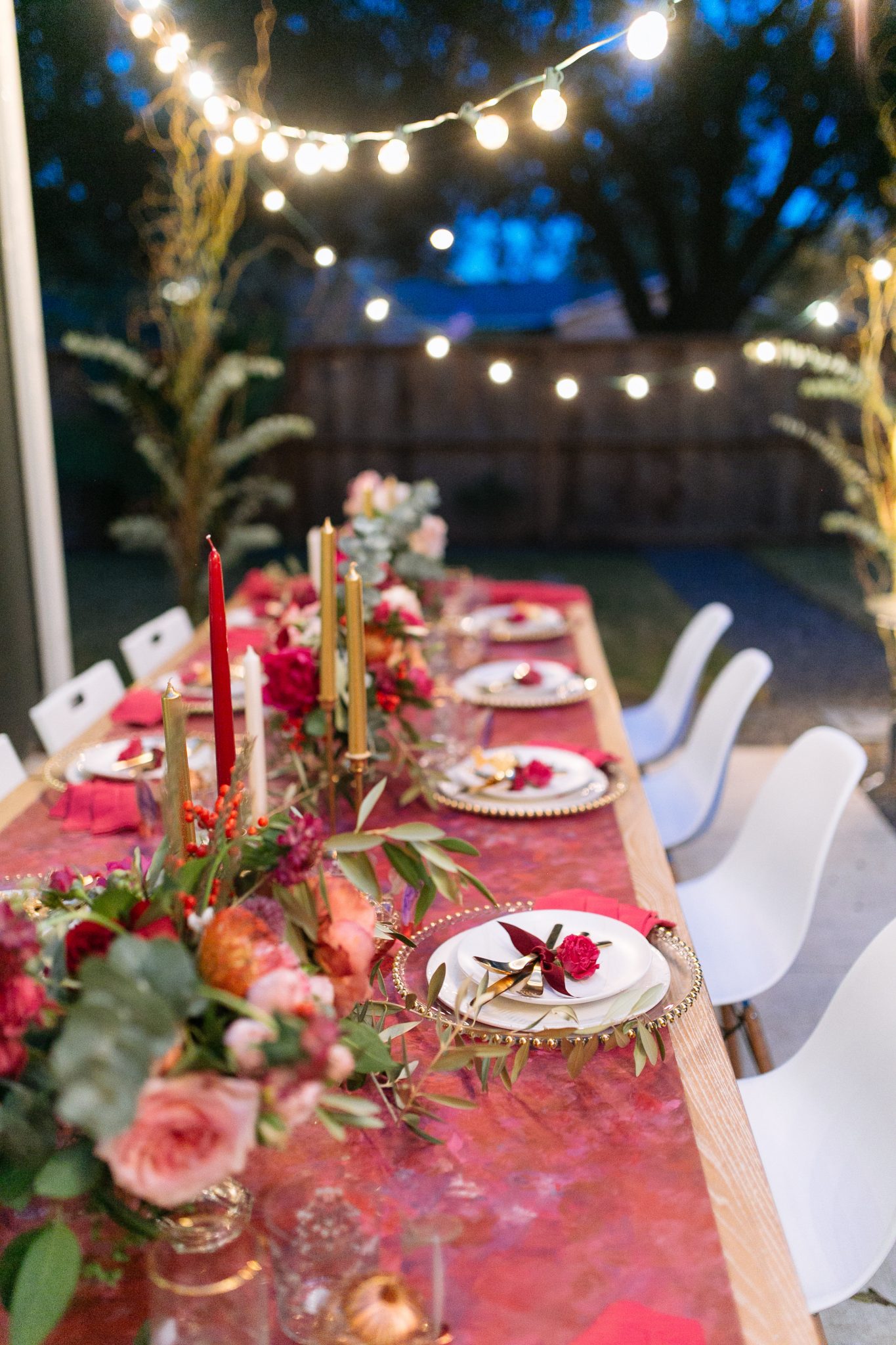 3: DON'T OVER-PLAN
While a wedding or corporate event will always have an itinerary of activities and a timeline to keep up with, we recommend ditching that part for your own party. Instead, create an open space over a great meal that will encourage everyone to take a deep breath, enjoy, and relax. And speaking of relaxing…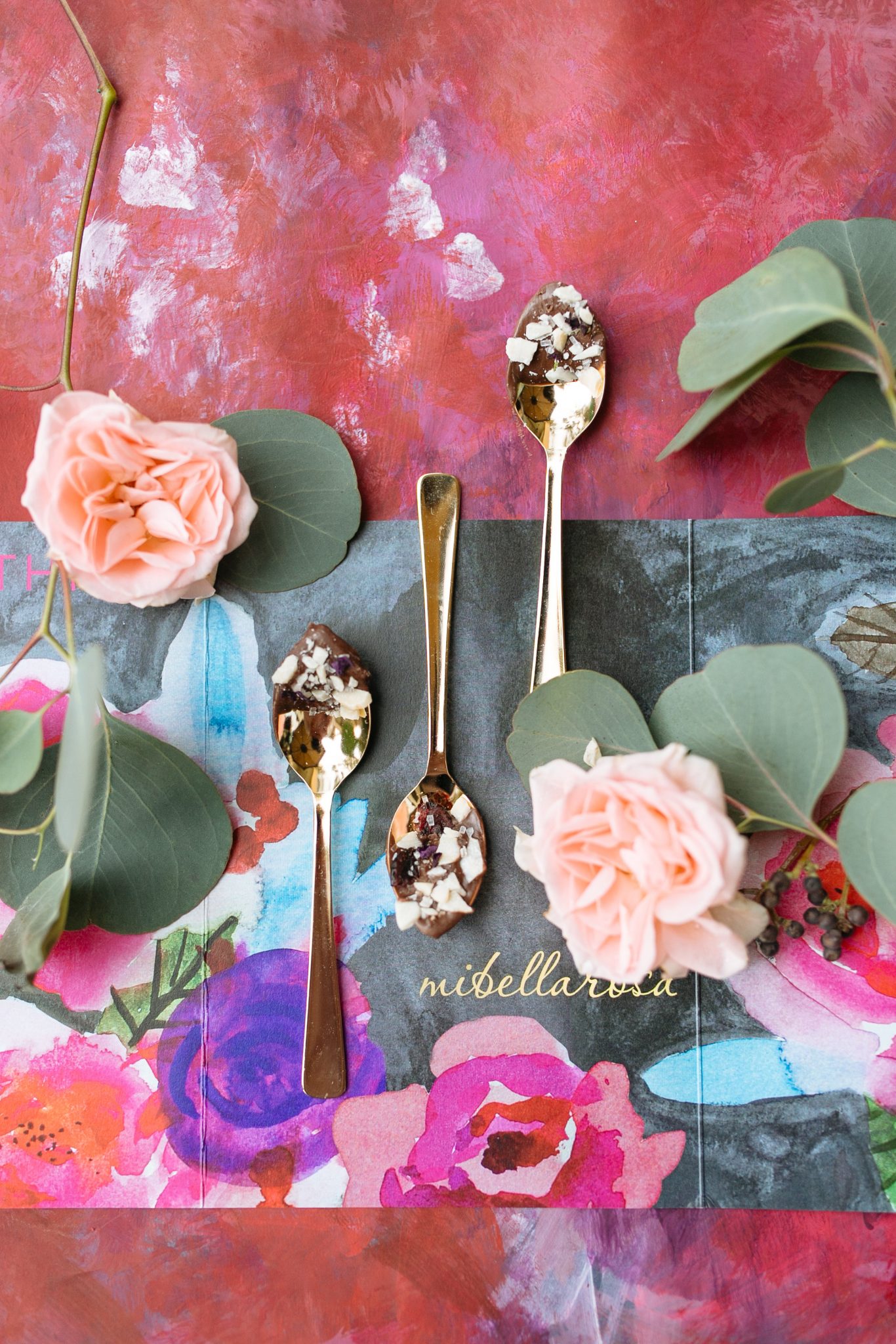 4: YOU NEED TO RELAX
While you are the host of the party, you are NOT the help. This is not a hired event, and it shouldn't feel like work. Set the table in advance, and consider hiring a server to keep glasses filled and plates full. This will give you, the hostess, the opportunity to truly enjoy the evening with your tribe!
This holiday dinner party was the perfect way to cap off a busy year with laughter, good company, amazing food, and chatting about all the things that we are thankful for. The dinner was a success and we're looking forward to making it an ongoing tradition for our girl boss tribe!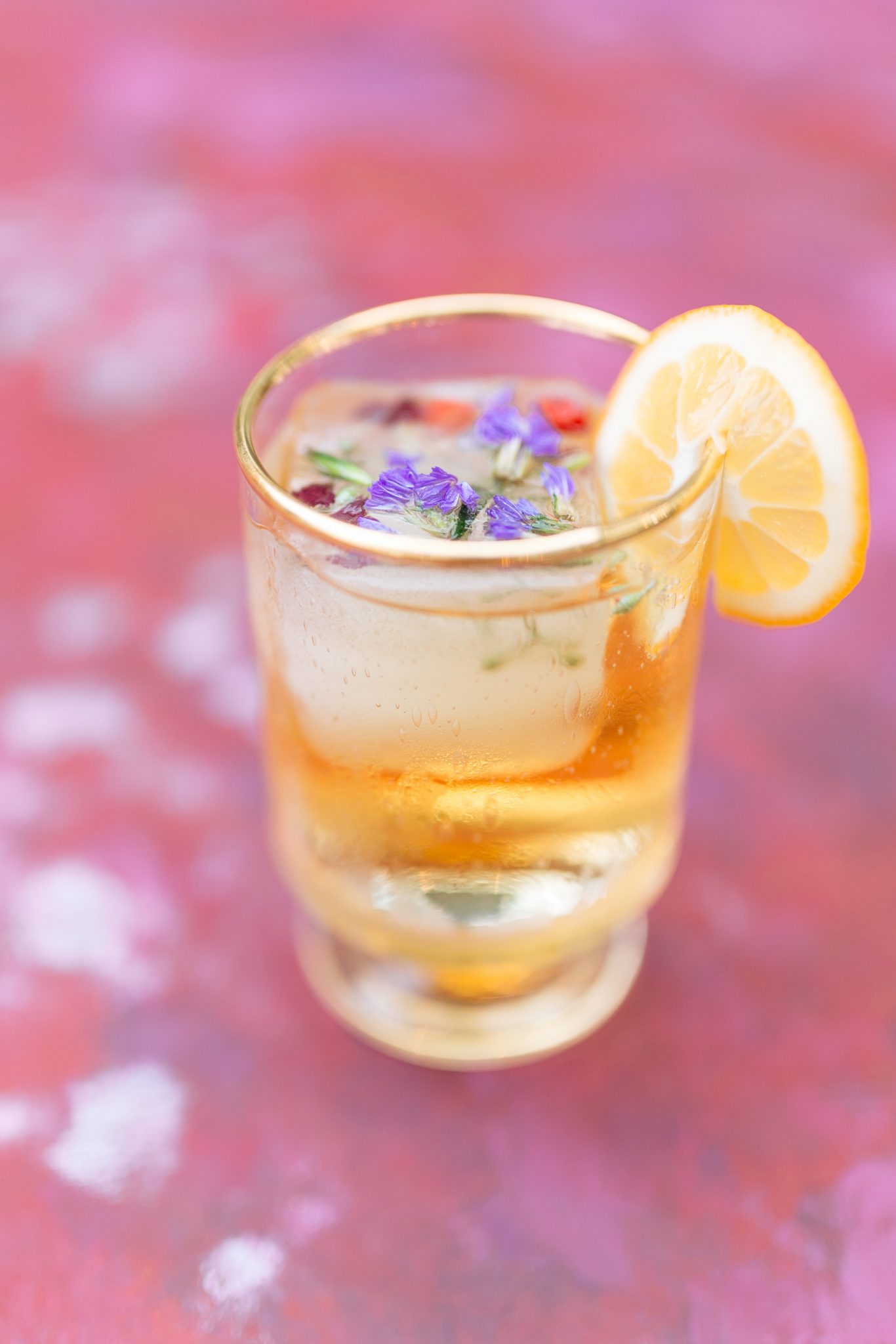 Vendors
Planning, styling, and florals: Mibellarosa Designs, IG: @mibellarosa
Photography: Smith House Photography, IG: @becki___smithhousephoto
Catering: The Foodie Chef, IG: @thefoodiechef
Cake: Buttercup Bakery, IG: @buttercuphouston
Watercolor + Calligraphy Name Cards + Envelopes: Nib and Pixel, IG: @nibandpixel
Holiday Card Art: Nib and Pixel, IG: @nibandpixel
Holiday Card Printing: Shutterfly, @shutterfly