As a Pinterest marketing strategist, I teach creative entrepreneurs how to leverage the exponential power of Pinterest to grow their email lists. If you're looking to improve your business's email funnel, Pinterest can be a powerful tool for generating new leads.
Pinterest has over 200 million users and 1 billion searches a month. The platform isn't about connecting socially, but about purpose and planning. That means that your future clients are using Pinterest to be inspired; they come looking to discover new ideas or solutions for their needs. Because it functions primarily as a search engine, Pinterest is the perfect place to grow your business on autopilot. By converting Pinterest traffic into email subscribers, you have the opportunity to "woo" and nurture these readers to turn them into new clients.
Step 1: Optimize your Pinterest profile
Your first task is to make sure that your Pinterest profile is in good shape. Here's how you do that:
Switch to a business account—if you are using Pinterest in any business capacity, the terms of service state that you need a business account.
Add keywords and a short-link that drives to your best content to your profile page.
Clean up irrelevant boards by making them secret—do not delete them or you will lose followers.
Make sure you have at least 10 keyword-based boards related to your niche with 15+ pins each, as well as one personal board dedicated to your own content.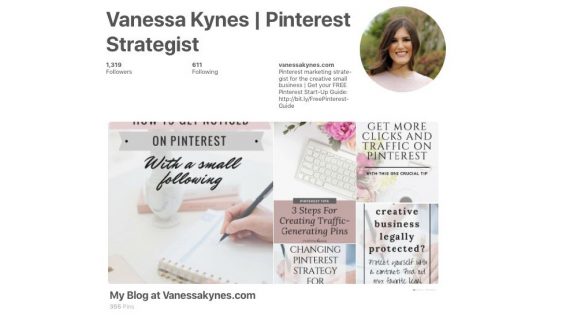 Step 2: Develop your opt-in

content
Before you start posting pins, you need to create a compelling destination for your pins to drive to.
Create at least one opt-in. An opt-in is a valuable piece of content that relates to your niche. It could be a graphic, a checklist, or a PDF that solves a pain point for your target audience. For example, people working with brides might create a "day of wedding checklist" or a list like "top venues for Atlanta brides".
Set up your opt-in delivery method through your email marketing company.
Choose a destination for your Pinterest traffic. This could be a blog post or landing page where you offer your opt-in content and invite readers to join your email list.
Step 3: Use Pinterest to drive traffic
To drive people to the opt-in content, create various styles of pins and calls to action to attract different audiences. Here are the main things to remember:
Craft effective pins
Like every platform, Pinterest has an optimum size for images. You want to keep your pins between about 600 x 900px and 600 x 1100px. Longer pins do get cut off, especially on mobile, so be cautious about their length.
I recommend two things when creating your pins. First, consider using a text overlay that includes a call to action. According to Pinterest, pins with a text overlay—such as "How to Prepare for your Wedding Day" or "10 Inspiring Spring Wedding Bouquets"—statistically get more clicks than pins without text.
Here are a variety of examples of my pin images, some leading to the same landing page:
Incorporate keywords
Make sure to use keyword-rich descriptions for your pins. Pinterest will use these keywords to insert your pin into search queries made by your target audience. For each pin, craft a 2-3 sentence description using keywords closely associated with your content.
You can use the same description for all the differently styled pins, or, to increase your SEO efforts, create different pin descriptions to improve your search results.
Automate
To make posting easier, schedule your pins using a Pinterest scheduler like Tailwind. Tailwind allows you to create a "pinning" queue so you can automate your Pinterest marketing strategy. You'll want to pin your opt-in pins to both your personal content board as well as your other related boards. (If you want more Tailwind strategies, I've got resources on my blog.)
Step 4: Keep in Touch
Once people have opted in, be sure to consistently write to them. Nurture your subscribers like your special tribe by offering tips and sending valuable content in your emails.
And that's it! Pretty soon your Pinterest marketing will practically be on autopilot, constantly working to drive new prospective clients to your email list.
For more tips, subscribe to my emails to receive my free Pinterest start-up guide.