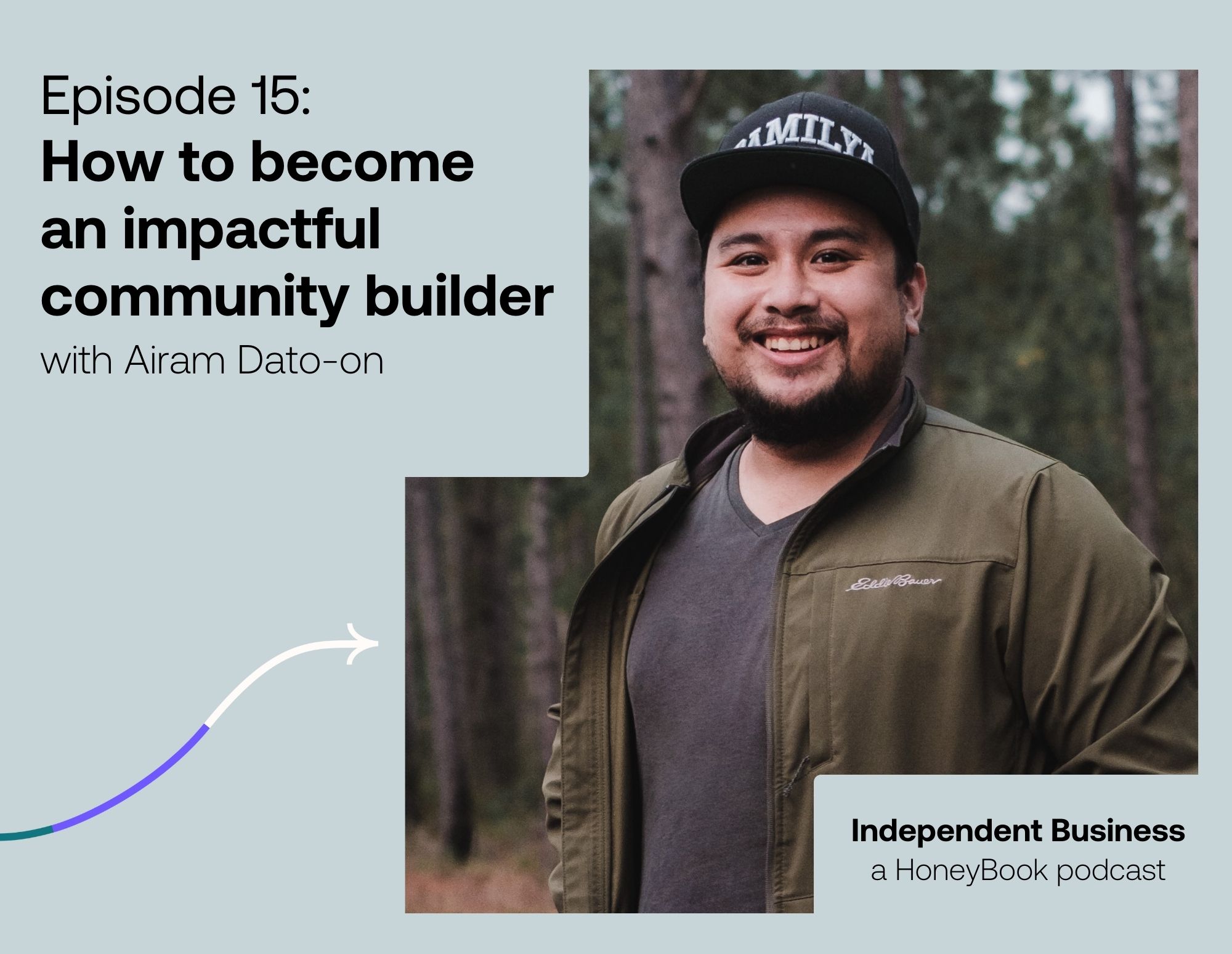 Today we are talking about one of the biggest differentiators in the self-made success equation: community. Trust me, community is not a fluffy topic or something that's "nice" to have. It's a requirement when it comes to success in your independent business.
Airam Dato-on, an Orlando-based photographer and creative community builder joins us to share his work in building communities across the United States through events, meetups, and challenges with Pexels.
The Independent Business podcast is powered by HoneyBook, the all-in-one platform for anyone with clients. Book clients, manage projects, get paid faster, and have business flow your way with HoneyBook. Use the code PODCAST to get 20% off your first year as a new member.
Follow the Independent Business podcast
Airam's journey to becoming a community builder
Airam has worn a lot of hats in his career. Right out of college, he started working with university students to help them figure out what they wanted to do with their lives. This job is where he discovered his love of community. Later, Airam worked a desk job until he moved to Orlando and took the leap into creative entrepreneurship as a graphic designer and photographer.
With no personal connections in Orlando, Airam joined Facebook groups and started connecting with people online.
Airam's love of community goes back to his time studying graphic design in college. His courses included giving and receiving open and honest feedback. It was in college that he learned to hone his craft through both positive and critical feedback. An often overlooked aspect of community is having people around you who can honestly point out how you can improve.
Finding community on social media
Airam made his big move to Orlando in August 2019, only six months before the pandemic hit. As a response to the isolation he felt, he joined TikTok and found a way to stay connected to an online community. Through TikTok and Instagram, Airam formed connections that transferred into his real life.
When it comes to building community online, TikTok and Instagram have different perks. Airam suggests showing up on both apps the same way.
TikTok is locally oriented, so it gives you the potential to grow a strong local community that can translate into "real life" friendships. However, DMing through TikTok isn't great, so you need to have another way to reach people personally.
Airam recommends funneling your TikTok audience to your Instagram where it's easier to connect one on one with them. From there, you can send them to a mailing list, discord community, or another platform where you can connect with them more.
The beauty of TikTok is that you can post a wide variety of content. The idea of "niching down" has been drilled into creators who want to grow on Instagram, and on TikTok, the rules are much looser. Instead of finding your niche, you are your own niche on TikTok, which means that you simply need to post content that resonates with you.
A great example of someone who has become their own niche is Allison Sugahara, known as Sugi on TikTok.
Be a business owner and a community builder
In-person networking feels daunting for some people, so it's important to remember that community starts with two people. Whether it happens in person or online, all you need to do to start growing your community is to connect with one other person.
Once you find that one person that you can connect with, a bigger community can grow from there. A two-person community can quickly grow into a thriving meet-up group.
The important thing is to not be afraid of being vulnerable with people. As a community builder at Pexels, Airam has learned the importance of meeting people where they are in that moment. Whether they are ahead or behind you on their entrepreneurial journey, it's important to figure out what you can do to help people feel valued in your community.
Cultivating an inclusive community
As a community builder at Pexels, Airam strives to make in-person and online events as accessible as possible. That includes helping hosts with everything they need to run a successful event and hosting more online events so that more people can join the community.
It also includes making in-person events more accessible for people with disabilities. Today's community leaders need to adapt their events, both in person and online, to include people who have been excluded from events in the past. It's on the community leader's shoulders to find ways for people who are neurodivergent, immunocompromised, busy single parents, and more to be able to engage with the community.
The Internet has made communities more inclusive and accessible. It's also made it possible to connect with people who have the same unique interests as you.
The future of community
Airam is excited about the future of community because major brands are realizing that they have to invest in building community in order to fulfill their mission. They have to bring their consumers together if they want to grow. A great example of this is the way that Yelp started as a restaurant review app and now serves as a way for locals to connect with each other.
Laura Nestler, who is now the VP of Community at Reddit, set the golden standard years ago when she was at Yelp. Now other major companies are finally catching on to the importance of building a community around their business.
Measuring the ROI of being a community builder
It takes time to invest in relationships, show up at networking events, and build community. How do you know it's worth your time as a business owner?
There are ways to quantify the ROI of your community, such as looking at your audience numbers or downloads. However, community is way more than numbers. The true ROI is the collaboration that takes place between community members. When people start to work together and help each other out, you have a successful community.
All it takes is one person to open a door for you and change your life. For Airam, that person was photographer Reggie Ballesteros. Airam and Reggie helped educate each other on Instagram changes, such as posting educational carousels and reels.
Their symbiotic relationship helped them grow at the same rate and find more success together as individuals. Airam and Reggie are both photographers and instead of seeing each other as competitors, they saw each other as collaborators that could help each other out. These partnerships are the real ROI of community.
The biggest differentiator between businesses that succeed from the ones that fail
The businesses that succeed, especially independent creators, learn to compete with themselves instead of comparing themselves to others. Focusing on where you've been and where you're going will help you stay on track, whereas looking at what others will doing will cause you to lose sight of your mission.
Important sections of this conversation
[1:33] The role of community in Airam's career
[6:02] Community pain points
[10:00] Finding community on social media
[17:00] The first steps business owners can take to build community
[21:45] Cultivating an inclusive community
[30:09] The future of community
[33:34] Measuring the ROI of community
[39:31] The biggest differentiator between businesses that succeed from the ones that fail
Sources mentioned in this episode
Connect with the guest