At HoneyBook and the Rising Tide, we can't wait to see what's in store for you and your business in the new year. The key to accomplishing it all? Setting and achieving the right goals. Which is why we've partnered with the goal-setting experts at Cultivate What Matters® to help you do just that.
Even though our goal-setting Instagram challenge is over now, you can still get all the tools, tips and daily prompts to help you understand how to set intentional goals and how to actually achieve them.
How to Set and Achieve the Right Goals This Year
Step 1. Download the challenge guide. Inside, find everything you'll need (including instructions for steps 2 and 3) to set and achieve the right goals this year.
Step 2. Watch the replay of the kick-off webinar with goal-setting expert and Cultivate What Matters® CEO, Lara Casey, and HoneyBook Head of Community and Co-Founder of The Rising Tide Society, Natalie Franke. You'll get top tips for setting the right goals and making this your best year yet. Your exclusive replay link is included in your challenge guide.
Step 3. Complete the 5-day Instagram challenge. Just follow the prompts in the guide. Whether you decide to share each completed prompt on Instagram or not, you can expect to walk away with a list of actionable goals you're going to achieve this year. (We believe in you!) Find all of the challenge prompts in your challenge guide.</p>
See How the Challenge Helped Business Owners Just Like You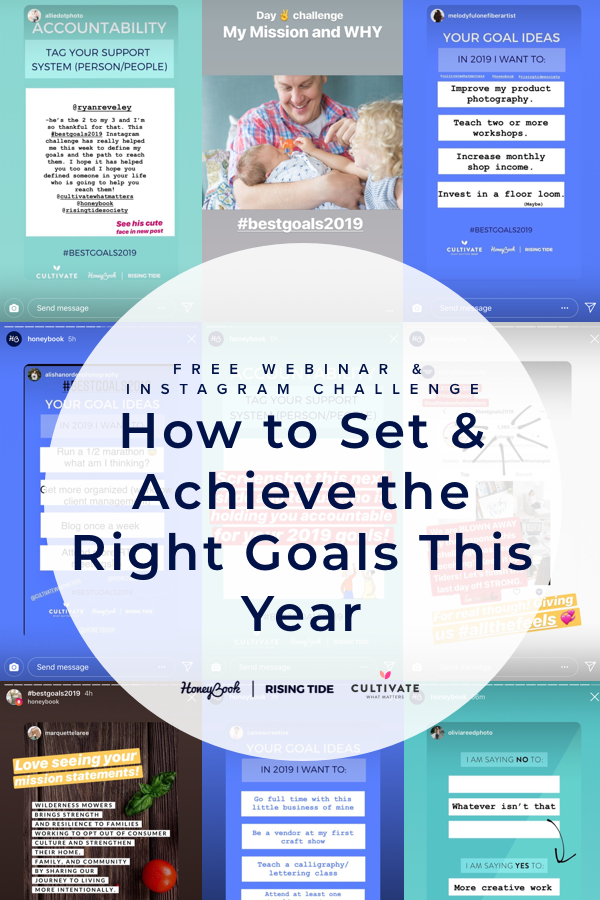 Ready to Finally Follow Through on Your Goals This Year?
We're so ready for you. But even if you're not quite there yet, remember you don't have to be. According to Lara, "You don't have to do it all, or make perfect progress, or have your goals perfectly formed by January 1 (February 1 can be your January 1 if you want!), or start flawlessly, or do more, or get it all done now."
"But do you know what is magical?," Lara says. "Choosing to live what matters, little by little, over time. No perfect starts or perfect progress required."