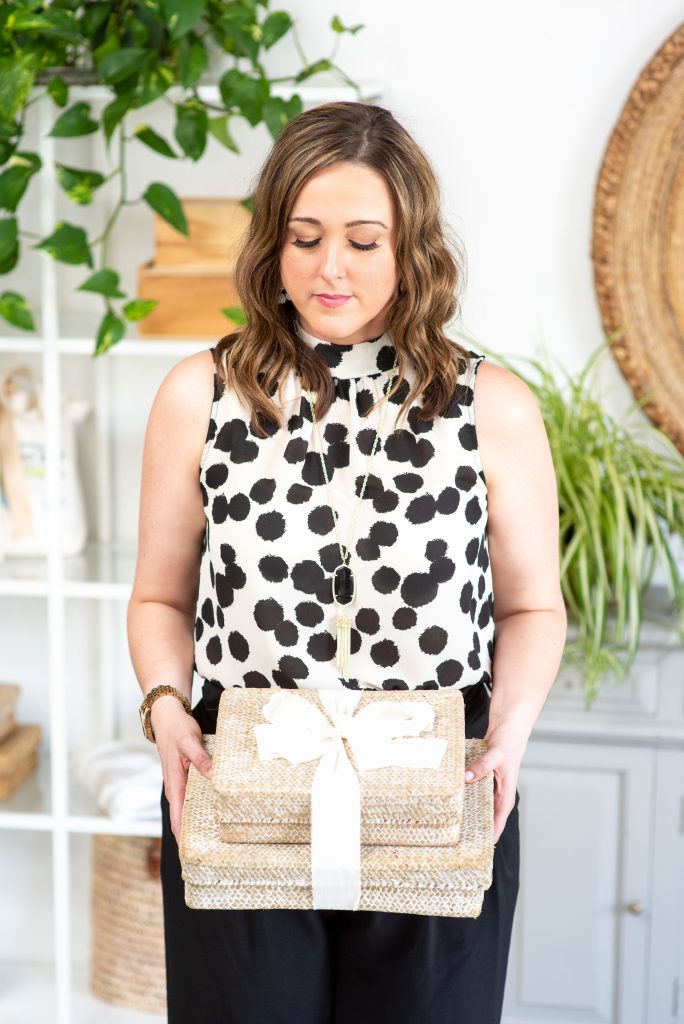 HoneyBook member Jamie Kutchman Wynne, Founder & CEO of the artisan gifting business Marigold & Grey, will tell you: without risks, there are no rewards. That's because over the past five years, taking big (yet always calculated) risks has been the key to her success, often allowing her to double revenue after each innovation. Here, Jamie shares the three noteworthy changes that helped her grow her business, including refining her business model (it morphed from an online-only, build-your-own-box business to a concierge gift design service); focusing on understanding and winning over her ideal clients; and hiring a team (along with renting warehouse space!).
Please tell us a little bit about yourself.
Hi, my name is Jamie and I'm the Founder & CEO of the artisan gifting business Marigold & Grey! We specialize in custom gift design for client appreciation, wedding welcome, corporate events, and other milestone occasions. My sole mission as a creative entrepreneur is to take the tedious task of gifting entirely off of our clients' shoulders from design to delivery. We believe that the gift giver deserves the same amazing experience as the person receiving the gift!
And as a fun fact, we just celebrated our 5 year business birthday in November 2019!
What are your career highlights?
Gosh, this is a tough one because while I'm proud of the more obvious things like national press recognition (Martha Stewart, New York Times, The Knot, BRIDES etc) as well as landing high-profile clients such as Pinterest, LinkedIn, the NFL, Kate Spade, Microsoft, and some we're not even allowed to mention by name, I've actually experienced the most pride from more unexpected moments.
I'll explain! 
Back in September, our building experienced a very serious building fire and significant collateral damage to our studio space. It was immediately condemned. We lost more than half of our inventory that day along with all of our studio furniture and furnishings. However, from the moment the fire happened, my team showed up and rallied.
We came together and miraculously managed to meet ALL of our client deadlines we had on the calendar for that week and beyond. (Exactly how we pulled this off is a story for another day!) We went weeks without heat or AC, fully functioning bathrooms, proper lighting, and have had repair people banging and hammering nonstop while we're trying to work. But no one complained. We've remained laser-focused on our mission to serve our clients extremely well no matter what we're facing behind the scenes.
I'm proud that I've somehow remained positive and upbeat over the last couple of months when it's been insanely stressful – tension with our landlord, not enough space to execute our holiday season when we do 40% of our annual revenue, endless insurance claim meetings related to the fire, etc. I'm proud for refusing to give up. Most of all, I'm proud of my team. I could not have survived this without them. We've been tested as a business and we've proven we can survive and thrive. This means more to me than any press feature or recognition from a high profile project ever could.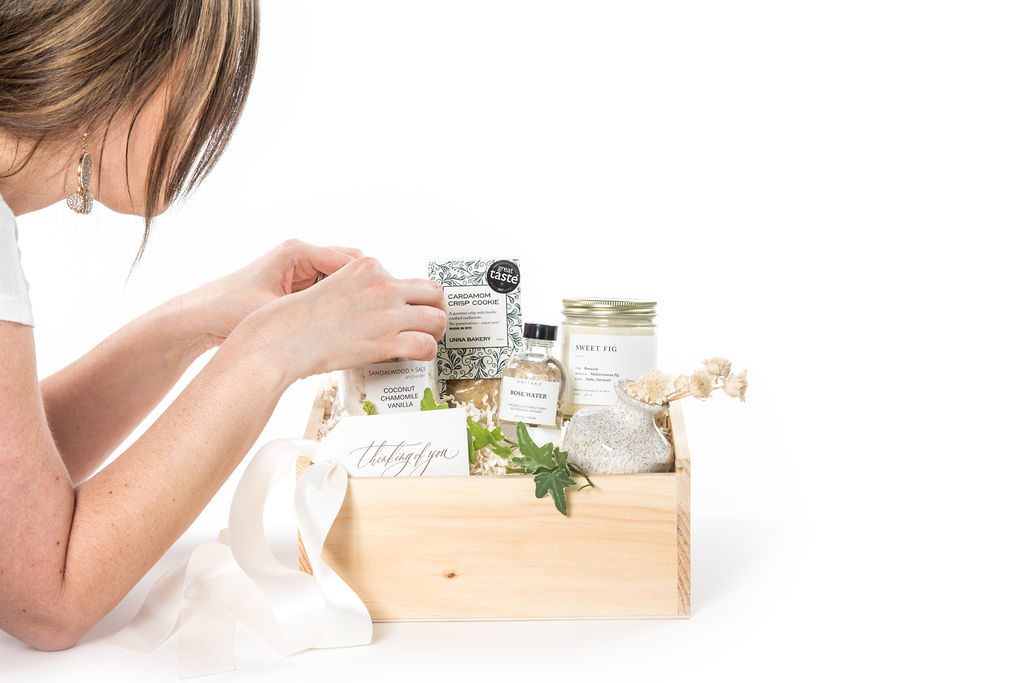 Lastly, I'm proud to be in a position to offer my employees healthcare benefits. I know it might sound less glamorous than a fancy award or lofty revenue goal, but it's a goal I set for myself from the very beginning and achieving this goal is something I'll never forget.
How did you know it was time to hire a team?
Since starting the business in 2014, we've grown substantially each year. And as we've gradually grown, I've taken risks to expand the business accordingly. Much like most small business owners, I began in my basement. When I couldn't grow the business anymore with it just being me, I made the decision to hire my first employee! I remember being SO terrified when I did this but it certainly paid off because we experienced growth as a result. Due to that growth, when we could no longer handle the volume with it being just the two of us, I hired another full-time employee, and so on and so forth. Same for our studio space.
Once it became clear that we grew out of the original room in the basement and took over an additional guest room, and then the gifts were being built and shipped in our upstairs living room, dining room and foyer, it was time to think about getting a commercial warehouse space.
The straw that broke the camel's back? When we began having pallets dropped off in my front yard because we obviously don't have a loading dock at my house. Again, I was terrified to take the leap. But I recognized that I needed to and signed a lease for my first 3,000 sq ft. We quickly grew out of that space and this past summer, I signed the lease to take over the adjacent studio space to double our square footage. Again, terrified. But did it anyway.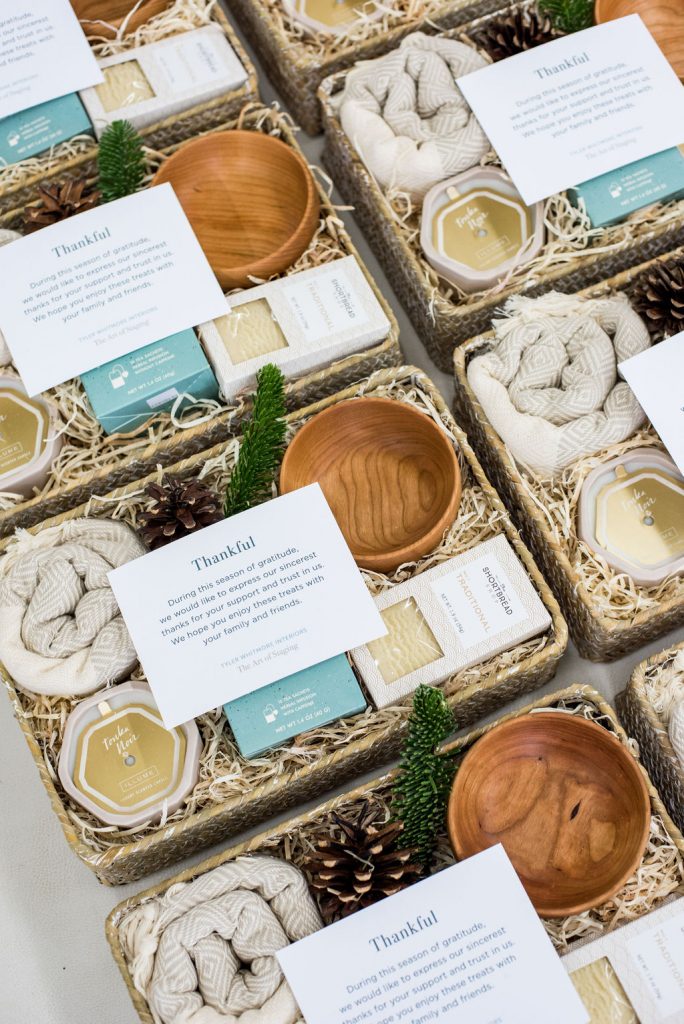 Fear is obviously a common theme here. I think there's a common misconception out there that being an entrepreneur means you inherently love to take risks. I disagree. You can be a business owner and still be risk averse. In fact, the fear of taking the next step has always been present for me, almost to my detriment. But the difference is, once I recognize that I HAVE TO take a leap in order to further grow the business, I push past my comfort zone and do it even when afraid. I don't make these leaps for vanity reasons or to make us look bigger than we are. I make these leaps of faith because I feel they are the necessary moves to grow the business and the brand.
How have you changed your pricing? How did that help you to find and focus only on your ideal clients?
In terms of clients and pricing, we've grown in a similar way. In other words, incremental growth over time. In the beginning, we weren't charging for custom design work. Then I became so inundated with design work and I experienced creative burnout. So I began to charge for design work.
Despite the design fee, we were still booking projects left and right and I was still burned out with design work so we decided to more than double our design fee. This allowed us to narrow down our clients to the ones who were serious about working with us and willing to make an investment in our creative process up-front.
It also allowed us to do less projects for the same amount of revenue or more which helped me maintain my sanity as I landed upon the right price points for our services. Prior to starting Marigold & Grey, I had never been involved in a gifting business so to be honest, I had zero clue how to price things. But I paid close attention to our bookings and our numbers, and made adjustments over time. 
Why did you pivot your business model from online only to a custom design service? How did it go?
The original version of Marigold & Grey was an online-only model whereby visitors to the website could build their own welcome gifts by choosing their own packaging, then choosing their edibles and beverages, adding keepsakes, selecting ribbon color, custom designing gift tags, etc. While the website was getting sales, the side of the business that was really taking off was our Custom Gift Design Service where we designed the gifts for the clients instead of them designing it for themselves. It was geared solely towards the wedding market and that was it.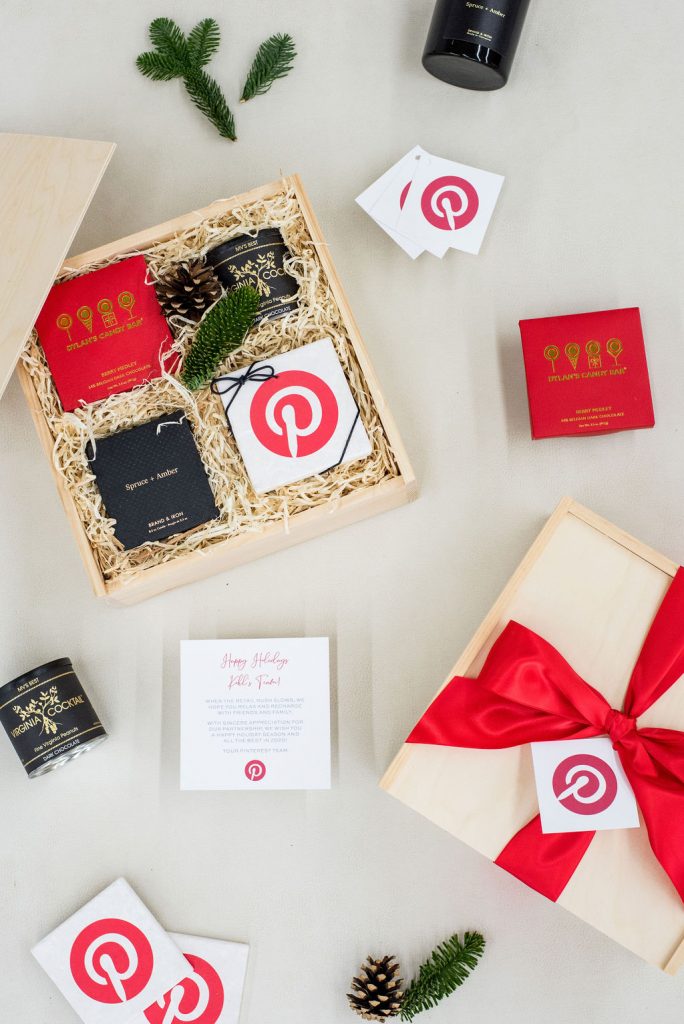 It quickly became evident to me that I'd undershot the market. I thought I knew our ideal audience and I didn't. I spent so much money on this high tech website and a few years in, decided to disable it altogether because it was confusing visitors to the website. They'd land on the build-your-own tool and if that's not what they wanted, they left because they didn't realize that we even offered Custom Gift Design Service (as well as pre-designed gifts in our online shop).
This was a painful, expensive lesson in starting small and testing the market prior to making large financial investments based on incorrect and sweeping assumptions about the market. As soon as we disconnected the build-your-own tool, our conversion rate in both Custom Gift Design Service and the Ready-to-Ship Collection skyrocketed because our core offering was much more obvious the moment people landed on our website. We doubled our revenue that year.
We also rapidly expanded into the corporate gifting space in addition to weddings, which really rounded out our client base. Even though it was painful to let go of this gorgeous, high-tech tool that we'd worked for months with developers to create, we had to eliminate the complexity and confusion and make the hard decision to pivot and let it go.
How have you innovated in the face of competition?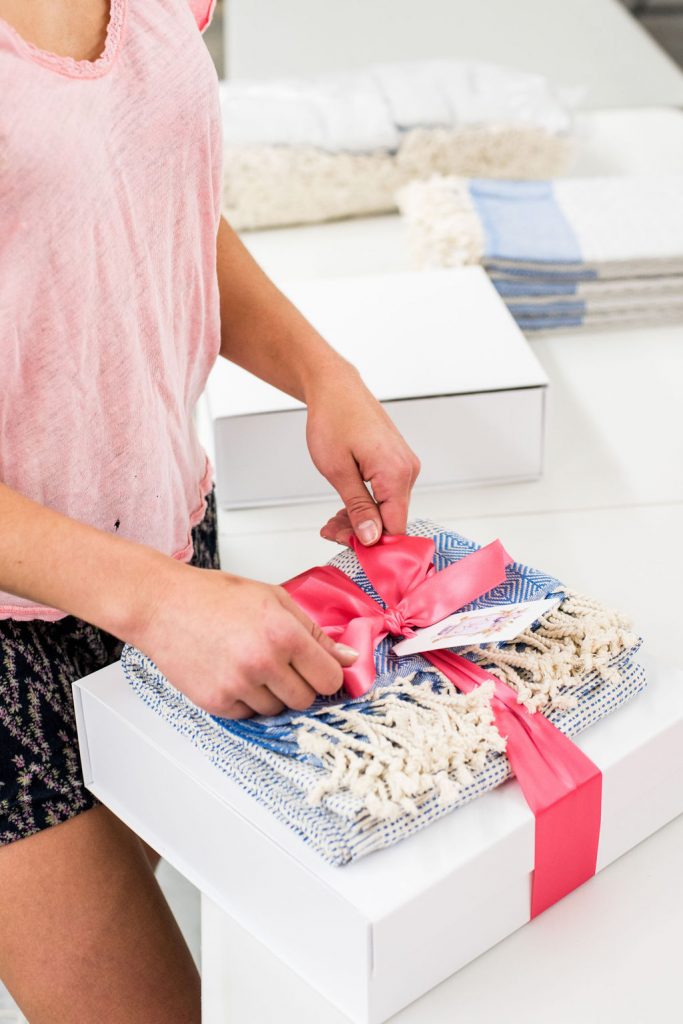 I noticed us experiencing a plateau in late 2017/early 2018. While we were one of the original artisan gifting businesses to bring curated gift boxes to the market, by this time, competition was entering the market left and right (and many at lower prices than we were offering) and we were feeling it.
Our online shop sales had leveled out so I made the tough decision to scrap the entire online collection and redesign it from the ground up. In my gut, I knew it needed fresh options and a more polished look. We studied our sales patterns over the previous years and worked together as a team to identify gaps in our collection as well as finding out additional price points we should be considering accommodating.
Once we had this all figured out, I knew I couldn't put a brand new online gift collection onto an old out-dated looking website. So, we went big. In late 2018, we rebranded, redesigned the entire website, AND launched an entire new product line (doubling the size of our last collection!) all at the same time.
As I'd hoped, we more than doubled our revenue again in the year that followed and in looking back, I'm so thankful we took this very calculated risk. It reinforced what I already knew to be true. You can't rest on your laurels. You have to keep innovating. One year's success doesn't guarantee another year's success. You have to keep earning it, working for it, and delivering your ideal clients what they want. But, making decisions to innovate based on hard data made this process feel far more comfortable and less of a stretch for this highly risk-averse entrepreneur.
You can't rest on your laurels. You have to keep innovating.
What's your vision for the future of your business? 
Since there are two distinct sides to the business, the custom gift design service as well as the e-commerce side involving our ready-to-ship online collection, we have two visions that work in tandem.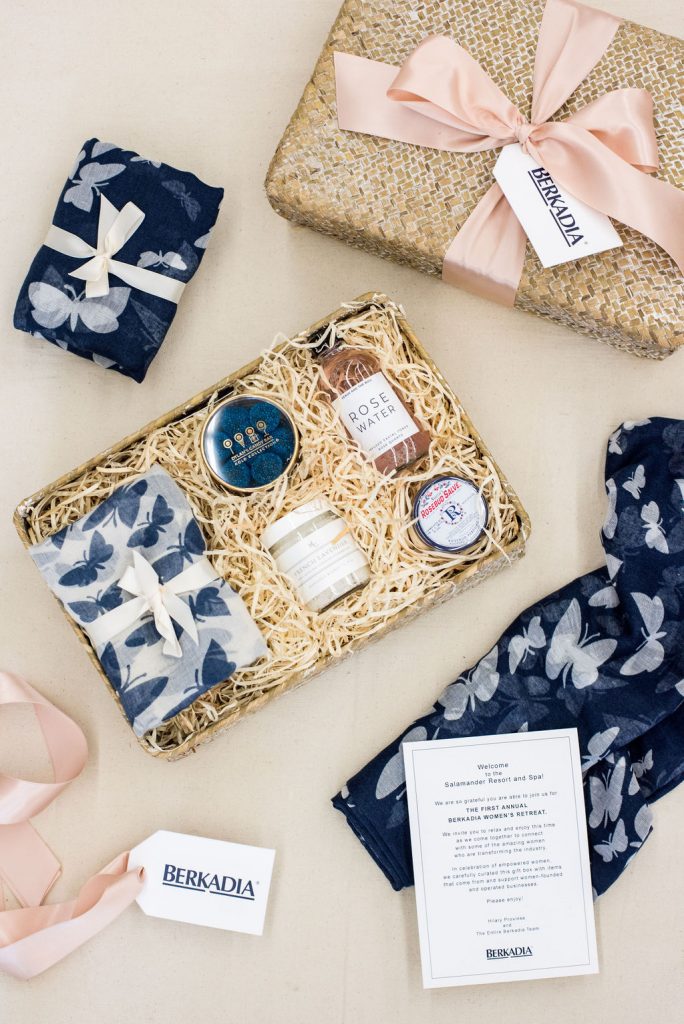 For the custom design side, I'm still far too involved in this side of the business in order to scale to the next level. I need to limit myself to the highest revenue generating projects which will free me up for focus more ON the business instead of IN the business. Once this happens, I will focus even more of my time on continuing to grow and develop the e-commerce side of the business. 
For the e-commerce side, I aspire to regularly design fresh/new gifts to keep our collections timely and relevant to annual happenings. Once my team grows even more and can handle the bulk of the design work, I would love to use that time to deepen and expand vendor partnerships and, in turn, reduce our prices and improve profits. 
How do you plan to take your business to the next level?
The plan here is to hire a full-time design team to handle the bulk of the custom gift design projects. I'll still be closely involved in making sure the output is up to our current standards and in line with our brand. With the extra time this will free up in my schedule, I'll focus on developing larger brand partnerships and keeping our e-commerce new and fresh as well as working to drive down costs based on increases in volume. 
What's your favorite HoneyBook feature?
We use HoneyBook for the custom gift design side of our business. Since several team members "touch" a project, my favorite feature is the ability to set up multiple workspaces to allow us to communicate back and forth to one another as well as separately with our clients. This allows us to offer a seamless client experience.
When a client reaches out at any stage (prospect, design phase, gift assembly phase, delivery coordination phase), anyone can jump in and help them since the information is easily accessible by everyone! This saves us hours each week because we don't have to go back and forth as a team asking one another for updates or clarification on the multiple custom projects we have going on simultaneously. It's all right there in one location. 
I also have a second favorite! Being numbers driven, I absolutely love the easy-to-download reports. It helps us know where we are in terms of revenue at any given moment and because we can categorize the leads as they come in and sign with us (or not), we're able to easily see which project types (corporate event, client appreciation, wedding welcome, etc.) are trending up or down or remaining stagnant. It allows us to be proactive versus reactive in altering our methods, which I love.
Thanks so much, Jamie!
To learn how other entrepreneurs navigate through it all, including their wins, struggles and the lessons that helped them grow, check out more posts from our series Growth Lessons.