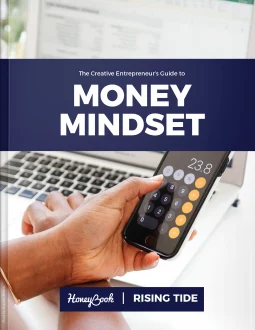 Money: everyone needs it. Nobody likes talking about it. But this month, we're diving into how a positive money mindset can shift your business from surviving to thriving.
This month's guide shares expert tips on:
Money mindset is the overarching thought, attitude, and feeling you have toward money and your financial situation. A money mindset can be one of abundance or scarcity and can influence your decisions in business and life. When presented with new opportunities, threats, or possibilities in business, a positive money mindset allows you to see potential positive outcomes, rather than experience fear. As a result, cultivating a strong, positive money mindset allows potential for future growth rather than staying stagnant or moving backward.
1. How can I cultivate an abundance mindset?
Believing there is more than "enough" for everyone is one of the key first steps toward cultivating an abundance mindset. When we focus on scarcity – believing there isn't enough work, clients, money, etc. – we perpetuate a negative mindset around money. Reframing our thinking can transform stressors to success. And speaking of success – a positive money mindset also depends on you knowing your version of success… not somebody else's. Learn more about reframing your mind in Kate's article. 
2. Can getting clear on my numbers really help me make more money?
It's impossible to feel confident regarding your pricing structure, cash-flow, and future without knowing your financial status. As entrepreneurs, our business finances directly impact our personal financial health (and also… mental health!). Start by getting clarity on your finances using Keina's tips. This can help you know where you need to earn more (and how you can using Amy's pricing tips), spend less, and perhaps where you even have wiggle room to buy nice things (like Stephen shares) or invest in retirement savings (like David shares).
3. Is it possible to invest in my business and prepare for retirement?
When your first reaction to any price point is… "I just can't afford that," or when you think… "I have the rest of my life to save for retirement," you're missing key opportunities for the here and now and the later. Making strategic investments in your business can make a greater impact than you imagine. It may be buying a new piece of equipment that will improve your product and service and allow you to charge more – meaning… more money in the bank. Or it may be setting aside a small portion of each payment to invest in your long-term retirement plan – meaning… giving you freedom and flexibility down the road. Regardless, shifting your money mindset today can result in a thriving business, life, and future.
Disclaimer: The advice featured in this guide and on the blog was sourced from our community members for sharing general information and knowledge. For specific legal, financial, tax, mental health and professional advice, please consult an authorized professional.