Tips for Upping Your Networking Strategy
"A rising tide lifts all boats," wise words from former President John F.
Kennedy and the presence and spirit felt throughout the Rising Tide 
Society. But, it's more than a feel-good mantra; it is a foundation for 
which I, along with others, have found the potential within. Making your 
own way is hard. VERY HARD. Why? As I'm sure you know, there are many 
ebbs and flows in the ocean of opportunity, the ripple effect isn't 
always reciprocal, and the tides don't always turn in our favor. Don't 
even get me started on the sharks in the water. Yes, I'm looking at you 
algorithms and anonymous inquiry emails. 
All of the reasons are why I believe meaningful networking to be 
one of the best approaches to making progress in professional and 
personal pursuits.
For the sake of analogies and all things nautical, I 
like to think of the friends I've made through The Rising Tide Society as 
the fleet which helps me sail well beyond what I could alone. When we 
need someone to save our sanity, SOS small business owner style, it helps 
to have a network to turn to for help. So, how do you navigate 
networking? Below, I share a few tips and tricks that I've found useful 
in upping my networking strategy.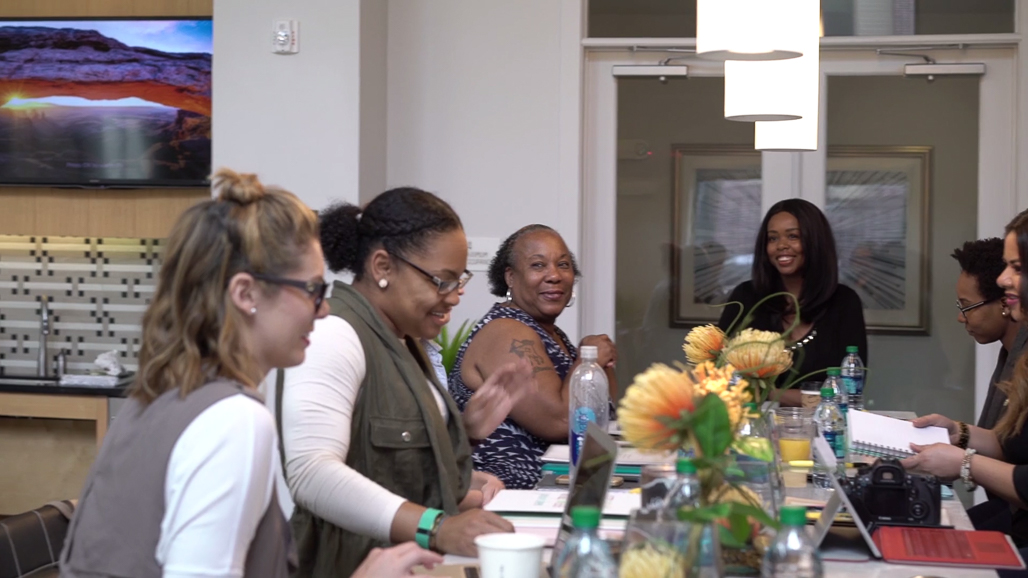 Show Up
How can someone support you if they can't see you? To be visible, you 
have to be vulnerable. I know it's tough, but it's more than worth it. 
When don't show up, you are holding yourself back from opportunities. As 
an introvert,  one thing that's worked well for me is taking the time to 
see who else is planning to come to an event. I find comfort in knowing 
I'll know a least one person, even if it's a person I have yet to meet 
"IRL" – in real life. Social media networking sites make it easy to 
access to attendee information. Give it a try. Introduce yourself in 
advance, and it'll seem less intimidating to show up to an event solo. 
Yes, you could always bring a friend to tag along, but if you don't 
challenge one another to go out and mix, meet, and mingle with others you 
won't get the most value out of the event. 
Follow Up
I have missed many opportunities because I failed to follow-up. For me 
ideation and introductions come easy, it's the follow-up that brings on 
the fear. Whether it's fear of not living up to an idea I proposed or a 
project not panning out as I intended, my doubts can stop in my tracks of 
doing. Don't let this happen to you. Perfectionism leads to 
procrastination and wasted potential. First follow-up, then work together 
to figure it out.
Listen Up
Networking is about giving just as much, if not more than it is about 
receiving. Being a good giver starts with being a good listener. People 
tend to give you insight on what they need if you allow them. Challenge 
yourself listen with intention and attention. The difference between 
being salesey and slimy and of service to someone is the ability to 
connect the dots. The best way to connect the dots is by crafting a 
solution based on meaningful conversation.
Keep Up
I'm not one for small talk or mindless banter. However, I always have 
something to say. How is that? I keep up with what is going on in the 
industry and with the people I want to get to know. Time is valuable, 
talk is cheap, but rich conversations are everything. It is so much 
easier to initiate a conversation when you have great starters. So 
whether it's taking note of trending topics, pursuing the pages of the 
latest and greatest best seller, or doing a little social stalking pre-
event, prepare yourself. When you are prepared, you can position yourself 
to give and receive. 
Speak Up
Don't be afraid to ask for what you want and need. While you should start 
with what you can offer or how you can help others, it's more than okay 
to make your needs known. When you surround yourself with people who get 
you, chances are they are more than willing to help. Just remember when 
you ask for help you need to be clear and direct. Be respectful of 
other's time. If you need a referral, be specific with your request. You 
don't have to give someone a project brief, but at least give them enough 
information so they can lead you down the right path. 
Refuse to Give Up
So, if you do all of the above, it'll all come together, right?  I wish 
it were that simple. Emails can go unopened and voice mails unheard, but 
you have to keep going. Instant gratification rarely leads to sustained 
success. When things aren't going so great, keep going. When things 
couldn't get any better, keep going (it can always get better). 
Networking isn't a one and done, once a month, use and abuse activity, it 
works in a cycle, and it works best when powered by effort and energy. 
Okay, let's hear it! How do you plan to up your networking game? I'm 
curious to know. Remember networking is about serving others and allowing 
them to serve you as well.