Marketing your creative business is one of the most exciting parts of owning a business in the first place. Getting your creatives services and products out into the world and in front of the people that would benefit from them the most…it's freakin' exhilarating. And the icing on the cake is that fact that, thanks to the wonderful world wide web, there isn't just one way to promote that business of yours. But that icing on the cake, can also turn into your biggest marketing mistakes. It's awesome that there's not just one way to market yourself online, but it's overwhelming with the fact that there's literally a TON of ways to get your business out there.
How on earth are you supposed to stay on top of it all?
Each online marketing opportunity definitely has it's pros and cons, but all of that aside, I wanted to point out the most common marketing mistakes that I see creative business owners making, so you can avoid them!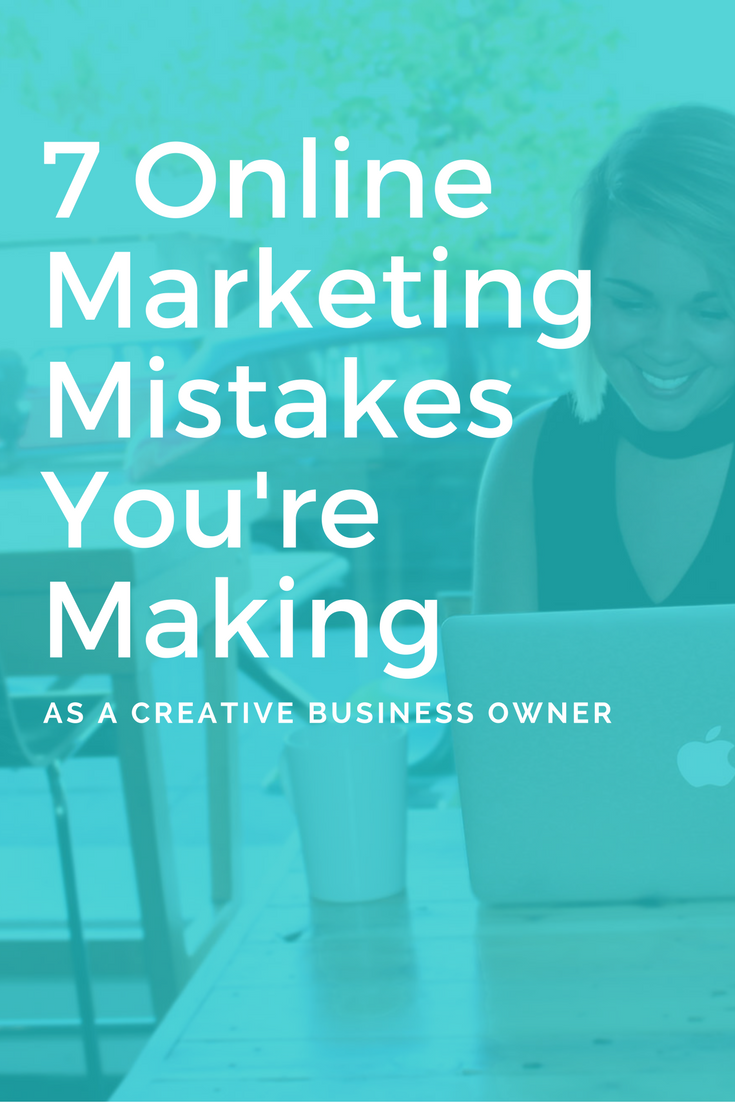 1. You're not using the right language
This is the most common mistake I see creative business owners making with their marketing. They're using industry specific language to explain their products, services, and business. That's great and all….but in most cases, you're not looking to attract professionals already in your own industry.
If you want to attract your target audience, you have to get inside THEIR head. You have to connect with them. You have to think like they do, talk like they do, and explain your information using words and phrases that they would use.
For example: Photographers will often use the phrase "Lifestyle Photography" to describe themselves. They'll utilize that for their SEO keywords and have it posted all over their website…….but as a potential client, I don't have a CLUE what "Lifestyle Photography" pertains too.
This mistake is especially important to correct when it comes to your website and keywords. If you're optimizing your website for industry specific language, your potential clients are never going to find you, and if they do, your lingo will go right over their heads and they'll think you're not a good fit….even if you truly are
2. Your graphics are lacking.
Lacking where you ask? Well, it could be in quite a few areas.
Are you using high-resolution images?
Blurry graphics give off an ameteur vibe, and you don't want that.
Are you using the same stock photos as your competitors?
You want to stand out, not blend in with them, silly. It's totally worth it to invest in customized stock photos created just for your business, that way you know that no one else will have them, they match your branding, and you don't have to worry about usage rights. Once you have them at your disposal, you can use them for almost anything and everything.
Are your graphics staying on brand?
Keeping your images and graphics on brand with your website and marketing materials is insanely important. This helps create trust and authority with your target audience. Consistency creates certainty. Also, when people keep seeing your same branding scheme on all of your social media posts and marketing materials, they'll start to remember you and associate your style with your business. It helps increase your brand awareness…like the big companies have. McDonalds, when you see those golden arches, you know it's them. When you see a "Just Do it" slogan, you know it's NIKE. You don't have Google Analytics set up
3. You don't have Google Analytics set up.
Google Analytics is FREE information for website owners that tracks crazy amounts of information about website activity, social media traffic, content popularity, and overall performance.
If you don't have this setup on your website yet, you gotta gotta gotta jump on that. In order to figure out what's working and what's not, you have to monitor the information. Having solid data about your online presence can help you make smart decisions about social media marketing, website traffic, blogging topics, and your audience.
4. You're not utilizing the right platforms
You don't have to be on EVERY social media platform. If you're killin' it on Instagram, but your Twitter is a deadzone…..X the Twitter page. Use your time wisely, and efficiently. When you narrow your social media platform down to 2 or 3, you'll be able to give those platforms a lot more attention and get better results from them.
How do you know which platforms to keep? Well, you have to figure out where most of your target audience is hanging out. If your ideal client is a female between the ages of 18-25, chances are Instagram is going to be one of your top dogs.
Do some research and pay attention to the kind of engagement your business gets on the different social media platforms.
Don't spread yourself or your business too thin. Your business doesn't benefit from
that, and either do your potential clients.
5. You're not promoting enough
One of the biggest fears a lot of us have as creative business owners is coming across too sales-heavy. Ya know, being a Sally-promotes-too-much. We all see business like that on social media. You'll be scrolling your feed and notice that Sally posted yet ANOTHER facebook update, for the 10th time that day, on the same damn thing, and your eyes start to roll to the back of your heads.
We don't want to be like Sally. Sally is annoying.
But what we DO want…is to meet in the middle.
In order to get in front of our target audience, we have to promote ourselves. We have to be seen in order to get hired.
They say it takes 6-8 interactions with a potential client in order for them to even CONSIDER hiring us. Now you mix that in with the fact that people see about 4,000 to 10,000 ads a day and it's no wonder your marketing efforts are getting the spotlight you want them too.
You have to be confident in what you offer.
If your products and services were built to help people, then you owe it to those people to let them KNOW about it. Ya gotta market more to reach your people, and give them the solutions they need.
6. Not updating your website:
Us creative business owners tend to get laser focused on our products, and services because we're doing what we love to do. And although that's amazing for our current clients, it's not helping our future clients when we're SO laser focused that we forget to update our website.
Here's a few things that you should keep updated either weekly or monthly, depending on the work you do:
Software: If you're using WordPress for your website, you have to keep your plugins and themes updated. If you don't, you're opening the door to
hackers, and you can't help any future clients with a broken-down, hacked up website.
Portfolio: Make sure you're showing off your best work in your portfolio so that you can showcase your expertise and keep bringing in your ideal clients.
Prices: R aising your prices? Don't forget to update your website. You
wouldn't want to have to explain to a potential customer that your prices on your website aren't accurate and start off the working relationship on a shaky foot.
Blog: I f blogging is part of your business model, then you have to set aside some time, or consider outsourcing this so that your blog stays up to date. Going on a website and seeing that the business owner hasn't posted any new content in 6 months is a bit off putting. Blogging is an awesome way to increase website traffic and show off your knowledge in your industry, but if you're not going to keep up on it, you might want to consider taking it off of your navigation menu for the time-being.
Not sure if your website is set up for success? Take the quiz and find out!
7. You're Unclear About What Sets You Apart:
Your business is not exactly like any other business out there. If it were, you probably wouldn't have started your business in the first place. In order to market your business better, you need to identify what sets you apart from other creatives in your industry.
What makes working with you unique?
What do you specialize in?
Who do you help and how?
What creative spin do you put on your services that sets you apart?
Whatever it is, you have to own it, and project it.
CONCLUSION: Now that you know what marketing mistakes to avoid (like the plaque), you can confidently fine tune your online marketing to better fit your creative business, save yourself some time, and some serious headaches!