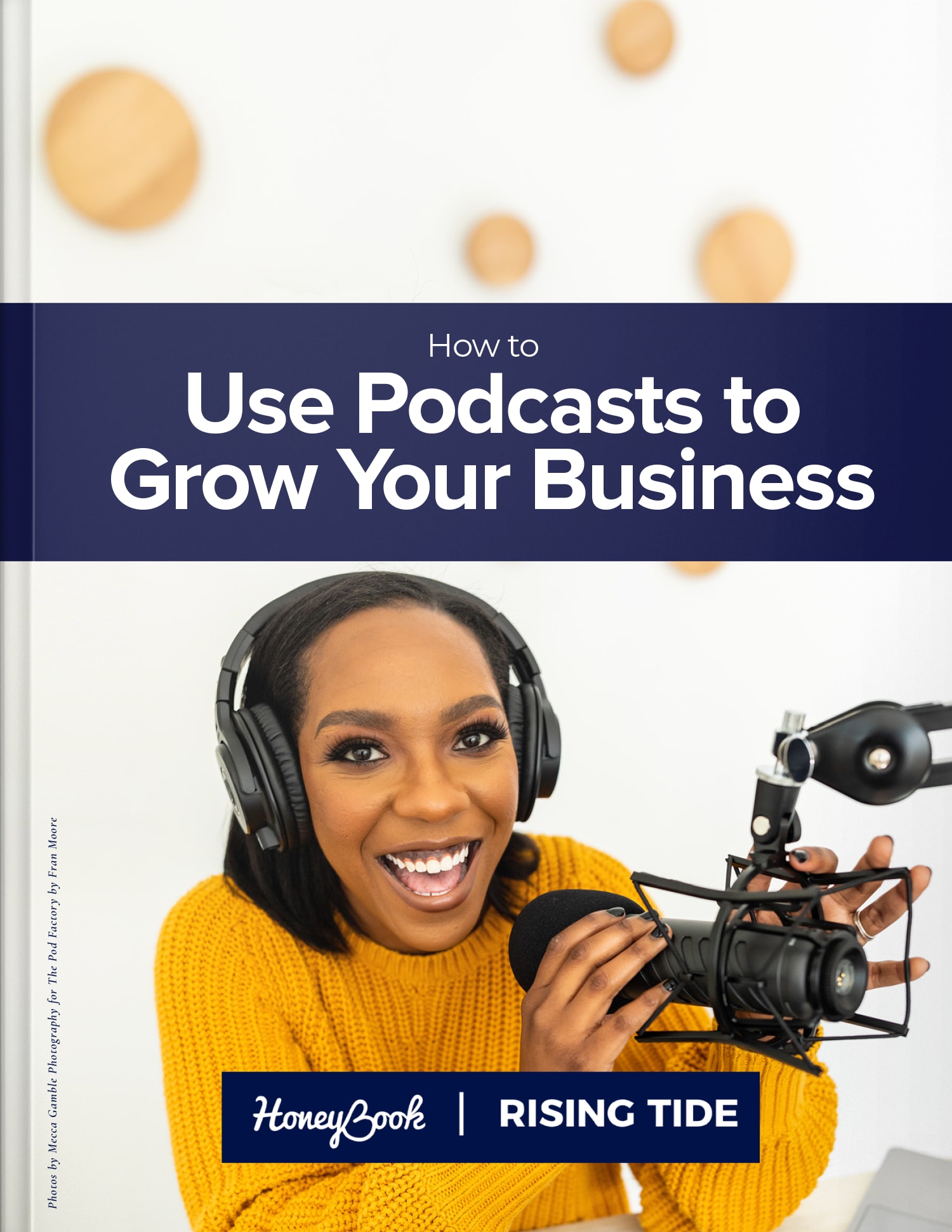 Use Podcasts to Grow Your Business
As the digital world continues to expand and evolve, building a brand through online content is more important now than ever. Using podcasts to your advantage – both starting a podcast and being featured on podcasts – can boost your business, increase your client roster and grow your revenue.
This month's guide shares:
How to use podcasts to grow your business
Start pitching yourself now:
You might have read the title of this guide  and thought: "I don't have the time to start a podcast… is this content relevant for me?" We're here to tell you, it most definitely is! Podcasts can bring value to your business, even if you're not the one hosting. By strategically pitching yourself  as a guest today you can get your business in front of your ideal clients fast. Danielle, a public relations professional and podcast pitching expert, shares her top tips to land your first interview (or 30th).
Hosting a podcast can work for you:
On the flip side, if you feel like you're ready to start a podcast (and believe us, it's worth it for brand building and gaining new clients!), take one small step today. Your first goal? Ask yourself what you want to talk about on your show and what education you're well positioned to provide. By beginning there, you're able to build out a podcast and online audio strategy that will connect with your audience, deliver value and keep them coming back for more. Lorri shares her top 4 questions to ask when creating a podcast and then, when you're ready to take the next step, learn about starting your show from Geomyra. Finally, when you begin your podcast and online audio content endeavors, always create with accessibility in mind. Erin addresses the importance of accessibility and shares key tactics to ensure your podcast is accessible.
Make podcasts work harder for you:
Once you've done the hard work of pitching, securing a guest spot, creating your podcast, building out all the content, make sure that you promote the content. Podcasts build expertise, offer new connections and highlight what you uniquely can offer to the world. Learn more about Kelsey's journey from podcasting to book deals and how you can make podcasts work harder for you. And once you're inspired, and ready to showcase your latest episode to the world, Fran has the top tips on how to repurpose podcast content, whether you're the host or the guest. (And bonus pro tip… you should be repurposing! No need to reinvent the wheel!)
What's Inside - Podcasts & Online Audio Content
Disclaimer: The advice featured in this guide and on the blog was sourced from our community members for sharing general information and knowledge. For specific legal, financial, tax, mental health and professional advice, please consult an authorized professional.