You may be travelling for the sole purpose of turning "off", or you may be traveling and needing to stay "on". For today's post we are focusing on how to travel the MINDSHIFT NINJA way when you have to stay "on". Whether you are travelling for work, or are on vacation, but still have to work, we hope that
these MINDSHIFT tools will help you do better by thinking better while you travel.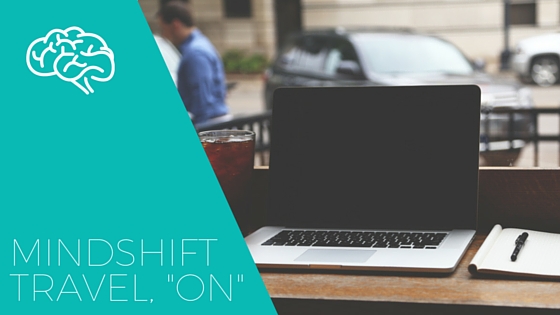 Traveling for Work
Years ago I worked with TakingITGlobal and was responsible for a project that required me to travel to 10 cities across Canada in 40 days. The schedule was as follows: one travel day, two work days, then one travel day again… for all 10 cities. I learned some key lessons during this time about how to stay productive, balanced, and healthy, while traveling for work. Try these MINDSHIFT tools the next time you are travelling for work:
Pack in outfits: The brain likes patterns and order. The less you have to worry about non-essential things the more productive you will be and the more you will reduce stress.
Set up your room: Unpack when you arrive, put clothes in the closet and drawers, and set up the bathroom. Creating a space where you feel at home will assist with the transition and enhance productivity.
Keep it clean: Ensure that your living space remains tidy and organised. Travelling can be overwhelming; don't let clutter exacerbate it.
Set a ritual: Create a ritual to start and end your day. This will help build balance, reduce stress, and boost productivity. Try a travelling candle, aromatherapy, or a mindfulness practice. Ensure you set aside quiet time and social time to round out the work day.
Eat real food: Eating well while travelling is always a challenge. You will lose essential performance energy if you are only eating fast food. Try packing protein powder or your favourite bars if that helps you. But don't forget to eat real food, especially vegetables and fruits. Pass by a grocery store when you arrive at your destination and grab some greens to keep you fuelled.
Move your body: Whether it's at the hotel gym or going for a walk outside – make it part of your day. Physical movement is essential to enhance productivity, focus, and energy. If you are going from planes to hotels to boardrooms, make sure you make time to get outside. Get the blood moving and some fresh air; it will do wonders for your thinking.
Working Vacation
It happens to the best of us – you have planned a vacation, but you can't be completely "off". Here are two MINDSHIFT NINJA ways to stay on top of your work, but also not miss your whole vacation (and not annoy your family/ friends).
Focus: The best way to stay productive and still make time for your vacation is to schedule it. Once you set your schedule for work time and play time, make sure you tell the people you are traveling with. This will allow you to be all in – for work and for play. Allocate x amount of time when you are working. Go off somewhere, focus, be all there, and do your best to only do your work. When you are done, turn off, and be on vacation. Don't multi-task. Don't try to do everything at the same time. Multi-tasking will leave you not enjoying your vacation, and your work will suffer as well. Instead: Plan it out. Set aside the hours. Do the work, then play.
Alone time: When juggling between work priorities and family/ friend obligations, we sometimes leave little room for ourselves. One essential trick to maintaining a healthy balanced working vacation is to take some alone time. Whether it's a quiet moment of mindfulness, a walk, reading, going to the museum, ensure that you take at least 30mins a day to yourself. This will help the transition between work and play, and will enhance both your productivity and your social time.
Try these tools the next time you have to travel to help you optimize your productivity while maintaining balance throughout your day, and to support you in doing better by thinking better.