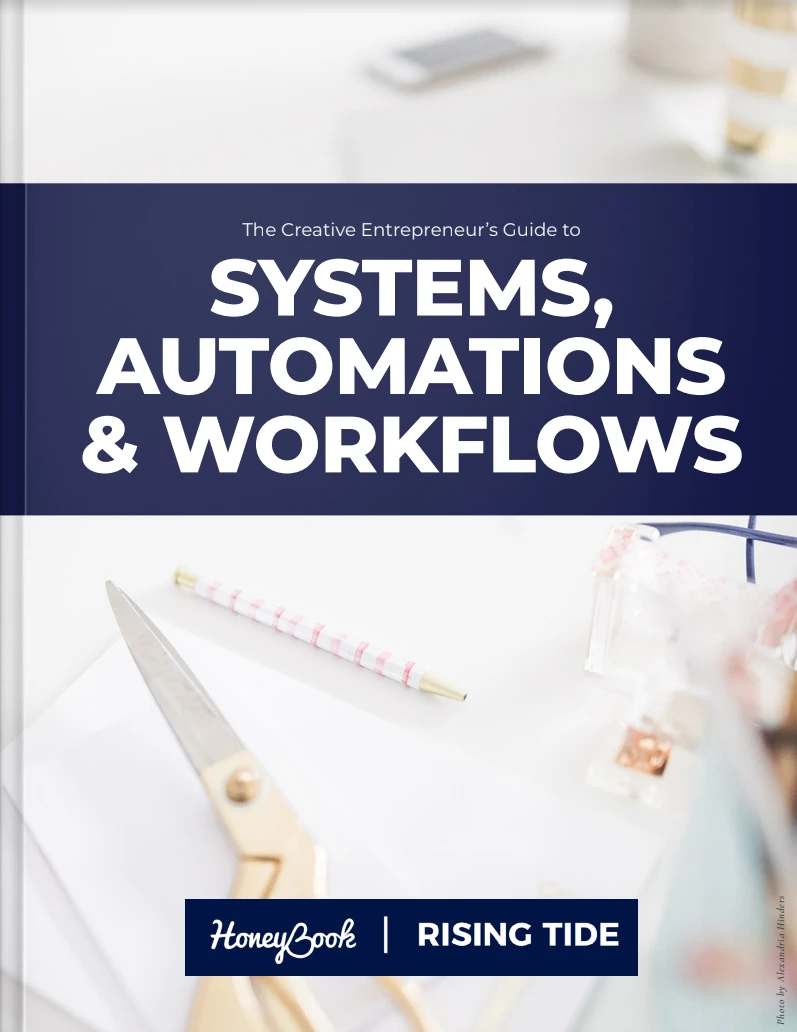 Systems, Automations, and Workflows
What are systems, automations, and workflows in business?
Efficiency is key in business. As your business grows and when you're ready to scale, there is something that must be in place: systems, automations, and workflows. Without them, you'll be scrambling to manage more clients and more work—all with less mental clarity. Setting up your workflows before you NEED them is the ultimate step toward getting your business set up for success.
In this month's guide:
What is the difference between systems, automations, and workflows in business?
What even is the difference between systems, automations, and workflows? Jenn shares in her article below all about the lingo you need to know. The key thing to remember is that workflows mean steps and systems mean making those steps happen. Finally, automations mean making sure those steps are happening efficiently by setting them up and letting them run. These three, when used effectively, can help your business get more (great) inquiries, sell easier, onboard quicker, and provide a seamless, consistent experience for all.
What can you systematize in business?
You can build workflows and systems for just about anything. Start with this: make a list of literally everything you do in your business. Categorize them like this: daily, monthly, for each of your services or products, and finally, yearly. From there, prioritize writing out the step-by-step process for the items you could outsource first. Here's an example: every time you onboard a new client, they must go through an inquiry and onboarding process. Instead of having to do each of those steps by hand… write out every step you take and then consider outsourcing it to a Client Management Software for small businesses like HoneyBook. Once you have one system set up to run with ease, you'll be finding things left and right to systematize! Check out Laura's article and Joelle's article for more tips on getting your CRM setup.
How can I automate my business but still keep it personal?
You can have automations set up while still remaining personal. Some CRMs allow for approval of an automated email before sending, which means you can add in personal touches regarding that specific client before hitting "send." Building out a system for email templates to plug in personal details means that you're letting YOU shine, while still making the process simple and painless. Plus… it means that every client gets the same communication (and consistency!) with a little something extra that stands out and shows you really care. Sasha's article shares all about how to automate your business without losing the personal touch. And guess what, those personalizable email templates can even set client expectations and protect you from liability. Find out how from Allie in her article below.
Disclaimer: The advice featured in this guide and on the blog was sourced from our community members for sharing general information and knowledge. For specific legal, financial, tax, mental health and professional advice, please consult an authorized professional.