We have an announcement!
With a season of rest behind us, and big dreams ahead for 2017, we couldn't be more excited to announce something we've been working on behind the scenes! Today, it's such an honor to launch the Rising Tide Society Creative Council!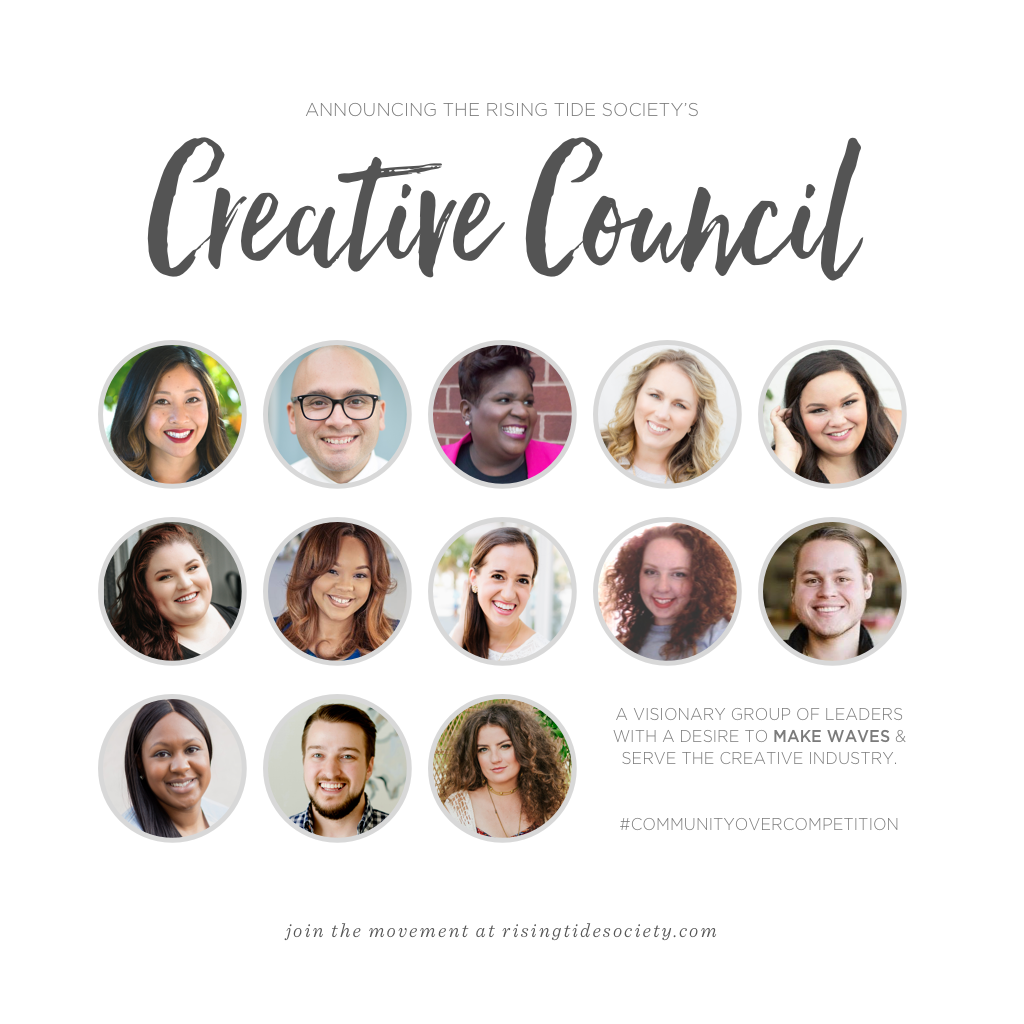 After many conversations with leaders throughout the creative industry, we're thrilled to introduce you to this amazing group that is ready to make waves in the creative industry and serve the community as a whole. The Creative Council is a team of 13 visionary leaders led by Dannie Lynn Fountain-Jagodzinski dedicated to serving as a creative think tank in three distinct ways:
To foster a community over competition mindset

To spearhead conversations to change the landscape of the industry

To build intentional relationships to create an environment that is focused on empowerment, encouragement and education
Each of these leaders brings a passion for Rising Tide Society, a unique perspective in the creative industry, and a heart for seeing growth and change in the world! We're excited to introduce you to each of these leaders today here and on our Facebook group! We're so thrilled for what is to come with the Creative Council and invite you to join us in welcoming the leaders to the RTS Team!
Leslie Wong: Leslie is the Head of Partnerships for HoneyBook, an online business management software for creative businesses. She brings a wealth of industry knowledge to HoneyBook from her diverse career in sales, marketing, wedding and event management for engaged couples to corporations to boutique agencies. She is a builder, ENTJ, Virgo, equal parts data nerd and creative, and always the realistic optimist.
Miguel Garcia Miguel Garcia is the founder of Miguel Garcia Studios and specializes in wedding filmmaking. I enjoy to tell the unique stories of each wedding couple through video. I am also newly married and just celebrated one year. I have a heart to help others and enjoy to build relationships in our creative community. Miguel is the leader of The Rising Tide Society in Pasadena.
Tiffany Chalk: Respectfully known by her clients as a Master Space Transformationist, Tiffany Chalk is a sought after event planner and event design specialist. Dedicated to her craft, Tiffany stays abreast of what she calls "T3"TM (the latest techniques, technology and talent boosters), by learning from the best in her industry. Breaking budgetary boundaries, especially during space transformations is Tiffany's expertise. After over 15 years of leadership in the spa industry, Tiffany made the decision to follow her passion of event planning in 2007. Since then, Tiffany has become one of the Tri-State area's most sought-after event planners and speaker, earning the awards, TV appearances and accolades across the region. Tiffany sets herself apart from her contemporaries with her distinctive ability to go beyond her clients' expectations without compromising style and sophistication, even with the most modest of budgets. Her savvy business acumen proves to be an asset in vendor contract negotiations and, her charismatic demeanor ensures that her clients have an enjoyable experience throughout each step of the planning process.
Laura Hernandez: Laura is a wife, mother, believer, and avid coffee drinker. I'm the mother portion of our incredibly unique mother-daughter wedding photography team that makes up Laura and Rachel. We have documented weddings from the breathtaking Pacific West, to the historic East. I also have a heart for serving others, from our clients and mentoring other creatives, to our local community, and are the leaders of The Rising Tide Society in Monterey, California. Our wanderlust hearts have taken us all over country, capturing love stories, and visiting quaint hometown coffee shops along the way, yet our heart lies in midst of our nautical seaside home in California.
Destinee Jackson: Destinee is a wife, dog-mom, and photographer, specializing in modern, fashion-inspired senior portraits in Northeast Ohio. She also serves as co-leader of Tuesdays Together in Akron, Ohio.
Dannie Fountain: Dannie is a marketing and PR strategist for creative entrepreneurs. She has more than 5 years experience working in marketing for brands such as Whirlpool, H&R Block, and Mr. Kate and more than 7 years experience as a creative entrepreneur. Dannie works with entrepreneurs to brainstorm, strategize, and implement marketing plans and processes to better their business.
Tiffany Tolliver: Founder, The EmmaRose Agency; The EmmaRose Agency is a luxury boutique branding firm based in Washington, D.C., focuses on visual storytelling for creative entrepreneurs and influencers. The Agency has worked with women in business across the country, designing and building brands of all sizes and specializes in stylish visual balance, through clean and classic designs that are paired with breathtaking photography. For her, branding goes far beyond a logo or business card; it is all about creating an experience. Branding is the careful consideration of the promise you've dedicated to provide to your customer. "Breaking into this new space of working for myself, has been a rollercoaster that I've learned to hold on to the rails with one and throw glitter with the other!"
Lauren Carnes: Lauren has always been a lover of telling great stories. With a background in communications working alongside international brands including Nike, Airstream and the John Maxwell Company, Lauren launched Lauren Carnes Photography to capture beautiful stories through the lens. In addition to photography, Lauren partners with creatives and food-focused businesses to create a cohesive brand messaging strategy. With a passion for fostering community, she leads the TuesdaysTogether group in Augusta, GA. Otherwise, she can be found spending time with her husband, Chip, and their fur-baby, Sophie, cooking, hosting people for dinner (or brunch!), and exploring new cities.
Joni Whitworth: Joni is an entrepreneur, an event designer, a community organizer, and a married queer woman. She has nine years of experience helping diverse organizations, brands and individuals tell their stories through experiential events and is thrilled to lend her support to the Rising Tide Society.
Anthony Battistella: I'm Anthony, a San Francisco transplant hailing from Pittsburgh, Pennsylvania. I'm a passionate, caring, outgoing, and energetic guy who is lucky enough to be surrounded by an amazing family, core group of friends, and coworkers who have managed to become both. You can find me traveling, staying active, pretending to be a sommelier, or funneling my creativity into my work and relationships.
Ann Blake is an East Coast Wedding and Lifestyle photographer living and loving in the Philadelphia area. She believes in community building and is constantly inspired by the beautiful voices that make up the Rising Tide Society. When she doesn't have a camera in hand you can find her leading a local Tuesdays Together.
Hugh Hayes is a Co-Founder of the Rising Tide Society who also works in Sales and Marketing at a family-run technology company. Born into a family of entrepreneurs, his passion for small business was deeply rooted from a very young age.
Hattie Dunstan is an independent designer in Toronto, Canada who specializes in custom one-of-a kind jewelry. Inspired by the second wind she received after a double lung transplant, Hattie spends her time giving vintage jewelry another chance at life. Vintage made new. Recycled, restyled and redesigned into new modern jewelry. Hattie has been designing her every day collection for 15 years and her wedding collection for 4 years. Hattie is 28 years old and turned her love of fashion into this growing business.
We're so excited to welcome every one of these leaders and thank them for serving as part of the Creative Council!
Tiders, we'd love to hear from you – what are some of the day-to-day content and big picture conversations you'd like to see happening within the creative community? We'd love to incorporate those discussions into our Creative Council meetings and the future of Rising Tide Society!
Comment below or share with us at [email protected]! Let's make waves, friends!