In our StartUp Series, we love highlighting our TuesdaysTogether Leaders. They'll share who they are, how they got their start and their best advice for new business owners. We have some insanely talented people leading groups all around the world and we know you're going to learn so much from them!
We're so excited to introduce you to Joni Whitworth today! Joni is an incredible Mixologist in Portland, Oregeon and her post is filled with amazing tips for setting goals.
Choose a schedule management tool that you love and stick with it! I use Google Calendar. Plan your life and business activities 7-10 days in advance so you have a clear picture of where you're headed.
Record what's getting done so you can see if you're making progress towards your goals. You'll see empty slots and time periods that are filled with unproductive activities — that is your time to pounce!
Plan something that aligns with your long-term goals, whether that's studying, organizing, meeting, collaborating, or just taking time for some self care. Make time for 5-10 minutes of reflection at the beginning of each day to visualize your schedule and see if it aligns with your goals.
Fill your evening slots with productive activities and time with loved ones. Make time for date nights, dinner with friends, meetings with potential collaborators, and other engaged time to develop meaningful relationships.
Don't forget to make time for yourself, too! Keep your expectations reasonable when planning meetings. 90-minute blocks are usually reasonable for most appointments since you need time to arrive, park your car or lock up your bike, find where you're going, etc. You'll depend on these spare minutes when facing bad weather, urgent calls, or any number of other things that could come up.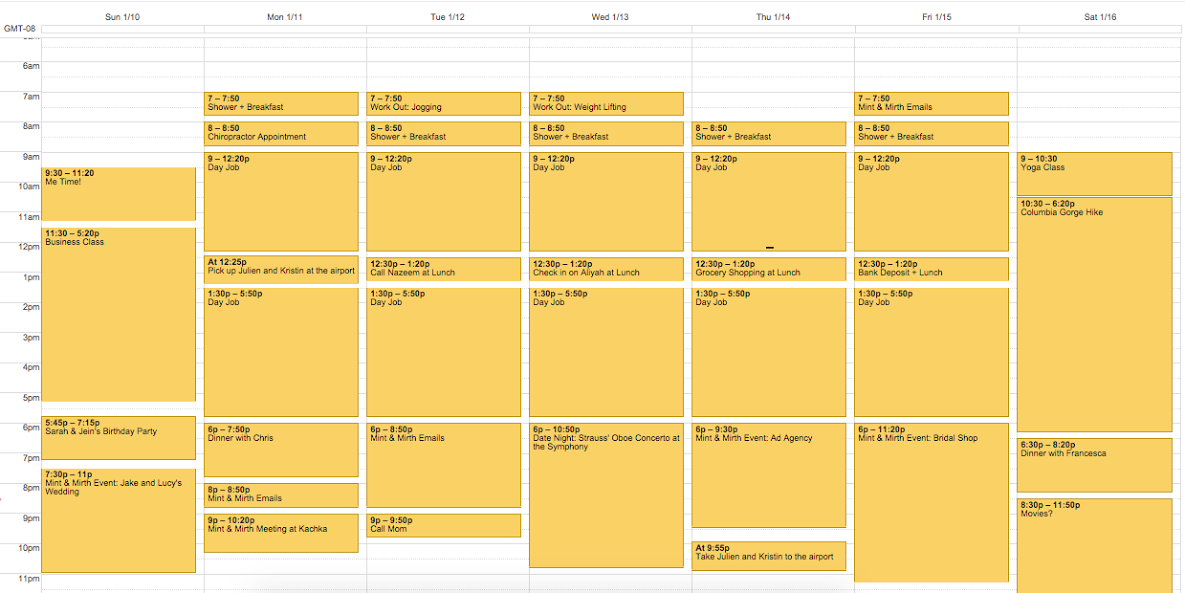 By giving yourself buffer time, you'll feel more calm and in control. If you've made specific goals for this year, see if you can plan time for those goals into your week! Set up recurring events and reminders to keep your attention directed and focused on where you want to go.
Join the Portland Facebook Group » | Follow Joni on Instagram » | Visit Her Website »