From Holly Patton
Theme: Quintessential Seattle
The Pacific Northwest was the inspiration behind this lush green, organic and slightly rustic urban design that embodies all things quintessential Seattle!  DeLille Cellars proved to be the perfect setting, surrounded by trees and gorgeous green landscape.  The design focused on lush greenery and a romantic color palette of whites, ivory, pale soft pinks, dusty blue accents and gold metallics.  In an effort to showcase everything that is great about Seattle, the floral designers selected flowers and greenery that were 100 percent Pacific Northwest grown.  Farm-to-table elements, such as fresh blueberries, were used throughout the design.
The ceremony took place in the middle of a vineyard with mixed seating of sofas and ghost chairs. The aisle was lined with ferns and each seat was equipped with a custom designed program. The a-symmetrical arch was the focus point of the ceremony bringing in statement flowers.  It was simply stunning and definitely a focal piece of the wedding design!
The table scape featured lush and full flowers, including a gorgeous overhand to bring the natural elements to the indoor space.  To add a modern twist the designers used handmade himmeli throughout the reception design, both hanging and on the tables.  Each guest had a personalized stone name card and custom menu.  The sweetheart table was perfectly placed by the pond for a picture-perfect scenery and the bride and groom had custom laser cut name cards. 
A wedding in Seattle would not be complete without fresh, hand-crafted coffee!  Guests enjoyed beverages from the coffee cart along with a meringue tower and cake.  The dessert table featured three cakes and several mini cakes that incorporated the color palette and modern geometric features.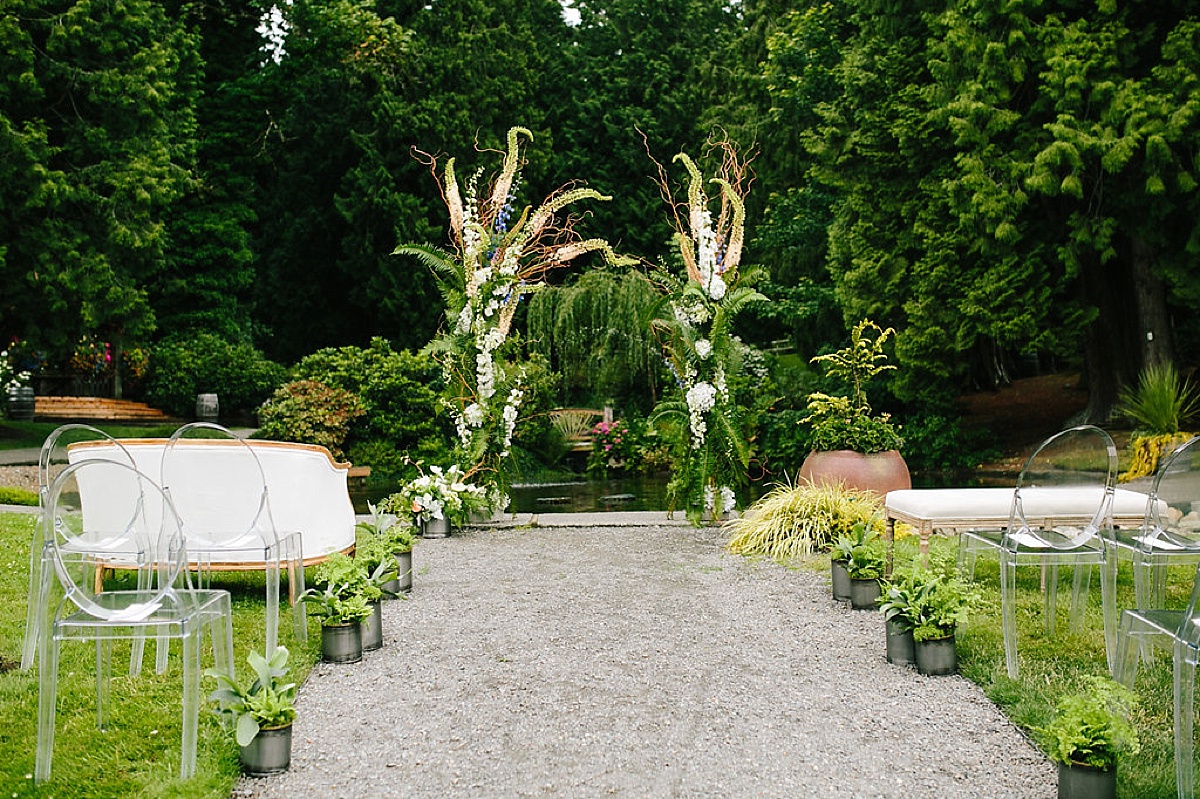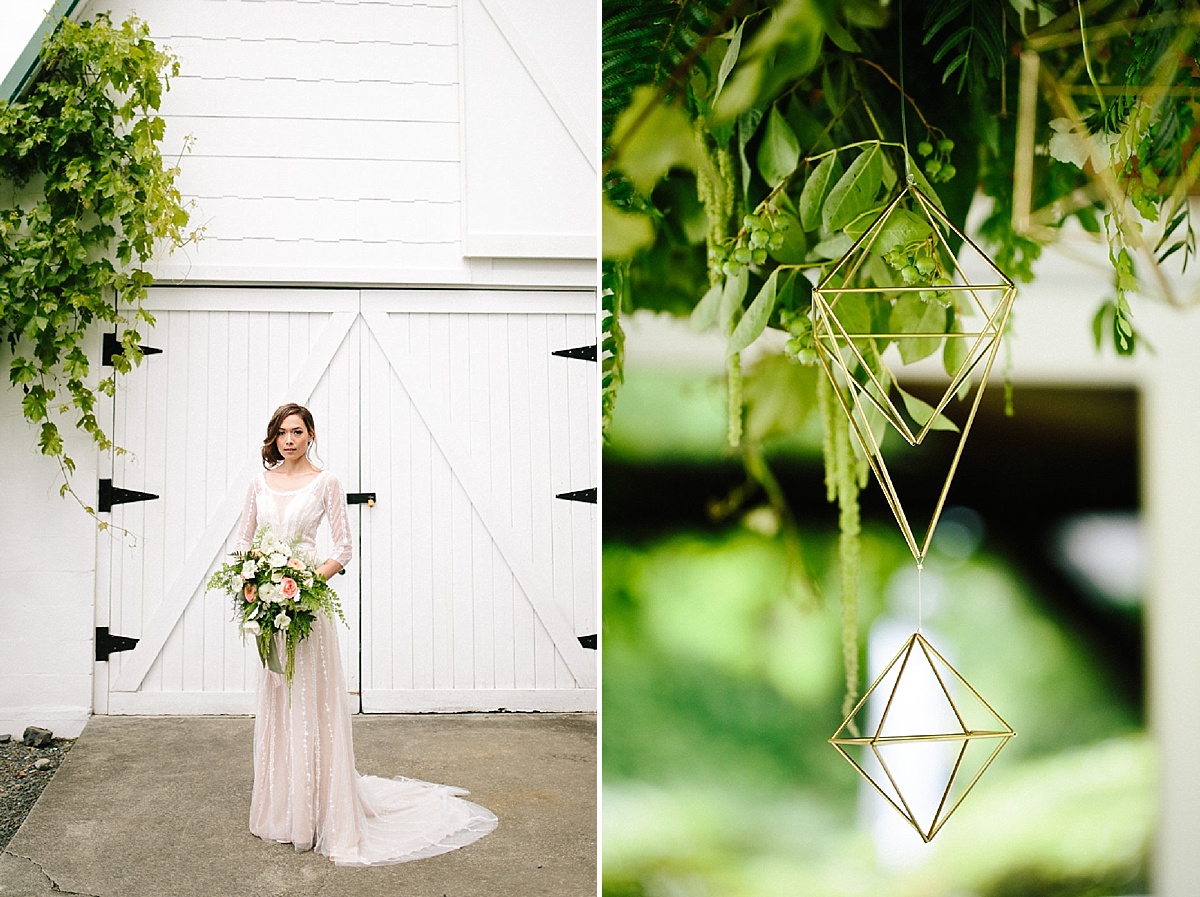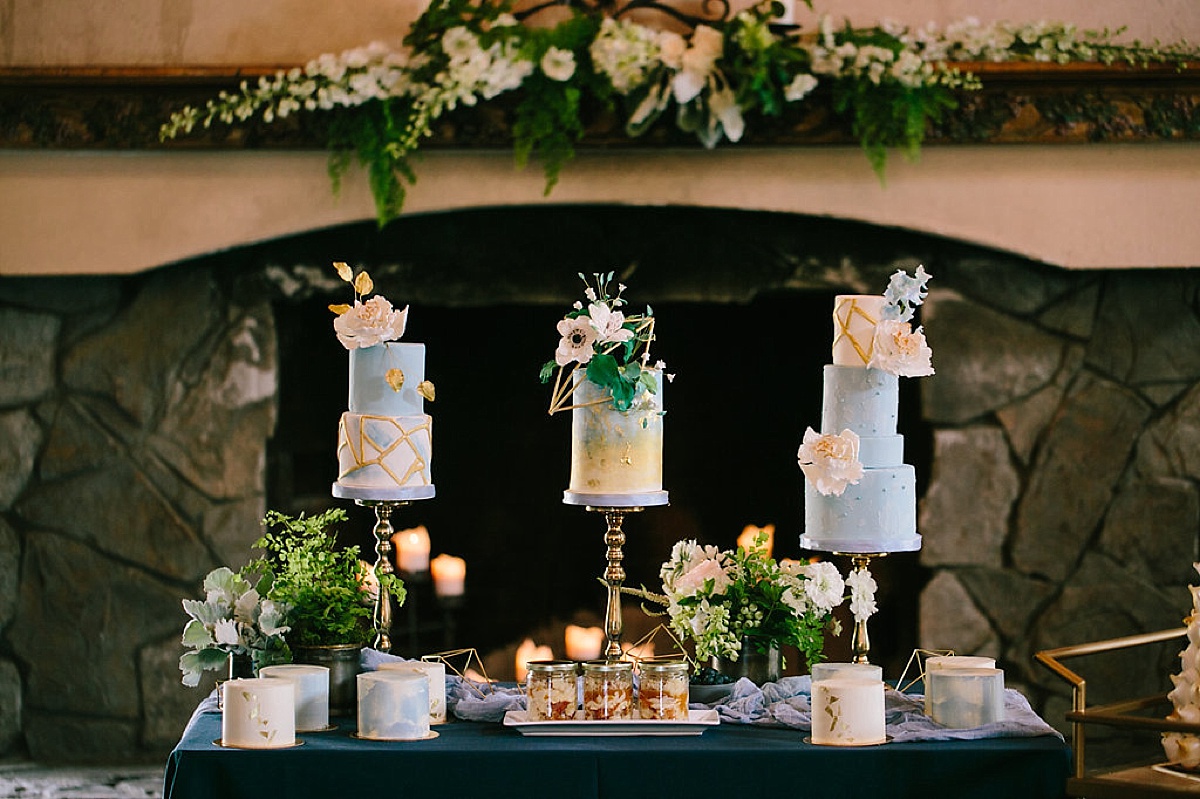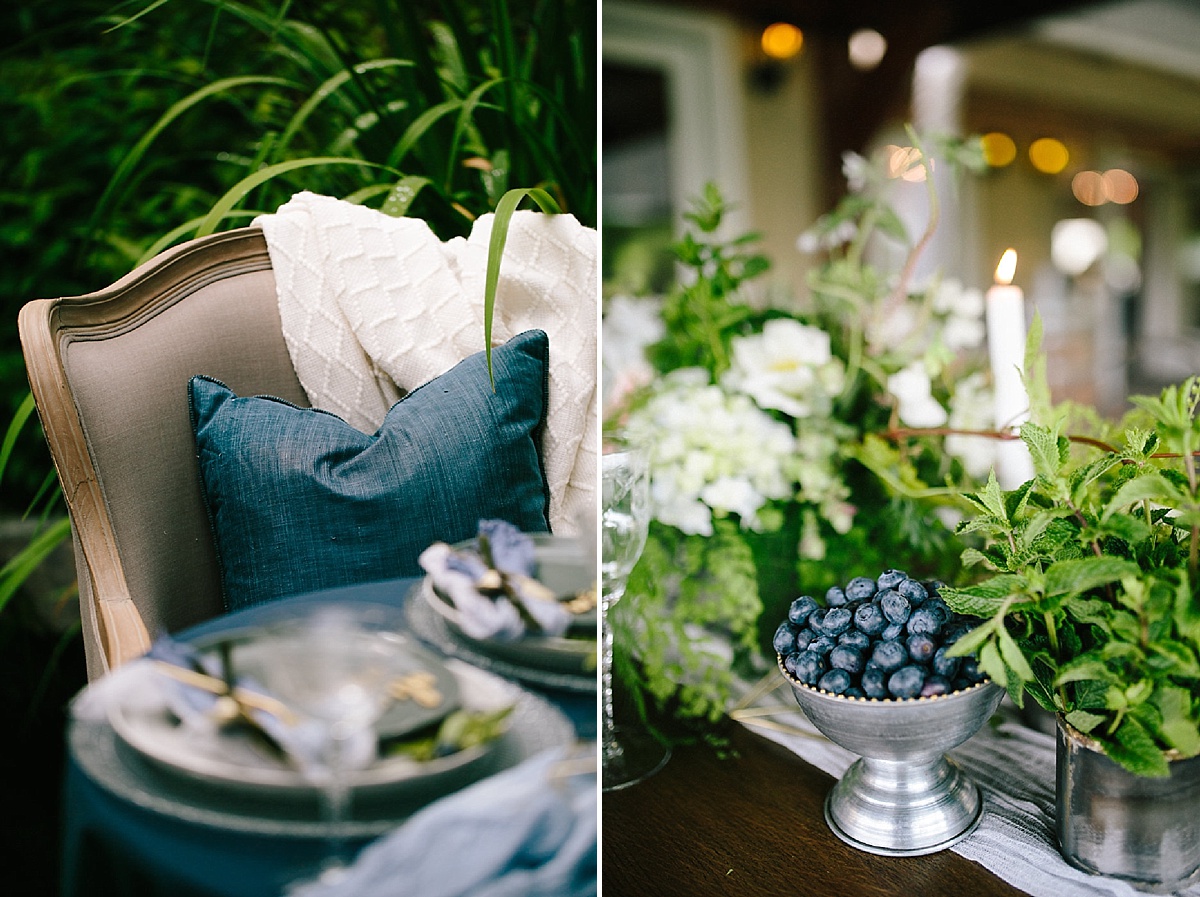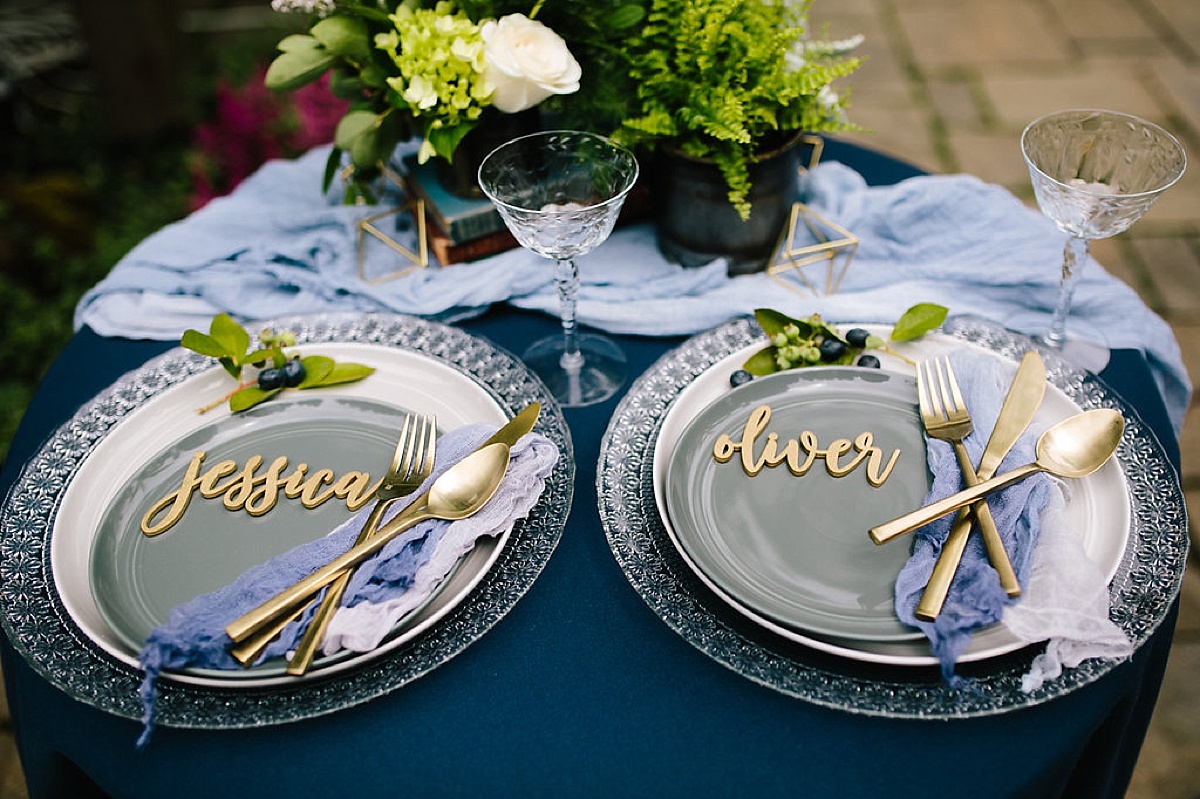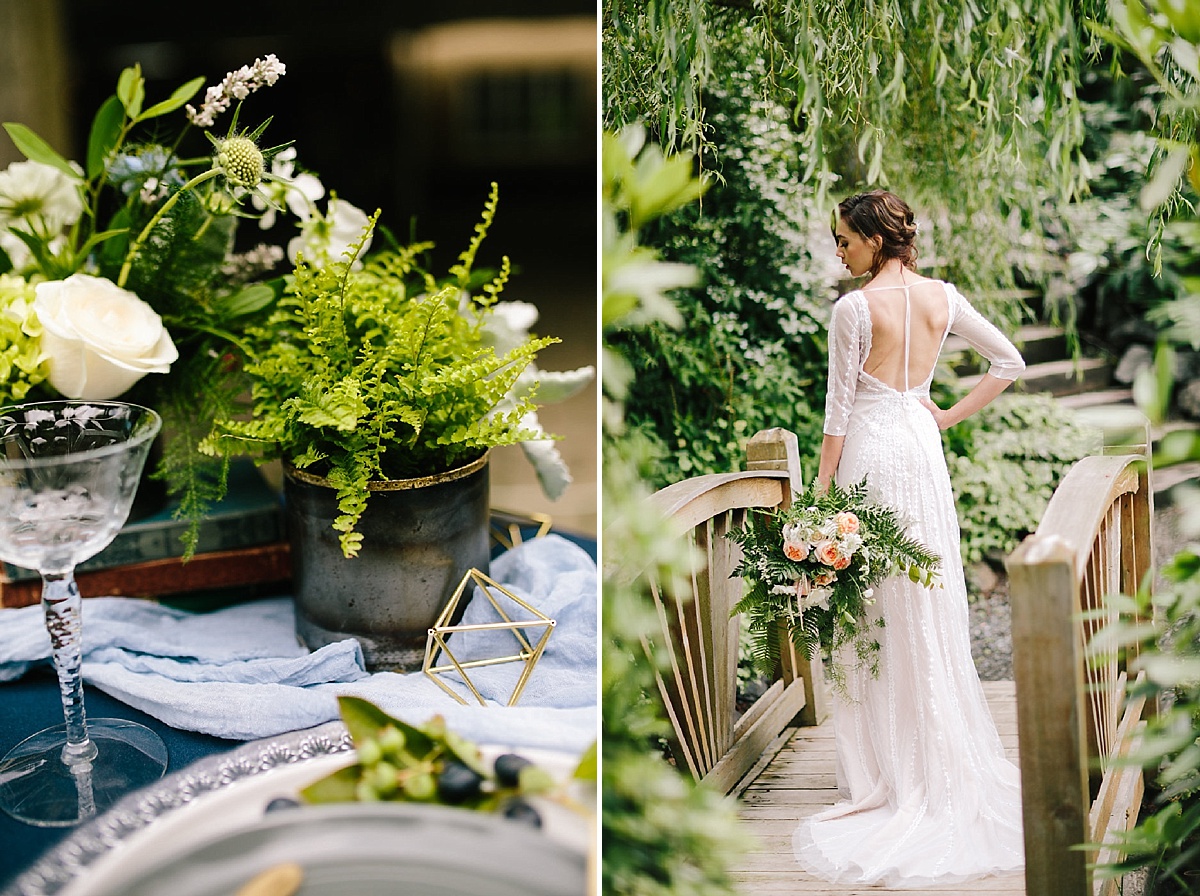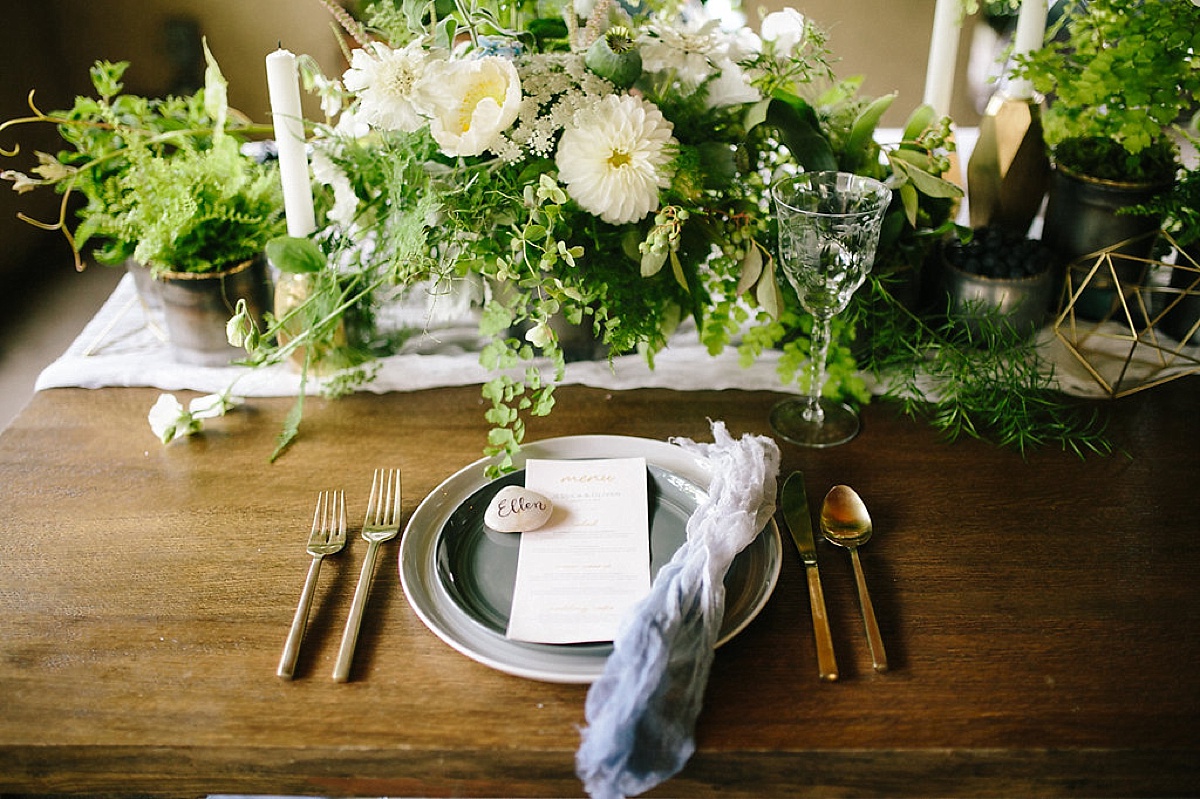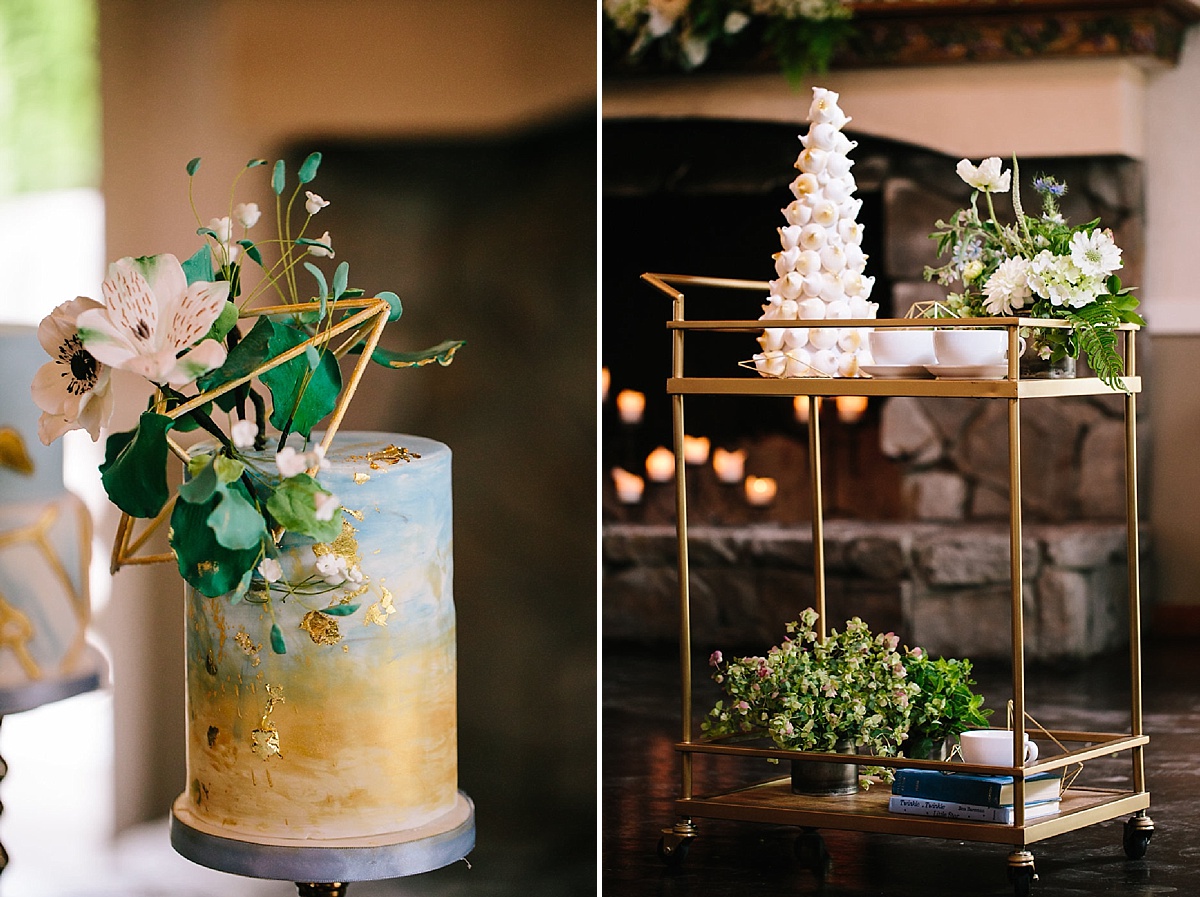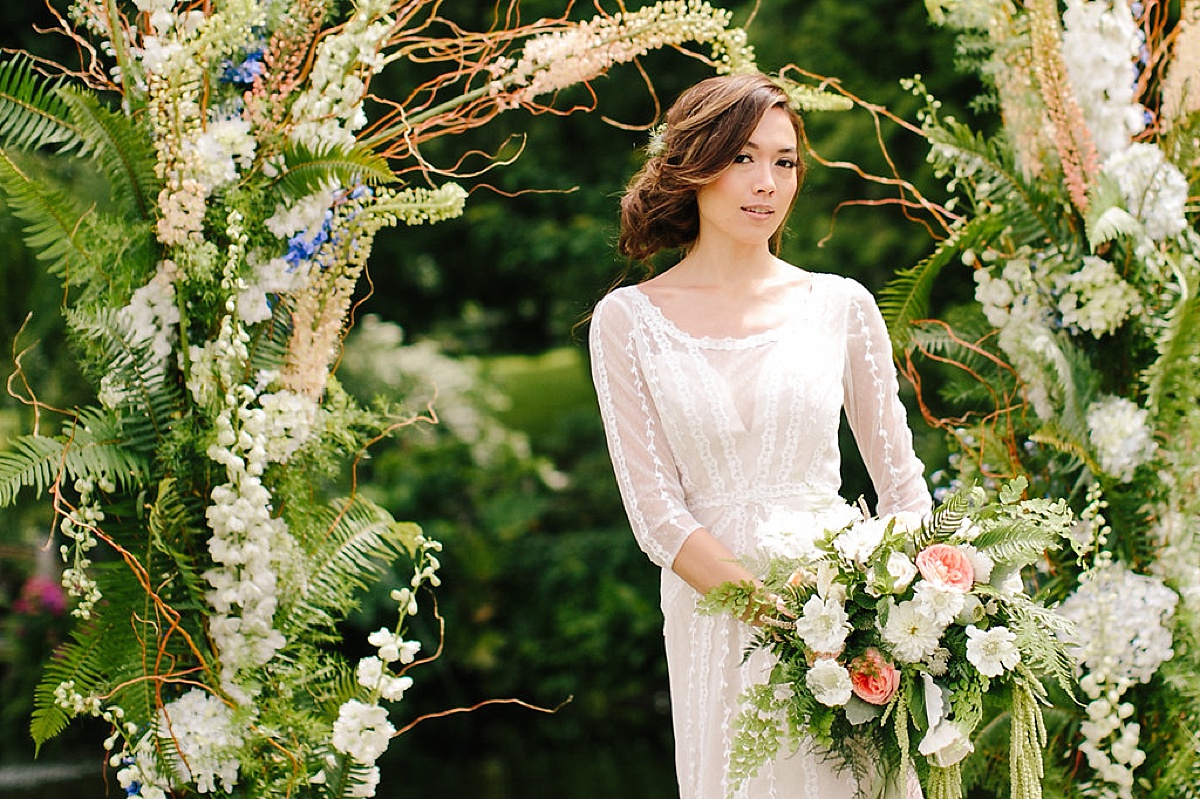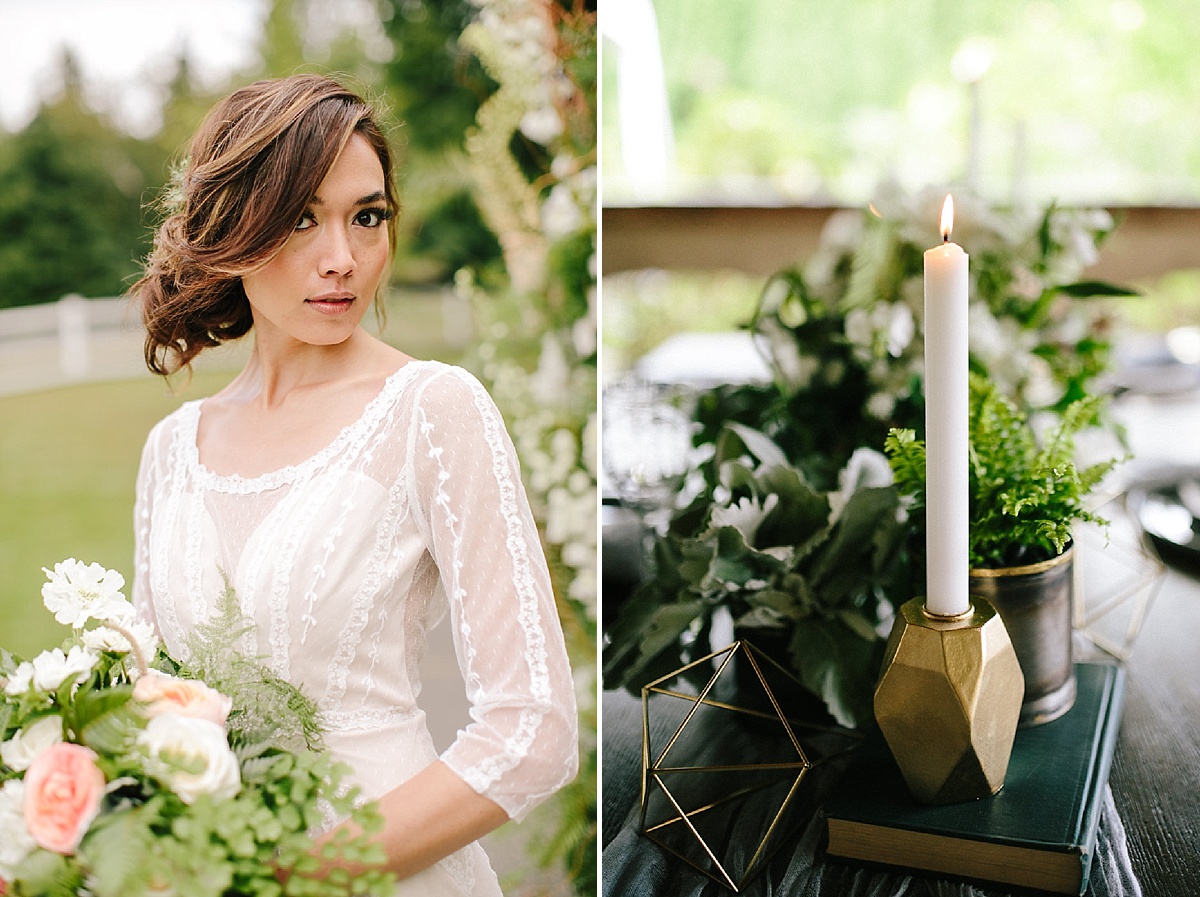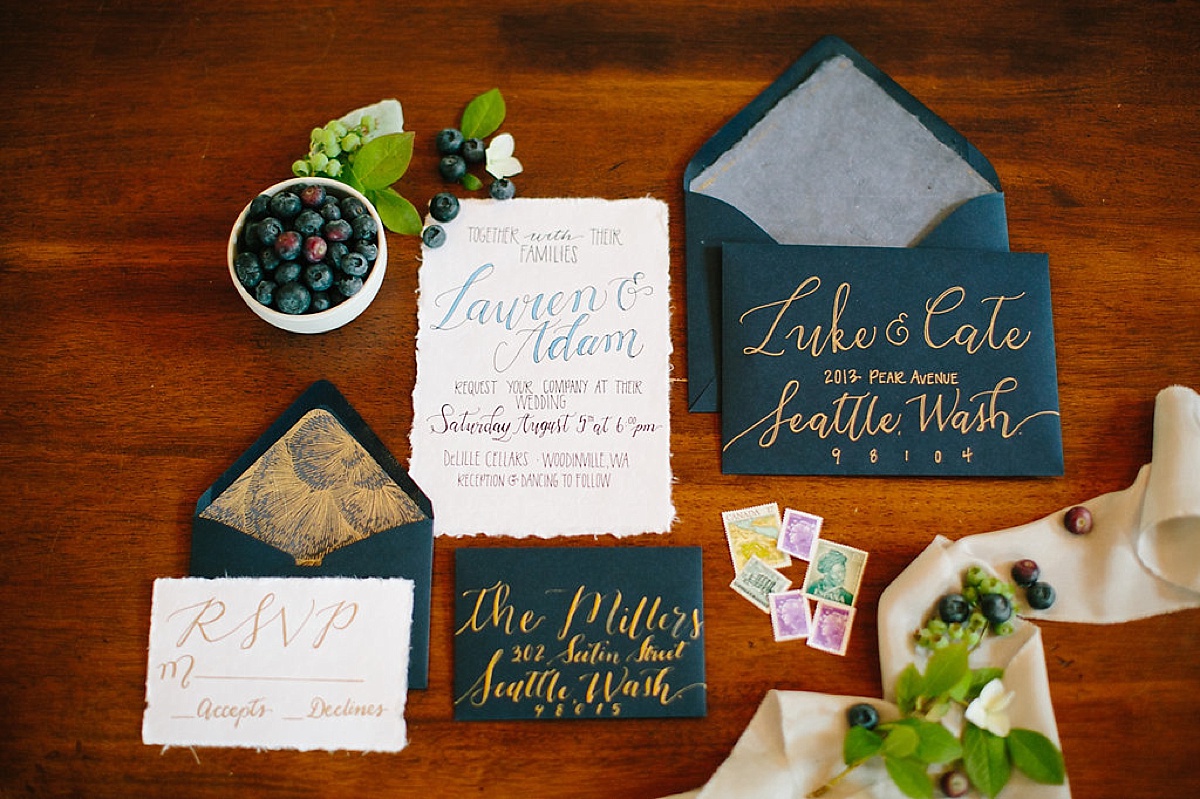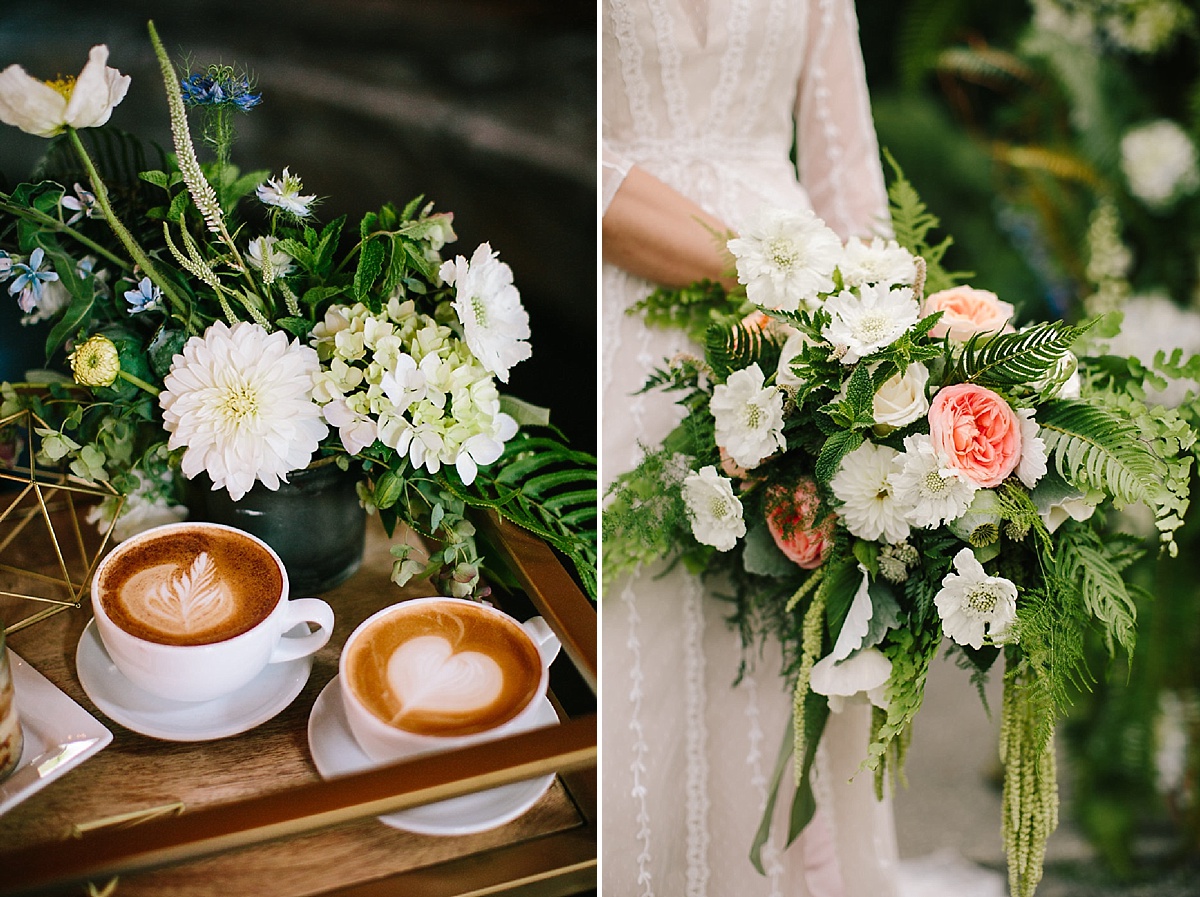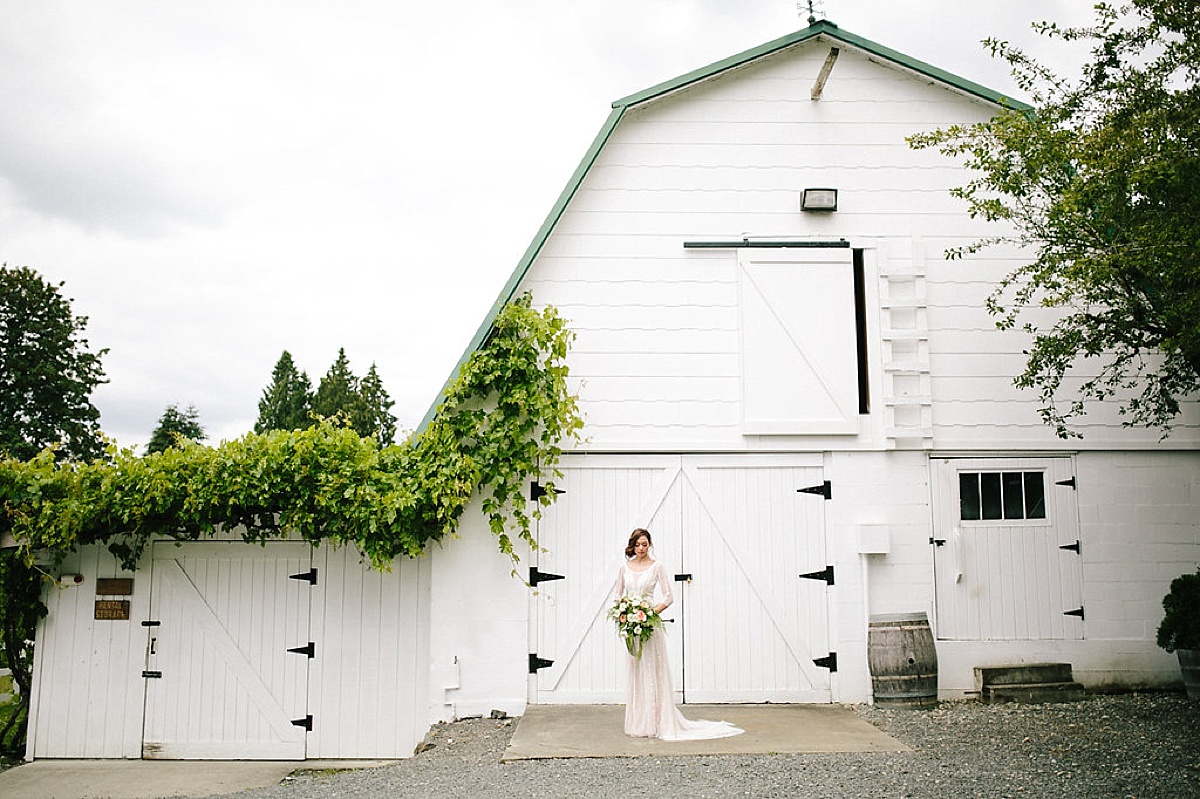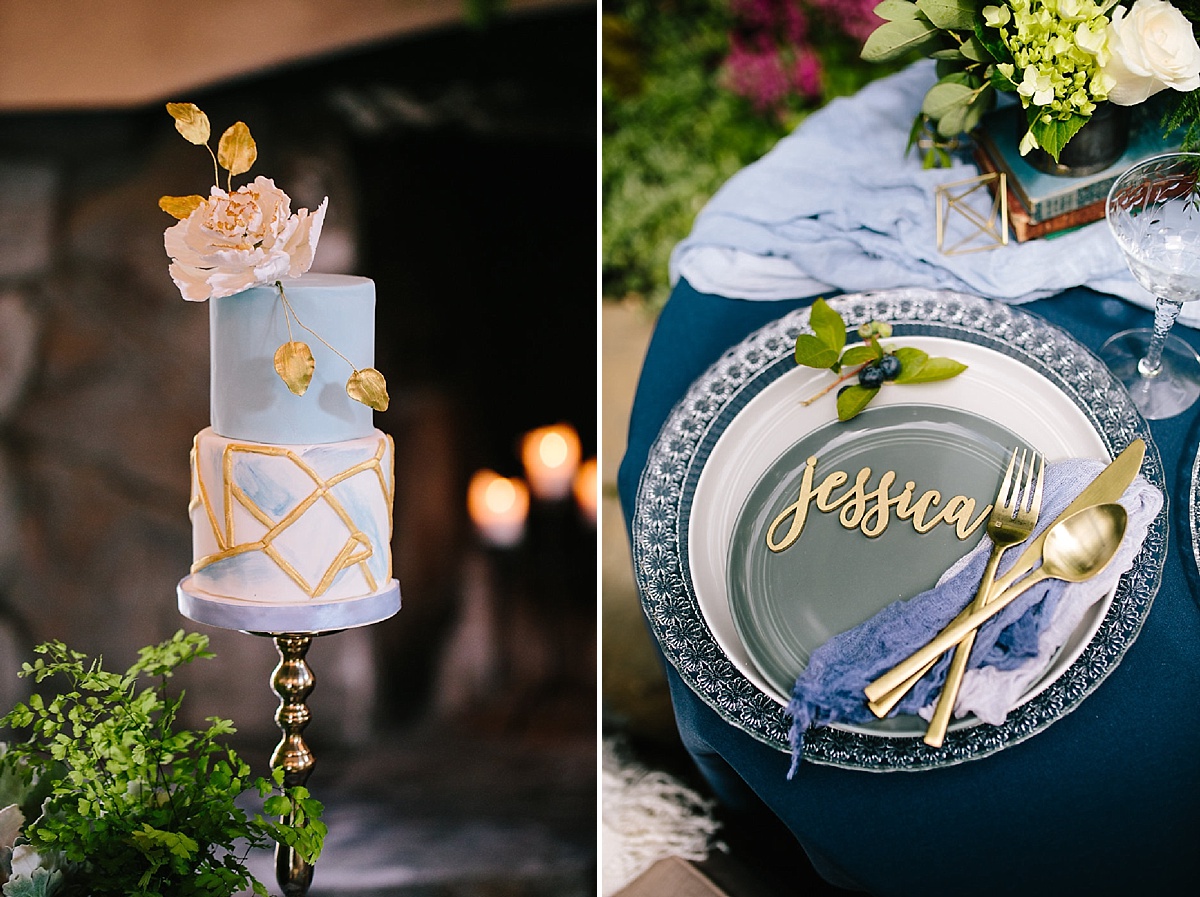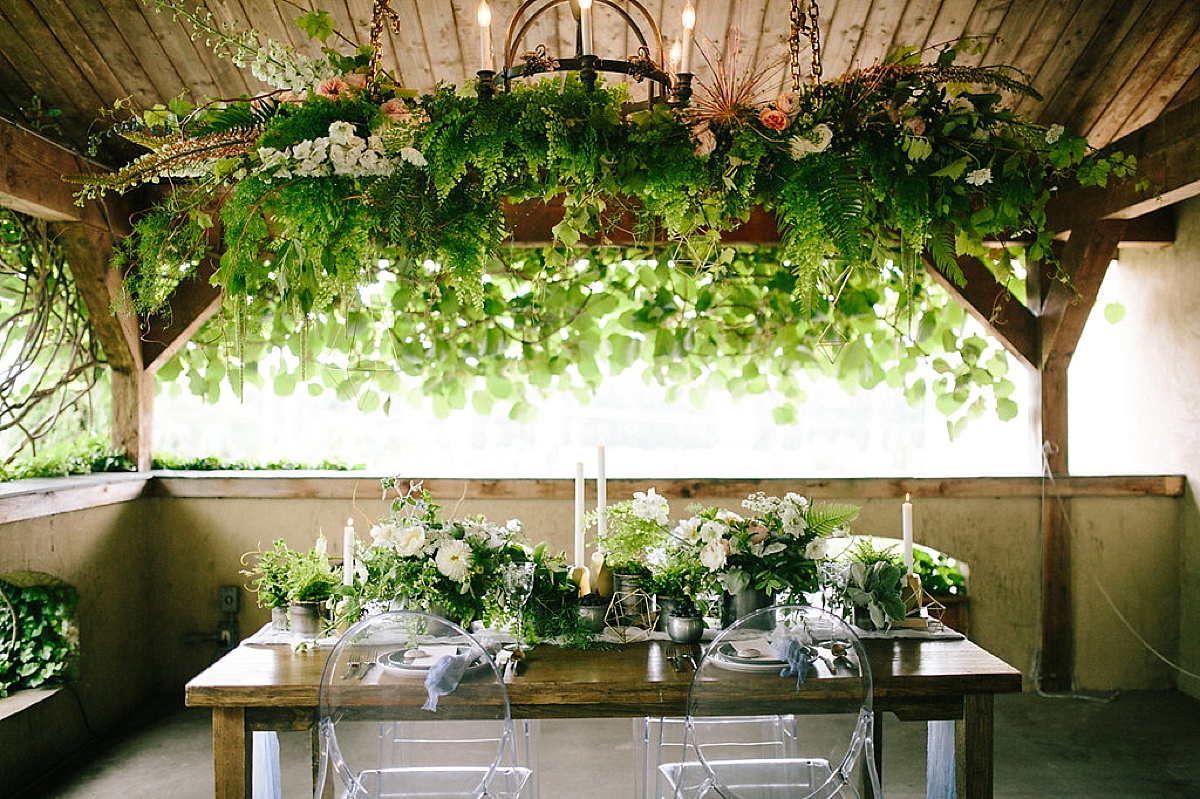 Coordination and Design :: Sweet Pea Events :: @sweetpeateam
Coordination and Design :: Weddings by Dani :: @weddings_by_dani
Coordination and Design :: Wedding Wise :: @weddingwise
Coordination and Design :: Bright & Co Events :: @brightcoevents
Coordination and Design :: Pink and Posey :: @pinkandposey
Coordination and Design :: Bright Co Events @brightcoevents
Floral Design :: Gather :: @gatherdesigncompany
Florist :: Paper Hearts Co :: @paperheartsco
Floral Design :: Columbia City Bouquet :: @columbiacitybouquet
Baker :: Lilac Cake Boutique :: @lilac_cake_boutique
Baker :: Delicately Sweet Confections :: @delicatelysweetconfections
Rentals :: Fanciful Rentals :: @fanciful_rentals
Himmeli :: Handmade Sam Made :: @handmadesammade
Rentals :: Cort Party Rentals :: @cortpartyrental
Hair and Makeup :: Yessie Libby :: @yessielibby
Programs and Menus :: Alexa B Creative and Design :: @alexabcdesign
Calligraphy :: Francis and Co :: @francisandcompany
Laser Cut :: Ever Laser :: @everlaser.com
Photographer :: Kelly Lemon :: @kellylemon
Photographer :: Karissa Roe
Photographer :: Catherine Straume Photo
Photographer :: Alicia Lynne
Coffee :: Espresso Elegance :: @espressoelegance
Dress :: Belltown Bridal :: @belltown_bride
Other Attire :: Sholdt :: @_sholdt_
Save
Save
Save
Save
Save