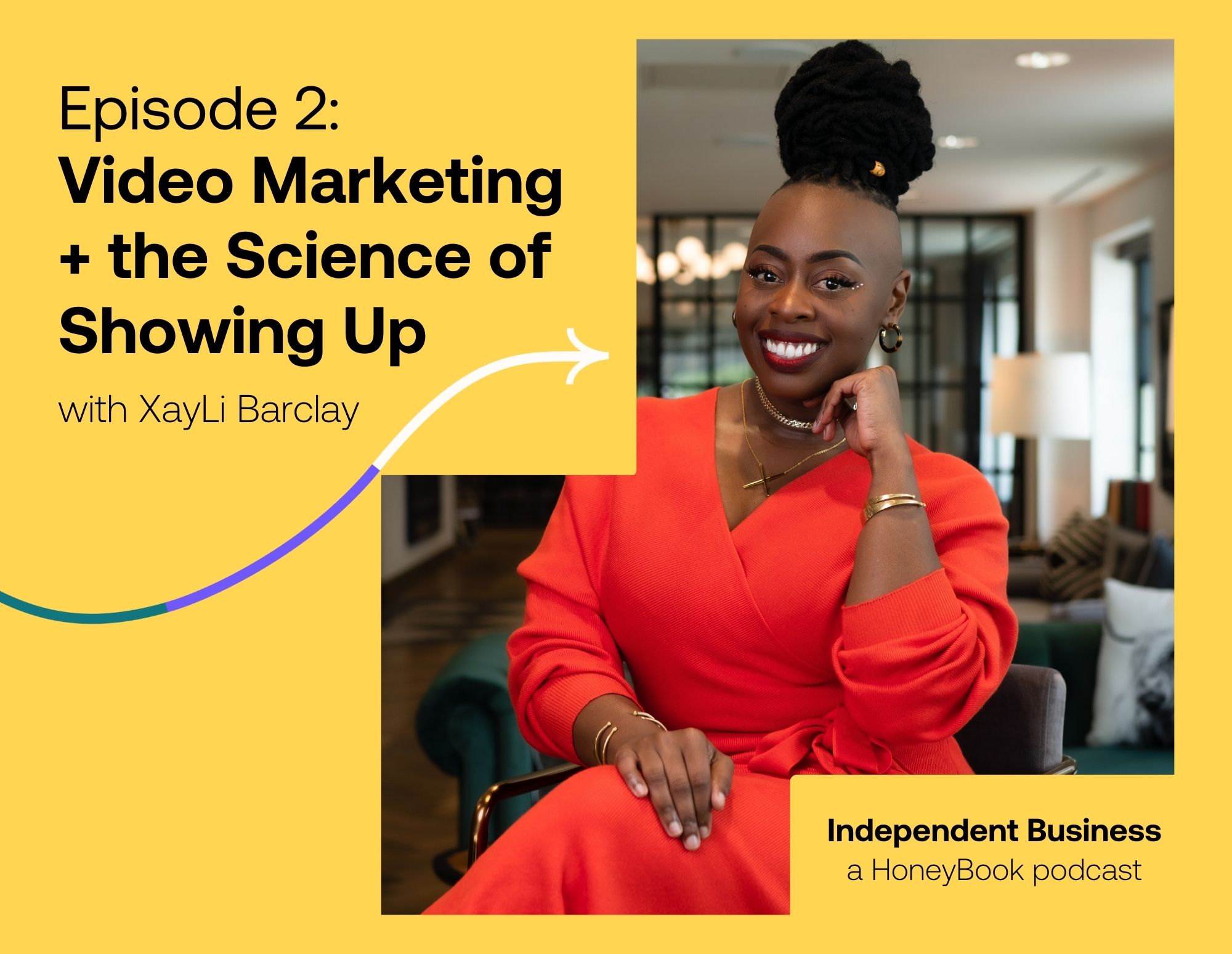 We know the importance of the know, like, and trust factors when it comes to marketing your business, but did you know that your clients are more likely to trust you if they have the ability to make eye contact with you? That's where video marketing plays a major role. In this conversation, XayLi Barclay joins us to share how you can level up your video marketing game and strategy!
The Independent Business podcast is powered by HoneyBook, the all-in-one platform for anyone with clients. Book clients, manage projects, get paid faster, and have business flow your way with HoneyBook. Use the code PODCAST to get 20% off your first year as a new member.
Follow the Independent Business podcast
The science of showing up
Video marketing has truly taken off for businesses, but are you actually showing up? Let's break down the science behind why video marketing works. In your brain, there is a fusiform face area (FAA), which is dedicated to recognizing faces, making video marketing an incredibly valuable tool. Video can help you communicate your value, build trust, and solidify your working relationship with your clients.
Overcoming hurdles in getting started in video
When XayLi initially launched her business, she wanted to do everything she could to market and grow the business, including video. Her journey with video marketing came with its own obstacles though, as she realized that she was afraid to be on camera. She had to overcome those fears, imposter syndrome, and even childhood trauma.
Once she worked through those struggles, she found a natural knack for it. That's when she was approached by others to help them show up on camera—people that were in the same position she was in when she first started.
Some of the most common hurdles that keep business owners from using video in their marketing strategies include imposter syndrome, a lack of confidence, and not understanding the technical gear. So much of what's blocking you from starting can come down to mindset. You may be worried about showing up only to have your audience pick you apart—and XayLi knows firsthand what that feels like.
To overcome those fears, XayLi transfers her ego. Rather than making camera time about her, she makes it about her audience by looking at her goals for showing up and what limitations she's creating if she doesn't. For example, if she doesn't show up on camera, then that blocks her audience from getting on camera and amplifying their own voices.
Video marketing for your business
The number of businesses using video as a marketing tool is at an all-time high at 91%. With social media platforms prioritizing video and creating opportunities for independent business owners to show up, it's hard not to pivot to video for a marketing platform. Consider TikTok, Instagram Reels, Youtube and Youtube Shorts, LinkedIn, and Twitter.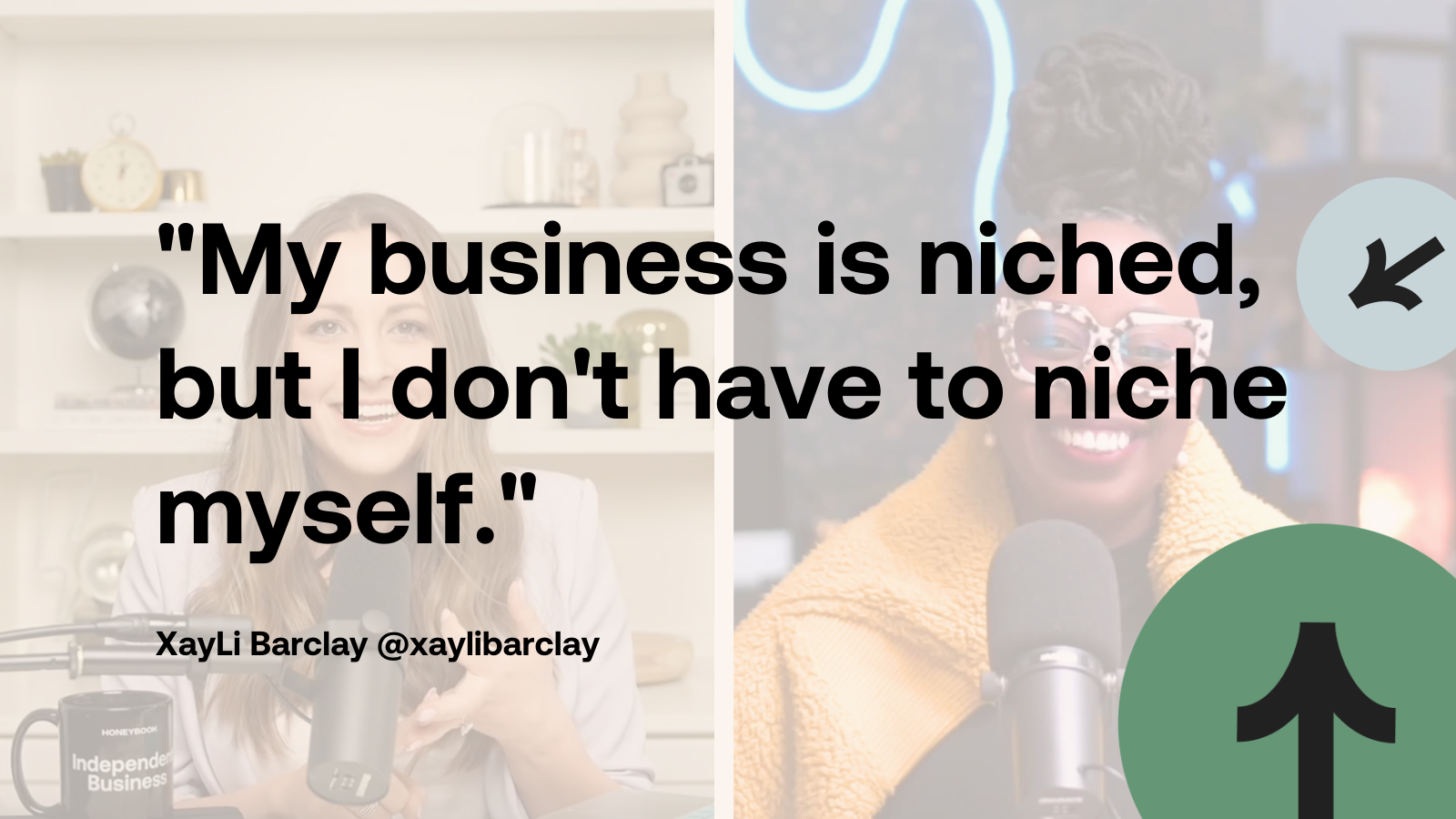 Beyond video marketing: creative video in your clientflow
While video marketing provides a huge opportunity for your business in your marketing channels, video can also be leveraged during your client journey. Other areas of opportunity for video marketing include creating valuable and engaging moments in your clientflow.
Consider where you can incorporate video in your day-to-day, whether that looks like taking a call using Zoom meetings or implementing tools like Bonjoro to personalize your communication updates to clients while you deliver services. Your opportunities with video are endless.
Additionally, some HoneyBook members even use video in their smart files to help build that trust we talked about. By showing up in front of the camera, they establish trust and encourage potential customers to connect with them.
Debunking hesitations around videos
It's easy to come up with excuses to not use video in your business. Here's some data pointing to reasons business owners actively aren't using video:
30% say they lack the time to create video content.

18% don't know where to start.

10% feel video is too expensive.
While these hesitations are relevant, they may not be the reason you're not creating video content. Much of the time it comes down to not knowing what to say because you haven't done enough research or pre-work to define what it is that your audience needs to hear.
As business owners, we naturally want to help people—most of us created our businesses to solve problems for other people. Look at what your audience needs to know and how you can solve their problems and answer their questions—specifically in bite-size pieces. Short-form video provides you with the opportunity to connect with your audience who may have a shorter attention span while helping them solve their problems or pointing them in the direction of an actual solution.
Expenses: the best gear for video marketing
If you're hesitating to get started with video because you think it's too expensive, consider the tools you have. Our phone cameras are unbelievably high quality these days. You don't have to invest a ton in video gear to get started with video marketing—save that for later.
If you are nervous about creating the best quality, consider your audio first. Viewers can sit through a bad video, but they can't sit through bad audio.
The future of video on social media
Short-form video is at the forefront of every single platform right now. For independent business owners, long-form content is where the sweet spot lies. While you're reaching an audience with your short-form content, you have to provide them with more beyond the short-form video platforms.
Think of your goals as a business owner and what you should be leaning into to align with those goals. What do you want to lean into on each platform? Consider how creators make money versus an independent business owner—creators have to have a huge audience to make a million dollars, but business owners don't.
When it comes to marketing, your goal as a business owner should be traffic, which can be achieved through short-form videos. Then you need to nurture that traffic with long-form content—pre-recorded and live. Live video is an underutilized tool that so many creators are sleeping on.
Show up with authenticity
One thing that XayLi does really well is show up authentically, which offers viewers the opportunity to connect on a more personal level with her. This decision came from the reality that XayLi is a creative person who had to learn how to be a business owner. She wanted to connect with her audience outside of her simply being a business owner, so she made a conscious decision to show up as the person behind her business.
She found that authenticity in her personal brand was ultimately what converted her viewers to want to work with her.
Level up your video marketing
If you're ready to level up your video marketing, you have a couple of options. Consider your resources. How much time and money can you dedicate to giving it a try? If you have the time, consider what you want to improve—whether your equipment or your on camera self. Practice and get better about how you're showing up in front of the lens. If you have some money, your next step would be to hire someone to help you set up your gear.
The biggest differentiator between the businesses that succeed and the ones that fail
With every conversation we have on the podcast, I am asking our guests what the biggest differentiator is between the businesses that succeed and the ones that fail. XayLi's answer was fitting for our conversation around video marketing: "It's the ability to adapt."
As a business owner, you have to be open to the changes that are happening in your industry, in technology, and in trends. There is so much to embrace as the world develops and changes, but if you're not adapting, you may be the business that fails.
Important sections of the conversation
[3:25] XayLi's journey to video marketing

[8:08] Video marketing for your business in 2023

[10:44] Creative video in your clientflow

[14:38] Debunking hesitations in videos

[20:59] The future of video marketing

[26:01] Authentically showing up

[29:39] Level up your video marketing

[33:27] Biggest differentiator between the businesses that succeed and the ones that fail
Sources mentioned in this episode
Connect with the guest