This week, the Tuesdays Together NYC group presented at The Love Union event in Brooklyn, NY on the topic of "Community Over Competition." I realized that I wanted to encapsulate the moment to refer back to later and to share our amazing mission, so here is my attempt at capturing the perfect, amazing, completely surreal moment forever.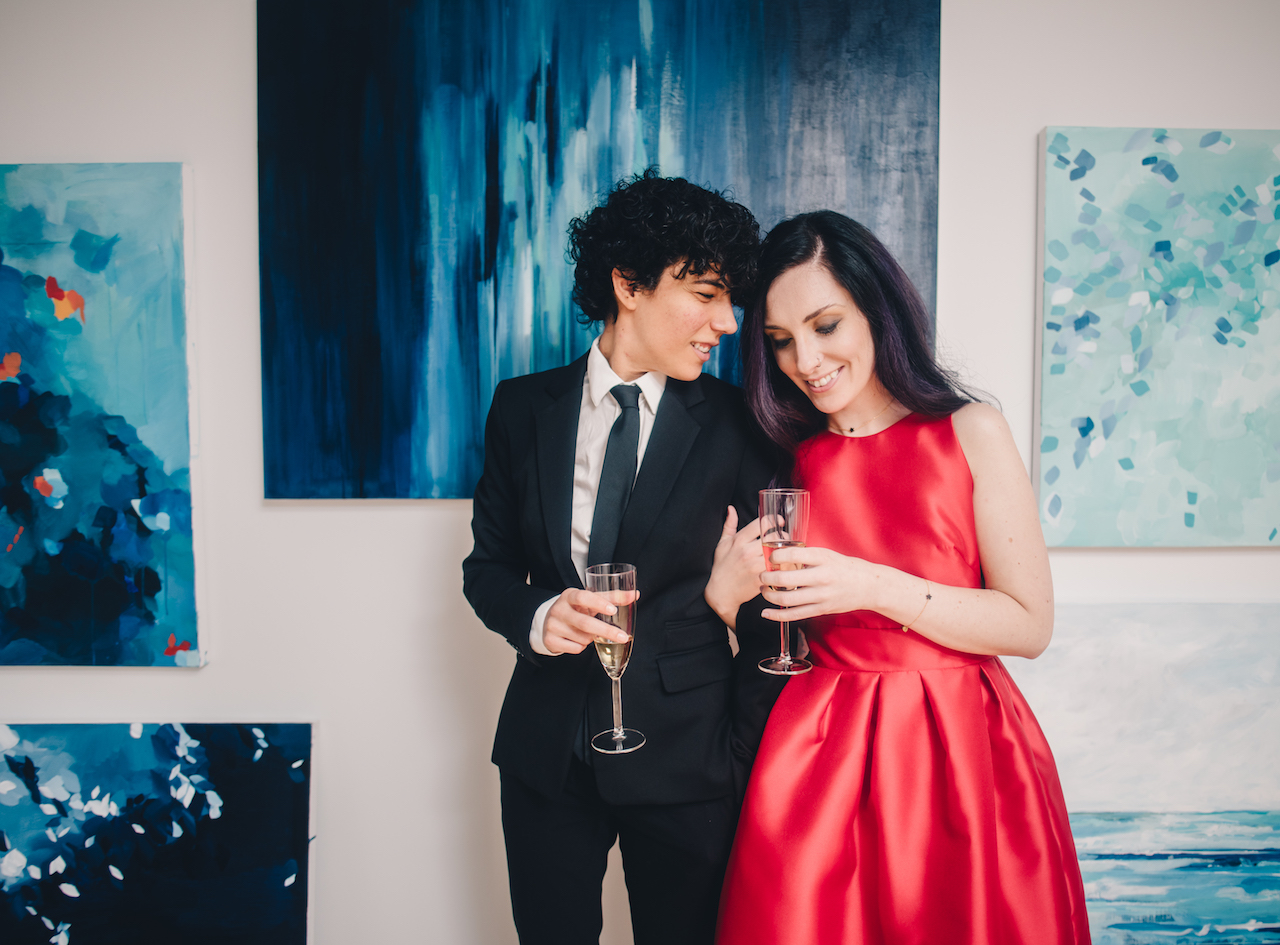 A little background…
Here's the thing, it's really hard to run a business. And it's even harder to run it while fighting for what you believe in and not compromising your ethical beliefs. As I began working as a full-time professional artist just under 2 years ago, I developed a different kind of business plan, an ethical plan. I had been given a glimpse into how cutthroat and competitive people can be in running a business, especially as a sole proprietor or small business owner, and I didn't accept it. I wouldn't stand for it. Not for Art by Megan.
Well, let me tell you something. It's not easy to run a business this way. It's slower, it's not at all glamorous, it's less productive, it's frustrating, it's full of double and triple checking simple business moves, and it's not necessarily trendy. But, at the end of the day, when I look back on my life and my business (because let's be real, they are one, whether or not I want to officially admit it!), I want to be proud of it.
My business plan:
So, that's my business plan. I hope you steal it and use it. Ok, back to yesterday… I want to show the world that if you stand up for what you believe in, people will SLOWLY fall in love with your brand. I want mothers to know that running a business while running a household and raising a little person (or people) is not at all conducive to productivity, but that it's worth it. I want younger followers and fans to know that following a dream comes at a lot of costs, but not at the cost of compromising what you know is right. I want my own daughter to know that by treating others fairly, with compassion, and being kind takes you a lot further than other "Business Plans".
So, that's my business plan. I hope you steal it and use it.
Note: I thought I was INSANE when I officially decided this. And then, I became part of a community of people who also believed in this. They shouted it from the rooftops. They treated others fairly, with compassion and love. The cheered for their competitors. They celebrated with "enemies" in the industry. They dreamed big in meetings on the second Tuesday of the month in a room filled with strangers who also want to run a business in a different, radical, new way. They are called the Rising Tide Society, and you need to look them up if you haven't heard of them.
Members spoke about their favorite Tuesdays Together NYC memories and shared things that gave me hope. We are doing something almost impossible here, but SOMETIMES it works and when it does, it's amazing. (It's kind of like parenting, no?!)
Catherine of The Bayith mentioned that she is dreaming bigger than she ever imagined with members of our group. She said, "it's like you can have an idea and think it's totally crazy and then someone else offers to do it with you". It's just amazing to have a group of crazy dreamers to call friends and "co-workers". That's community.
Alison of Lifestyle Maven Events stated that she loves our group so much for the camaraderie and sanity it provides to us entrepreneurs. "We need one another", she so simply put. I am not sure how much she realizes that is true for me. I needed a little NYC family and found one in this amazing organization. That's compassion.
Yesterday during our panel at the event, Danielle of Lace and Scone said, "it's community over competition, not community without competition". She's completely right. It's more about perspective than anything in running a business. Just put the community first, then yourself second. It's a perfectly simplified way of living where you always can fall back on a philosophy to make ethical, correct, fair and informed decisions. That's changing the world.
Kate of Kate Alison Photo yesterday talked about how having the foundation of our group gave her the confidence to challenge the status quo and form a business that was honest and that she was proud of. Instead of settling for how her industry portrays love, she decided to take a different approach. She stated, "I would have never become the person I am without this group." Kate, thank you for daring to be amazing, honest, and open and setting that example to others in our group. That's leadership.
Marina Warner of The Warner Firm shared that her favorite memory was from a styled shoot that we worked on as a group in January. She said "it was amazing just to work on something that we all believed in, that was bigger than us, and that simultaneously helped our businesses". The photo shoot was an amazing success because we all respected one another and had so much fun! Was this photo shoot a huge deal? Yes, we were all there to fight some industry "norms" we stand against and we wanted to change the world in a tiny way. Was it also an amazing mimosa-filled morning? Yes. That's daring to take risks together.
Photos from our #artplusfashion shoot by Tuesdays Together member and dear friend, Chi-Chi of Two Twenty. Styled and curated by Danielle of Lace and Scone. Hair and Make-up by Jenna Marie.
Panel members included:
1. Marina Warner of The Warner Firm
2. Catherine of The Baytith
3. Danielle of Lace and Scone
4. Alison of Lifestyle Maven Events
5. Kate of Kate Alison Photo
6. Me.
So, that's it. I am amazed. Speechless (almost!) and shocked. But, mostly just grateful.