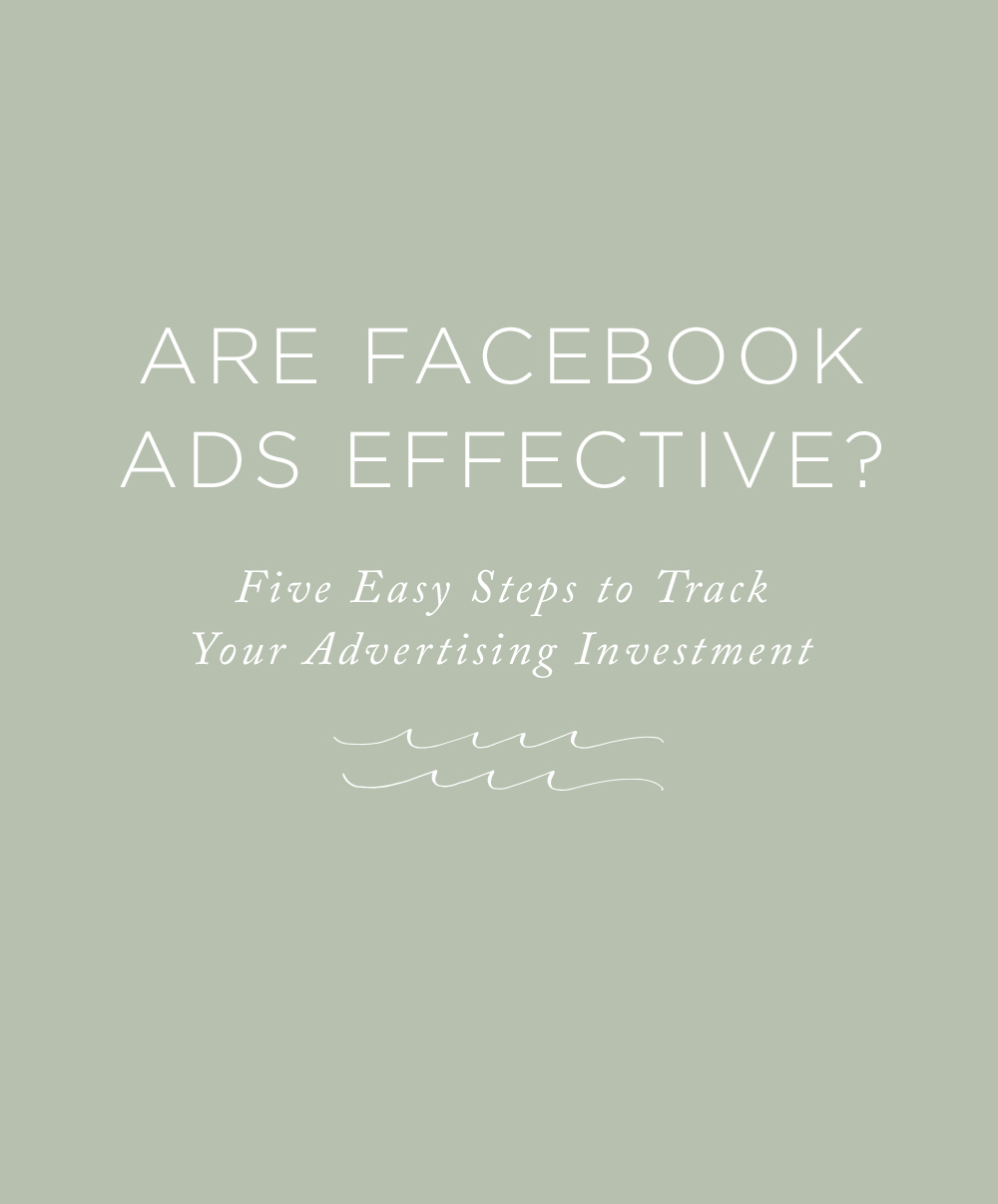 I love social media! I think that's something we can all agree on. Social networks are a phenomenal way to reach potential clients, connect with current clients, and reach out to other vendors you have worked with or want to meet in the future. From Facebook to Pinterest to Instagram and more, entrepreneurs have found their niche in using social media platforms to increase their reach.
One huge change in the last few years is that the Facebook we knew and loved has changed drastically – and with the changes, we are now having to reach into our pockets for the first time to reach potential clients. It's disheartening in some ways, as the reach on your page slowly declines while your advertising budget moves upward, but don't be discouraged – Facebook can still be an incredibly powerful tool in your arsenal if you know how to use it correctly.
If you're going to advertise on Facebook – or with Google, magazines, and print ads – it's absolutely essential that you figure out your return on investment (ROI). A click to your website is not usually worth much, but a purchase or a filled out contact form makes that lead a lot more valuable. Luckily, through Facebook advertising, there is an easy way to find out if what you're trying to sell is actually working.
Enter: conversion pixels.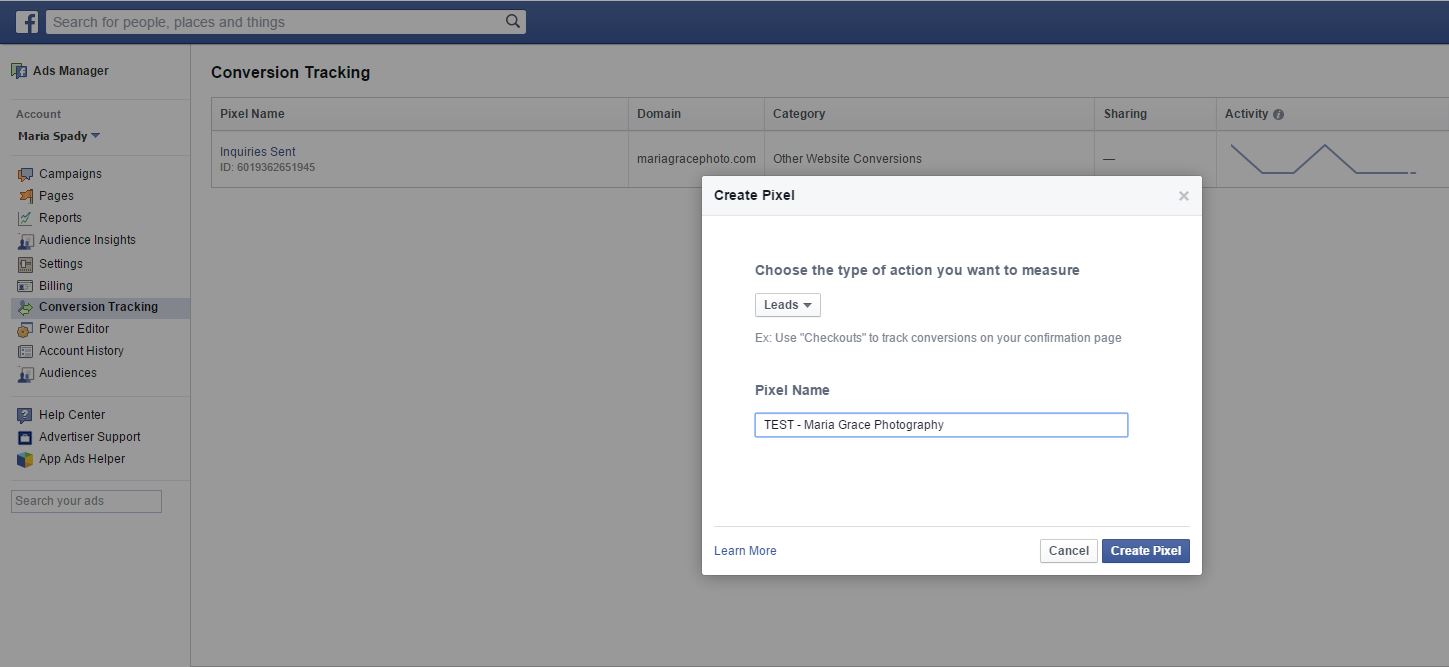 To Access: Go to your Ads Manager and Select the option Conversion Tracking from the menu on the lefthand side!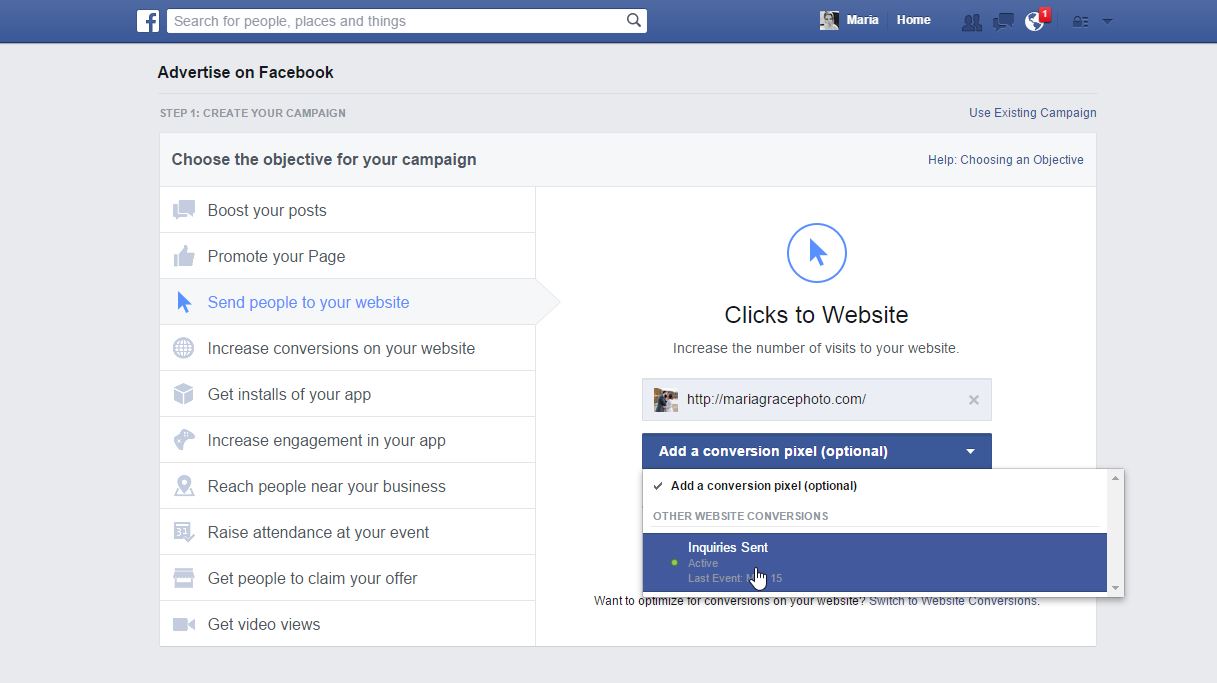 Conversion pixels are used on more than just Facebook but to keep it simple, that's the platform we'll talk about today. These pixels are powerful tools that can show you whether or not your advertising is actually effective. The first step is to figure out your 'win.' For me, as a photographer, my 'win' is when a potential client fills out the contact form on my website. Yours might be that a purchase is made, or that a particular page on your website is visited.
Figure Out Your Win. A conversion pixel can be placed on a particular page in your website to track the progression of a click from your Facebook advertising all the way to the end. Since my 'win' is a potential client filling out a contact form, I've placed my conversion pixel on the "Thank You" page that clients see only after they complete the contact form. (If I put the conversion pixel on my contact page and clients visit this page but don't fill out the form, it's not a win for me!)
Get the Code. Once you have figured out your win, you'll need to get the code from Facebook to track the conversion. Simply click the arrow on the far right of your top bar, then click 'Manage Ads.' Under your Dashboard, click 'Conversion Tracking.' Then click 'Create Pixel.' Facebook will then allow you to name a pixel – and you can have more than one, especially if you're running multiple ad groups.
Add the Pixel to Your Website. Once you've created the pixel, ask your web designer to embed that code into the page on your website that you've determined is your 'win.' To verify the pixel, simply visit that page on your website and the tracking will begin.
Get Started with Your Ad. When you create an ad for your website, there is an option at the very beginning to add a Conversion Pixel. Simply link your ad to the desired pixel and you're on your way.
Track Your Results! You will be able to see how many clicks to your website actually resulted in a quality lead, purchase, or whatever you are looking for. Anytime you want to see if the pixel is being used, go back to Conversion Tracking in your Ads dashboard. This is absolutely the best way to determine if you're getting your money's worth in Facebook advertising!
Facebook may not be free any longer, but it's still extremely valuable. Get the most out of your advertising by making sure you're leading people all the way through your website and creating a win for them and you!
Learn more and grow your business with HoneyBook's all-in-one marketing consultant software.