Are you waiting until launch week to begin marketing your new course? Ditch the traditional launch plan and check out Amanda's tips for how to generate momentum, leverage your waitlist, and drive sales for a successful launch. You'll have the tools you need to launch a successful course this time and every time.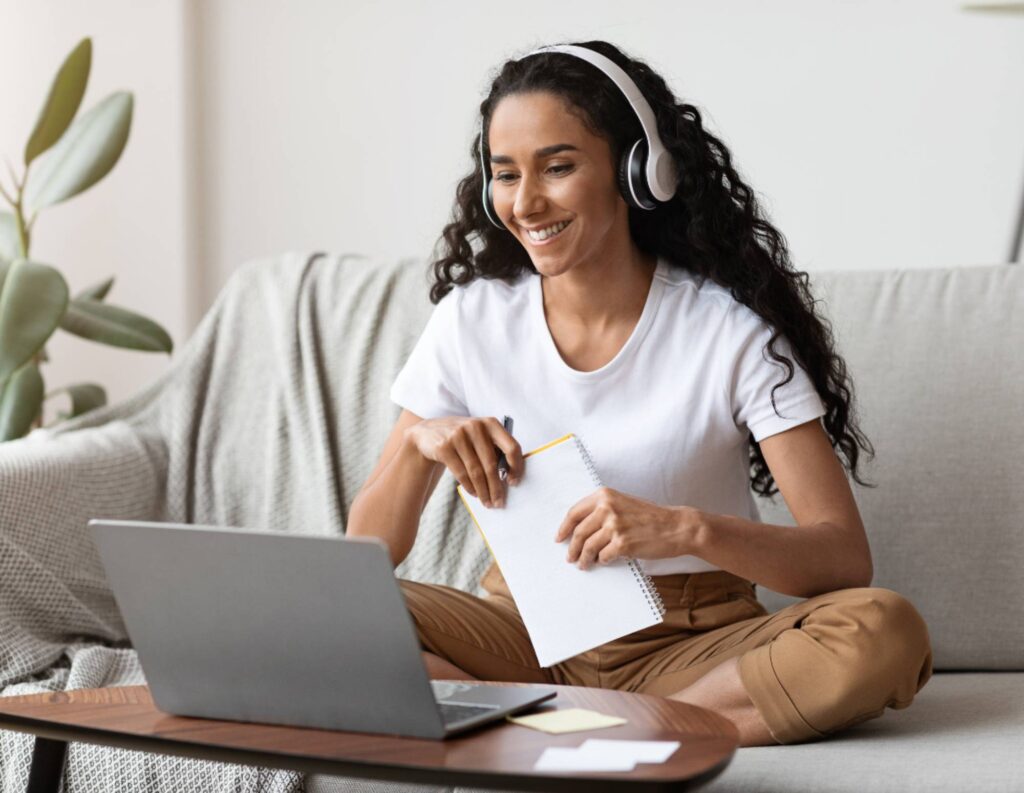 If you've ever tried creating an online course, you're probably familiar with this scenario. The days are flying by and you're frantically trying to put together the course you're getting ready to launch. You're writing, filming, editing, setting up your student portal, and feeling as if you're running a marathon each day as you get closer and closer to the launch day (the one outlined in red on your calendar).
Launch day comes and you're nervous and excited. It's finally time for you to announce you're amazing new online course on social media. You're ready to hit send and make this incredible offering available to your email list. The one you've been working months to carefully and intentionally craft just for them.
And then…crickets. Talk about disappointing, right?
The thing is, you know the course you created is amazing. You know you are capable of helping so many others with this information. So, why aren't people buying? Where are the students you gleefully envisioned putting sticky notes on the wall for?
They're multiple steps away from hearing about your course. Why? It's simple because you spent all of your pre-launch time creating the course instead of promoting it.
All too often, independent business owners will decide to create a new offer and won't share it with anyone until "launch" day. They tease that they're working on something exciting. Or that they've even got a great course they're working on creating. But they aren't sharing why their audience should actually care or consider buying until launch week. By then, it's too late to make an impact and move your audience into a buying mindset.
Your audience needs to know before the course is available that they want to buy it. In fact, you should be thinking about your launch week as the opportunity to gain visibility for your next launch.
So, how do you ensure your audience knows whether or not this course is for them before it's even available? The answer is a strong waitlist strategy within a strong launch runway.
How to plan your online course launch runway
Don't make the mistake of waiting until launch week to start marketing your new course. If you've waited until launch week to start marketing, your audience won't have enough time to decide whether or not your course is for them, which means they likely won't buy it. We have to hear about something multiple times before we take action on it, and you want those touchpoints to have already happened before launch week even begins.
This is where your launch runway comes in. A strong launch runway for a brand new offering should last about 12 weeks. You won't be selling during all 12 weeks, but you will be preparing your audience for the launch with the four phases of your runway.
Pre-pre-launch (eight to 12 weeks out from launch)
During this phase, your job is to bring awareness to the problem that your audience has and that your new course will solve. It's highly likely they don't know what the problem they have is. This is because they're focused on a symptom of that problem, that they're mistaking for the actual problem. The problem before the problem.
For example, a problem my audience often has is not having a system for batch-creating content. The way that problem manifests itself in their business is that they are overwhelmed by content creation. They never feel like they have time to create content and they are stuck on the content creation hamster wheel.
If I polled my audience and asked how many of them struggled with not having a content batching system, I wouldn't get many responses. But if I polled them and asked how many of them struggled with being overwhelmed by content creation, I'd have a ton of responses. That's the problem before the problem, and that's where your launch strategy begins. You want to create content that showcases how they can solve the problem they currently are aware of. If I was coming up with content topics for the above example, they might look like this:
Five ways to save time when creating content

The one thing I implemented to save hours creating content

Using content to bring in a steady stream of clients
All of which would address the pain point, help solve the problem of not having enough time to create content, and educate on the need for a batch creation system (the course solution).
Notice that you won't be pushing the course yet. You're simply setting your audience up to see that they need to do the thing that your course will teach them to do.
Pre-launch (four to six weeks out from launch)
Once you've spent some time opening their eyes to their problem, and helping them become problem aware, it's time for the pre-launch phase. During this phase, you want to set up the idea that your offer is the best thing to help them solve their problem.
Here you'll spend time giving them information on how to solve the problem. Ask yourself what it is that your audience needs to know or do before implementing that solution. What are the basic steps they're going to take? How can they begin to implement what it is that you are teaching them?
Going back to the example I gave previously, the problem is that my audience doesn't have a content batching system in place. My solution is my membership, which teaches them to do just that. Thanks to the last phase, they now know they need to whip their content creation into shape (hopefully by batching). Now it's time to take it to the next level and make them aware of my offer.
Some examples of content I could put out during this phase would be:
The first to batch creating your content

Content batching 101

Content creation made simple
All of which would be incredibly valuable education that helps them make progress towards solving their problem. This is also where you would let your audience know that if they're ready to get serious about solving this problem, you've got something coming up that will help.
And this right here is where the waitlist magic comes in.
Within these piece of content that has provided them with incredible value, you're going to tell your audience about your upcoming course and share the link to sign up. Let them know that it'll make solving their problem even more simple when it's launching and that by signing up now they can get in on a special deal (or whatever incentive you'd like to offer, for example, extra worksheets, 1:1 time with you, etc.) by signing up for the waitlist.
The beauty of this strategy is how seamlessly it flows together from making your audience aware of their problem, to demonstrating your value and expertise and hooking them on your course.
Visibility boost (a week before launch)
By this point, you've done the work of pushing people onto your waitlist and are getting closer to launch. Frankly, this phase is like an added bonus and you may want to skip it for your first launch, especially if you're short on marketing bandwidth.
At this point, you're focused on increasing awareness and providing your audience with added value. This is where things like webinars, social media challenges, pop-up podcasts, and so on come into play.
You'll want to time your visibility boost a few days before your course launches and you want to start promoting it roughly two weeks before that.
The visibility boost can be used to funnel more people to the waitlist, and it's typically a good way to connect on a deeper level with your current audience, which will hopefully lead to a sale. It can also be a great way to attract new people for future launches.
That said, it does require extra work to make happen and you don't absolutely need it to make your waitlist strategy work (though it definitely helps). So it's up to you whether you want to include this step.
Launch week
This is where you sell, sell, sell by talking all about your course. By the time launch week starts, the goal is to make sure that as many people as possible already know whether or not your course is for them. However, there are always fence-sitters, so showing up and selling is important.
This tactic is important not only for the launch you're currently working on but also for future launches. Throughout this entire process, you attract new people to your brand and, though they may not buy this course, they may be convinced of your value and expertise, making them prime customers for the next one.
Build momentum with your waitlist 
Now that you've got you an ideal client on your waitlist and are interested in your upcoming online course, what happens?
1. Mark your calendar
Set the date for when your course becomes available to your waitlist for the day before it becomes available to the general public. Making your course available to your waitlist early is an incentive for people to sign up for it in the first place. Not only that, these early bird sign-ups will give you momentum at the beginning of the launch.
In my experience, sales tend to trickle in throughout the week with the biggest batch occurring at the end of the launch week. With a waitlist strategy, you're going to flip those numbers. You'll end up with most of your sales on day zero of your launch – and that social proof will help your momentum throughout the remainder of the launch.
2. Set up your incentive
One of the most successful incentives in my experience is a discount code. Because we all love to save some money! It's also easy and automated so it's not a lot of extra work on your end. I also like to share bonuses as part of my waitlist strategy but you can offer whatever incentive you want that you think will appeal to your target audience.
Whatever you decide to use, be sure to set it up early so that you don't have to worry about it when the sales start coming in.
3. Write your emails
The people that have signed up specifically for the waitlist are considered hot leads because they haven't just said "yes, I want more information about this topic", they've raised their hand and said, "yes, I'm specifically interested in this course." This means you don't need to send your waitlist a lot of sales emails to warm them up, they're already open to buying.
Instead, give them a sneak peek of what's to come to get them excited. Remember to also reiterate that they have early bird access and can sign up for the course a day before everyone else. Emphasize the urgency of that offer by reminding them that their bonus for being on the waitlist is only valid for that one day.  To help you nurture these hot leads, check out this list of eight emails to send to your waitlist!
4. Launch
It's finally time to open the doors and welcome your new students to your online course thanks to the steps outlined in this strategy! Thanks to the time and effort you put into creating a strong launch runway, your audience was not only aware of your course but also understood the way it would solve their problem before your launch week even began. Not only that, you leverage your waitlist to drive sales and build momentum for a great launch week.
Wishing you the best of luck in your upcoming launch, my friend!
Ready to diversify your revenue streams? Get our How to Diversify Your Revenue Streams Ultimate Guide.