Learn about these podcast basics and benefits so you can determine if they're a good fit for your business.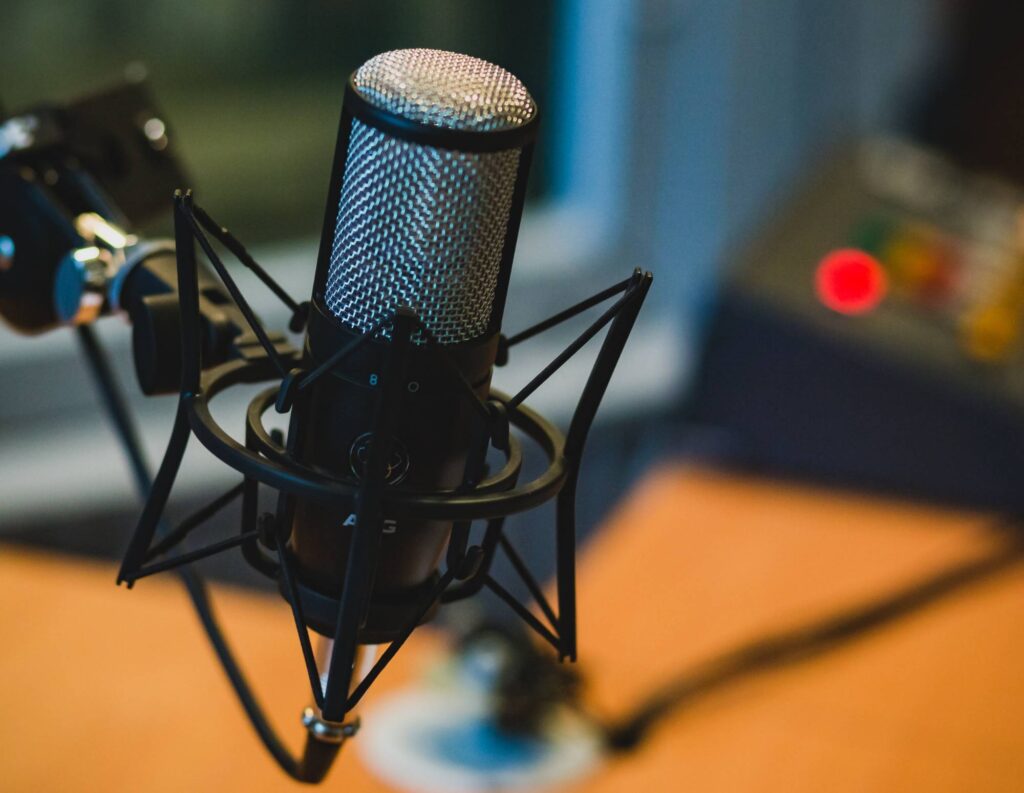 You may know that podcasts are growing immensely… but do you know the benefits of podcasting? Word on the street: podcasts are all the rage. And I have to say… I agree!
Launching my show, The Radiant Podcast, changed my business in the most fun and exciting ways. It created opportunities for me to share my message and broaden my audience. Plus, my show even helped me land a book deal.
When I started The Radiant Podcast 4 years ago, I had no idea how pivotal my podcast would be in helping me connect with new people! Soon I began navigating the (sometimes complex) world of podcasting. Then, I learned a great deal about the process and found myself amazed by the numerous doors podcasting opened for me.
I get asked all the time: What are the benefits of podcasting? Why podcasting over another platform?
These are GREAT questions!
Podcasting is the new entrepreneurial cocktail hour. Instead of having to go mix and mingle at a networking event, now you have the opportunity to meet others in a much more intimate way as a guest on their show. Podcasting is powerful. Yes, there is still the small talk of getting to know the host. However, you're really able to dive deep quickly and make an authentic connection.
I know on my own podcast, there's something so magical about connecting with someone I've followed or learned about through stalking their social. However, really getting to know them as we discuss business, life, and everything in between always makes me so grateful for this platform, which takes our connection to the next level.
What are the benefits of podcasting?
As a creative, there is a level of vulnerability required when sharing a message you're passionate about. Podcasting has challenged and stretched me to be vulnerable, develop stronger communication skills, and refine my message along the way. Through podcasting, I have learned to set aside my fears of criticism and rejection. In the process, I've built a new sense of bravery and confidence. Though sharing my passions has not always been easy, podcasting has offered me a platform where I can use my voice (literally) to communicate the message I've long felt called to share.
Likewise, the collaboration and growth that has come from podcasting has been a major game changer in my business. As a creative entrepreneur, I thrive off inspiration. Podcasting has allowed me to connect with other entrepreneurs and creatives, who have ignited passion within me and planted seeds that often blossomed into a new direction for my business. Speaking with innovative thinkers each week has not only inspired me, but has afforded me the opportunities to build amazing friendships, as well as network without it feeling like networking. These conversations have been the motivation I've needed on the hard days to keep chasing my dreams with relentless pursuit.
The connections and inspiration that comes from podcasting conversations are amazing, but the truth is that we're doing more than just chatting for an hour each time we speak. We actually are making connections, which leads to more audience engagement, business and SALES!
We've all had to change our strategies in the times of COVID. While huge-group speaking engagements are still not really happening, speaking on podcasts really gives you the space to expand your audience by meeting them where they are–in the car, out for a jog, etc!
Speaking directly to your audience
One of the most important things I try to communicate to my clients when it comes to podcasting (and so many other areas!) is to approach every opportunity with your audience top of mind. Yes, getting your message out there on others' podcasts benefits you, but showing up to engage with a host and offer value to their audience is the goal!
It can be easy when you're starting out to only look to the big name podcastors to invite you on their shows, but some of my best conversations and networking moments have come from sharing my message on podcasts with smaller audiences. I've even landed a two thousand dollar client on a podcast with under fifty reviews.
Building new connections
I'll say it one more time for the people in the back: it's all about building connections and serving an audience. When you take the posture of serving instead of gaining, it allows you to stand out amongst your peers (other guests on any given show), and in turn, actually sell more offers with your authenticity!
Not only am I able to move MY bottom line through these connections, but I'm able to help my host move their margins as well! That is a win-win of the benefits of podcasting. Through podcasting, I've made some incredible connections that led not only to friendships but to joint ventures. Whether I was an affiliate for someone else, or they were an affiliate for me, I have been able to link arms with entrepreneurs in a variety of industries. We've been able to be ambassadors for one another's businesses! Now THAT is truly a picture of running a race together and going further together or of a rising tide that lifts all boats.
Not only do I get to develop and promote my message through podcasting, but I'm also able to build connections and establish joint ventures that benefit both my fellow podcaster and me! I carry my brand with me wherever I go, but making those connections that lead to affiliate partnerships (and friendships!) have moved the bottom line for both of us! They get the perk of making money while sharing my products and services with their audience and I get the benefit of reaching more people by having others promote my brand on my behalf.
Opened doors and new opportunities
And before I knew it, podcasting opened another door for me to share my message with the world: a book deal!
I've long felt called to share my message about the importance and value of mentorship with the world. It wasn't until I started my podcast that I really saw that message actualize. Through building an audience, and through watching the streams roll in, I was able to prove that there was a demand for the message I wanted to share. These factors eventually led to a book deal, and what has now become my first book What They Taught Me: Recognizing The Mentors Who Will Take You From Dream To Done.
These days, publishers are really looking for authors who already have a platform that reaches thousands of people, and while I already had a strong Instagram following, I was really able to promote myself to publishers by counting my podcast engagements as speaking gigs. By appearing on podcasts, it was easy to show publishers that my message was viable and there was a major audience who was craving authentic investment and mentorship in their lives!
And the circle of life continues. While podcasting led to a book deal. The book now allows me to gain more placements on other people's podcasts – thus building more exposure for my brand!
Results from consistent podcasting
When I first started my business I didn't have a platform or a budget overflowing with advertising dollars. And podcasting allowed me to build a platform and grow my brand so that I could step into my dreams. These speaking gigs have brought me more creativity, connection, collaboration and clout that I could have asked for. That's such a great example of the benefits of podcasting. I know the more you invest in the podcasting game, the more doors will open for you, as well. I love every time I meet someone who says "I found you on a podcast!" because it's just an extra reminder that the time I've spent investing in this platform works.
Podcasting from both sides of the mic has created tremendous growth in my personal and professional life and served as an incredible platform for me to more fully and authentically share my message with a broader audience. I encourage you to think about ways you can gain exposure, build your audience and bring your message to life through podcasting. Afterall, we each have a unique message to share with the world!
If you're interested in learning more about podcasting, snag my free guide, 8 Ways To Become The Best Guest They've Ever Had or check out Radiant Media here.