Brochures are a great tool for promoting your business. Include your list of services, descriptions of each one, and maybe price estimates (if you want to get into the details) and you've got a typical brochure ready to go. But is a typical brochure really what you want? Because here's the truth: many brochures fall short. Many lack the secret to actually help you grow your business: making it easy for an inquiry to book you. And that's the whole point of sending a brochure, right? To get booked, again and again.
By following a few best practices, especially #5 below, you can get the most out of every brochure you send. Here's how…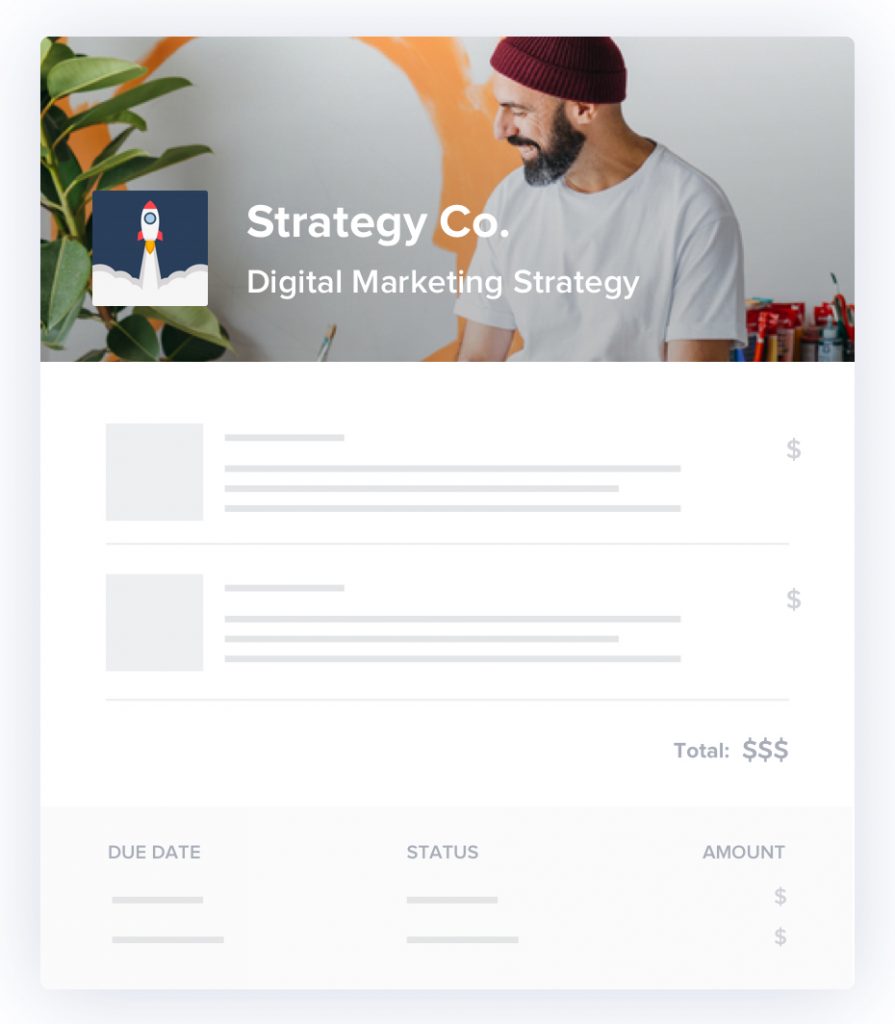 5 Brochure Best Practices to Follow Before Hitting Send
1. Use a professional template
Whether you find a template or create your own, it's important to choose one that helps you create a beautifully designed handout. You've got a captive audience that's interested in what you have to offer. And now is the time to present them with a high-impact piece that presents your services, pricing and story in the best possible light.
Need help finding the right template?
HoneyBook's brochure templates are professionally designed and 100% customizable, letting your brand shine. Switch out the images to make it your own or use them as is to get started–fast. Or, for full creative control, start from scratch using our layouts.
Bonus: Our brochure templates are also great for building out and sharing all kinds of important information with your clients at any point during the booking process. You can send welcome kits, guides to working with you, design proofs, proposals, service catalogs, your portfolio and more.
Get Your Free Brochure Templates
Just start your HoneyBook trial.
(You'll find the templates under Tools>Templates)
2. Let it shine, let it shine, let your brand shine
Consistent branding is key to building customer trust, brand awareness and affinity. Your brochure should match your brand's look and feel, including your logo, colors, imagery and voice.
3. Show and tell
Of course, showing your inquiries why they should work with you by including visuals of your best work is important. But don't forget to say it, too. Testimonials from previous clients can reinforce your messaging and your brand's value, helping you to seal the deal.
4. Add a personalized touch
Highlight services, imagery and reviews related to what you know your client is interested in. It shows you're paying attention to who they are and their needs and interests, helping you build a personal connection–and increasing your chances of getting booked. According to an Epsilon research report, 80% of consumers are more likely to make a purchase when brands offer personalized experiences.
Pro tip: The contact form on your website is a treasure trove to help you personalize your brochure. Pull from obvious fields like name and services they're interested in, and have fun including information from fields like "how did you hear about us?" For example, if your inquiry heard about you through a past client, you can share a favorite memory and photo from that project.
5. Make it easy for clients to book
If you're only going to follow one brochure best practice, this is it: Let customers book from your brochure with the click of a button. The second you make your inquiry click out of your brochure to take another step to contact you, request a proposal or book your services, the second you're less likely to get booked. Customers get distracted. Emails get buried. The less friction in the process to book you, the better.
With HoneyBook brochures, your customers can book faster with clickable fields that let them choose their desired services. They can even build their own package using the a la carte feature. After a customer submits the brochure, you'll get a notification and a proposal is automatically generated for you. Just review, hit send and get booked within minutes.
Share, Get Booked, Repeat
It's time you got more out of your tried-and-true marketing brochure. By following these best practices, including allowing clients to book you right from your brochure, you can convert more inquiries to actual clients.