Download two free brochure templates and learn how you can customize your sales brochure to properly showcase your brand and book more clients.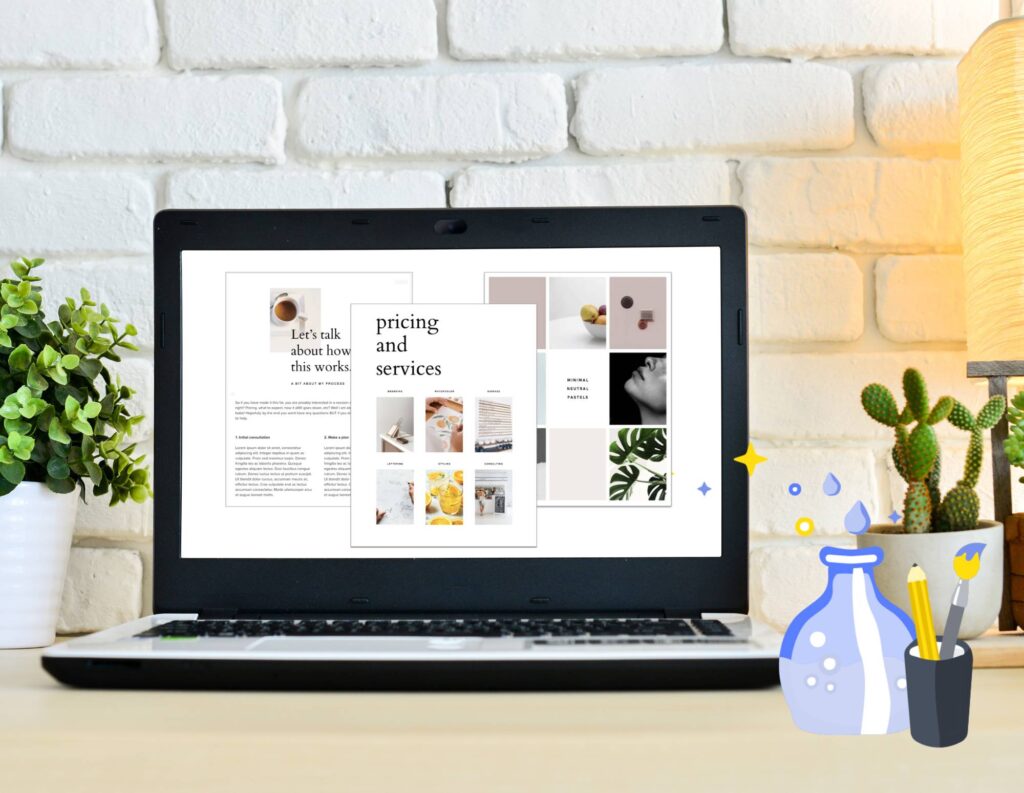 Ready to send a client or new inquiry your brochure but need the right free brochure templates? Look no further, we have just the thing.
We partnered with Galler.ee to create two high-impact business brochure templates that present your services, pricing, and story in the best possible light. They're beautifully designed, fully customizable, and 100% free.
Leverage the templates with these business brochure examples to make sure you're creating the best sales tool fit for your needs.
Each free brochure templates download includes:
1. Entrepreneur Pricing Templates (PSD Photoshop files), which include individual files you can customize for the following sections in your brochure:
Top Header
Let's Get Started
My Process
Core Values
Inspirational Quote
Testimonial Quote
Pricing and Services
Add Ons
2. Storyboard & Proofing brochure templates (PSD Photoshop files), which includes:
Top Header
Quote Sections
My Clients
"Customize Your Experience" Header
Primary Palette
Secondary Palette
Moodboard
3. Instruction set for using the templates
What goes into memorable brochure design?
Using a digital brochure is best to showcase your products and services, but it can also showcase your brand. With an eye-catching brochure, leads will form stronger associations with your brand so you're more likely to convert them into long-term clients.
You don't need to have your brochures professionally designed to have a big impact – with the right brochure templates you'll be able to create brochures and customize them to fit your needs so they look just as professional as if a hired designer created them.
When customizing your brochure templates, be sure to choose fonts and colors that already match the branding on your website and social profiles. You should also include high-quality images. We recommend adding a headshot of yourself as well as photos or samples of any relevant projects.
Want your brochure to do even more?
The #1 mistake we see independent business owners make with their brochure is not making it easy for clients to book them straight from the brochure. Think about it: If you make your inquiry click out of your brochure to take another step to contact you, request a proposal, or book your services, you're just adding more steps in between booking with you.
Clients get distracted. Emails get buried. The less friction between your sales process and booking process, the better.
With HoneyBook brochures, customers can book from your brochure with the click of a button.
Interactive sales brochures let clients choose their desired services, and you can even build custom packages using the a la carte feature. On the next page, they'll see an online invoice with the services they just selected, with the option to pay online immediately through our online payment software. 
Improving your brochure experience
Your brochure doesn't always have to be a static file. If needed, it can become an interactive step in your booking process to help engage both clients and leads. The trick to improving your brochures is to think of them as part of the experience rather than just another file.
HoneyBook Pros who specialize in improving your business can work with you to map out the best brochure strategy for your needs. They'll help you understand when to send your brochure, what information to include, and how to move your clients toward next steps.
If you're using brochure templates, they can also use their design expertise to make sure your template incorporates your brand throughout.
How to use an online brochure maker
The easiest way to create a brochure is by using a platform that's designed for seamless client communication. In HoneyBook, you have full creative control to drop in images, text, questions, and services in a variety of formats. Each element is included to help you move leads forward to clients by offering a single place for them to learn about your services and select their choices.
To use your free brochure templates with HoneyBook, simply customize the templates using the Photoshop files, then upload them to your HoneyBook account. Within the brochure builder, you can drop in each part of the template as an image, then add other content blocks like questions or services. The drag and drop builder lets you move each element around – and you don't have to use every file that comes with your free templates. It's all about creating the brochure that works best for you and your clients' needs.
Don't forget to include more information about your company, such as your social media links and some specific project examples. Once you're finished, you'll have a stunning and professional brochure that's fully customizable to your brand. Better yet, you can do it all in little time with our free brochure templates.