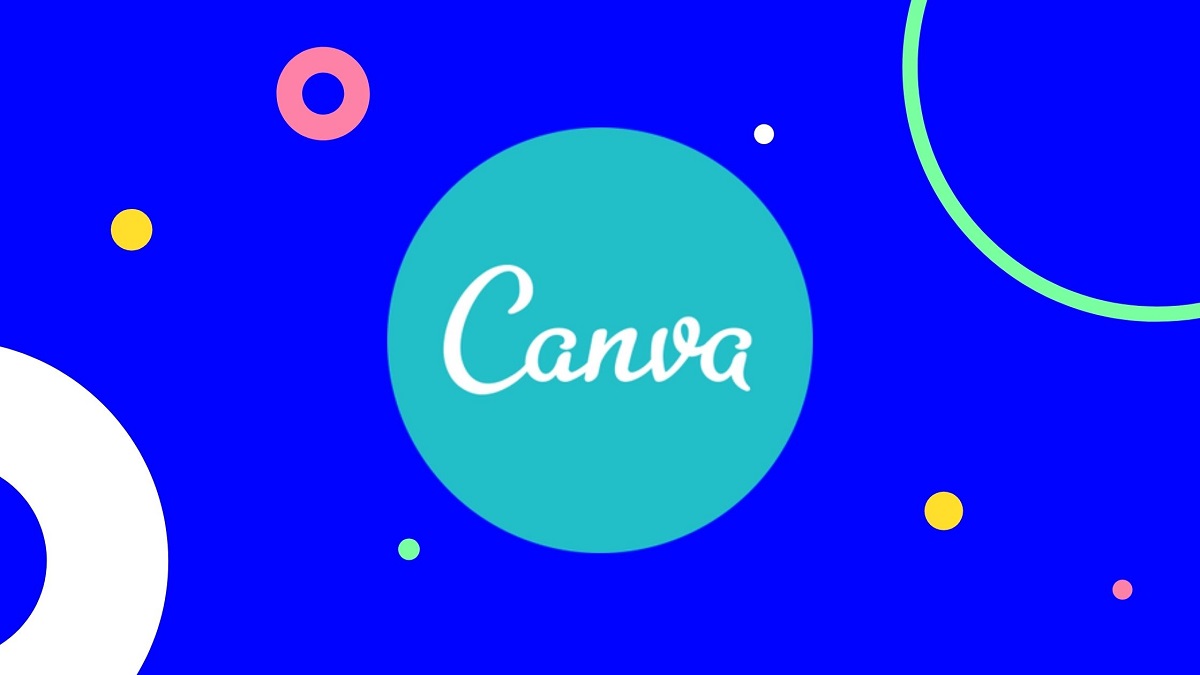 Being able to draw the right people to your brand is a key to success for small businesses, and one way of doing this is to use Canva to make sure your branding is consistent across all social media platforms.
Having an amazing graphic can make the difference between having someone scroll past your post versus having them pay attention to what you're saying.
Therefore, Canva is a great tool for small businesses to help create a strong, consistent brand on social media and beyond. Whether you're still dipping your toes in waters of content creation and graphic design or whether you're a seasoned pro at it, Canva can be a powerful yet inexpensive option.
In this article, we'll dive into:
3 benefits of using Canva for your small business
9 ways you can use Canva for your social media strategy
First, let's learn a little more about Canva and what it can bring to your business's social media accounts.
What is Canva?
Canva is an online platform that allows you to create multiple forms of digital content for your small business. You can use Canva for free or use a paid professional plan on either a monthly or yearly basis.
There are thousands of templates to choose from across multiple forms of media to help simplify the process of content creation for you if you don't have a lot of time or money to invest into branding or graphic design for your small business.
Some examples of content you could create for your social media accounts and other uses for your small business are:
Images
Videos
Instagram or Facebook stories
Logos
Posters or flyers
Infographics
Presentations
Brochures or pamphlets
Cards or invitations
And much more!
There are seemingly endless possibilities for content to create with Canva that can help boost your online presence, elevate your branding and establish your social media profiles.
3 Benefits of Using Canva for Your Small Business
Here are some of the benefits you can expect from using Canva for your business.
#1: It's easy to use
There isn't a huge learning curve with Canva. The user-friendly and simple interface is easy for any professional to use, whether you're a newbie to social media and graphic creation or whether you're a graphic designer extraordinaire.
It's also incredibly easy to save and store your small business's branding and previous designs for use later, which makes creating future images and designs much simpler and faster.
#2: It's inexpensive
For what you get, compared to some other graphic and image creation services, Canva is relatively cheap, and can actually be used for free!
If you're looking to invest in their Pro plan for your small business, though, you can also choose a plan that works best for you based on the services you're looking to use and how long of a commitment to the service you're willing to make.
You can take a look at all of the Canva pricing options here.
#3: It's convenient
One of the most convenient things about Canva is that there's no software that you have to download to use the service.
If you're on the go, have multiple people using the service, or tend to use multiple devices to do your work, Canva is browser-based, so you can log into your account from anywhere, including mobile devices. It even has its own app for tablets and smartphones.
Lastly, you never have to worry about proper sizing for your images and content across all the different kinds of social media platforms—Canva has these sizes preset for you based on the type of media and platform you're looking to create and use.
9 Ways to Use Canva for Your Small Business's Social Media
With all the different templates available and with the power to create all different kinds of posts for your social media accounts at the click of a button, Canva is a fantastic tool you can leverage to bring your small business's social media to the next level.
Here are # tools, templates, and tricks you can harness for your small business's social media.
#1: Stock photos
Did you know that Canva has a huge inventory of stock photos for you to choose from? With a mixture of free or paid options, Canva's stock photos can help you find the right image for the tone you're looking to strike or the message you want to send to your customers.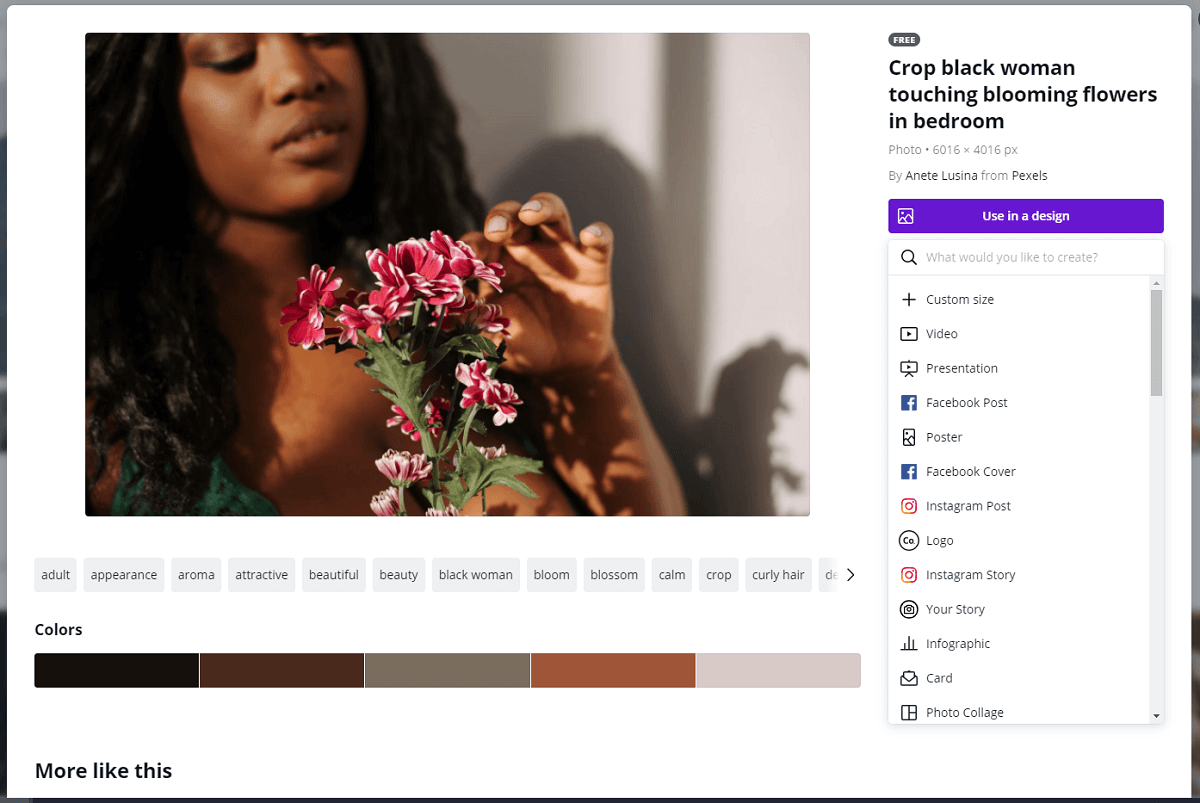 They even have a handy function allowing you to create a new design in Canva straight from the image you've selected by clicking 'Use in a design'. From there, you can select the type of media you're looking to design.
#2: Templates and fonts
One of the best features of Canva is the seemingly endless number of templates you can choose from for a seemingly endless number of media types. These templates are free as part of the service.
The templates that are available for you to choose from can be leveraged for your business's various social media accounts, from Facebook posts, to YouTube thumbnails, to Etsy shop icons.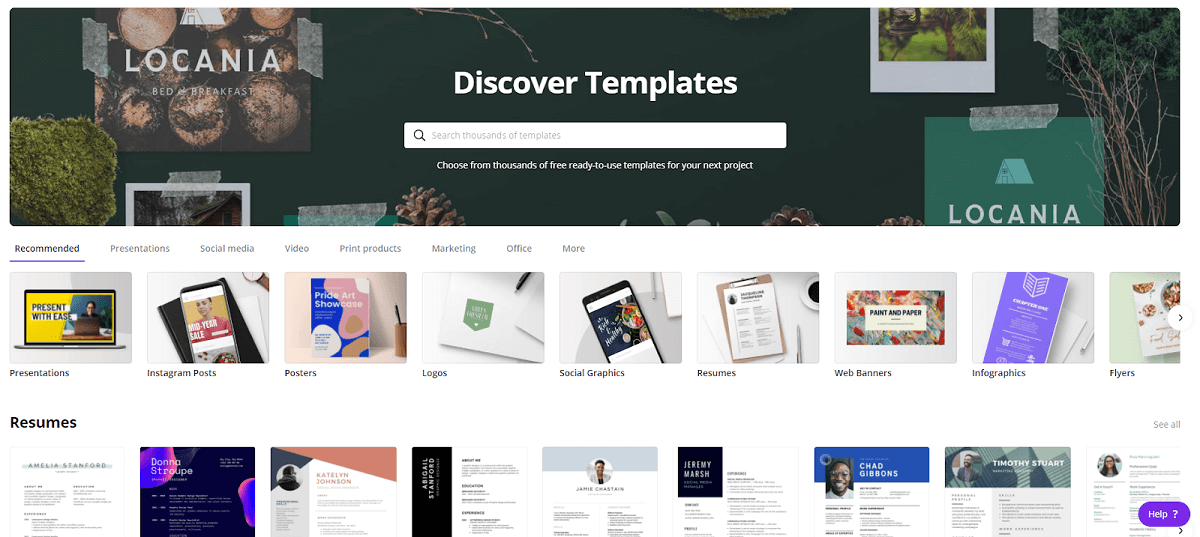 Using these various templates across your social media accounts can help provide consistency to your brand that's both modern and aesthetically pleasing. You can further customize these templates based on your needs.
On top of that, Canva also has a long list of hundreds of fonts that you can choose from outside of the tired Times New Roman or the dreaded Comic Sans. While some of them require a pro account, many of the fonts are free. You can even upload your own font if you've designed one unique to your brand.
Check out 100 free Canva fonts here.
Canva's simple yet highly customizable interface makes it quick and easy to pick a template then tweak it as necessary.
#3: Photo editor
In addition to the excellent templates available, Canva has an easy-to-use photo editor to make your photos ready to post on social media.
Some of the tools included in the photo editor include:
Photo filters
Cropping tool (with resizing, rotating and flipping options)
Text overlays with preset templates available
Collage options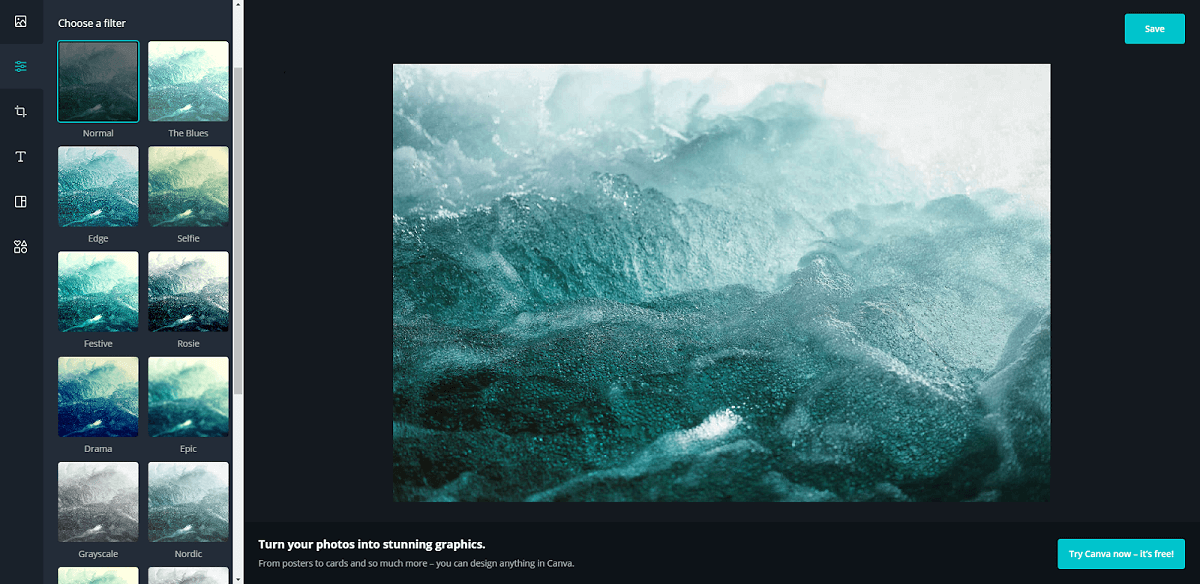 In the pro version, there's also the ability to use the background remover tool, which can remove the background of an image in one click. This can be extremely useful for your social media accounts, whether removing the background from someone's headshot or removing the counter behind a delicious meal from your restaurant.
The photo editor is quite handy for making all your photos social media ready.
#4: Magic Resize
The Magic Resize one-click resizing tool on Canva Pro is one of the easiest ways to make your content consistent across your social media.
As advertised, in just one click, you can use this function to create your blog graphics, social media promotional graphics, Instagram posts, Facebook posts, Twitter posts, Pinterest posts and more, all at the click of a button.
For example, if you're creating a square post for Instagram, you can instantly resize your photo to snap to the size of a Facebook cover photo. The preset sizes are already ready for you in Canva and take the guesswork out of sizing for each of your posts.
Not only is this helpful if you don't have a lot of time on your hands to make multiple posts for multiple different accounts, but it helps make your small business's branding consistent across all platforms.
#5: Custom brand colors through Brand Kit
While Canva lets you resize one graphic creation to fit all social media sizes, another great feature of Canva is that it lets you do so with your custom brand colors through the Brand Kit function.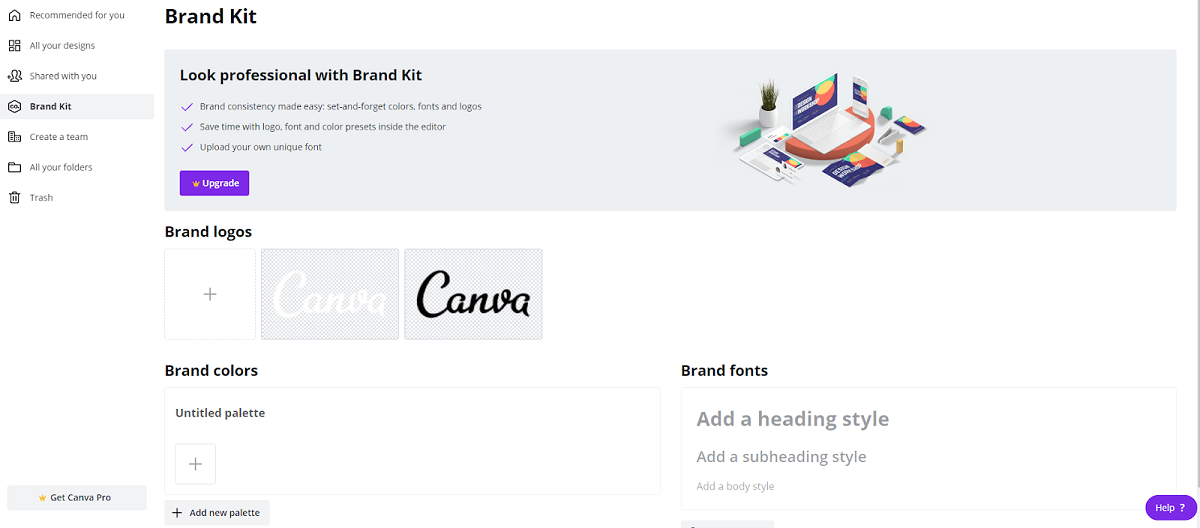 In this section, you can upload:
Multiple variations of your business's logo (such as light and dark versions)
Your brand's HEX colors to use just the right color in each post
Your brand's fonts and/or heading styles to have consistent sizing across your posts
When creating a graphic or post in Canva, you can easily access these brand elements from the font type, color, or sizing sections.
Like the Magic Resize tool, the Brand Kit provides ease and consistency to your business's brand for all of your social media posts.
#6: Instagram and Facebook stories
Instagram and Facebook stories have quickly become a must-have for marketing your business online, and Canva's different options for making them are your new go-to for creating stories.
With the animation feature on Canva Pro, you can create eye-catching and effective graphics to post on your Instagram and Facebook stories. By saving your graphic as a .gif, in one click, Canva gives you multiple options for how to animate the various elements of your graphic in an engaging but professional way to elevate your stories.
There are also a number of Instagram story templates that Canva has made available in the correct size which you can further customize.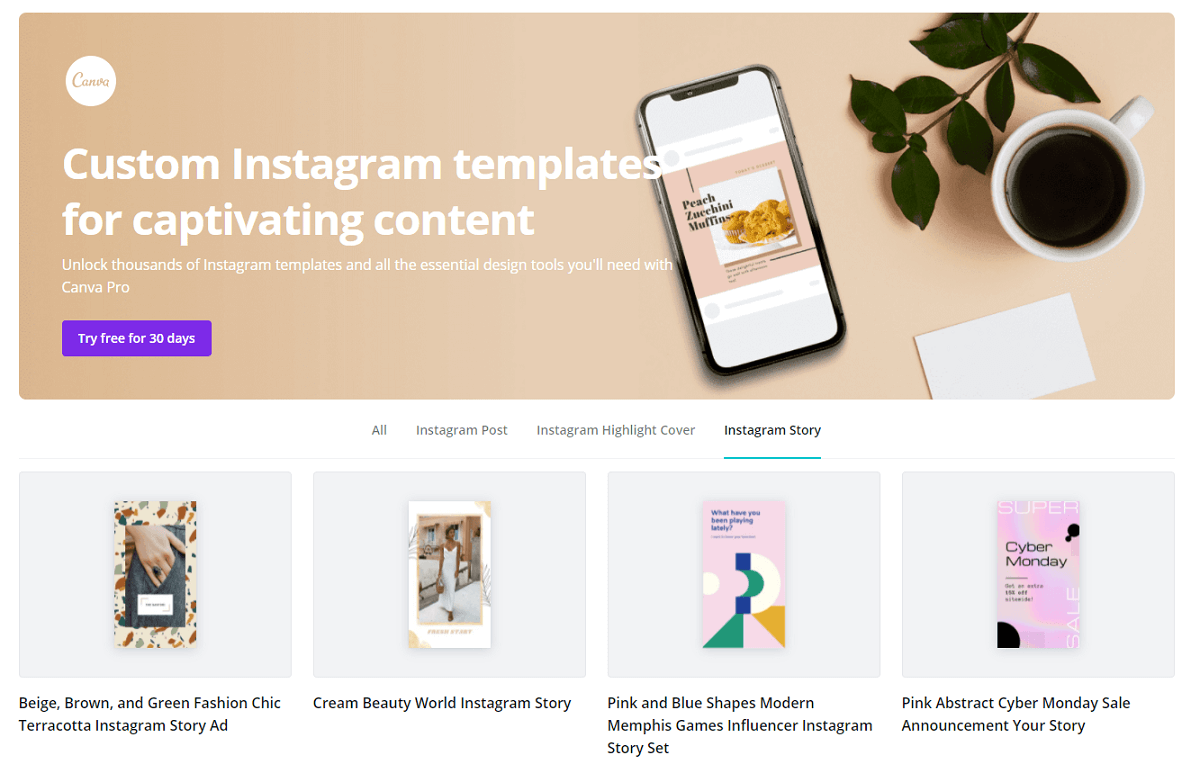 These options in Canva can give your Instagram and Facebook stories the added boost you need to capture your audience's attention.
#7: Quote graphics
On Instagram in particular, quote graphics get a high level of engagement from users and are really easy to create in Canva.
With a wide selection of quote graphic templates to choose from on Canva, whether it's inspiring your customers to hire your coaching services or motivate your customers to #TreatYoSelf with your wellness products, quote graphics should be a go-to for your business's social media.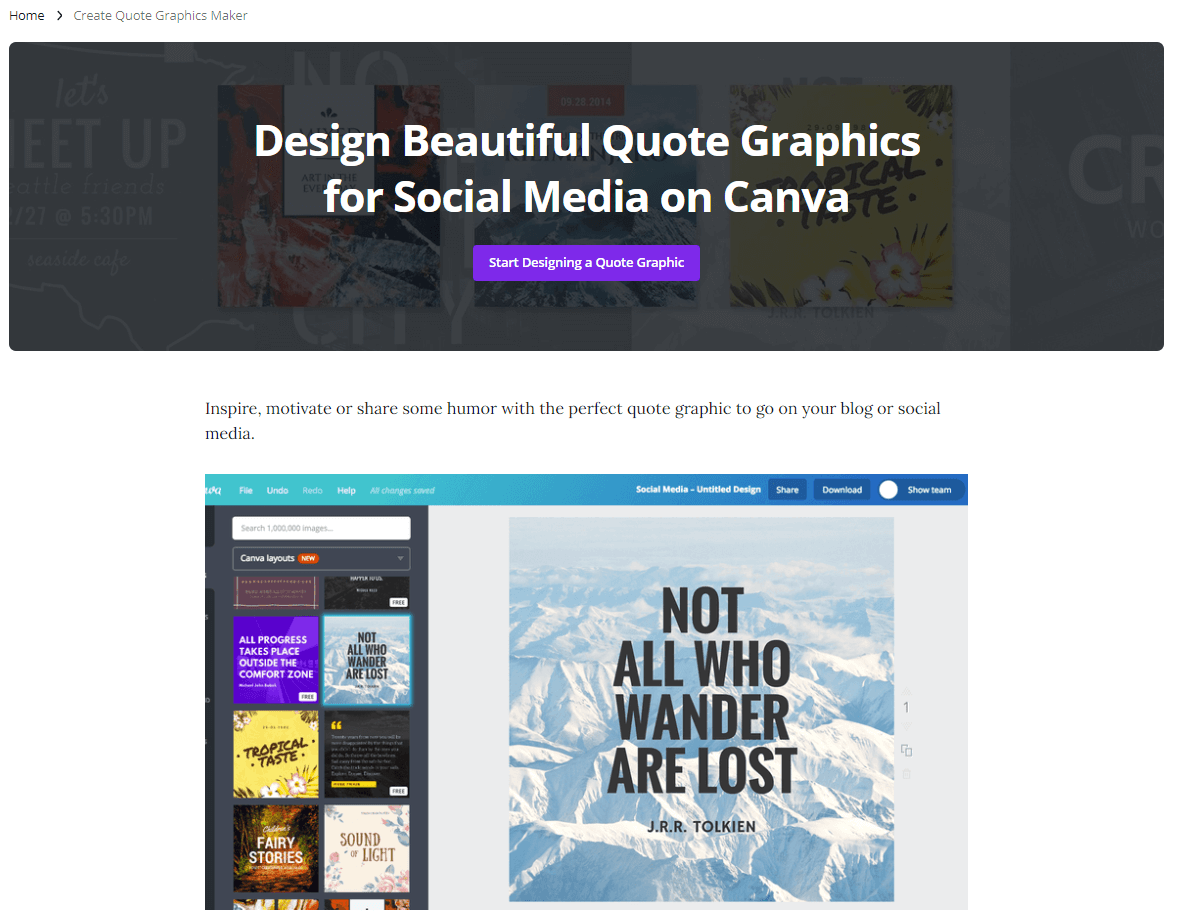 Once you've selected the template, you can further customize the image, font, background, or colors.
#8: Pinterest posts and infographics
Another great way to use Canva to up your social media game is by creating a few different graphics, sizes and styles for Pinterest to gage what types of graphics perform well for your brand.
A tip for Pinterest is to create long, tall, vertical graphics with clear, readable text overlay. This is something you can do with ease in Canva thanks to their Pinterest pin templates.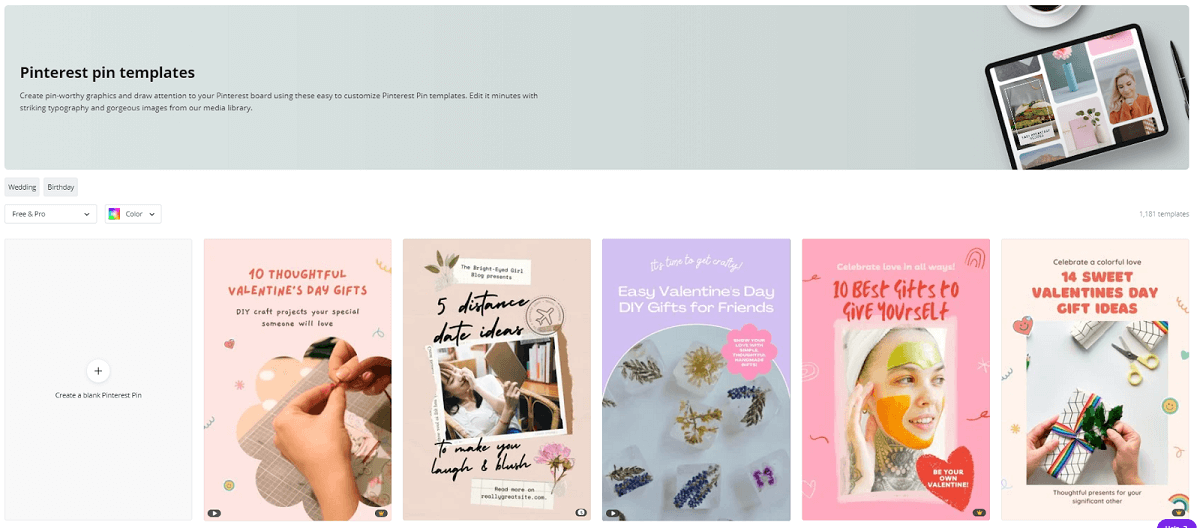 Similarly, infographics are a hit on Pinterest that can be posted on multiple social media platforms. They're easily created in Canva with the set infographic templates to make your very own professional-looking infographics pretty quickly and seamlessly.
#9: Collaboration
Do you have multiple people managing your social media accounts for your business? Not only does Canva make it easy to stay consistent and create one voice across all of your posts, but you can easily collaborate with other users in Canva.
There are three different ways that you can invite your team to view or edit a design:
Teams: You can create a team on Canva's Homepage on the left-hand side. By creating and sharing designs or folders with your team in one place, it's easy to keep track of all your designs from multiple team members.
Share via email: From within a specific design, you can also click on the Share button at the top of your screen to send someone a design by email. From there, you can choose whether the person can edit, use the design as a template, or just view it.
Design folders: If you have a Canva Pro account, you can create design folders for your business to share with one another. This will then give you a directory of who can view or edit the folder.
Canva's different ways of encouraging collaboration make the platform an easy choice for businesses that may have multiple people creating designs and graphics for social media.
Elevate Your Business's Social Media with Canva
Using Canva can keep your social media on point all while being a quick and easy experience. With templates for all kinds of different media and posts, it has your back for creating content quickly and easily which you can then customize to align with your branding.
Using Canva to create beautiful graphics for your social media posts gives you a greater level of control over the first impression you make online.
You can create an account on Canva here.
Now that you know how to utilize Canva, make sure to take advantage of HoneyBook's small business management platform to elevate your business even further.