Social media doesn't have to be tedious. Figure out a social media strategy that works for your independent business in the new year. Leads flow your way with optimized social, putting you one step closer to an efficient clientflow.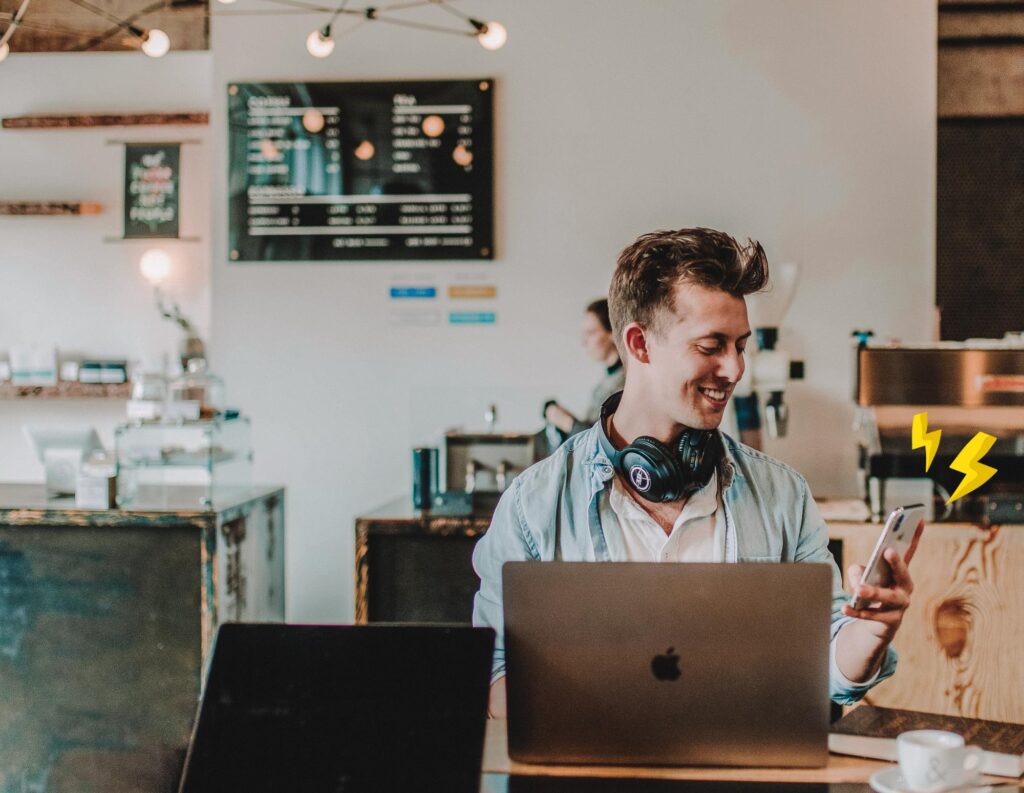 Social media can skyrocket a small business's growth, but it's also a beast to plan, never mind the time it takes to post and engage. After all, you're running a business and don't have time to film and post a TikTok every day. What if there was a way you could hone your 2023 social media strategy? If content marketing took less time, you would have more impact on your business's bottom line.
You can create more impactful content more quickly if you go into 2023 with an intentional plan. As a content strategist and micro-influencer, I've seen how the right strategy can not only cause a video or post to go viral but can drive community around your business and encourage life-long partnerships.
If you're ready to make 2023 your best year online (and offline) yet, pull out a notebook and brew some coffee. We're about to walk through how to create your annual content strategy. And the best part? You can finish this entire process in one morning.
Jump to:
Perform a content audit
The first step to creating an annual plan for any part of your business—and the one that many of us often forget—is to reflect on last year's performance. A content audit can morph your reflections into useful insight in your strategy moving forward.
When auditing, I usually consider the following areas:
Assumptions: Before diving into the analytics, what do you think is and isn't going well?
Demographics: After you write down your assumptions, it's time to dive into the data. Let's start at a higher level. Who is—and isn't—engaging with your social media accounts?
Quantitative analysis: Write down your 10–20 top-performing posts. What do they all have in common? If you're a HoneyBook user, you can also figure out which social media platform was driving the most leads with their reports tool.
Qualitative analysis: It's time to dive into the comments and DMs. What are common themes in your fans' feedback? What do they like about your brand?
Grading yourself: How does the data you gathered from your analysis compare to either your assumptions or goals at the beginning of the year?
For a more in-depth guided content audit, check out my free printable content audit. It prompts you to answer specific questions and provides even more insight.
Create a clear list of what's working and what isn't
Now that you've done your audit on last year's content, it's time to reflect on what is and isn't working. Feel free to make two lists and label one "what is working" and the other "what isn't working."
When you're considering what's working, look at what your audience likes and what you like. Often, content is the best when you're having fun making it. If you hate making a daily TikTok, but it gets you views, posting a daily TikTok would go in the "isn't working" category.
You could then compromise what you love and what the audience loves by putting "creating threeTikToks a week" in the "what is working" category.
When looking at your content, look at both the macro and micro. At the macro level, analyze what platforms are performing well. Assess which platforms are performing poorly. At the micro-level, consider what you're making content about and the types of content you are making.

Pro Tip: Be sure your plan works for you. There are lots of great tips on the internet, but if you use a system you can't stick to, it becomes a waste of time!
Figure out what to tweak and what to do more of
Once you have your list of what's working, it's time to determine what you should do more of and what to tweak in 2023. One element of a good content strategy is built around figuring out what is working and then doing more of it.
Tweak your content until you find that secret sauce that your ideal clients and customers love. From there, keep making content with a healthy dose of that secret sauce. You can also try new things and tweak them as necessary. Still confused? Check out two examples of how to tweak your content and how to do more of what is working–without making extra work for yourself.
Example: What to tweak
Jamie owns an e-commerce brand that sells candles. She regularly posts photos of her products on Pinterest, but her pins get less than 100 views each. After looking at some of her top competitor's pins, Jamie realizes pins that show how people are using the candles perform better than ones that just show the product. She decides to create these kinds of pins moving forward.
Example: What to do more of
Jamie also has a blog where she writes articles about seasonal decor, often placing her candles as one of the products for each seasonal post. She realizes her blogs are performing well since implementing a new SEO strategy last July.
Jamie decides to write more SEO-optimized blogs. To find the time to do this, she scales back on posting TikToks and Reels, which aren't gaining views or converting into as many sales as her blog posts.
The secret to following your 2023 social media strategy
Once you have your list of what you want to tweak and do more of, you're ready to go! You've created a social media strategy without knowing it. If you want to solidify that strategy with numbers, you can write down how much content you want to create–and how often.
This could look like:
Four pins a week
One blog a week
One email newsletter a week
One new email opt-in freebie every quarter
Another example could be:
Seven reels and TikToks a week
One new email opt-in in January and July
Two email series for each new product campaign
But the power of a strategy doesn't come from writing down your goals: it comes from actually implementing the steps you write down. Don't wait for random bursts of energy or inspiration to create content. Instead, create a system that allows you to create consistent content.
If you have a team member who helps manage your social media, a system is even more important to keep everyone on track. With a system, team members can do their jobs faster and with less confusion–aka better results and fewer questions for you to answer.
Creating a solid content creation system
But how exactly do you create a system? There are most likely multiple ways to do this, but for me, creating a social media system is all about assigning due dates and dividing content actions into bite-sized steps.
Three actions I take to create my yearly social media system include:
Writing every action into my social media Google calendar–with a due date. I then integrate that calendar with my HoneyBook one so I can see all due dates, events, and meetings in one place.
Making every action as fun as possible with coffee, Taylor Swift jam sessions, and ice cream rewards.
Divide each main action down to the most basic steps. So if one goal was to post a TikTok once a day, I could have three action items: record the TikTok, edit, add a caption, and post.
Divide tasks by time of year
I also think about tasks I need to do each quarter, month, and week so there's enough content to post against my two brands (one for my business and one for my side hustle as a book reviewer). My tasks are the following:
Quarterly tasks usually consist of reflecting on what is and isn't working, creating a new email opt-in, and looking at big-picture opportunities to advance my brands (such as guest-blogging opportunities, services I want to market, or collaborations with other creators).
Monthly tasks usually consist of brainstorming content ideas, filming at least 15 short-form videos for each month, and scheduling out pins.
Weekly tasks usually consist of posting the content, engaging on social, and writing a weekly email newsletter.
Again, add the due dates for all your annual, quarterly, monthly, and weekly tasks to your calendar. A fulfilled dream is often a series of smaller tasks with specific due dates.
How to keep track of your system
Ok, so you understand the idea of setting up a system, but where exactly should you keep all those tasks, due dates, and publishing dates? My favorite place is HoneyBook.
While designed to keep track of client projects and invoices, HoneyBook offers business owners the ability to track internal projects too. Once you create a social media internal project, you can add small to-dos for this internal project and due dates so you don't forget to implement your strategy. By storing your social media project in HoneyBook, you can also create automations to collect leads on social media and funnel them through your sales process.
And for all those social media managers out there, HoneyBook is a great place to manage ideas, tasks, and deadlines for your clients' 2023 projects. You can share their 2023 social media HoneyBook project folder with them directly. Once added, they'll see real-time updates and can add photos and information you need faster than through a back-and-forth email chain.
What about project deadlines?
Another way (and my preferred way) to keep track of due dates is to create a separate Google calendar with all social media due dates and publishing dates. With HoneyBook's calendar tool, I can integrate my Google Calendar so I can see social media and meetings in one place.
Now that you have reflected on your content, found what you need to tweak, and do more of and created your social media system, you're ready to go! Watch how consistent, strategic content can help you reach your 2023 business goals.