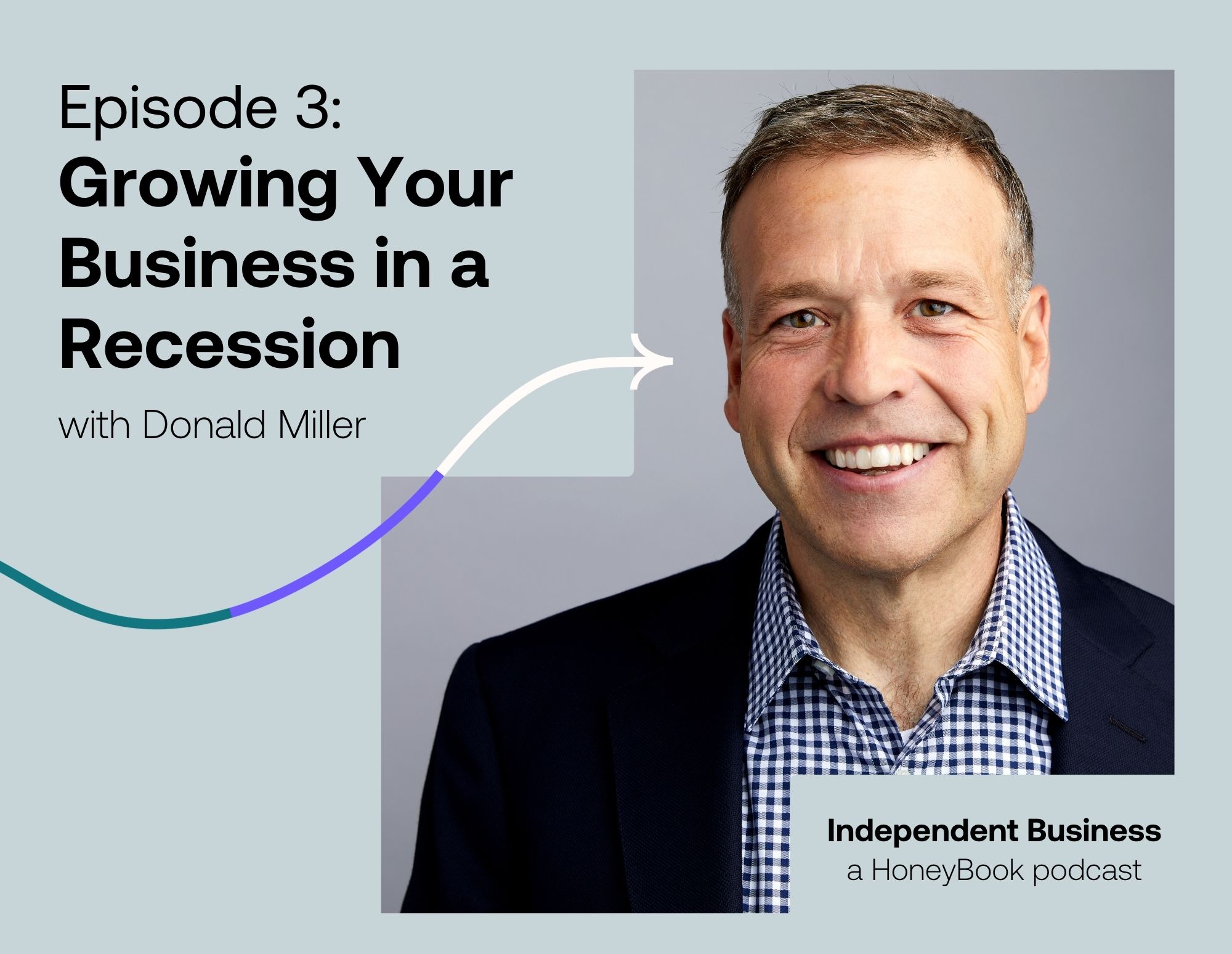 Is it a terrible time to start an independent business? Is there such a thing as a bad time to start a good business? As economic headwinds like inflation, rising supply costs, labor shortages, and so many other challenges that come with a recession impact our society, we're all experiencing nerve-racking economic uncertainty. In this conversation, Donald Miller shares his own journey of growing from four employees working out of a basement to a $15 million operation in just six years, showing you how to grow your business in tough times.
The Independent Business podcast is powered by HoneyBook, the all-in-one platform for anyone with clients. Book clients, manage projects, get paid faster, and have business flow your way with HoneyBook. Use the code PODCAST to get 20% off your first year as a new member.
Follow the Independent Business podcast
The best time to launch a small business
Over the last couple of years, we've seen record-breaking numbers in regard to new businesses. In 2021, there were 5.39 million new business applications filed, followed by 5.1 million in 2022. In previous years, we were seeing about 3 million business applications per year.
With so much economic uncertainty in 2023, is it actually a good or bad time to start a business? Donald Miller doesn't think there is ever a bad time to start a business, whether we're in a recession or not. Miller thinks the success of a business depends on what you offer and sell and where the market is for that industry at the time.
If you're nervous about starting a business because of the economy, three resources that Donald recommends include Janet Yellen, the International Monetary Fund, and Amazon's financial predictors. All of these resources predict a very mild recession.
The struggle comes with maintaining a successful business. Of the new businesses that launched in 2021 and 2022, 5% of those businesses will be dead within one year, 45% will be dead within five years, and 65% will be dead within 10 years.
Businesses that grow during recessions
Some businesses actually do very well during recessions and economic downturns, while others struggle. If you sell services that teach people how to make money, like coaching, education, or therapy, for example, you will see an increase in sales during times of hardship, because what you offer is what most people need during those times.
Running a successful business
Most independent business owners don't start their business to run a business—they're doing it because they love making a product, offering a service, or helping others. When the administrative side of running a business comes along, it often burns out business owners, forcing them to want to quit.
Rather than leaving your 9-to-5 to work 24/7 on your business and risk falling out of love with what you once were so passionate about, here are a few ways you can run a successful business.
Obsess about cash
In the first year or two of your business, you need to be obsessing about one thing: cash. You should be as obsessed with cash as you are with your own craft. Why? In order for your business to succeed, you have to make money. The more you grow, the more money you'll feed into your business through hires, investments, equipment, and more. If you're not obsessing about the cash flow in your business, you will fall short of success.
How can you set realistic and impactful goals to help you learn about cash? Your first step is to determine three financial objectives for your business with a 24 month timeline. When you frequently look at how you're growing towards those goals or objectives, you're able to iterate and improve your services and cash management over time to ensure that you're making the money you need in order to be a successful business.
Shifting your money mindset
Your mindset around money is so powerful—it can impact everything you do in both your business and life. By embracing the fact that your business exists to make money, you can reverse engineer its success. The reason so many businesses fail is that they ran out of money. When you run out of money, it's over.
Don't treat prioritizing money in your business as being greedy. Instead, look at it like the source of food that feeds your business, which then pays not only you, but your employees as well. Entrepreneurs are the backbone of the U.S. economy. Donald believes that when entrepreneurs grow their business to the point of being able to pay employees, that is how we grow the middle class—by making the middle class bigger, we have less poverty.
The money you make from your business affords you the power to do good with it.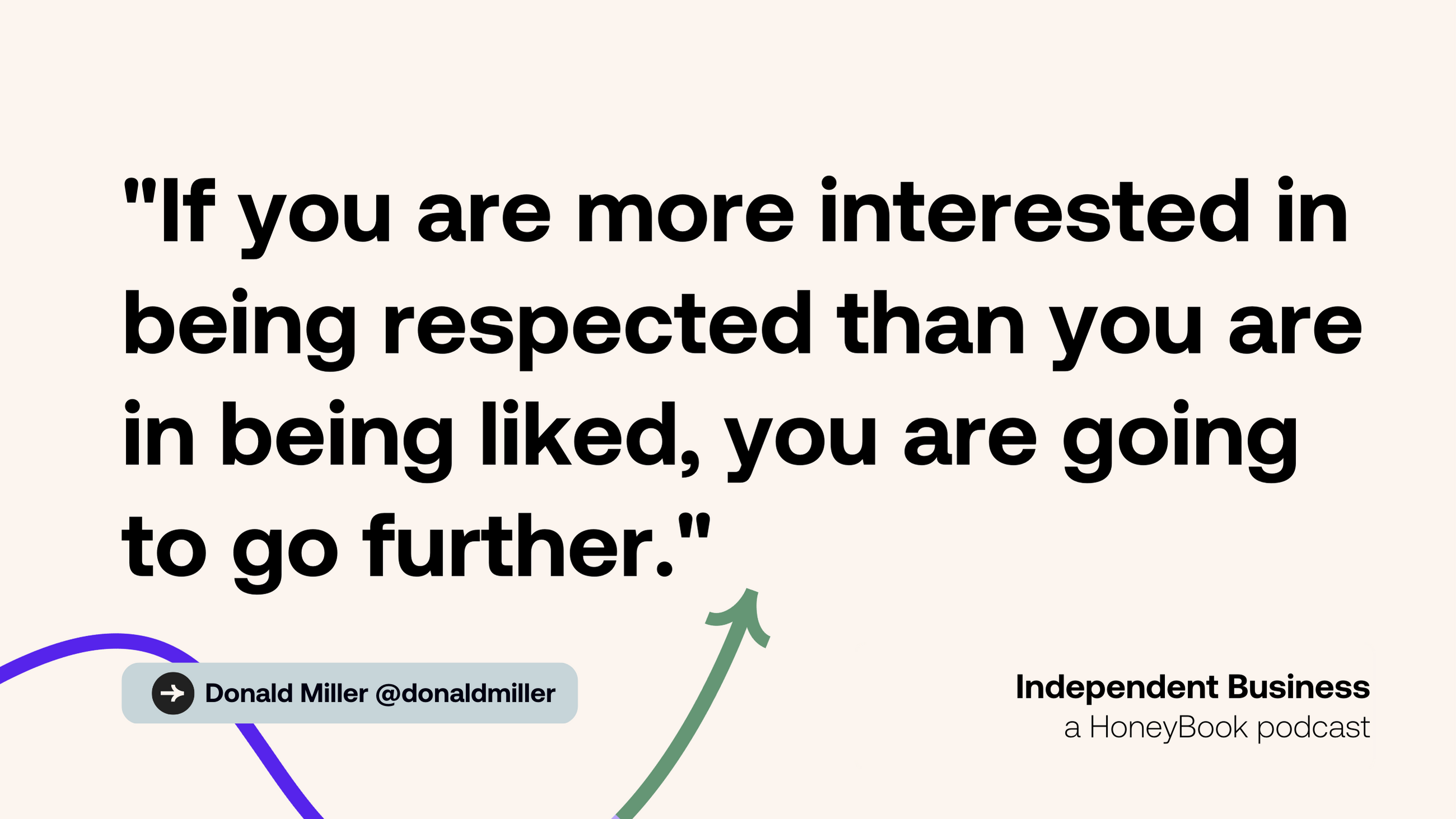 Managing your business cash flow
In Donald's book, "How to Grow Your Small Business," he highlights six things to focus on in order to grow your small business and ensure you don't become one of the 65% who fail. One of the most powerful things you can do is understand your business cash flow.
If you're operating your business out of your personal checking account, you need to immediately separate your personal and business transactions. Your personal transactions are not a part of your business, and tax season will be difficult if the transactions are intermingled.
The best way to manage your cash flow, ensure profitability, and maintain your numbers is to operate using five checking accounts:
Personal checking account

Operating expense

Taxes

Business profit

Investment holding
Each of these accounts will serve a purpose in funding your business operating expenses, payroll, taxes and fees, and long-term investments, along with overall profit.
The biggest differentiator between the businesses that succeed and the ones that fail
With every conversation we have on the podcast, I am asking our guests what the biggest differentiator is between the businesses that succeed and the ones that fail. Donald highlighted a valuable lesson that I think we can all take away from, especially during times of uncertainty: "The businesses that succeed learn from their mistakes."
We will all make mistakes in our business, but if you can take a look at why it happened and how to avoid it, you'll learn from that mistake, and you'll build resiliency.
While there is so much uncertainty that comes with our businesses during a recession or even times of hardships, there is so much good that happens when we overcome these challenges.
Keep everything in one place with a clientflow management platform
HoneyBook, the best CRM for independent business owners, streamlines everything you need to manage your business and keeps it in one place. Manage projects, book clients, send an online invoice, and get paid through our online payment software. Peace of mind comes with just one login.
Important sections of the conversation
[6:03] Is it a bad time to start a business?

[10:07] Obsessing about cash

[16:36] Money mindset

[23:39] Managing your business cash flow

[31:48] Advice to younger self

[39:23] Advice during seasons of growth

[44:37] Biggest differentiator between the businesses that succeed and the ones that fail
Links mentioned in this episode
Connect with the guest