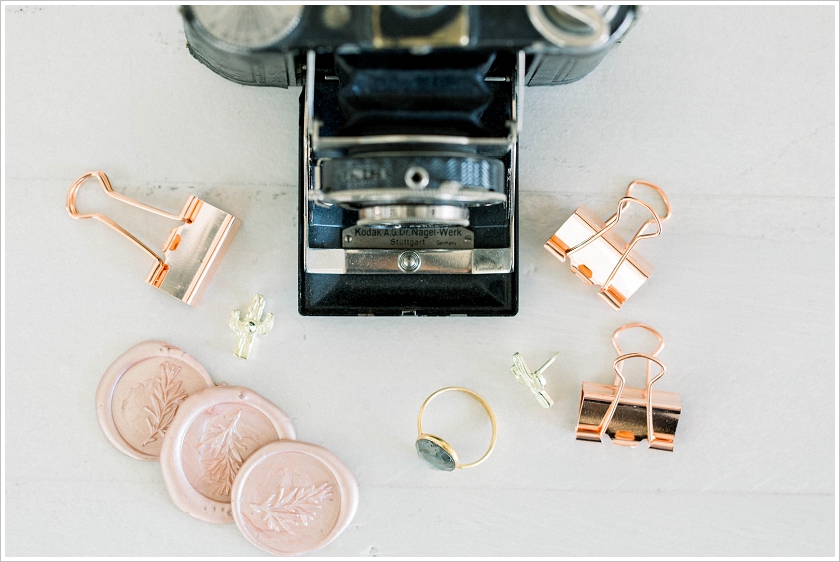 I left my full time job on November 4th, 2018. That same day, I went to the first day of an annual photography conference here in Phoenix. Over the next four days, I got so fired up with inspiration and motivation and all the 'ations. I fantasized about the upcoming year and the massive impact I'd make in my community and industry.
"This time next year," I thought, "I'll be the next Gary Vee!"
Then, six weeks later, the only thing I had accomplished was that I had re-watched the entire series of Gilmore Girls.
I finally got down to it. "I'm a CEO! A small business owner!" I'd repeat affirmations telling myself how boss I was. I was incredibly rigid about the way I would show up online.
I had to post super thoughtful things on Instagram next to carefully chosen photographs that would inspire people to pay me to photograph them. I had to make sure I didn't misstep or do anything to upset anyone anywhere for any reason. I had to be super professional and careful and polished.
Months later I was beyond exhausted. "How can people keep up like this?"
Everything felt like a chore, everything weighed me down, and my business started to feel like the job I had worked so hard to leave. So all at once, I decided to let it all go: any expectation I had placed on myself or any pressure I felt from the outside world.
I decided that I wasn't going to turn something I loved into something I couldn't stand. I wasn't going to view this as a job, I was going to view this as a creation.
I wanted to create something fun.
This made such a huge impact in my life and in my business that I wanted to share with you.
Eight ways I started having fun in my business
1. I changed my website entirely.
I let go of the idea that I needed to have an incredibly high end looking website. That was the biggest thing. For years I held so close to the belief that my website needed to look, above all else, high end. That minimalist layout with wispy fonts and photos of models on the beach. I decided instead to create a website that I thought was fun and interactive. I didn't create it with my ideal client in mind. I didn't even use a template, I just built, canvas by canvas, something that felt like me.
2. I hid secret messages on my website.
YEP! You can go to my website, find two secret messages on my home page (and one on my About page!) and send me a secret message back. It's so much fun!
3. I put Doctor Who quotes on everything.
Someone posted in a Facebook group the question, "What do you do when you're stuck in a total funk? Like nothing you do matters?" I commented with my favorite Doctor Who quote and someone replied, "That literally brought me to tears." So I put that quote at the bottom of each page on my website in hopes that it would inspire the people that came to my site. Then I put another Doctor Who quote on the back of my business cards, and even more on each product I sell on Etsy and at local markets.
4. I made my enamel pins my new business card.
My love language is gift giving so I decided I wanted each person who met me to get a gift from me. These pins were created to speak specifically to Arizona creatives, and since then I've had clients ask me to create a pin for their business which has turned into a new revenue stream! Plus it's so fun to see their reaction when they get this super cute pin!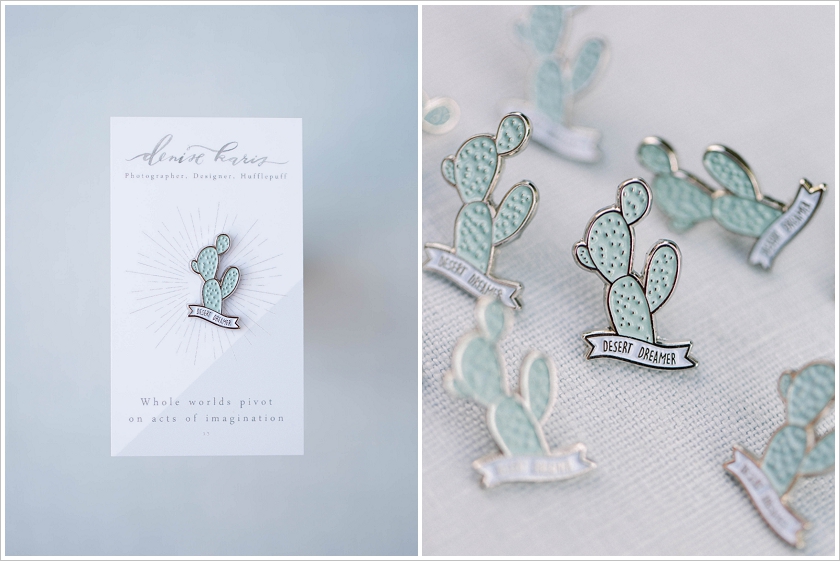 5. I made Buzzfeed style quizzes.
(I use Thrive Quiz Builder but there are a lot out there.) I created a quiz called, "Find your Bridal Style" and another called "Find your Groom Style" and a third called "What Arizona location should you have your Engagement session at?"
I mean, what engaged couple is not going to take that quiz?
What are three quizzes you can make for your clients?
For a food blog, "What local restaurant should you try this weekend?" for a jewelry owner, "What fall accessory fits your personality?" for a wellness blogger, "What inspirational quote do you need to hear right now?" for a nutritionist, "What vegan recipe do you need in your life immediately?"
6. I started an Employee of the Month program and I gave it to myself.
Then I gave it to my pet bird. Then I gave it to carbs. It's silly but every month, I get dozens of messages from followers telling me they love seeing my employee of the month!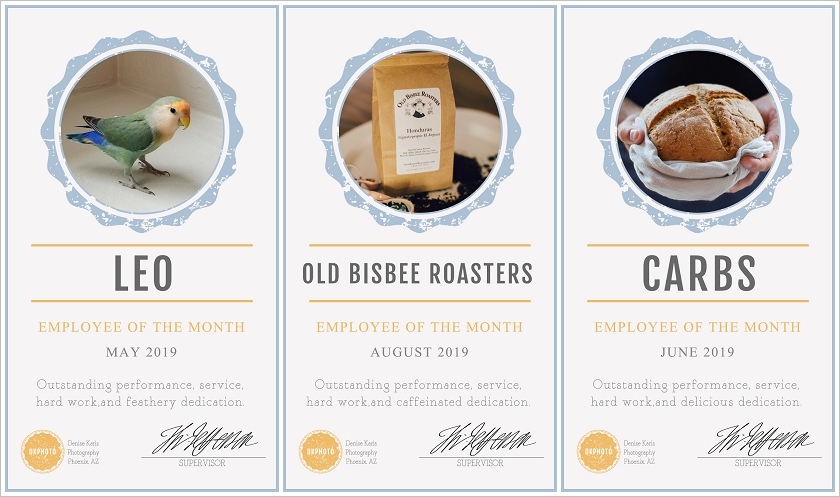 7. I created freebies.
From an Unplugged Ceremony sign to stock photos to cell phone backgrounds, and an Employee of the Month template so that other creatives can join in on #6 with me.
8. I started a monthly giveaway.
Every month I pull a random email subscriber and I send them to an online catalog of select items from my Etsy shop. They get to pick one thing from that list to receive the next week in the mail! It encourages people to stay on the list instead of downloading that freebie and unsubscribing! Plus, it's fun!
I read an article last year that said that the reason Marvel movies do so much better than DC movies is that Marvel doesn't take themselves too seriously.
It's true, isn't it? DC movies have incredible effects. They have intense and meaningful storylines. They're high budget, brilliantly impressive movies. But dangit, Marvel movies are just fun to watch! It's fun to notice references and pick up on Easter Eggs that stem back to when you were in college. It's fun to read about the fan theories and stay for the after credits. (Did you read the one that theorizes that Tony Stark was really a Hydra agent?!)
In Gilmore Girls season 2 episode 8, the team at the Independence Inn were talking about opening up the Dragonfly Inn.
A cautious Michel warned the other two saying, "It's risky what you are doing. Most new businesses go down within two years."
Lorelai replied, "I say if we go down after two years, it'll be the most exciting two years of our lives!"
Have fun! Let go of any expectation of what you need to do or say or be in order for other people to deem you as worthy of success and just have fun instead.
My love language is gift giving so that's something that shows up a lot in my business. How can you use your natural gifts to serve and inspire?
Be imaginative. Be silly. Create magic for your followers! I can't wait to see what you come up with!