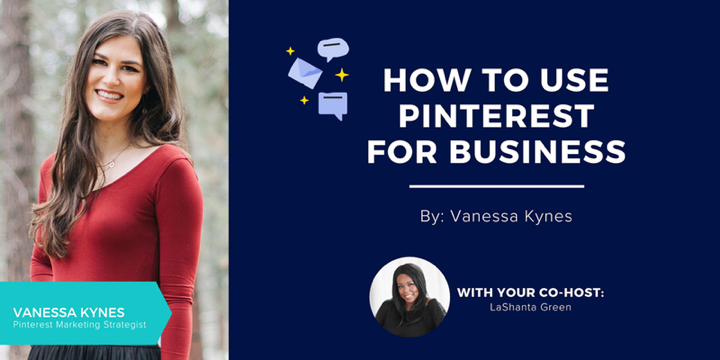 So you've heard about using Pinterest for business. You've heard it can drive traffic to your site and grow your business. And you've decided this is it. You need a Pinterest marketing strategy in your life.
To get the most out of your Pinterest for business strategy, remember this:
Pinterest is a visual search tool, not a social platform.
Why does that matter and how should that affect your strategy? Pinterest marketing strategist Vanessa Kynes has all the answers for you. She breaks down exactly how to use Pinterest for business, so you can stay focused and get results.
What You'll Learn: Using Pinterest for Business Marketing
Vanessa will walk you through:
How to get started quickly with your Pinterest marketing strategy
Her secrets on how to craft the perfect Pin
How to convert the website visitors you generate from Pinterest into paying customers
Why Vanessa Calls Pinterest "Cinderella at the ball"
After working with a variety of brands and entrepreneurs, Vanessa noticed they all had one thing in common – loads of work and a finite amount of time. Many of her clients were established businesses that knew exactly what they wanted: a trusted assistant who could curate high quality design content and act as a voice for their brand, without hand-holding and constant instruction.
She implemented their ideas in line with their vision and voice, giving them brand consistency across all media platforms. Very quickly, Pinterest emerged as her favorite platform. Why? It has an incredible power to exponentially grow brand awareness through pinning and drive traffic to your site.
"Pinterest is Cinderella at the ball," Vanessa says, "misunderstood but ultimately winning the heart of the prince. Don't miss the clock at midnight – Pinterest is still very underused by creative small businesses, but there will be a time in the future where the market is more competitive and you have to pay to play like other platforms."
Want to Learn More About Pinterest for Business?
Get our Ultimate Guide to Pinterest for Business. And learn more about Vanessa Kynes on her website.