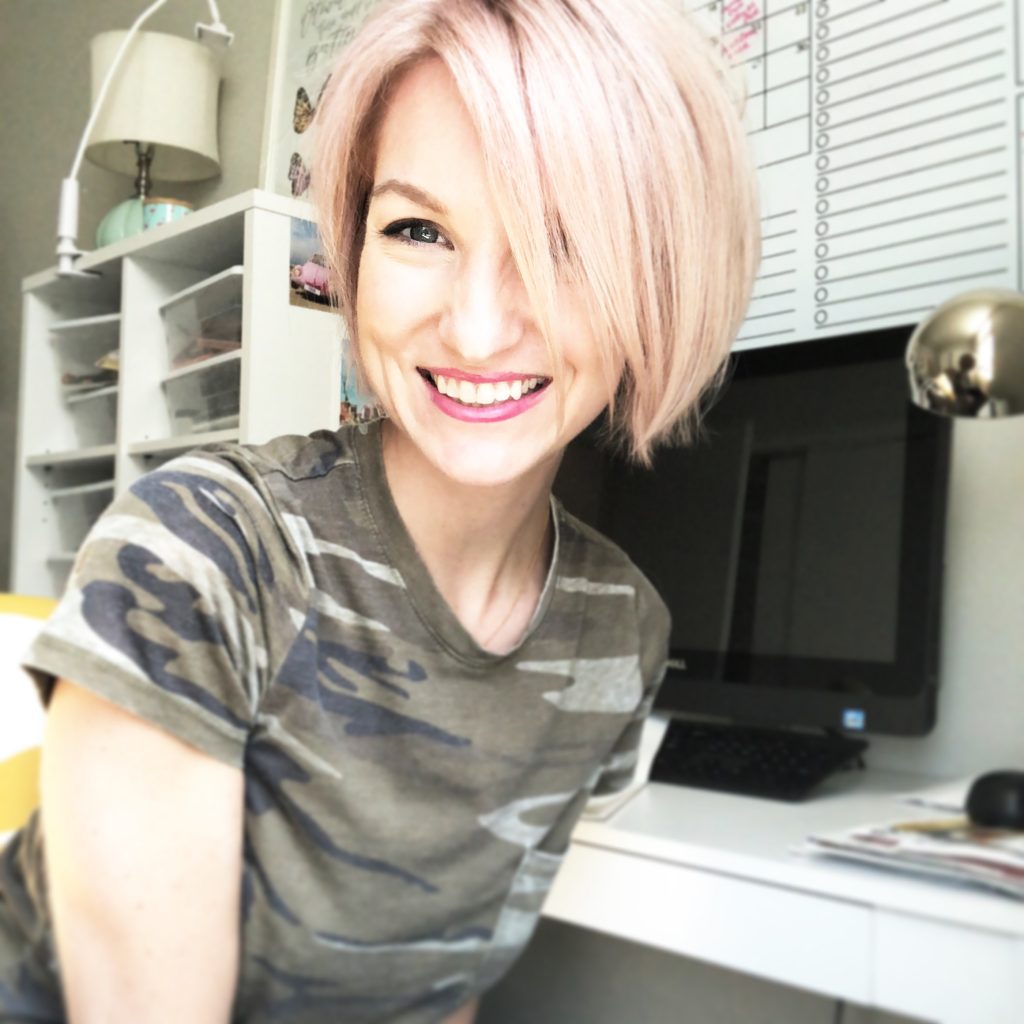 HoneyBook member Katie Bosseler got her start in hand-lettering by writing notes to school friends for as long as she can remember. But it wasn't until she was working at a cafe that she learned about the demand for hand-drawn chalkboard menus. And her chalkboard-art business, Chalk Boss, was born shortly after. It kept growing over the years, even as she started a career as an interior designer for a construction company. When Chalk Boss quickly turned into her passion, she decided to take it full time. "I just hoped it would work out, and it did. I'm still going strong 4 years later," Katie said. Here, she shares about her business' big break (in an ice cream shop!), her system for successful multi-tasking and how she overcame her biggest business challenge as an entrepreneur.
Please tell us a little bit about yourself.
Hi, my name is Katie Bosseler and I live in Issaquah, WA. I am a chalkboard artist, calligrapher and hand letterer. I started my business Chalk Boss four years ago and have been working full time as a business owner and artist ever since. I grew up in the Pacific Northwest, but dream about moving to sunny California someday. I hate being COLD. If I'm not in my office working, then I'm most likely traveling somewhere with my husband. I enjoy working out, tea not coffee, dark chocolate and anything coconut!
Which opportunity has really helped Chalk Boss grow?
My career highlight so far has been landing the chalkboard work for Salt & Straw here in Seattle (two shops). I get to change out their boards once a month and come up with a whole new concept for their five flavors that they change every month. It's been great because so many people LOVE their ice cream and get to see my work that has helped grow my business.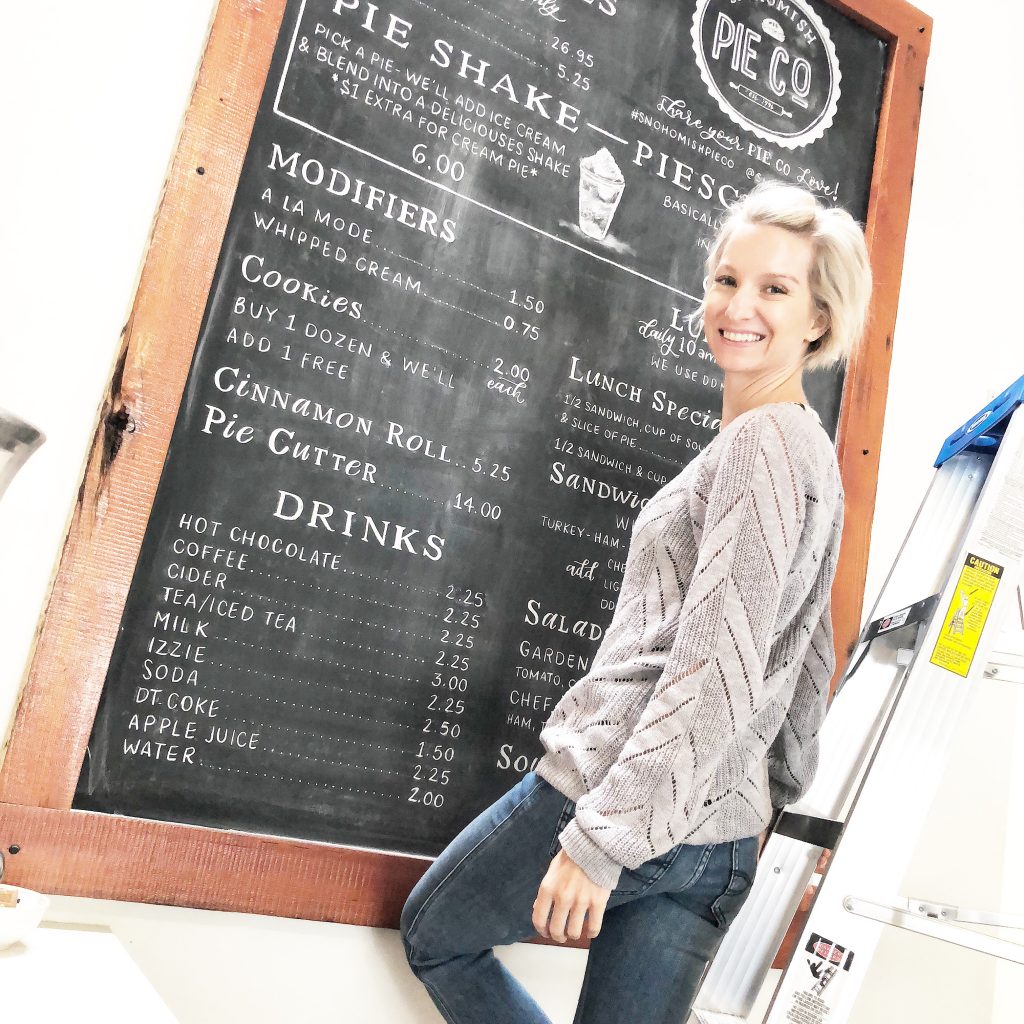 What's your favorite HoneyBook feature?
My favorite HoneyBook feature is the Tasks Manager. It allows me to track and stay on top of all the things I need to get done for one/all of my clients. I use this feature to remind me to follow up with them, send sketches, online invoices, and so many other things. I have multiple projects that I complete in one week, from weddings to businesses and Etsy orders, so this feature helps me make sure I get them all done and on time. I would go crazy without it! I also love that I can use HoneyBook while I travel and still stay on top of my business by sending out proposals, orders, and online invoices and accepting payment while I'm out of the office.
What do you do to get inspiration?
I get inspiration from all over really! I would be lying if I didn't say that I don't go on Pinterest to make sure I am keeping up with the latest trends, but really I try not to get too sucked into it. I love to travel, so I find inspiration there and really find that my best ideas come when I'm relaxing and outside of my office.
What's one quirky thing you do while working?
Something I do while working that might be a little weird for some people is I break up my tasks or things I need to get done and set an alarm in order to make progress on all of them. Most of the time I have multiple projects going on and need to accomplish or finish all of them at the same time. So I set an alarm anywhere from 15-45 min and only allow myself to work on that specific task till then…then on to the next project, then the next… then the next!

What's been one of your most successful projects?
Maybe not most successful, but more like the most fun! I did a project for Bellevue Square (shopping center) last year during their back-to-school event. It was two chalkboards, one for the elementary school kids and one for the teenagers. What made it so fun was that I got to incorporate tons of neon colors and bring out my inner child for both chalkboards. It was full of rainbows, busses, emojis, pencils, slang and of course #hashtags.
What was the biggest challenge you faced early on in your business? How did you deal with it?
One of the biggest challenges I faced when starting my business was building a website and my own marketing content. I didn't have the money to invest in someone creating one for me, so I had to get creative and resourceful. Since I knew I would be creating my own website, I researched online website builders that were easy to use and had lots of options when it came to pricing and layout. I managed to create my first website and go live after a couple months of using Wix. I still use it today and have been able to update my site myself. They always come out with great resources for makers and creators like me to make a usable, great-looking website.

What's a consumer trend you're really enjoying?
I'm really enjoying the use of acrylic for signage in the wedding scene. There are so many cool things that you can do with it.
What is your current favorite emoji and why?
My current favorite emoji is the high five emoji! I feel like it's an all-around good one to use for multiple reasons and everyone can relate to it! Who doesn't want a high five?
How did you hear about HoneyBook? What led you to try it out?
I first heard about HoneyBook at the WBA in Las Vegas two years ago when I attended for the first time. I really liked the tools and things that it did but wasn't sure if it was right for me. After about a year on a different client management system, I really was not liking it. So I decided to try out HoneyBook and quickly loved it! The credit card payment, task management and bookkeeping were huge selling points for me. I really needed something that would save me time and keep my projects and business organized.

How do you use HoneyBook? Any tips?
I use HoneyBook as a client management system. I have multiple projects from weddings, businesses, Etsy orders and parties that I needed a tool to help me organize. Then for each client, I write notes, send online invoices, create task lists, send emails, collaborate and accept payments. A tip that has helped me is customizing my pipeline to what make sense for me and my business. I love moving clients down the pipeline from start to finish!
Thanks, Katie!
Plus, three more posts you might like: