Check out this special edition of our product release notes to learn about the new tools that we've added to the HoneyBook mobile app.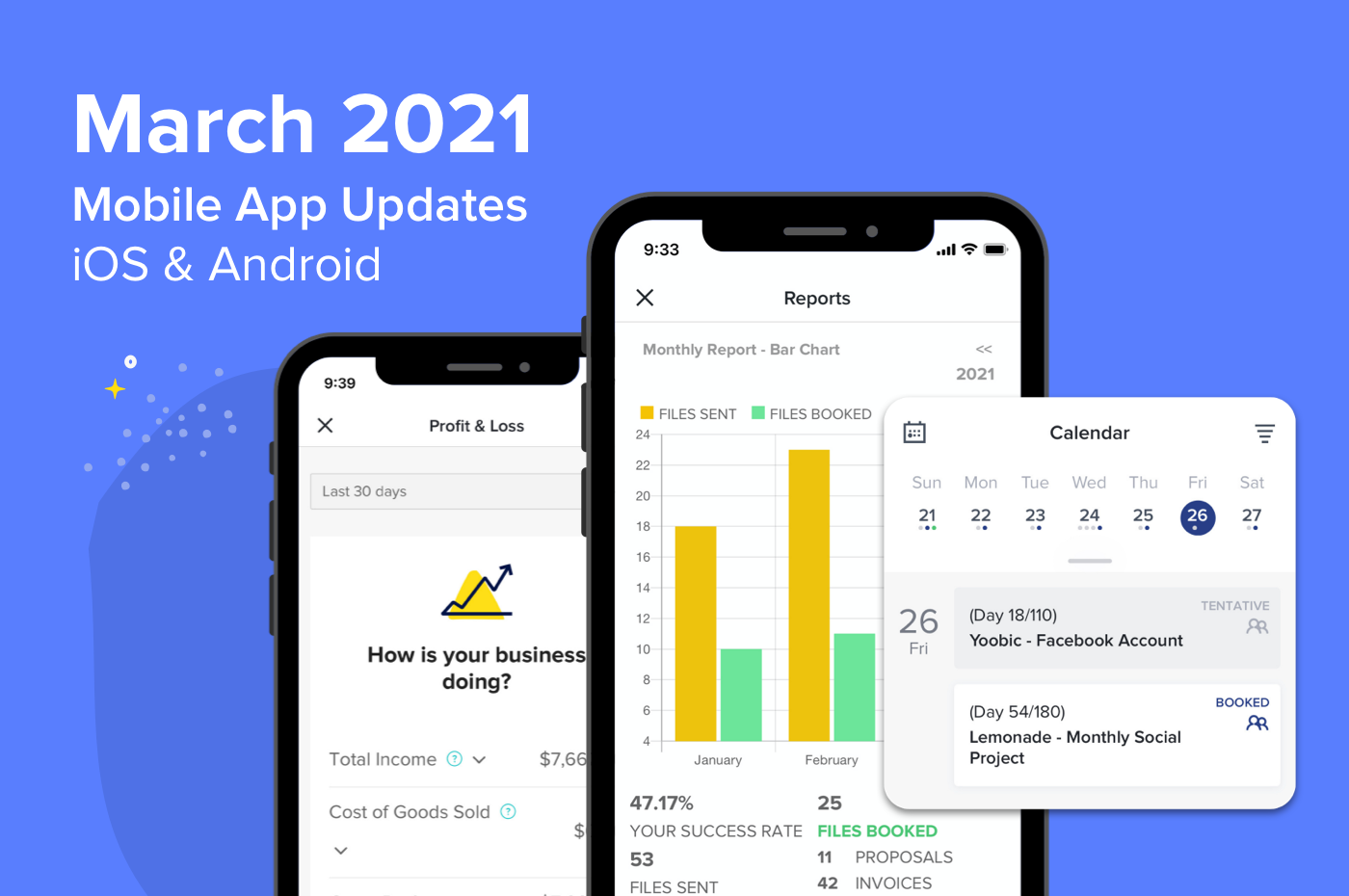 Life is busy and we all want to be able to manage important tasks on the go whether that's checking up on our finances, monitoring our fitness or figuring out what's for dinner. In fact, we expect it. And your business is no different.
It's for exactly this reason that having a HoneyBook mobile app for iOS and Android has always been important to us. You need to be able to keep tabs on your business even when you're away from your computer and we're proud to be able to offer you that capability—now, better than ever.
Last month we released news tools and updates for the mobile app that will level up your experience and make running your business from anywhere even easier. Take a look and let us know what you think; your feedback and insights are always welcome.
And don't forget to check out our past product updates to stay up-to-date with the latest releases and initiatives.
New Feature on the HoneyBook Mobile App [March 2021]

New Tools Tab
We've redesigned the Tools Tab with new sections that make it easy for you to browse all the tools you have at your fingertips on the HoneyBook mobile app, plus all the new ones coming your way soon.
Reports
You have an app to track your steps, your heart rate and your sleep. Now the HoneyBook app is here to help you monitor your business health whenever you like. The new Reports feature will allow you to see top lead sources and yearly metrics any time, any place.
Profit & Loss
You love your business. You might even love it so much that you wake up in the middle of the night to check on it. Now with the Profit and Loss tool in the HoneyBook mobile app you can check in on your income and expenses at any time right from the palm of your hand.
Contact Form
Leads can come from anywhere at any time and you don't want to miss a single one. We've made it easy to reply and gather all the information you need to convert that lead into a paying client no matter where you are. Simply grab your Contact Form link from the HoneyBook mobile app and share it directly via text, DM, email or wherever they reached out.
Payments
The good ol' online payment software you know and love from the HoneyBook desktop version is now available on the mobile app. You can remind clients about outstanding payments, elect to instantly deposit a recent payment or just view more details about a payment from here.
Calendar tab
We heard about how important and how frequently you all need to access the HoneyBook calendar on-the-go, so we moved it into its own tab. Simple as that.
Improved Speed and Stability
We've been working really hard to make the app faster and more responsive. And it's now blazing fast, we mean Roadrunner kind of fast!
Until next time…
We hope you're as excited about our latest features and updates as we are. You can stay up-to-date with what's new from HoneyBook by joining our Facebook Group, keeping an eye on our member emails or watching out for our regular release updates on the blog.
And please don't hesitate to reach out to our support team with your questions and feedback at [email protected]. We highly value your insight as it helps us continue improving the small business management platform so that it best supports your business.
Any questions about the current feature releases? Head to our Help Center to learn more.