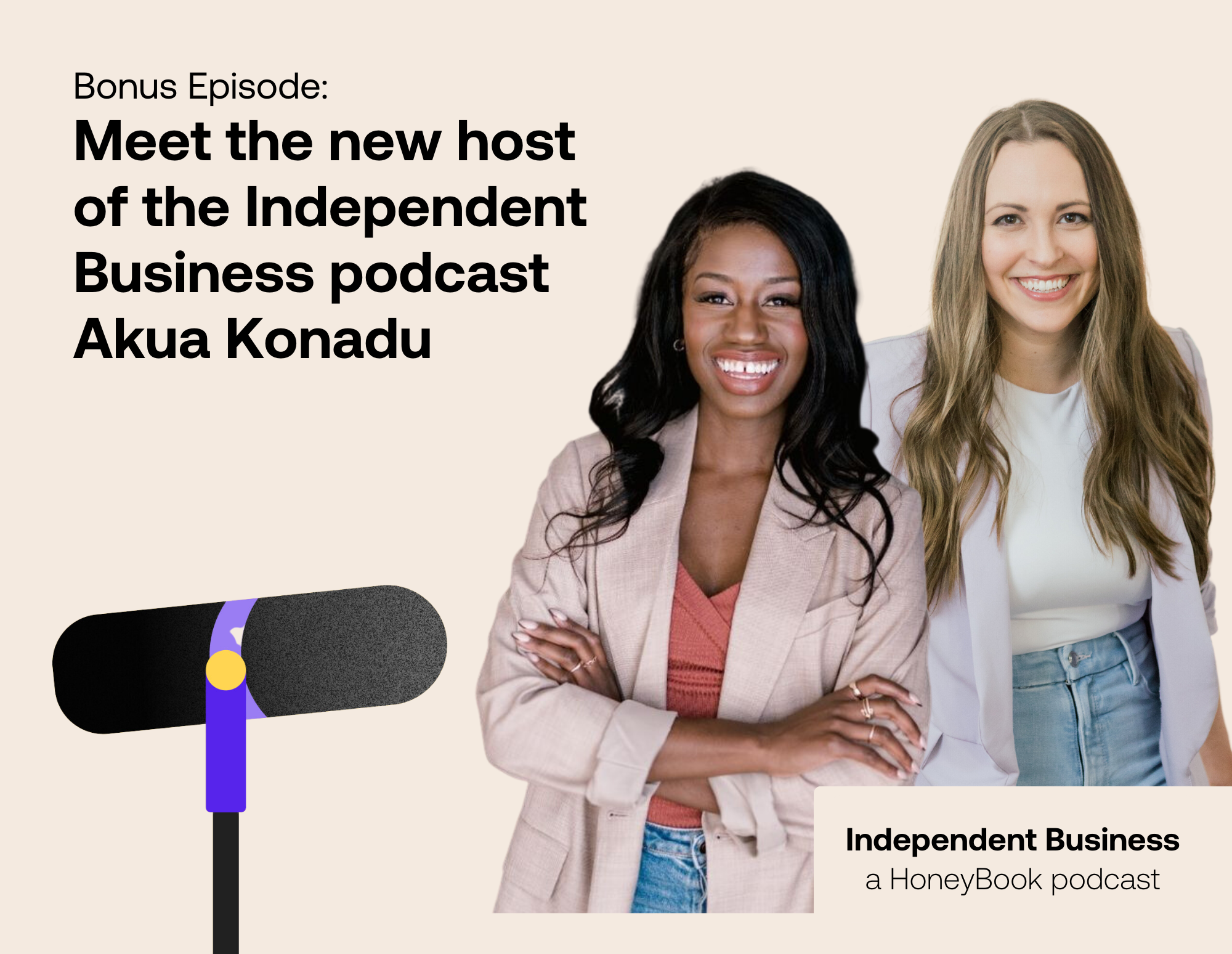 We've been busy behind the scenes over the last few weeks and are excited to share some news with you. In this bittersweet episode, Natalie Franke is signing off as host and passing the mic to a familiar face to guide listeners through season two of the Independent Business podcast. You may remember Akua Konadu from a few bonus episodes we dropped earlier this year and we're thrilled to welcome her as the new host of the Independent Business podcast!
Akua is stepping into the hosting chair to talk with an all-new line-up of inspiring independent business experts to continue on our podcast mission of uncovering the science of self-made success. She'll be digging into experiences and strategies that have helped today's top entrepreneurs triumph and share insights that you can apply to your business. Keep tuning into our weekly episodes every Wednesday everywhere you listen to podcasts.
The Independent Business podcast is powered by HoneyBook, the all-in-one platform for anyone with clients. Book clients, manage projects, get paid faster, and have business flow your way with HoneyBook. Use the code PODCAST to get 20% off your first year as a new member.
Follow the Independent Business podcast
Passing the mic to a new host
After eight wonderful years at HoneyBook, Natalie Franke is stepping out of her role as Chief Evangelist and onto a new venture in her career. Her transition brought the first season of the podcast to an end and opened the door to finding a new host for season two. When the team sat down to think about who could fill her shoes, one name came to mind instantly: Akua Konadu.
Get to know the new host of the Independent Business podcast: Akua Konadu
Akua Konadu is a storytelling strategist, educator, and multi-passionate entrepreneur. She's the founder of not one but two businesses and knows first-hand what it takes to build something from the ground up. She's now on a mission to inspire and educate business owners to pursue their dreams, overcome obstacles, and build successful independent businesses.
While we're excited to welcome Akua as the new host, she has actually been working behind the scenes on the podcast since the beginning. Not only has she helped find amazing guests for the show, but she's also helped with research, topic selection, and crafting powerful questions for each and every interview! It's thanks in part to her creativity and content skills that the podcast is what it is today.
Making the transition
Though saying goodbye to something you love is always bittersweet, Natalie is just as excited to see Akua step in as the new host of the Independent Business podcast. Outside of their working relationship, Akua and Natalie have been friends since 2017, when they met at the Rising Tide Society leader retreat in Minneapolis.
Supporting small and independent businesses has been part of Akua's professional mission since she started her own company all those years ago. So when the HoneyBook team approached her with a role in 2021, she was quick to say yes. Since then, Akua has been an integral part of many impactful projects supporting HoneyBook members and the broader independent business community. From social media and content strategy to launching and now hosting the Independent Business podcast.
Her passion, creativity, and personal experience as an entrepreneur give her the tools and perspective needed to bring listeners the insights and knowledge they're looking for from the podcast.
The importance of community
One thing rings true in this transition—community matters. Natalie's role as Head of Community at HoneyBook impacted and changed so many lives, including Akua's. Had Akua not been looking to connect with business peers in her community, she would never have joined her local Rising Tide chapter, which led her to meet Natalie and eventually to her role at HoneyBook.
While we're sad to see Natalie go, we won't have to miss her too much, as she'll remain connected to the HoneyBook mission of empowering independent business owners as a member of the Educator Program.
And with that, we're excited to kick off season two with Akua Konadu as the new host of the Independent Business podcast. Over the coming weeks and months, you'll get to know Akua better and learn from the incredible guests who will be coming on the show. Stay tuned!
Important sections of the conversation:
[1:14] The Big News
[1:55] Meet Your New Host
[2:53] Natalie & Akua's History
[7:19] Akua Joins HoneyBook
[9:12] Akua's Hand in the Podcast
[11:26] Finding Support in Community
[15:36] Making the Transition
Mentioned in this episode: