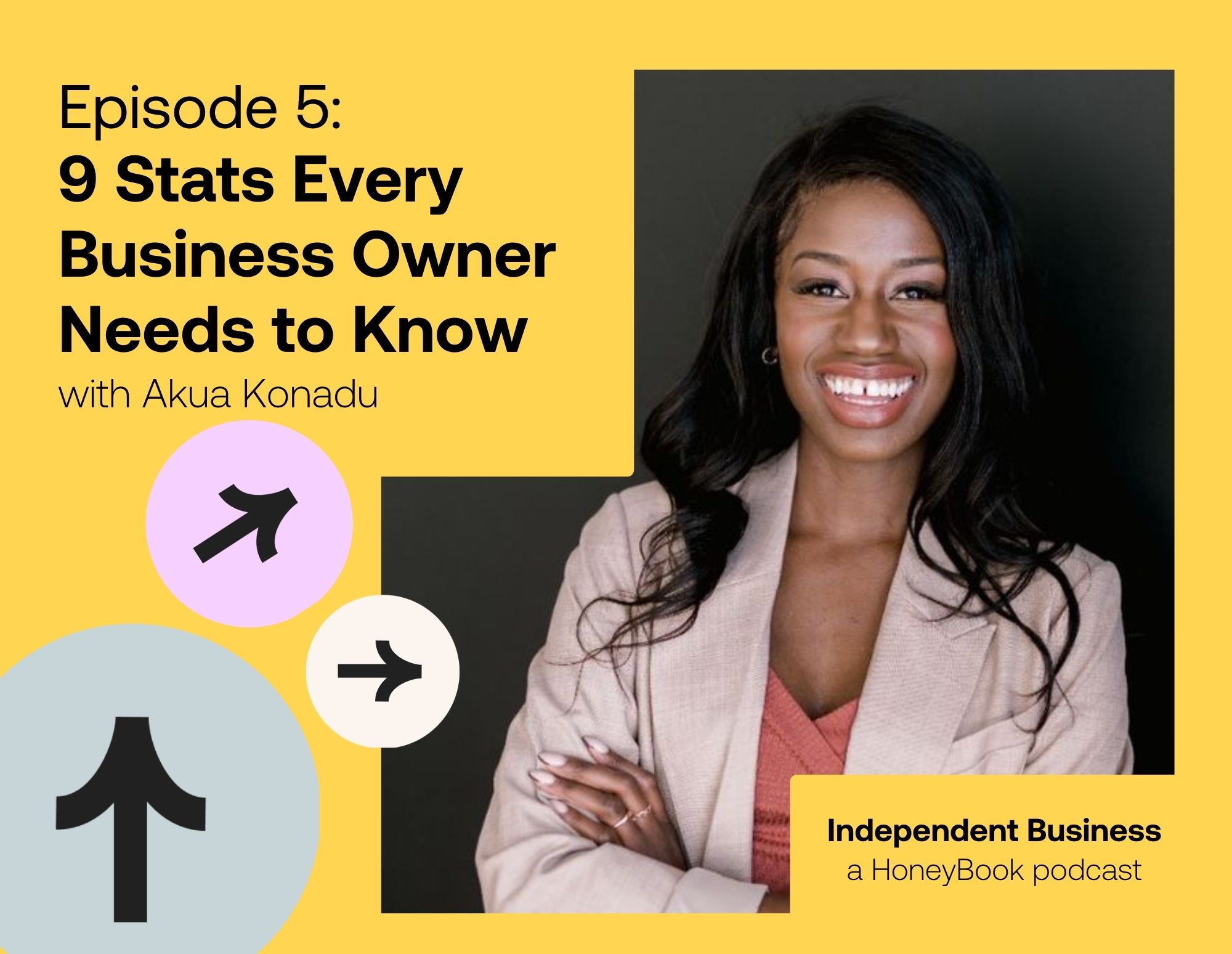 If you're intrigued by data, today's episode is for you. We're discussing nine stats that every independent business owner needs to know based on the findings of the recent HoneyBook and Harris Poll survey on independent businesses. Akua Konadu joins us to discuss these important stats while also unpacking our own lived experiences regarding each.
The Independent Business podcast is powered by HoneyBook, the all-in-one platform for anyone with clients. Book clients, manage projects, get paid faster, and have business flow your way with HoneyBook. Use the code PODCAST to get 20% off your first year as a new member.
Follow the Independent Business podcast
9 important statistics regarding independent businesses
In a recent study conducted by The Harris Poll, HoneyBook surveyed 509 independent business owners and 2,052 U.S. adults (of which, 932 were employed but not currently independent business owners). Upon reviewing the data, there were nine key stats that stood out to our team—so much so that we wanted to dive deeper into the discussion of what they meant and how they impacted independent business owners.
You can read the full recap on the state of independent business here.
More than half of employed adults (who are not currently self-employed) say they've considered leaving their current job to work for themselves.
When considering their employment options, 51% of surveyed adults who were not self-employed wanted to leave their W2 jobs to work for themselves—the majority of people working are looking to start an independent business. Beyond that statistic, of those adults considering leaving their job:
44% have considered it in the last year, which might be a reflection of the shift in reframing our mindset around self-reliance through the pandemic.
68% wanted to start a business because they wanted to make more money for themselves.
66% said that their overall quality of life would improve.
Unfortunately, 14% of individuals who started their businesses said they did so in order to avoid workplace discrimination (30% of those individuals aged 18–25 and 24% were black independent business owners).
72% of independents didn't start their careers aspiring to become a business owner. The benefits won them over and they chose to become entrepreneurs.
While we see aspirations and dreams coming true in independent business ownership, not every independent business owner aspired to become a business owner when they started their career (72%). Natalie Franke is among this group—her passion for photography and the nosedive that the economy took in 2008 impacted her decision to become an independent business owner.
Many independent business owners ultimately fall into entrepreneurship or are presented with an opportunity that opens the door to the benefits of being an entrepreneur.
62% of people who are considering leaving their W2 job to work for themselves are worried about not making enough money.
Over half of the independents who wanted to leave their job hesitated and worried about not making enough money. In any business, cash flow is the key to creating steady and consistent income, which can ultimately be a hurdle in entrepreneurship.
On the other hand, there is a misconception that W2 work is guaranteed income. Consider the multiple streams of revenue you can have as an independent business owner versus the one stream of income you have as a W2 employee. If you have that one paycheck as an employee and get laid off tomorrow, you're not guaranteed any income.
Not only is the money a concern, but independents interested in leaving a W2 position were also concerned with:
Difficulty finding work and/or clients (43%)
Not knowing where to start/feeling overwhelmed (41%)
The burden of the admin responsibilities that come with running a business (36%; finance, marketing, taxes, etc.)
36% worry about the loss of health insurance and benefits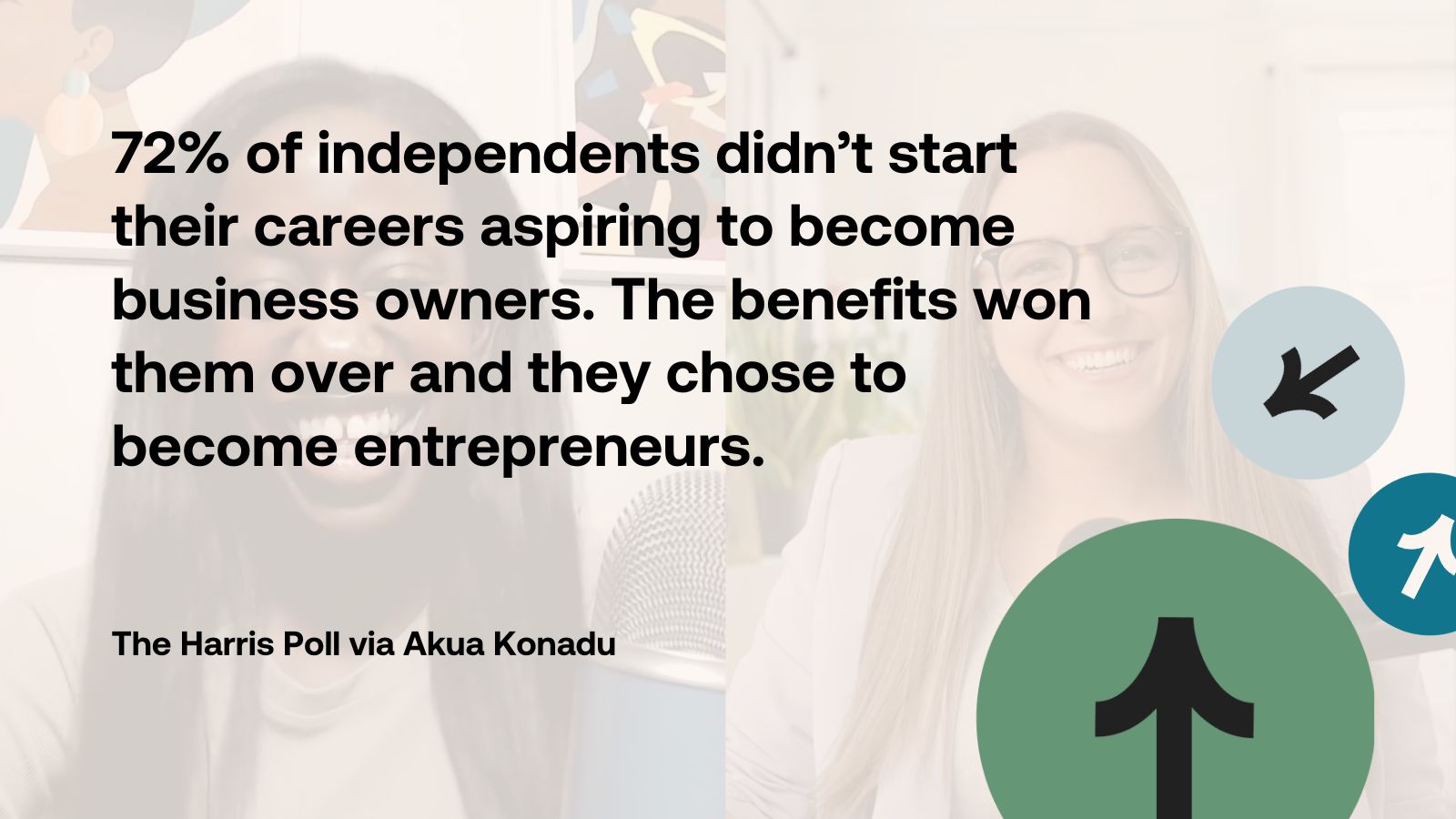 84% of independent business owners think there should be more government resources and financial assistance dedicated to supporting them.
In the United States, independent business owners are looked to as the backbone of the country. Why is the American system not designed for independent business owners in the same way that it is positioned for W2 workers?
In the U.S., employees access key resources through their employers, often including healthcare, parental leave, retirement savings plans, workers' compensation, or disability insurance. When you go independent, you have to fill those gaps. Additionally, consider affordable childcare: 62% say the government does not do enough to improve access to it, which independent business owners need to grow their businesses.
If there were more available government resources and financial assistance supporting independent business owners, we would likely see more success and longevity in the lifespan of small businesses.
92% of independent business owners agree that their overall quality of life has improved since they started working for themselves.
While we highlight a variety of stats that share the hesitations of employees leaving their jobs to pursue an independent business, one of the more hopeful and promising results from the survey included 92% of independent business owners agreeing that their overall quality of life has improved since they started working for themselves.
78% of independent business owners said running a business comes with more challenges than they anticipated.
As independent business owners begin their journey into entrepreneurship, they expect it to be hard—the reality is that it's so much harder than you expect in ways they never expected. Some of the most common challenges include:
41% say staying on top of all of the admin tasks that go into running a business.
Pricing their services (36%)
Finding and booking new leads (35%)
Setting and maintaining work-life boundaries (32%)
Clients ghosting them (23%)
Did you know that if you waste 45 minutes a day in your business on something you could automate or outsource, over the course of your career, you'll lose an entire year of your life to those tasks? This is where automation tools and outsourcing can be beneficial for you as a business owner, and also help you create an amazing client experience.
More than three in 10 independent business owners say that making an error that causes them to lose business keeps them up at night.
Independent business owners tend to put the most pressure on themselves, worrying about making an error in their business. This fear keeps 3 in 10 independent business owners awake at night. Slightly more than one-quarter (27%) say "dropping the ball" makes them toss and turn.
Thankfully you can utilize tools in your business to help you build systems, automate workflows, and better communicate with your clients to ensure you can worry less about letting your clients down.
1 in 5 independent business owners has lost money due to a lack of organization.
Client relationships are at the heart of how independent businesses operate, which is why staying organized, communicating consistently, and responding to inquiries quickly are key to their success. Virtually all independents (93%) know this, yet two in five (40%) acknowledge that their business processes are inefficient but they don't know how to improve them.
Maybe you've run into an organizational issue before and beat yourself up over it. The lesson here is to give yourself grace, but learn from it and implement new systems.
Stat 9: Nearly two-thirds (65%) anticipate that their net revenue will increase in the next year and the majority of independents (82%) have taken or plan to take steps to ensure it does
There is always going to be a lot of uncertainty about the future, yet independent business owners are resilient and adaptable. Despite conversations and fears about a recession, independent business owners are investing in their business, because they believe in it.
So where are they investing in their business in anticipation of seeing that growth?
Social media or advertising (39%)
Hiring staff or additional support (26%)
Outsourcing more tasks (26%)
Securing external financing (23%)
Important sections of the conversation
[4:44] Stat 1
[15:19] Stat 2
[18:34] Stat 3
[27:08] Stat 4
[35:08] Stat 5
[44:14] Stat 6
[47:50] Stat 7
[51:46] Stat 8
[56:36] Stat 9
Sources mentioned in this episode
Connect with the guest