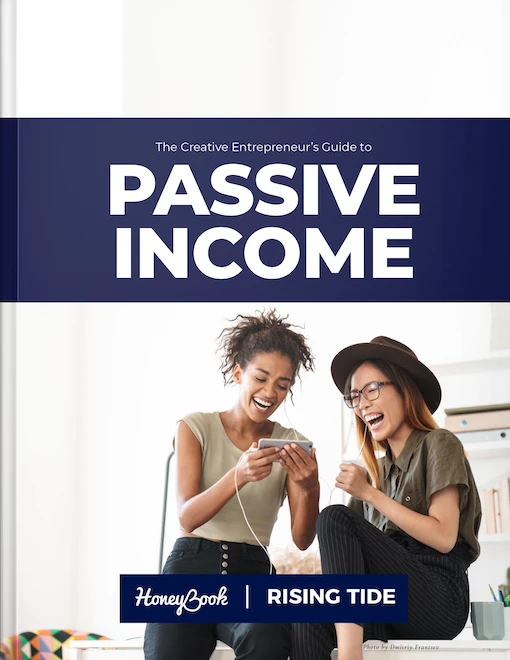 How do I earn passive income?
You know the "dream," right? Swaying in a beach hammock while your business bank account grows—all thanks to passive income! But… what does that really mean? And what can you do today to start earning passive revenue, scale your business and do more of what you love? We can help.
This month's guide shares:
The secret to getting started—and how to do it
3 steps to market and sell your passive income product
How to earn passive profit through email funnels and affiliate marketing
How to earn passive income
The opportunities are endless.
No matter your skill set, the opportunities for passive income are endless. It's not only course creation or selling photography prints. Instead, you can earn passive revenue from membership sites to speaking opportunities. Don't limit yourself. Start with this guide to determine what exactly your potential for passive income can be, and get to work in building it out on the front end, so the opportunity for selling continues to grow.
Not sure where to begin? Don't let intimidating overwhelm hold you back. Every successful passive revenue stream starts with valuable content, leading as the expert, and building your audience of loyal followers. Then, once you've got your content strategy rolling, don't forget about the chance to sell with a high converting email funnel. Get the key tips in the guide that will make you money in your sleep.
Follow up with marketing.
It's true… passive income is a misnomer. While it may sound like a "set-it-and-forget-it" kind of revenue stream, the key to earning potential is in the follow-up. It's in the marketing. Once you've built your passive product, launched (maybe even with affiliate marketing), and started seeing those dollar signs roll in, you're not finished. Continue with your marketing, content strategy, and more. Finally, every passive income launch is the opportunity to evaluate the success and where you can improve… and build out a better product and process the next time. It's a passive income journey, not a destination.
What's Inside - Passive Income
Disclaimer: The advice featured in this guide and on the blog was sourced from our community members for sharing general information and knowledge. For specific legal, financial, tax, mental health and professional advice, please consult an authorized professional.