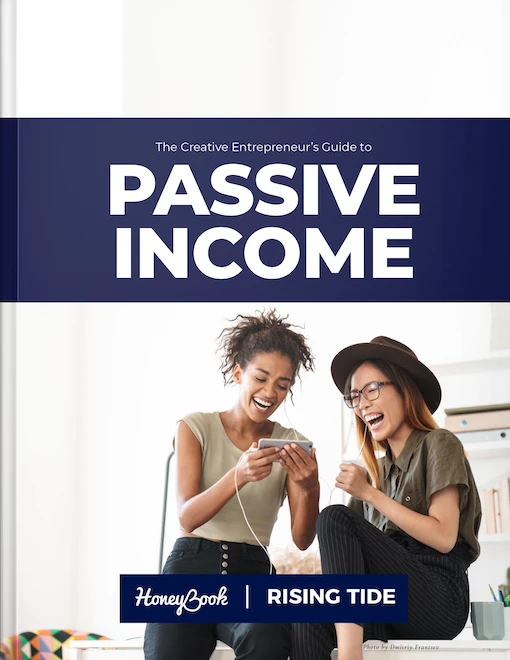 Swaying in a beach hammock while your business bank account grows is the dream for many. And your dream can become a reality—all thanks to passive income. But… what does passive income really mean? And what can you do today to start earning passive revenue, scale your business, and do more of what you love? Read our guide to find out.
This guide shares:
How to earn passive income
The opportunities are endless.
No matter your skill set, the opportunities for passive income are endless. Passive income isn't just about course creation or selling photography prints. You can earn passive revenue in a number of different ways, from membership sites to speaking opportunities. Start with this guide to determine what your options for passive income are, and get to work on building it.
Not sure where to begin? Every successful passive revenue stream starts with valuable content, leading as the expert, and building your audience of loyal followers. Then, once you've got your content strategy rolling, sell it with a high-converting email funnel. Get the key tips in the guide that will help you make money in your sleep.
Follow up with marketing.
It's true… passive income is a misnomer. While it may sound like a "set-it-and-forget-it" kind of revenue stream, the key to earning potential is in the maintenance, follow-up, and marketing. Every passive income launch is the opportunity to evaluate the success and where you can improve and build out a better offering. 
What's inside the passive income guide
Phyllis Brasenell
The word "passive" can lead some to believe that you don't really have to do the work? Phyllis shares the myth about passive income and how shifting your mindset toward "leveraged income" can get you one step closer to growing your bank account. Her quick tips help you know where to begin in your leveraged income journey.
Paige Brunton
If you want to sell, you'll need people to sell to. Paige shares how to attract the right people who are ready to buy.
Bethany Lee
If you want to create true passive income you must do these three steps to run on autopilot. These steps will clue you into places where potential revenue is possible for you (or could be possible right around the corner), and how to diversify so you're not dependent on one type of income.
Aleya Harris
When you have a captive audience, selling and earning passive profit is easy. But how do you get that captive audience? Aleya shares how to capture the attention of your ideal customer, what needs to happen before you sell, and how to actually make the ask so your business can profit. That captive audience is there to engage with you (and purchase!), after all.
Shafonne Myers
It's no secret that there are a plethora of opportunities to share your knowledge and expertise with your audience. However, one way to position yourself as an expert is by creating online courses or membership sites.
Zoe Linda
Zoe shares how the connections at your fingertips can be exactly the team you need to create a successful affiliate program. This collaborative strategy creates a strong "social proof" endorsement and gets your passive product in front of the eyes of great potential clients.
Laylee Emadi Smith
If you're ready to diversify your profit streams and increase your potential for passive profit sales, diving into education and speaking is a great option. Laylee shares the top four things you must do when pitching yourself to speak and the two pitfalls to avoid.
Disclaimer: The advice featured in this guide and on the blog was sourced from our community members for sharing general information and knowledge. For specific legal, financial, tax, mental health and professional advice, please consult an authorized professional.