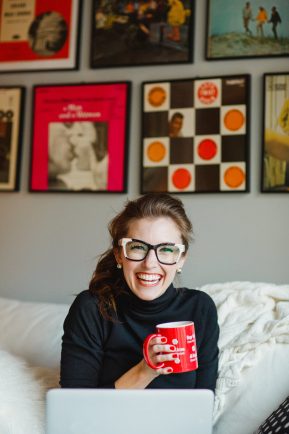 Engaging and personable images are one of the most powerful ways to connect to your audience—and one of the best ways to get these is through a brand photo shoot. A great photo shoot will help your brand, website, and credibility shine, and can get you closer to those clients you've been waiting for.
What excites me the most about branding photo shoots? Setting the stage for you to stand out online by staying totally true to who you are.
If you can knock this task out of the park, it will set your brand up for months of beautiful content for all your marketing needs. Here are six steps to follow to plan for an epic brand photo shoot:
1) Figure out where these photos will go
Will 80% of these photos be used as Instagram content? As images on your website? Do you need specific images for your email newsletter? Do you have any launches coming up? Take a minute to jot down all of the platforms you hope to use the images for. This will help you keep in mind exactly what you need to shoot and what you need to tell your photographer.
For example, if you want to update all of your website images and almost all of those images are vertical, the photographer needs to know this.
You should start working on a shot list of images you need, but keep in mind that a lot of photo shoots flow in an organic way. So by "shot list", I don't mean a list of 100 specific poses. Instead, gear your shot list towards specific themes and looks that you want to make sure you get.
2) Decide how you want your audience to feel
It's important that your brand photos match up with your brand's personality and values. So before you start stressing over what you're going to wear, ask yourself, "How do I want people to see my brand?" "What feels authentic?" "What feels like me?"
Presenting a cohesive brand to your audience is key to showing people exactly who you are and what your business does. The goal is to connect with them before they even meet us.
Start by jotting down words that make sense for your brand and your audience. When they see your photos, do we want them to feel a sense of trust? Happy and giggly? What about empowered?
Whatever you choose, be sure to relay these words to your photographer. Emotion is one of the BIGGEST pieces of conveying a brand, and we want to help the photographer capture shots that inspire the right kind of emotion in the right people.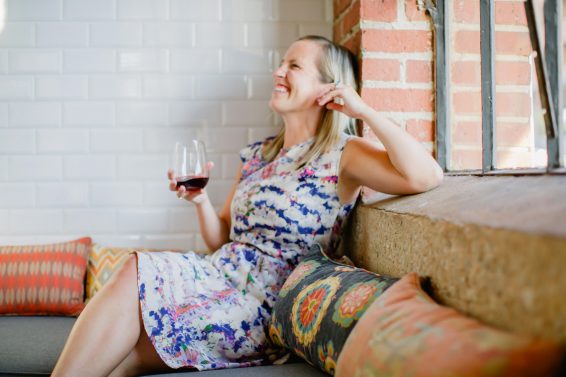 3) Find locations that make sense
Now that we've laid out some groundwork, we can jump in to the visuals! Keeping those words you jotted down in step two in mind, what colors and backgrounds would be a good fit?
Take some time to scout out locations that make you feel connected to your brand and personality (your photographer will be able to share suggestions with you, too). Find places that make you feel relaxed and in your element —if shooting in front of crowds and busy public areas is going to make you nervous, steer towards more private locations.
There's one more thing I want you to think about: where are your clients/ideal customers hanging out? What are some places that they will connect to when they see your brand photos?
4) Make a shopping list (or don't!)
Okay, my friend, put down the credit card for a moment—you don't need a whole new closet before your shoot. A few new pieces? Sure, maybe. But the important thing is that you should wear pieces that make sense to you, and I have a feeling there are a lot of those already in your closet.
Keep your brand color palette in mind when pulling pieces for your shoot. Not every photo needs to have the same three colors, but you should stay inside the realm of your branding color scheme. If your brand is very colorful, happy, and bright, it probably wouldn't make sense to wear all black. And vice versa, if your brand look has a lot of neutral tones, keep your outfit selections within the world of whites, greys, and taupes.
The most important thing to keep in mind? Choose an outfit that makes you look and feel amazing! Make sure your clothes fit well and are flattering to your body type—the last thing you want on the day of your shoot is to feel awkward and stiff in front of the camera because your shirt is too short or your high-waisted jeans make it heard to breathe.
I suggest putting on each outfit you plan to wear and taking a few photos in each one at different angles. This will give you a good feel of how the pieces are going to photograph.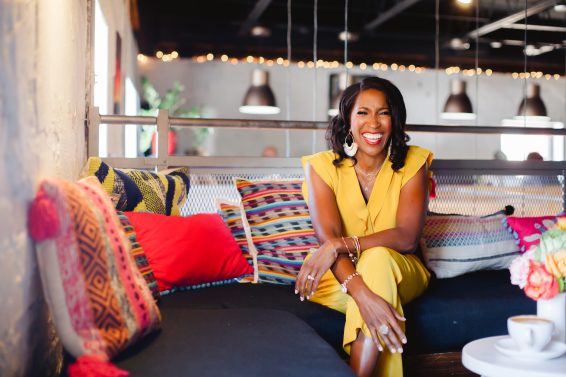 5) Choose a photographer who gets you
There are two really important things you should take into account when searching for the right person to capture these images for you.
1 ) Does their style match yours?
Pay attention to the types of photos they have on their website and social platforms. What you see is what you will get, so make sure their editing style matches your aesthetic. Whether you are dreaming of colorful, vibrant photos or for darker, more contrasting tones, make sure the photographer edits in that style.
2 ) Does their vibe match yours?
Aside from their visual aesthetic, they probably each have their own unique way that they interact with the people they photograph. You need to make sure your energies match up and that you guys are going to connect. You probably aren't in front of the camera all that much, so it's crucial that your photographer make s you feel comfortable and relaxed.
I suggest starting by looking at their portfolio and asking: are the people in those photos exuding the emotion you're going after? Some photographers are amazing at getting big belly laughs and genuine smiles out of their subjects, while others excel at stripping down emotion and bringing softness out of people.
Next, get on the phone or schedule a coffee meeting to share your vision and personality with them and see what ideas they can bring to the shoot.
6) Get out of your head and have fun!
On the day of your branding shoot, get outside of your head and leave your insecurity at the door. You've planned, shopped, and prepped—which means you've totally got this. Take an afternoon off from worrying about clients and to-do lists and simply focus on enjoying this time for yourself.
The more fun you have with this, the better! Be open, be playful, and laugh at yourself. If you do this, you'll be on your way to an incredible visual brand that aligns perfectly with the unique person you are.
To get started, download this free worksheet that will help you plan the perfect shoot.