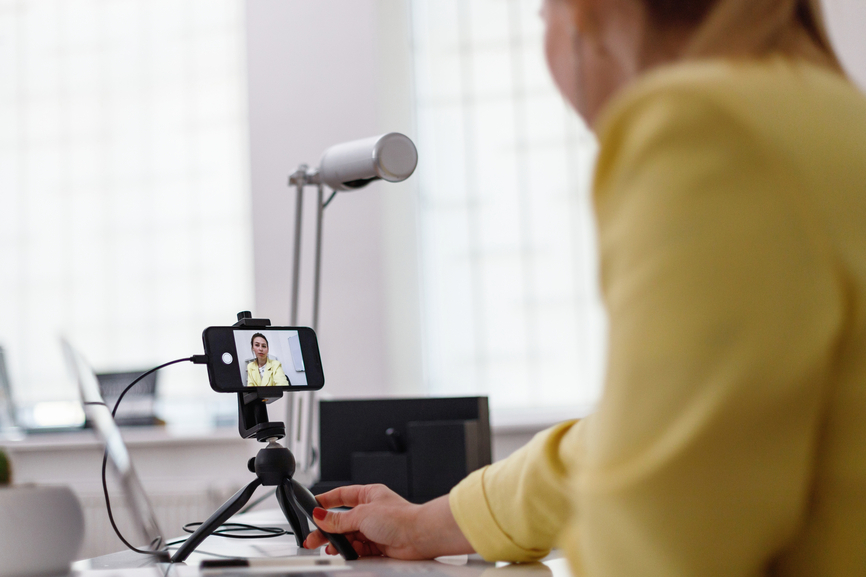 Ready to start pitching podcasts? Podcasting has emerged as one of the most popular forms of media consumption, from true crime series to business development shows. As creative professionals, they are a prime opportunity for getting your brand out there and reaching a new corner of the market. Nowadays, there are podcasts about everything. You name it, it's likely out there (and, if it's not, it's worth considering starting your own!).
Getting your feet wet in the podcast realm and pitching podcasts can feel overwhelming for those new to public relations. It does take a bit of technical knowledge and a fair share of creativity and patience. However, it can be an extremely fun and rewarding way to grow your business and carve out your role as an industry thought leader. If you're ready to get started, here are the steps for pitching and preparing for your first podcast interview and all the rest to follow!
Research potential for pitching podcasts with your goals in mind.
You might have a list of podcasts you love listening to. However, you'll only want to spend time pitching to those that will help push you closer to your goals. If you're looking to build a niche portfolio for foodies, it likely wouldn't make sense to pitch yourself to podcasts about meditation or economics — even if you enjoy listening to them. Focus on how you define success and what you hope to get out of your podcast strategy. How will it support your brand? Be sure to listen to a few episodes of any podcast you're interested to ensure that it's a good fit for your goals and your general interview style.
Create topic ideas that fit in with your expertise.
You will need to speak about your topics at-length for up to an hour at a time when you are a guest on a podcast. Thus, it's important to stick to what you know and are comfortable teaching to others. Put together at least two to three possible topics. Include detailed descriptions that you can share with the podcast host. If you're struggling to come up with things, consider the areas in which people come to you for help. Revisit some of your presentations to parse out some fresh angles for your podcast pitches if you've spoken publicly before.
Organize your approach before pitching podcasts.
A disorderly approach to PR is a recipe for disaster. Without a proper system in place, you may find yourself pitching the same topic to multiple podcasts (a PR no-no). You may also miss a firm deadline (another PR no-no). It doesn't need to be anything fancy; a simple spreadsheet serves well. Keep track of the pitches that you send out, who your contact is and whether they responded. In addition to putting your best PR foot forward, this will also help you to track progress towards your big-picture goals. You'll be able to see the topics that perform best (and worst), the podcasts that were most responsive (and least) and more — all influencing your podcast efforts going forward.
Prepare your submission with attention to detail.
Before submitting your pitch, be sure to review your chosen podcast's submission guidelines at length and ensure that you have everything necessary. This is no time for cutting corners; podcast hosts will only accept submissions from guests that are professional and will reflect well on their show. If there are specific deadlines, be sure that you meet them. Once you have everything packaged and ready to go, send it along to the podcast host and share any additional information about yourself that may help their consideration, like links to your social media pages or your press portfolio.
Commit to excellence once accepted.
Once you get accepted, take a moment to celebrate! Your first podcast is an exciting endeavor, but it will require some legwork on your part. Review the topic that you pitched and start building out your thoughts until you have plenty of content to fill up an hour or so. It's also smart to reach out to the podcast host to request tech requirements, if not already provided. Make sure you have everything you need: a laptop, a good microphone, earphones and strong WiFi. There's nothing worse than hopping on the call at the right time, only to find out you have to reschedule the recording because you don't have the proper setup.
Be an active promoter.
You want people to be excited for your upcoming podcast episode. Guess what, your podcast host does too! Let them know that you're prepared to support their promotional schedule before and after the episode goes live. Some podcasts will provide branded templates to share on social media, whereas you may need to create your own graphics for others. Make the most of this moment by maximizing your social media push. Swap out your Facebook cover temporarily, share a brief Instagram Story to build the excitement and add a save-the-date to your email blasts. A great podcast guest is one who drives more traffic to the show and, rest assured, the host will love you for it.
Provide detailed information timely and efficiently when pitching podcasts.
In many cases, podcast hosts will tell you exactly what they need from you in advance of the show. If they do, follow their instructions to the T. If they request your headshot at a specific resolution, give them what they need. Even if they don't have requirements, though, it's still a thoughtful gesture to send along a one-sheet of information as a courtesy. It doesn't need to be complicated, but it should include a few important elements:
Your logo(s)
Your headshot
All links associated with your brand, typically to include your website and social media
Your bio
Depending on the podcast format, you may also consider sending over sample questions or speaking points to help guide the discussion. Ultimately, this depends on the host's preferences, so don't be shy about asking if they'd like some bullets prepared in advance. This is especially valuable for less-common topics that your host may not be fully versed in.
Have fun!
Assuming you've got your tech situated and the host has all of the necessary information, all you have to do is prepare and show up for your recording. The rest is simply a conversation with the host! Stay calm and look at it like a friendly discussion over coffee. If you're nervous, listeners will hear it in your voice, so take some time beforehand to practice speaking in the mirror if needed. Keep it light and educational, but don't forget to have fun with it. Podcast hosts like to have guests that are engaging and personable, so if you nail it on your first podcast, you may find others popping in your inbox with interest!
At the end of the day, a great podcast should be beneficial to everyone involved. As a guest, do what you can to make the host's job easier and have a great show. Rest assured that the more podcast interviews you do, the more natural it will become. Podcasting as a medium is here to stay, so it's not too late to get started marketing your business through this advantageous channel.