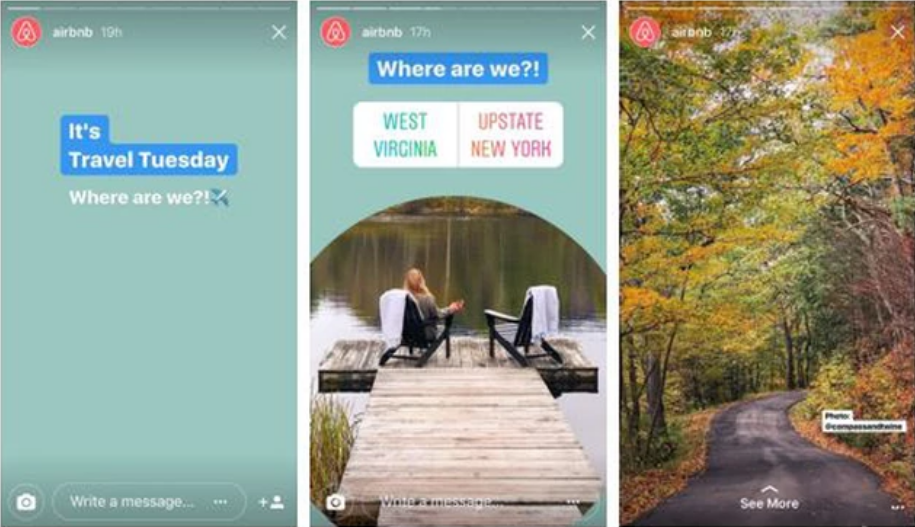 We are now in a new era of communication. With over 2.37 billion global smartphone users, visual communication has become a part of our everyday lives. From instant photos to GIFs to emojis to short-form video content, we now communicate with each other through imagery, and Instagram is at the forefront of this revolution. The platform has grown to over 800 million monthly active users and is expected to grow to 1 billion this year.
This has spurred a change in the advertising industry, as the platform now has 2 million advertisers spending monthly, up from one million advertisers only a year ago.
But why is this platform so powerful for advertisers?
Instagrammers use the platform to creatively tell a story and share moments of their everyday lives, which allows brands to humanize their content and engage with their audience. Brands are able to strengthen their relationship with consumers by evoking emotion through visual expression and shared experiences. Because content that evokes emotion leads to action, not only does the platform increase awareness, but it also drives purchases. And there's proof: 60% of users say they learn about products and services on Instagram, and 75% say they've taken action after being inspired by a post.
There's no doubt about it—Instagram is a key channel for advertisers. The problem we now face is standing out from the crowd.
Hello, Instagram Stories.
With over 300 million accounts using Stories since they launched (Instagram Internal Data, Nov 2017), vertical video is quickly becoming a favourite for content creators.
Vertical video gives users the freedom to be creative—they're not limited by space and can direct a user's eyes up and down versus sideways as with landscape video. Plus, users are able to creatively mix text, imagery, and video to create an exciting and authentic story.
Brands are getting involved, too. For example, Misguided uses text, imagery, and video to showcase new and upcoming fashion trends daily. They stand out from the crowd because of their bold and creative animations that help them engage with their core audience.
Stories provides brands with incremental reach to a highly engaged audience, which means that it's a format that everyone should be testing.
Here are the three things you need to do to be successful with Instagram Stories:
1. Tell a story.
Due to the personal and interactive nature of Stories, many brands and influencers are using the platform as a way to, well, tell a story with a "behind the scenes" look into the company or person.
This is where users can take advantage of the informal aspect of the format and keep audiences returning to their channel. We typically see brands use this to outline a story throughout the day—for instance, Topshop posted key highlights from London Fashion Week, which generated high engagement and conversation with the brand.
Another great example is from Benefit, who offered a "behind the scenes" look at a photo shoot. This immerses your audience into your world and makes them feel like they are a part of the experience. If your behind-the-scenes footage is interesting and relevant, you'll likely see a spike in engagement and interest in those products.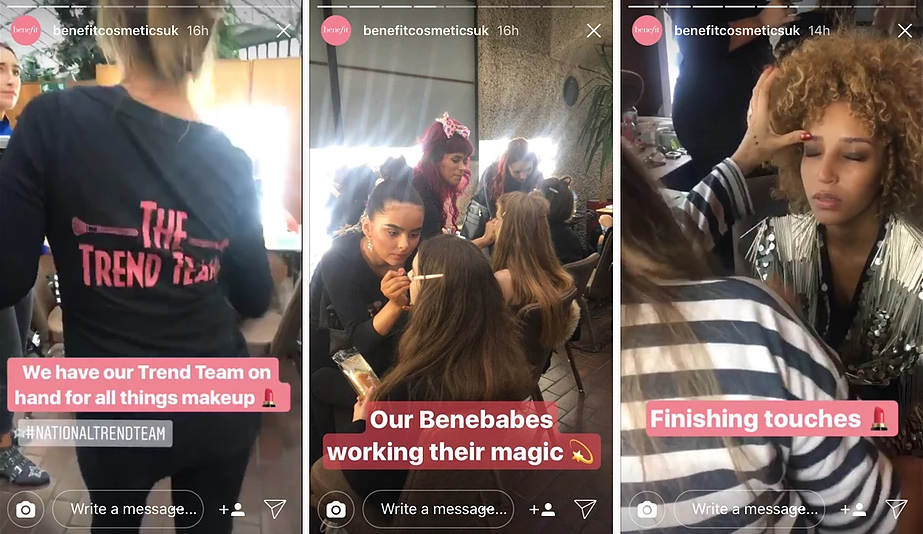 2. Be interactive.
By default, Stories is immersive. The format is full-page and allows you to add text, imagery, animations, GIFs, and polls—the sky is the limit.
In our experience, we have seen polls perform very well when brands and influencers are looking to drive further conversation and engagement with their audiences. Polls are a great way to engage with your audience in an authentic and personable environment—the interactive features humanizes your brand. Not to mention, this is a great tool for receiving feedback from your customers, saving you time and money on research.
Another interactive feature that can help drive engagement and sales is the swipe up and link feature.
With the swipe up feature, brands are able to link consumers directly to a product page. This has proven to be successful in driving traffic to site and sales. There are many ways you can use this feature to link to:
1. Social media channels or hosted content
2. A specific product page on your website (with an "add to basket" call to action)
3. Lead generation forms directly from your email marketing software
Influencers are able to tag a brand's handle and link to the product all in one post, which leads to higher engagement rates. This feature is unique to Stories, as no other platform is able to do this. However, this is only available to business profiles with more than 10,000 followers.
Brands and influencers with a smaller following are able to direct users to #linkinbio instead and link the landing page in their bio.
3. Get creative.
For example, consider doing an influencer takeover. Use influencers to create a story with animations and video that will entice audiences outside of your core followers. This is a cost-effective way to be creative and engage with new audiences. The key here is to think about how you want to interact with your audience—this could mean a Q&A session about a certain topic, an interactive poll, or an animation that leads to your product page.
You could also run a time-limited offer. As Instagram Stories are only live for 24 hours, it's the perfect format to run a time-sensitive offer and include the Swipe Up feature. This creates a sense of urgency and keeps your customers coming back to your Story to find out about more offers.
Another idea is to create live videos. Not only is this a great chance to start a conversation with your followers, but the feed also prioritizes live videos so they are the first video everyone sees when they are looking through Stories. There is also a notification sent to all of your followers that you are starting a live video. Plus, if some of your followers missed the live video, Instagram now allows you to add the video to your Story for 24 hours.
I hope this gives you a few inspirational ideas for your Stories, but this is by no means an extensive list. Once you become familiar with Instagram Stories, you'll find a plethora of creative opportunities within the platform.