HoneyBook member Karina Ramos is a business coach and success strategist for female entrepreneurs and the founder of the creative marketing agency, The Voyage Society. When she quit her corporate job three years ago, she was angry and depressed, with just $550 in her bank account. Six months into The Voyage Society, she was making six figures—and not enjoying the process of getting there either.
But with some trial and error, Karina shaped a business that was the best fit for her. Here, she shares the 10 business lessons that helped her find the right balance.
1. I expanded on my professional background to refine my offerings.
I started off as a business consultant and a design freelancer. At my 9-5, I was the marketing director, so I came from a business and design background before I actually started my business. I began consulting with other business owners on their marketing strategy and giving them feedback on their branding. From there I decided to jump into consulting full time.
I learned a lot in my first year of business and started to encompass so many more elements into my strategy sessions than just business, such as mindset, and felt business coaching really encapsulated what I did with my clients.
The Voyage Society Highlights
The Voyage Society team supports visionary female leaders by providing them with the resources they need to turn their passions into a monetizable business and design their freedom on their terms.

My career highlights include:

– Helping my clients publish best selling books
– Exploding my client's email list by over 15,000 people in less than a year
– Creating, planning and executing an international retreat in Bali for a client
– Helping a client plan and sell out her conference in three weeks which generated over $10,000 cash for her business (her highest grossing month ever at that point)
– Assisting my clients through their first million dollars in business revenue in under a year
– Having my business and story featured in over 52 different media publications including Bustle and Nylon Magazine
– Speaking on stage in front of hundreds of women
– Being flown to Wisconsin with Ashley Home Store to create a video for their Ashley For The Arts Music Festival and being on stage with Daughtry, Rascal Flatts, and Dan + Shay as well as interviewing them all on their tour bus and backstage. It was epic.
2. Money shouldn't be your only measure of success.
My first year of business I measured my success in sales. My goal was to make six figures in my first year. I was so stuck in the hustle mode of my business that I made six figures in the first six months and I didn't even realize it. I was so focused on the goal that I didn't enjoy the process of getting there. That is where the magic is. Now my success is measured in how many lives I impact and how great I feel in the process.
3. Working with the right clients is more important than working with any client.
In my first year of business, I had a design client that hated absolutely everything my team made for her. The logo, the copy, the imagery. Nothing we put together was to her satisfaction. I got several nasty emails from her that made me feel lower than low. I finally realized that the best thing for me to do was to let her go as a client. I cried to my husband, feeling like such a failure. This experience made me get crystal clear on who my ideal client was and who my work was meant to serve. Instead of just taking any client, I was dedicated to only working with my soul mate client.
4. Don't be afraid to charge your worth.
When I first started my business, I was totally undercharging for my services. I had to really value my worth and raise my prices to match the value of service I was providing. Now I determine my pricing for my coaching services based off of my desired hourly rate and the value of the program.
5. Hiring a professional to complement your business skills is worth it.
I had to learn my numbers and build a relationship with my finances. In my first year of business, I wanted to make sure I invested my money back into my business properly as well as allocate for things like taxes. I brought on an accountant to help guide me and I used Quickbooks to track all of my expenses and sales.
6. Get organized with business tools.
These are all the business tools I use and what I use them for:
Asana- Project management
Trello- Task management and content planning
Zoom- Video calls
Moonclerk- Payment Processor
Aweber- Email Host
ShowIt- Website Host
Tailwind- Social Media Scheduler
Google Calendar- Timeblock and track appointments
Calendly- Call Scheduler
HoneyBook-Client Management + Design project management  
Adobe Creative Suite- Graphic design and editing
7. Go out IRL for a mental health break.
Working from home can feel so isolating. Although I love to be a hermit behind my MacBook all day, getting out and attending live events is where I find support and build relationships with other like-minded women.
8. Create templates for your process to save time.
9. Find ways to spend more time on what you want to do and less on things you don't.
I spend more time now on marketing, networking, employee relations and developing my product/services. I spend less time on sales, administrative tasks and accounting. Here's a breakdown of how I spent a typical day in my first year in business vs. now.
| | | |
| --- | --- | --- |
| Task | % of an average work day your first year (all items should sum to 100%) | % of an average work day now (all items should sum to 100%) |
| Sales/bookings (i.e., responding to and following up with inquiries, meetings with inquiries/clients) | 25 | 10 |
| Providing my service | 30 | 30 |
| Business strategy + planning | 10 | 10 |
| Marketing | 5 | 10 |
| Administrative tasks (e.g., preparing invoices, sending contracts, managing paperwork, general email, etc.) | 10 | 1 |
| Accounting | 5 | 1 |
| Networking/partnerships | 5 | 15 |
| Employee relations | 2 | 8 |
| Developing your product/service | 8 | 15 |
10. Create your own rules of success.
What does success look like for you? What does it feel like? Who is celebrating with you? What are you doing? When you get clear on what you want, then the path becomes clear and your business revolves around what you desire. When you focus on what success means to you, you can stay in your own lane and only focus on the steps that you need to take to get there. Everyone's path to success is different. You start comparing yourself less, you take bigger action and you get laser-focused on speaking to your ideal client.
Thanks, Karina!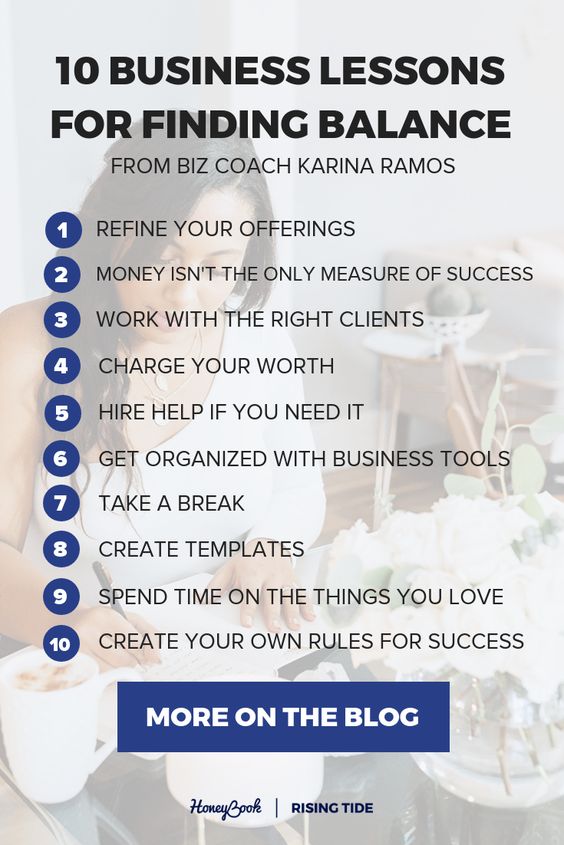 To learn how other entrepreneurs navigate through it all, including their wins, struggles and the lessons that helped them grow, check out more posts from our series Growth Lessons.